Surprisingly, 99% of online content goes to waste if it cannot drive proper organic traffic to the webpage. Here comes the significance of SEO and how it relates to exposing your business online.
This guide will explore different types of white-label seo tools thoroughly. Each type has its importance which will be discussed in further sections.
Let's get into the details.
What is White Label SEO?
In the era of digital marketing, white-label SEO has become the most followed and fundamental practice. White Label SEO (also known as Private Label SEO and SEO reselling)  means offering and selling organic SEO services to the clients under your brand.
11 Best White Label SEO Tools:
Here is an overview of the complete article.
This section will serve as a TLDR section if you don't have the time to go through the complete article.
| | | |
| --- | --- | --- |
| S.No | White Label SEO Tool | What is Provides |
| 1 | Semrush | Complete SEO tools set |
| 2 | Ahrefs | All-in-one SEO toolkit |
| 3 | SEO Optimer | Small Business |
| 4 | Woorank | Customized PDF reports |
| 5 | RankRager | High-quality reports |
| 6 | BrightLocal | Local SEO tools |
| 7 | Cyfe | White-label SEO dashboard |
| 8 | Dashthis | Customized Dashboard builder |
| 9 | Web CEO | SEO platform |
| 10 | SERanking | Cloud-based SEO platform |
| 11 | Posirank | On-page and Off-page SEO |
Common kinds of white-label SEO tools
Before we dive into the details, here are the most common kinds of White-label SEO tools.
| White label SEO tool | What to look for |
| --- | --- |
| SEO analysis tools | Customized analytical solutions |
| SEO audit tools | Best website auditing reports |
| SEO reporting tools | Generate automated and customizable reports |
| SEO dashboards | Mobile-friendly, integrated and customized dashboard |
| SEO platforms | Set of tools and customizable features |
White-label SEO analysis tools
White-label SEO analysis tools incorporate data from various sources and employ multiple approaches for analyzing information and categorizing.
1. Semrush
Semrush is an all-in-one platform that provides fruitful reports for your businesses. It helps in getting the top-notch keywords that make your content rank better. It offers a full range of tools and capabilities to assist companies and marketers in enhancing their online presence and digital marketing plans and learning about the actions of competitors.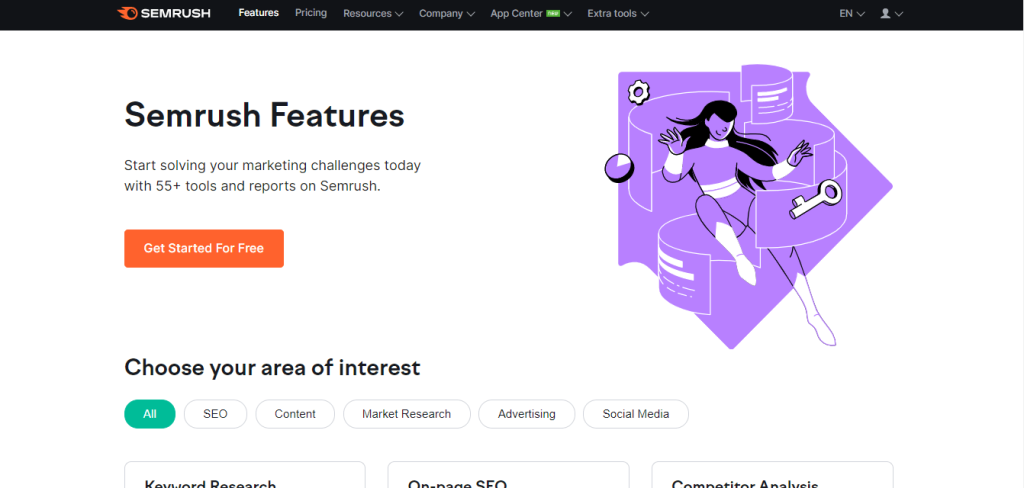 For SEO to be successful, keyword research must be done well. Strong keyword research tools are available from Semrush, which provide information on search volume, competitiveness, and similar terms. It also offers site audit tools and advice for on-page SEO to assist businesses in improving their websites for higher search engine rankings.
Main Features:
Keyword research
On-page SEO
Competitor keyword analysis
Ranking tracking
SEO analysis
Content optimization
PPC keyword research
Website monetization
Position tracking
Best For:
Semrush is perfect for small businesses, individuals and large corporations.
Pricing:
Semrush comes with 3 plans, namely Pro, Guru and Business.
Pro plan-$129.95/Monthly
Guru plan-$249.95/Monthly
Business plan-$499.95/Monthly
Semrush offers a 7-day free trial once you log in. Moreover, you can also get additional 40% discount during Semrush's Black Friday Sale.
Now, you must be wondering from where does Semrush gets the data? Check out our article here to know the same.
2. Ahrefs
Ahrefs is a comprehensive SEO platform that helps get more traffic and a higher ranking on SERP Results. Ahrefs is renowned for its straightforward features and user-friendly layout, making it affordable to seasoned marketers and newcomers. It primarily checks the website's health, content ranking, and link-building profiles.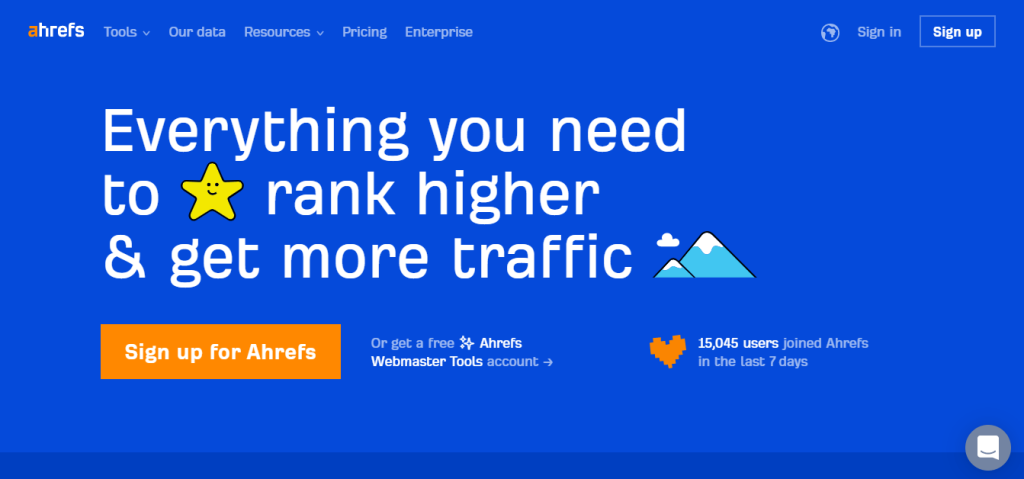 Moreover, it offers thorough insights into the website's backlink profile, providing details on referring domains, the caliber of links, and more. It aids companies in comprehending their backlink profile and discovering opportunities to enhance their link-building techniques. To know more about Ahrefs read our detailed review.
Main features:
Website Explorer
Site auditing
Content Explorer
Rank tracker
Keyword Explorer
Customized SEO dashboard
Website crawler
Best For:
Ahrefs is best for marketers and SEO professionals.
Pricing:
Ahrefs comes with 4 plan options. They are:
Lite plan-99$
Standard plan-$199
Advanced plan-$399
Enterprise plan-$999
If you find Ahrefs a bit costly, I have mentioned top alternatives of Ahrefs.
Bonus: Eager to know which one you should go with: Semrush or Ahrefs? Go through our detailed comparison of Semrush and Ahrefs; and know which better suits your needs. 
White-label SEO audit tools
Auditing is the crucial funnel for the marketing field, which generates prospective leads. Choosing the ideal white-label SEO audit tool will put you ahead of the fierce competition to gain the client's trust.
3. SEOptimer
SEOptimer thrives as the leading white-label SEO audit tool in the SEO industry. Manually auditing the website consumes a lot of time. This tool helps audit the complete website in a few seconds, identifying potential errors that demonize the performance website.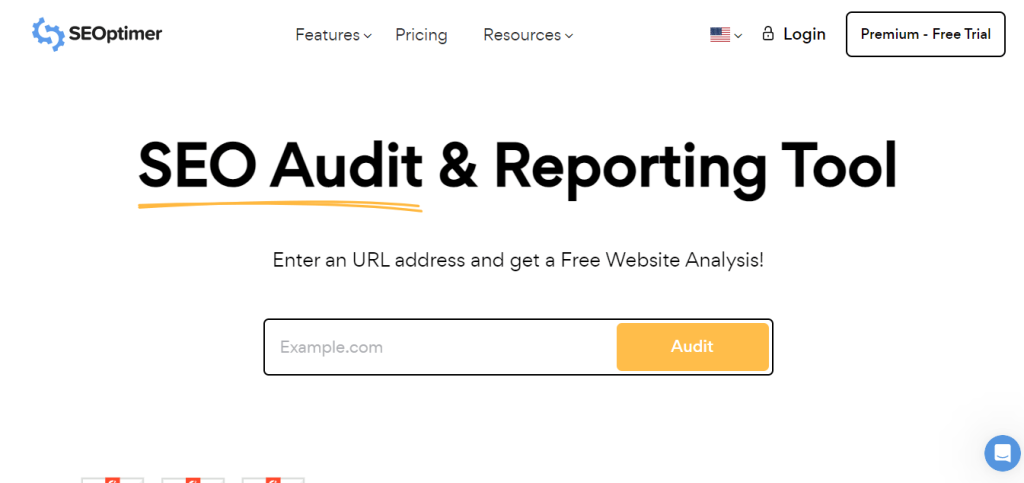 Based on the audit functionality report, SEOptimer recommends possible alternatives to enhance the site's functionality.
Main Features:
White-label branded reports
White label custom domain
SEO crawler
Website page speed tester
Generators
Embedded Audit tool
Keyword research tool
Keyword ranking tool
Bulk reporting
Trend analysis and perform research
Best for:
SEOptimer is best suited to small owners, businesses, digital agencies and SEO experts.
Pricing:
SEOptimer comes with 3 options such as
DIY SEO crawls a website and tracks rankings at 19$Month.
White label is for the digital markets, which can crawl multiple websites at 29/month.
White label and embedding plan starts at 59$/month
Note: SEOptimer comes with a 14 days free trial for all the 3 plans.
4. WooRank
Woorank is a complete digital marketing solution that stays on top of the SEO industry trends. With the work, check your website score instantly to know where improvement is needed.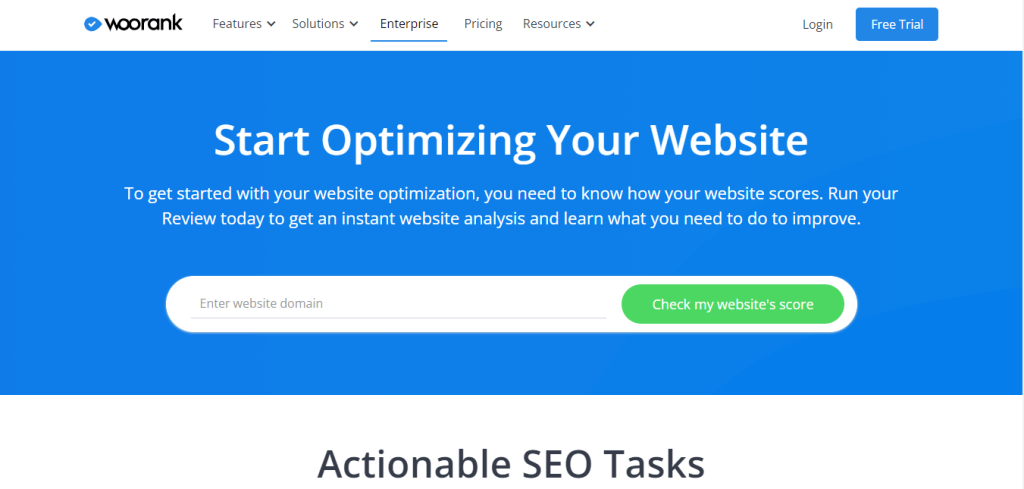 Woorank thoroughly examines websites to find opportunities for improvement in terms of SEO, usability, mobile optimization, security, and other factors. It offers a thorough analysis highlighting problems and suggestions for improving website performance.
Main Features:
Keyword research tool
Competitor analysis
SEO analysis
Technical site auditing
White label reporting
API integration
Automatic Lead generation tool
Best for:
Woorank's White label SEO tool is for small businesses, agencies, developers, and SEO teams.
Pricing:
Woorank offers 3 plans such as:
Pro plan for the small and medium scale businesses at 79.99$.
A premium plan for professionals at 199.99$.
Enterprise plan for teams with a customizable price tag.
All the plans come with 14 days free trial.
White-label SEO reporting tools
White-label SEO reporting tools are the one that generates customized reports for different clients based on their demands and needs.
5. RankRanger
RankRager is a 100% highly customized SEO reporting tool that generates high-quality and versatile white-label reports.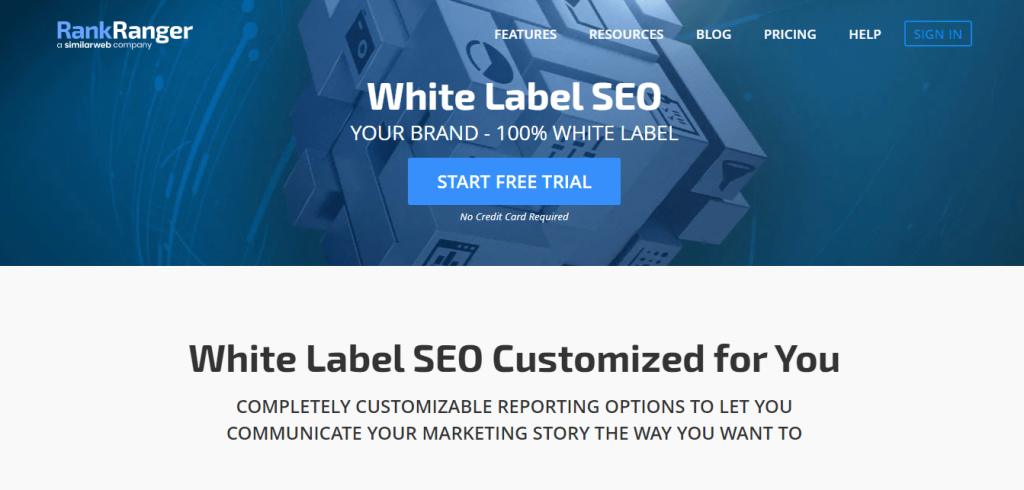 It lets you keep tabs on how well your keyword ranks across all search engines, regions, and marketplaces. You can quickly track the effectiveness of your website with RankRager and see where it stands for particular keywords in any place you select.
Main features:
Keyword Research
Competitor analysis
On-page optimization
Brand visibility
Local SEO
Rank tracker
Marketing Dashboard
Google analytics integration
Search Console
Email notification
Mobile SEO
White label custom domain
Custom graphs
Generate automated PDF reports
Best for:
RankRager is for small businesses, corporate agencies and enterprises.
Pricing:
RankRager comes with 4 plan options. They are:
Lite plan-79$
Standard plan-$149
Advanced plan-$699
Enterprise plan-$2700
6. BrightLocal
BrightLocal is an interactive and highly customized local SEO reporting tool. Businesses wishing to increase local search exposure and maximize their digital presence in particular geographic areas can use BrightLocal. It offers useful information and resources to help improve local SEO efforts and efficiently track progress.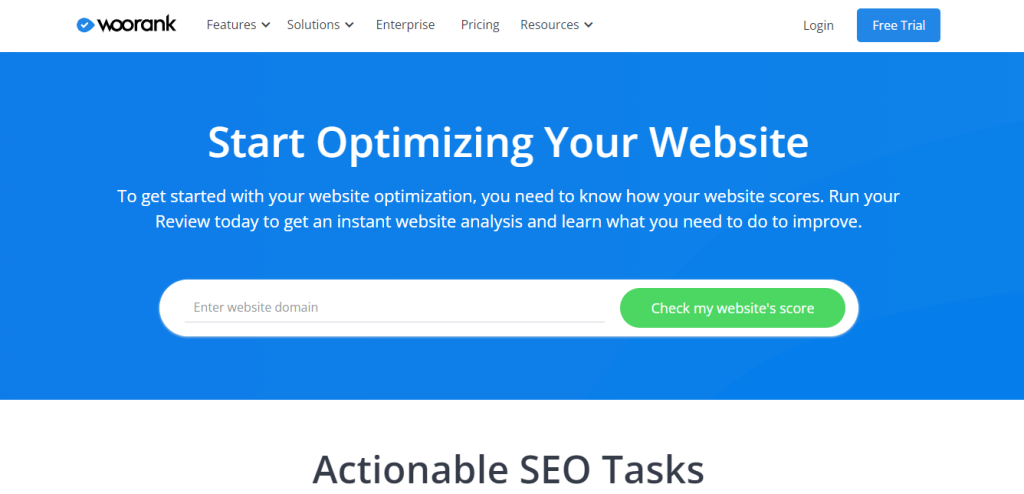 Main features:
Track local rankings
Auditng local SEO
Local search auditing
Citation tracker
White-label PDF reporting
Local data aggregators
Best For:
BrightLocal is for agencies, enterprise businesses, consultants, small businesses and multiple local businesses.
Pricing:
BrightLocal comes with 3 plans and 14 days free trial for each plan.
Single business-$35/Month
Multi-business-$60/Month
SEO Pro-$90/Month
White-label SEO dashboards 
White label SEO Dashboard is the place that tracks all performance metrics, reports, and project analyses for clients in one place.
7. Cyfe
Cyfe is a customizable, flexible and all-in-one white-label SEO dashboard. You can visualize your entire business in a single place.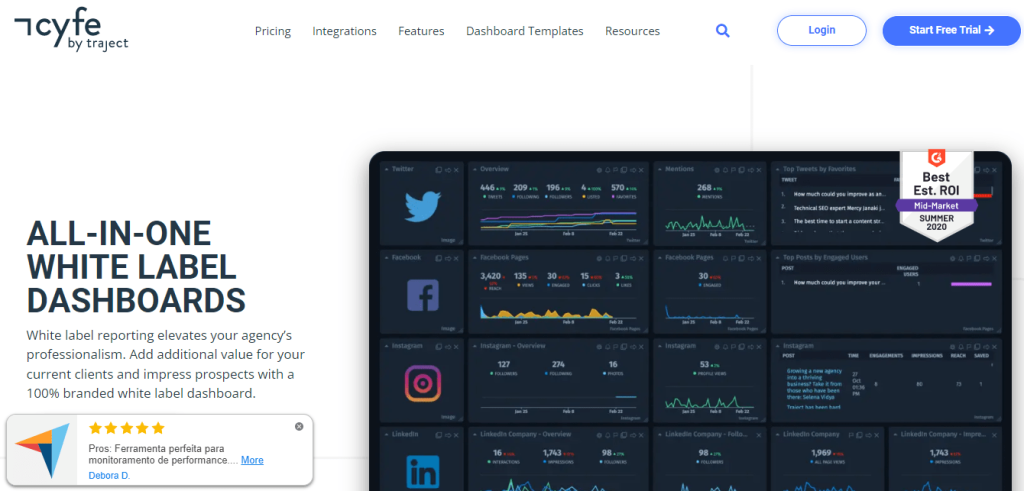 With Cyfe, you can build personalized dashboards that compile and show crucial SEO analytics. To measure metrics like website traffic, keyword rankings, organic search visibility, backlink profile, and more, you can combine data from many sources, including Google Analytics, Google Search Console, and social media platforms.
Main Features:
White label reports
Custom logo
Embedded analytics
Custom themes
Custom SSL domains
Pre-built dashboard templates
Automated reports
Widgets alerts
Data mashups
Custom URLs
Best for:
Cyfe is best for agencies, small businesses and corporate businesses.
Pricing:
Enjoy a 14-day free trial for the below 4 plans.
Starter pan-$19/Month
Standard plan-$29/Month
Pro plan-$49/Month
Premier plan-$89/Month
8. Dashthis
Dashthis is a highly customised white-label SEO dashboard that assists SEO teams in presenting the information clearly to the clients.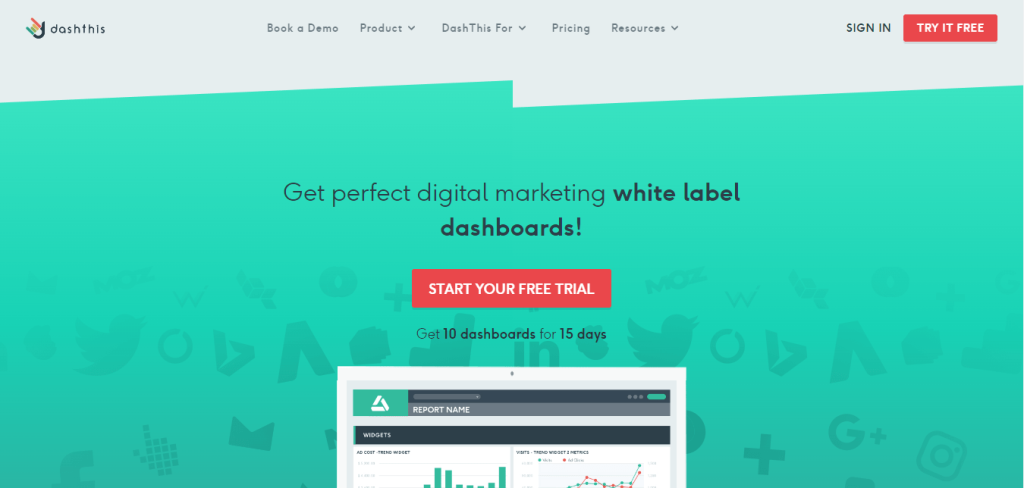 It serves as a reporting and analytics tool that can be used to monitor and display SEO data along with other marketing KPIs. It offers an intuitive user interface and configurable reporting tools for companies and marketers wishing to measure and report on their SEO success.
Main Features:
All in one dashboard
34+ native integrations
Custom data integrations
Custom domain
Custom theme
100% white label reporting
Custom widgets
Best for:
Dashthis is for small businesses, marketers, agencies, individuals, and SEO teams.
Pricing:
Dashthis comes with 4 plans.
Individual plan-$33/Month
Professional plan-$109/Month
Business plan:-Standard plan-$209/Month
Standard plan-$339/Month
White-label SEO platforms
White-label SEO platforms are the one-stop solution for offering different services and SEO tools. These platforms enable you to market your brand while providing SEO services to your customers.
The most renewed platforms are:
9. WebCEO's White label SEO platform
Web CEO is an all-in-one platform that operates under an integrated business model. It provides turnkey and branded SEO platforms with cost-effective solutions.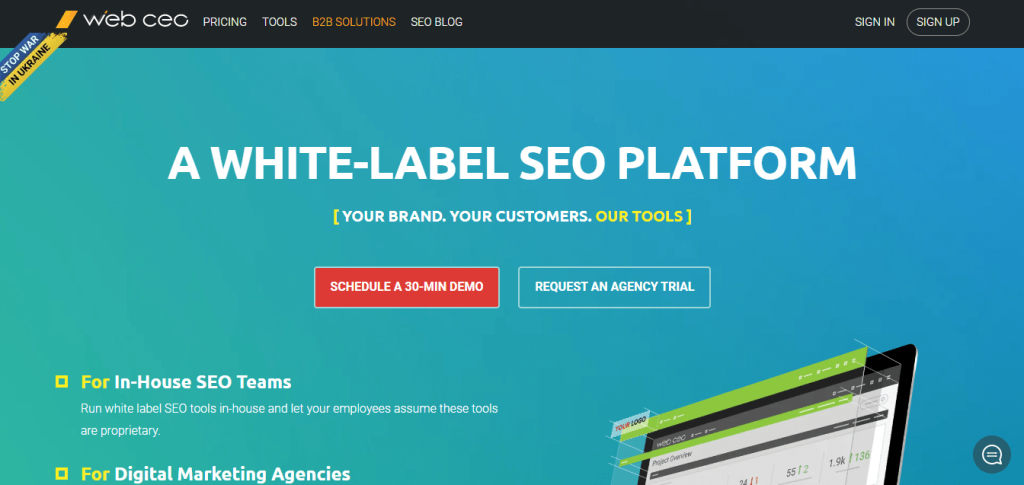 Web CEOs conduct technical SEO audits to find problems that might impair the performance of websites and rank on search engines. It analyses issues such as broken links, duplicate content, site speed, mobile usability, and more and offers suggestions for improvement.
Key features:
Get access to 30+ advanced SEO tools
Manage multiple clients and perform the activities in batches.
Google Analytics & Search Console integration
Accurate local rank tracking
Keyword research
Mobile optimization check
Testing the page speed
Competitor metrics
Emails reports automatically
Social media popularity analysis
Audits internal links and analyzes backlinks
Email notifications
Dedicated support
One of the exciting features of this tool is the white label domain feature that helps set up a domain or sub-domain that hosts all the proper SEO tools in one place.
Best for:
This platform is best for in-house SEO experts, digital marketing agencies, and software resellers.
Pricing:
WebCEO offers different pricing models for newbies to business enterprises.
The starting plan for newbies starts at 37/month.
The plan starts at 99/month with some advanced SEO tools for small-scale and mid-sized businesses.
The agency unlimited plan costs $99 monthly plus a few other costs. It works well for organizations and companies that consistently update new websites to promote them.
The corporate plan is around 299/month and best suits in-house SEO teams.
Minimum Price: 39$
Maximum Price:299$
10. SERanking's White Label SEO Platform
SERanking is an entirely white-label, cloud-based SEO platform with a wide range of features. It serves as the most affordable and reliable SEO solution for professional marketers.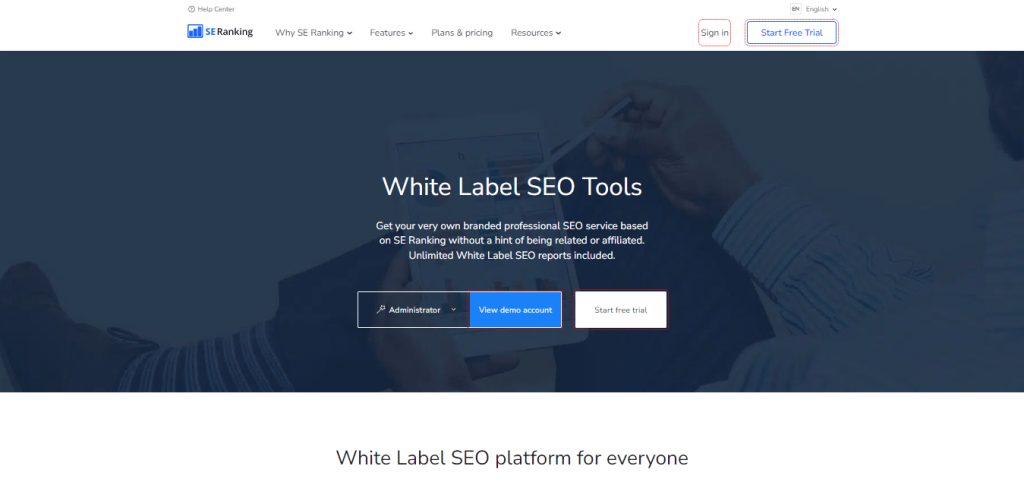 SERanking performs the top-notch functionality of optimizing the complete website to rank the content higher on the search engine results.
Main Features:
Track keyword ranking
Keyword research
Backlinks analyzer
Competitive research
Website auditing
Page changes monitoring
On-page SEO analyzer
Lead generator
Report building
Scial media analytics
Marketing Plan
Traffic analysis
Content marketing
Best for:
SERanking is ideal for agencies, entrepreneurs, enterprises, and small and medium-sized businesses.
Pricing:
SERanking white label SEO tool provides different flexible pricing plans such as essential, pro and business.
The essential plan starts at 31.20/month for freelancers and newbies.
The pro plan is available at 71.20$/month for small agencies and SEO teams
The business plan starts at 151.20/month and benefits medium-scale agencies and businesses.
Note: All 3 plans offer a 14-day free trial and a 20% discount upon the annual subscription.
11. Posirank White label SEO platform
Posirank is a purpose-built platform that manages the complete set of SEO activities required by various clients. It serves as a white-label SEO solution for different customers worldwide.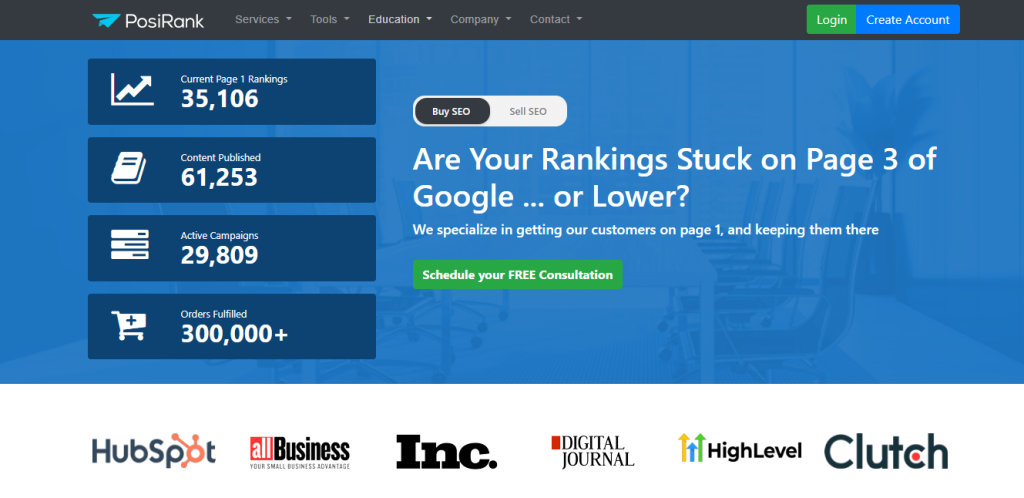 It helps businesses to rank on the top of SERP results. From creating SEO-optimized content to link building, everything is covered under this tool.
Posirank pay per click option enables the clients to get instant traffic and decent results.
Main features:
Keyword rank analyzer
SEO auditing
Website speed auditing
White-label SEO services
Content marketing
SEO reseller services
Local SEO
Link building strategies
Fully managed PPC solutions
Best for:
Posirank white label SEO platform is best for agencies, contractors, small and medium scale businesses, SEO professionals and consultants.
Pricing:
For newbies, the plan starts at $49/month, which includes rank-tracking citation building.
Small and medium-sized businesses start at $149/month, including rank tracking and link-building analysis.
The enterprise plan starts at $499. per month, which provides API access and white-label reporting.
In addition, PosiRank provides a 14-day free trial so that users can test the service before deciding to subscribe.
Related read:
Bottom Line: White Label SEO Tools
White-label SEO tools help businesses automate their workflows and offer their customers a variety of high-quality SEO services, thereby enhancing their company's reputation.
Agencies can provide their clients with more thorough and efficient SEO services by utilizing the knowledge and assets of white-label tool vendors.
In the above article, I compiled the best list of white-label SEO tools to help businesses generate positive results.
Based on your requirements and needs, you can pick the best one. If you find any tool that needs to be added, please drop it in the comments section. You will consider it and mention it in our article.