Semrush got features, reliability, and upgrades that you want in any SEO tool. But is Semrush worth it?
Came across Semrush while looking to decide on an SEO tool? What new features Semrush has released? Or, just curious if taking a Semrush subscription still makes sense in 2023?
Well, you have landed at the right Semrush review to learn about the good, bad, and surprising of this SEO tool!
In addition to reviewing the features of Semrush, we'll also look at how Semrush compares with its alternatives like Ahrefs, MOZ and Spyfu. How offerings of Semrush differ from Google Keyword Planner. And, of course, the pros and cons of Semrush to help you make an informed decision on whether it's worth it or not.
What does Semrush actually do?
First things first, Semrush is a comprehensive digital marketing suite that helps businesses strategize, track, and improve their online visibility.
Although it is typically known for SEO – keyword research, site audit, backlink opportunities, etc. – it's equally preferred for PPC, content, and social media campaigns as well.
Over the years, it has continuously expanded its tool kit to become a one-stop solution for SEO, online sellers, and even social media influencers by offering a mix of free, freemium, and subscription models!
Semrush is a complete marketing toolkit, however, where it excels is — SEO. We'll be walking you through our experience of using SEO features and other digital marketing suites in this detailed Semrush review.
With that introduction of the ubiquitous SEO tool, next, we reflect on our years of experience of using Semrush (and other SEO tools) till today in 2023.
Semrush Features List and Overview
As we mentioned, SEO has always been the speciality of Semrush but not its limitation. It claims to have 55+ tools for SEO, PPC, content, social media, competitive research, and more. To start with, Semrush offers an SEO Dashboard where you can add your site to track common SEO metrics including DA, traffic (direct, referral, search, etc.), and keyword performance.
But how do these fare in usage, accuracy, and ROI in 2023? Let's evaluate them one by one.
Semrush SEO Tool Features Review
Here is the detailed review of the Semrush SEO Tools:
1. Competitive research
For limited SERP space, competition analysis becomes the starting point of all digital marketing strategies. Semrush understands this and hence includes critical features like Domain Overview, Traffic Analytics, Organic Research, Keyword Gap, and Backlink Gap.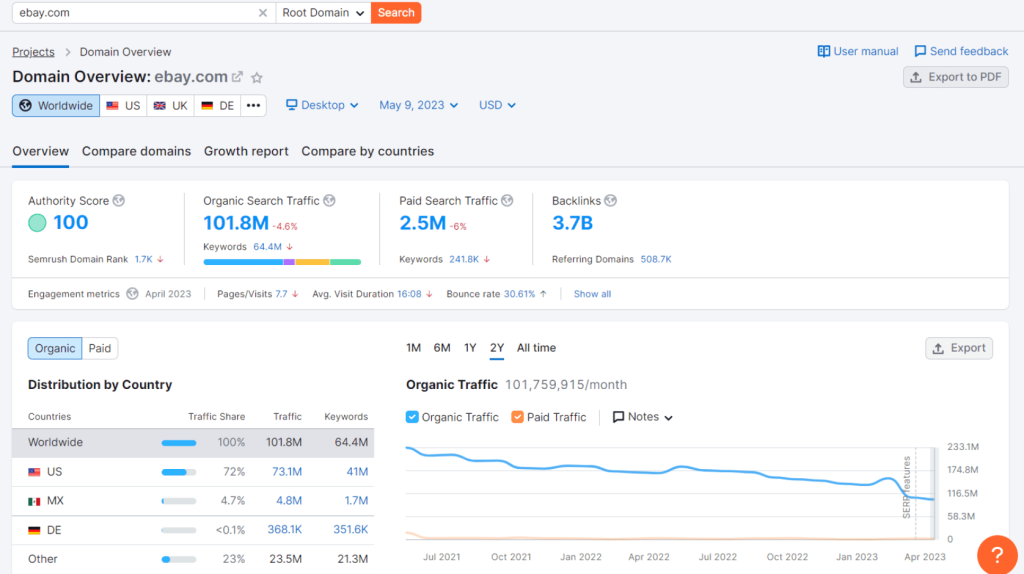 These features provide valuable insights into your competitors' online presence, including their traffic, organic search strategy, top-ranking keywords, and backlink profiles. You can use these to identify potential gaps in your own digital marketing strategy and optimize your website accordingly. They can also identify potential target markets, audiences, keywords, and link-building opportunities for their own business.
Verdict: From domain overview to organic research, Semrush competitive research has it all. The data provided is accurate like traffic and other metrics.
2. Keyword research
Now coming to the core of it, Semrush's Keyword Research toolkit is an indispensable tool for businesses looking to make the most of keyword-based efforts like url, meta, content, etc. This Semrush tool includes five main features: Keyword Overview, Keyword Magic Tool, Keyword Manager, Position Tracking, and Organic Traffic Insights.

It helps identify high-value keywords, and long-tail keywords, and also tracks keyword rankings over time. With the understanding of which keywords are leading users to your website and what pages they are visiting, you can further strategize your keywords usage/content refurbishment.
Verdict: I found that the keyword research toolkit is far better than other tools like Ahrefs and Moz. The reason I loved the keyword research module — they give bifurcation of keywords like — informational, commercial and navigational. So you can pick right keywords for the campaigns.
3. Link building
Link building in SEO is akin to leaving trails of your presence in the digital jungle. The link-building feature of Semrush enables businesses to analyze multiple domains' backlink profiles to identify toxic links. It also recommends potential link-building opportunities to help you build high-quality backlinks.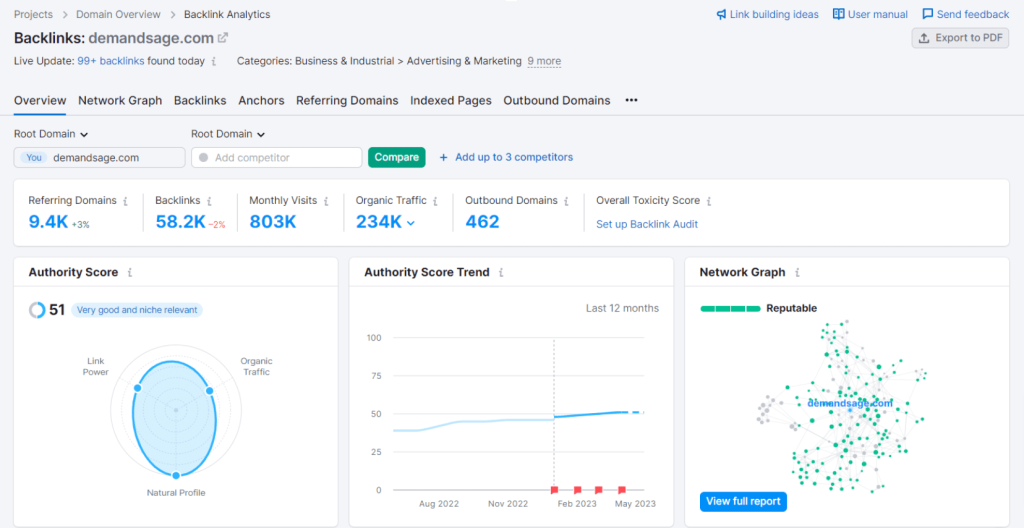 Verdict: Semrush's in-depth backlink analysis and outreach capabilities provide a powerful solution for building a high-quality backlink profile.
3. On-page and tech SEO
A rather vast aspect of SEO, the main Semrush features that enable on-page and tech SEO include Listing Management, SEO Content Template, and On-Page SEO Checker. As the names suggest, they respectively help: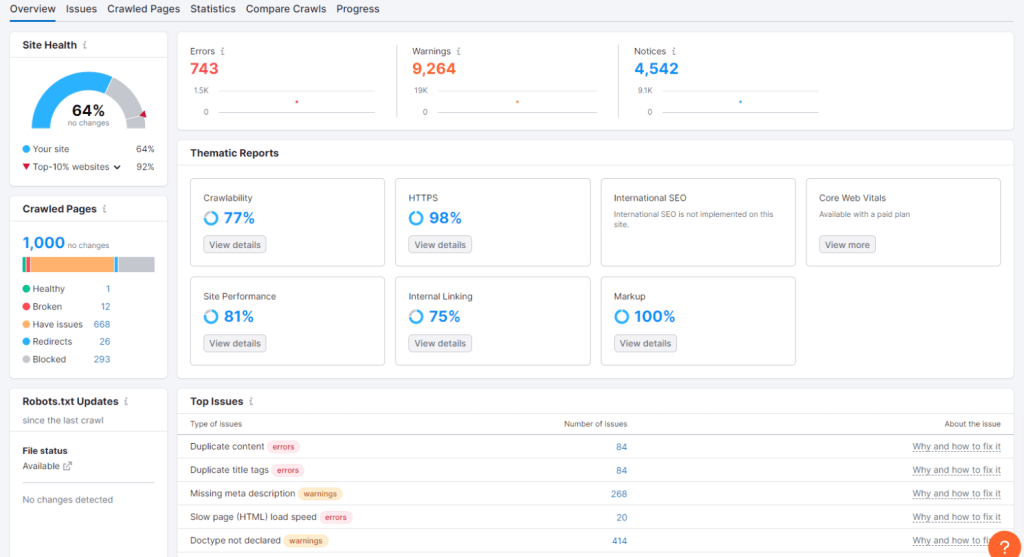 manage your online presence across multiple directories to improve your online visibility.
generate data-driven content ideas based on competitor analysis and target keywords
provide recommendations to optimize your on-page SEO, such as improving page speed, meta tags, and content.
An interesting feature of this tool is 'Log File Analysis'.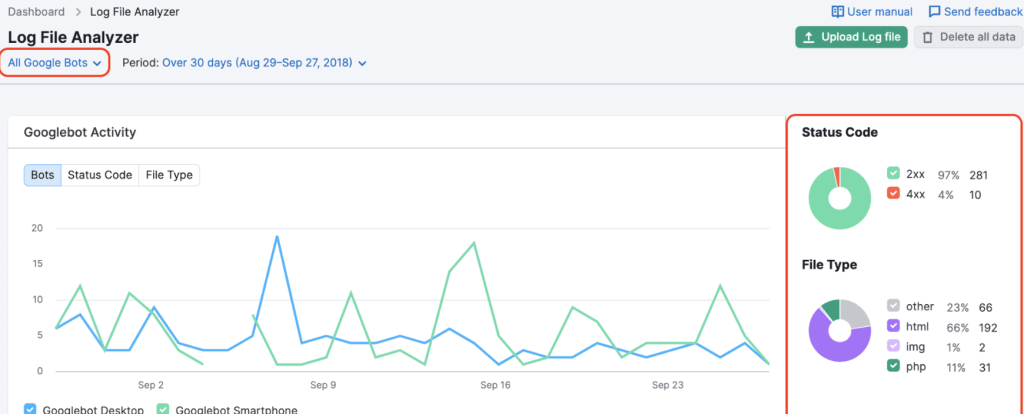 A valuable insight to manage Googlebot's crawling in terms of crawl errors, crawl budget, crawl frequency, etc. of each webpage. It basically helps understand how search engines are interacting with your website.
5. Domain Overview
Domain overview tool helps you to check the SEO performance of the website. You can perform the domain analysis on your website- to check the working and the potential improvement on the websites or to closely watch your competitors.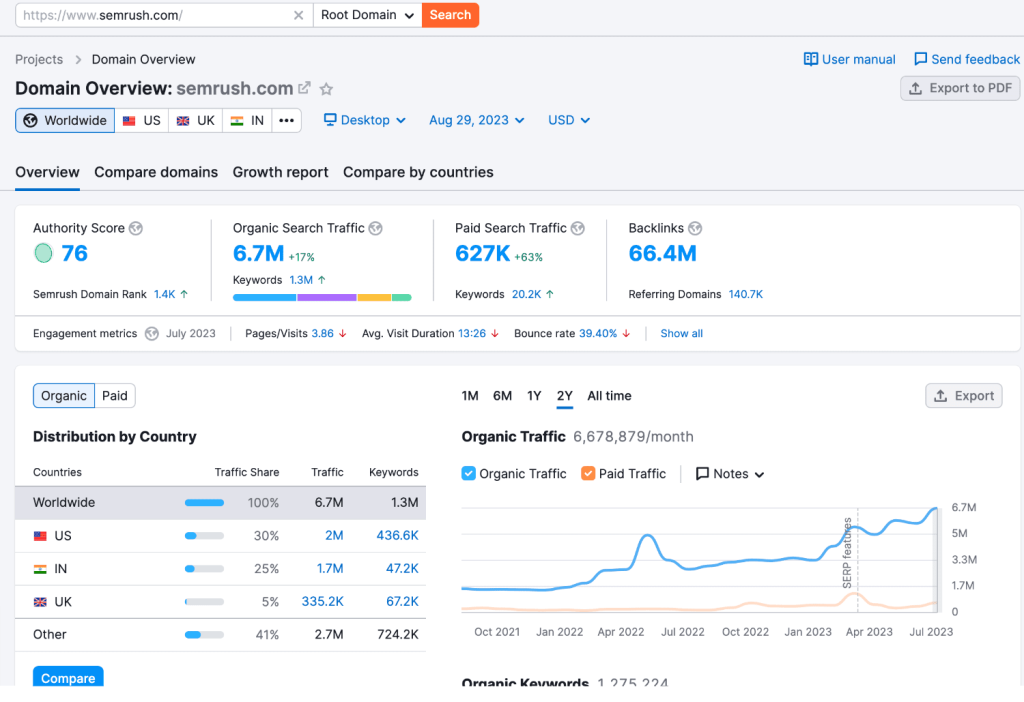 The domain analysis report provides a comprehensive overview of a domain's online visibility, including organic and paid search traffic, backlinks, and display ads. The report also includes data on the domain's growth trend, top keywords, and market representation.
4. Local SEO
Yes, Semrush has a dedicated feature for local SEO. It enables you to online listings, brand reputation, and review management from one dashboard. You can even check local listings and review stats for free for your company.
Still wondering if Semrush is accurate enough? Then check out our detailed article here on its accuracy.
Semrush Content Tool Features Review
Let us have a quick look at the review of Semrush content tools
1. Content Marketing Tools
This Semrush tool kit helps you create and execute a data-backed content strategy per your audience's liking. The features let you do Topic Research, Marketing Calendar, SEO Content Template, SEO Writing Assistant, Post Tracking, and Content Audit.
These basically enable you to combine creativity and analytics from ideation to creation, optimization and performance. Most of the features are free to use with limited calibration.
2. Content Creation and Distribution
Mostly it's the content creation tool you find in the Content Marketing Toolkit of Semrush, but it goes the extra mile by packing two delightful features for content distribution: Content Marketplace and Social Media Poster.
In the Content Marketplace, you can simply indicate a topic. The tool will generate a list of blog posts on a similar theme that are performing well along with the contact information of their writer. While the Social Media Poster is one dashboard to schedule your posts and analyze their performance across multiple social platforms.
3. Content Optimization
Already a part of the creation and distribution tool kits, the Content Optimization features of Semrush help you create search-friendly content-based to drive organic traffic to your website. It also suggests actionable recommendations for keyword placements, metadata, ALT Tags, etc. per SEO best practices in real-time in Google Docs or WordPress.
4. Content Marketing Analytics
Content creation and distribution are not enough. To create a winning content plan, you need to track its performance and make necessary tweaks in body content, flow, metadata, etc. The Content Audit and Post Tracking features under this tool kit help analyze your content performance and identify which metric needs to be improved and how.
Also read our article on SEO Statistics to know the latest insights and trends in SEO.
Semrush Market Research Tool Features Review
Here is the review of Semrush market research tools.
1. Competitor Analysis
Semrush includes some of the most powerful website competitor analysis tools in this section: Traffic Analytics, Organic Research, Advertising Research, and Social Media Tracker.
Traffic Analytics helps in understanding the traffic sources of competitors, Organic Research enables tracking of their organic search strategies, Advertising Research offers insights on their paid advertising campaigns, and Social Media Tracker provides an overview of their social media performance.
2. Market Analysis
Looking to follow the trends of your market? Or assessing if entry into a new market is worth the effort? Semrush Market Explorer and Traffic Analytics features help you gain a complete understanding of your target market; also include competitor analysis in the key steps of your marketing management process.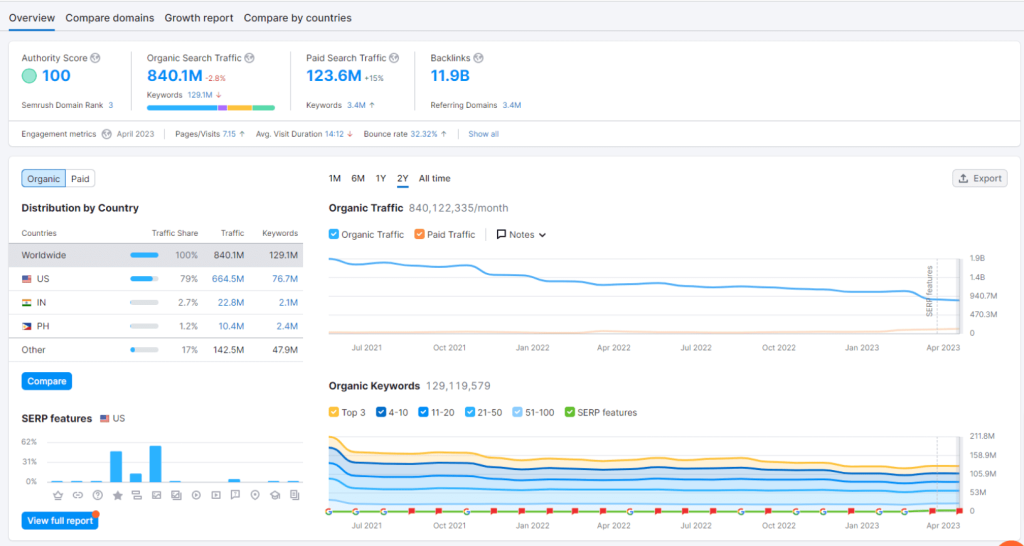 To be precise, the Market Explorer feature highlights market size and potential, the key players, their online market share and traffic generation strategies. While Traffic Analytics shows customers' online journeys, their demands, interests, and geo-distribution as well.
3. Paid Advertising
Perhaps the most interesting feature of Semrush, this tool kit includes features that analyze competitor ads, carry out target keyword research, and also help create compelling ad copy. The three features in this are namely:
Keyword Magic Tool: Uncover billions of related terms and phrases, spot niche topics, and find question keywords to build the best keyword list for your PPC campaign.
View ad copy examples from the industry leaders, the keywords they are bidding on, and see what months of the year they were run.
PLA Advertising: Analyze the performance of other Google Shopping advertisers; their most successful ads in detail like performing search queries, and positioning.
4. Competitor PR Monitoring
Another insightful addition to the Semrush digital marketing suite, this toolkit lets you track your competitors' online mentions. It has two features: Post Tracking and Social Media Tracker.
As the names suggest, what Post Tracking does for blogs/articles, the Social Media Tracker does for social posts — analyze your competitors' content and user activity to gather insights and creative ideas for your own campaigns.
Now you must be wondering from where does Semrush gets its data. Here is a detailed guide that will provide you with the answer.
Semrush Advertising Tool Features Review
Now let us have a look at Semrush advertising tools.
1. PPC Keyword Research Tools
While organic keywords are important, PPC keywords can be even more valuable because they have a direct impact on conversion rates. With its features, this tool helps you identify the right PPC keywords that align with your audience's intent.
The toolkit includes Keyword Magic Tool, Keyword Manager, and Keyword Gap, as well as an advanced PPC Keyword Tool for organizing keywords, setting negatives, and analyzing local volume and CPC data at the city level to create a master keyword list.
2. Website Monetization Tools
A crucial Semrush toolkit for bloggers, AdSense publishers, and affiliate managers who are looking to improve earrings from their website(s). The two features in this toolkit: On-Page SEO Checker and SEO Writing Assistant, provide you with the action points needed to improve your website and the recommendation for content on each webpage (like readability, words to use, title, word count, tone of voice, etc.)
Semrush Social Media Management Tool Features Review
A rather new but quite useful addition to the Semrush digital suite is the Social Media Management Tools that packs features namely Social Media Poster, Social Tracker, Social Analytics, Social Inbox, and Influencer Analytics – for all of which you get free access.
These tools in tandem allow one to schedule, publish, and analyze social media posts across multiple platforms, track competitor social media activity, monitor social media mentions and messages, and identify influencers in a specific niche. Benefits of it include streamlining social media management, improving engagement and reach, and gaining insights for data-driven decision-making.
Semrush Comparisons
In this section we will compare Semrush with other platforms.
1. Semrush vs Ahrefs
While Ahrefs initially focused on backlinks and Semrush on keyword research, both have evolved into comprehensive SEO suites. However, when it comes to accuracy, Semrush has a slight advantage due to its more frequent data refresh rate. Although Ahrefs and Semrush provide similar data, Semrush's real-time updates offer better visibility into recent changes.
Read our detailed Semrush and Ahrefs comparison here.
2. Semrush vs MOZ
While the free tools offered by Semrush and MOZ have overlapping strengths and limitations, their paid subscriptions provide more robust features. In terms of value for money, Semrush's paid subscription is a better option as it offers a wider range of features compared to the relatively expensive Moz subscription.
Read our detailed Semrush and Moz comparison here.
3. Semrush vs SpyFu
While Semrush has established itself as a versatile SEO toolkit on budget when comparing the quality of ongoing product support, SpyFu is the preferred option. Also, if you are primarily doing backlink analysis, then SpyFu has an edge over Semrush.
Read our detailed Semrush and SpyFu comparison here.
Semrush Pros and Cons
Having looked at Semrush features, and how it compares to other popular SEO tools in the market, we hope you have a better understanding of how it can and can't help with your digital content efforts.
Still, to give an overview, below we list the Semrush pros and cons for highlighting across five critical criteria:
| | | |
| --- | --- | --- |
| Criteria | Pros | Cons |
| Keyword Research | Offers an extensive database of over 20 billion keywords with advanced filtering and grouping capabilities. | Keyword research reports can be overwhelming for new users, and the cost can be high for those on a tight budget. |
| Backlink Analysis | Provides a comprehensive backlink analysis tool with advanced features such as link toxicity scoring and competitor link intersect. | Some users have reported that the link index can be slower to update compared to competitors. |
| Site Audit | Performs a robust site audit tool that checks for over 130 technical issues and provides actionable recommendations. | Some users have reported that the site audit tool can be slow and that the crawl limit can be a hindrance. |
| Competitor Analysis | Gives detailed competitor analysis reports, allowing users to identify and track competitor strategies and keywords. | The cost can be prohibitive for small businesses and some users have reported that the learning curve can be steep. |
| Reporting | Creates customizable reports with drag-and-drop functionality and automation options. | The report builder can be challenging to navigate for new users, and some users have reported limited design customization options. |
Semrush Pricing
Semrush has three different pricing plans that cater to different business needs and budgets. Moreover, you can choose from monthly or annual billing cycles while purchasing these plans. We have discussed each plan and its suitability to businesses in the below section.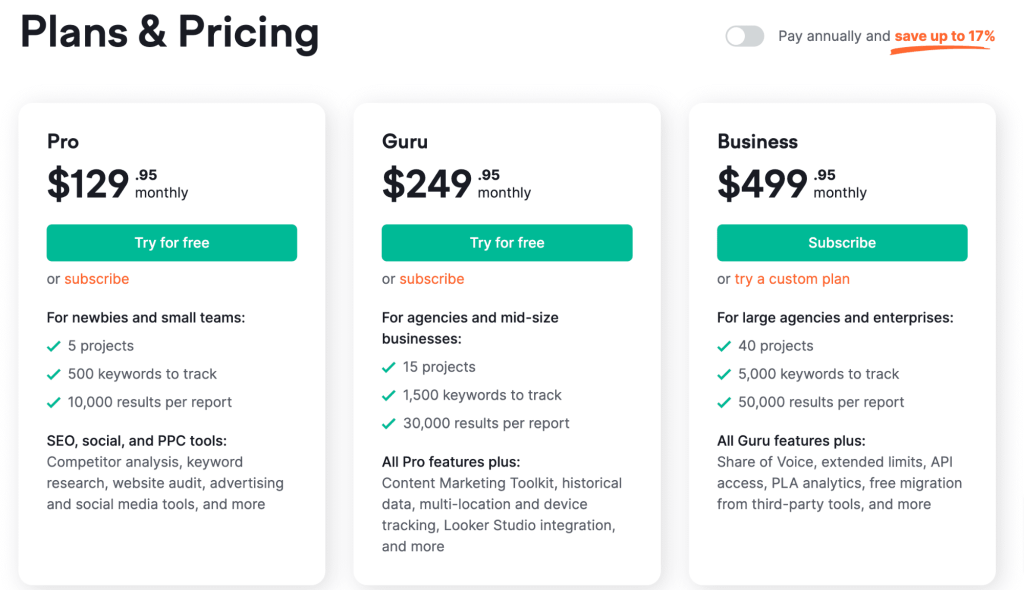 Free:
Semrush offers a free plan with limited access to keyword research, backlink analysis, website audit, competitor analysis and advertising tools.
Pro:
Semrush's Pro plan suits new start-ups, marketers, and small teams. With this plan, you can track 500 keywords, have 5 projects, and get 10k results per report. With the Pro plan, you will get access to keyword research, competitor analysis, website audit, backlink analysis, and advertising tools.
Guru Plan:
If you're running a mid-sized business or marketing agency, the Guru plan may be better suited to your needs, as it offers more advanced features. With this plan, you can have 15 projects, track 1,500 keywords, and get 30k results per report. You also get additional tools like content marketing toolkit, historical data, looker integration, etc.
Business Plan:
If you're looking for enterprise-level features, our Business plan has got you covered, making it perfect for larger companies with more complex requirements. It offers the highest usage limits with access to 40 projects, tracks 5000 keywords, and gets 50k results per report. You can even get custom quotes from Semrush's sales team.
Here is a table showing Semrush's Pricing Plans:
| | | |
| --- | --- | --- |
| Plan | Monthly Price | Annual Price (with 17% discount) |
| Pro Plan | $129.95/month | $108.33/month |
| Guru Plan | $249.95/month | $208.33/month |
| Business Plan | $449.95/month | $416.66/month |
If you are still not quite sure for subscribing Semrush. Then you can try Semrush's 7-day free trial.
Are SEMrush Plans Worth It?
SEMrush's pricing can be considered as competitive in comparison to Ahrefs and MOZ. While it may be on the higher side for some smaller businesses, the extensive features and capabilities offered by SEMrush make it a worthwhile investment if they wish to scale on a bigger level.
Additionally, SEMrush offers a variety of pricing plans to fit different business needs and budgets. If you are a smaller business that cannot afford SEMrush for a year, try it for one month at a time.
Overall, SEMrush's pricing is fair and reasonable for the value provided by its tools.
Semrush Alternative: Free and Paid
Overall, it seems that Semrush is the Swiss army knife of an SEO tool, but using it to its full potential is not everyone's game.
Which brings us to, if not Semrush then what. Fortunately, there are a plethora of SEO tools in the market competing with Semrush for the marketer's attention. Some are free some require a subscription. We think the below Semrush alternatives are worth exploring for those tight on budget or not having the bandwidth to learn its usage.
Semrush free alternatives
Google Analytics: A must-have free web analytics tool by Google that provides insights into website traffic, user behavior, and conversion rates.
Ubersuggest: A free SEO tool that offers keyword research, site audit, and backlink analysis features.
Yoast's Real-Time Content Analysis: You can create and edit your perfect title and meta description, and immediately see how they'll look on the SERP with this free WP plugin.
Semrush paid alternatives
Ahrefs: A comprehensive SEO tool with a focus on backlink analysis, keyword research, and competitor analysis.
Seobility: A versatile SEO suite that offers site auditing, keyword tracking, and backlink analysis features at an affordable price point.
Serpstat: An all-in-one SEO platform that offers features such as keyword research, backlink analysis, site audit, and competitor research.
Bonus: Here is a complete list of Semrush Alternatives.
Related Reads:
The Verdict: Is Semrush Worth It?
You have reached the conclusion of our in-depth Semrush review.
We hope to have covered every aspect of this SEO tool from the angles of features, pricing, and comparisons with other tools. This review should paint you a full picture of the tool to help you make your decision basis your needs, budget, and understanding of the tool itself.
On a summary note: there is no doubt of Semrush is the most thorough of the digital marketing suite for even advanced marketers looking for SEO, PPC, and content marketing. But, the learning curve to utilize its expansive feature sets is steep. May overwhelm even intermediate-level marketers.
The good thing is Semrush offers a free trial to their entire suite so that you can see for yourself if it's worth it for you or not. Get started with Semrush for free here!
FAQs: Semrush Review
What is Semrush and what does it do?
Semrush is an all-in-one SEO tool that helps with keyword research, site audits, backlink analysis, and more.
Is Semrush worth it?
Yes, Semrush is worth it for its comprehensive set of SEO tools and accurate data.
Is Semrush free?
Semrush offers a limited free version with basic features, but its full set of tools requires a paid subscription.
How much is Semrush per month?
As of April 2023, Semrush pricing starts at $119.95 per month for the Pro plan and goes up to $449.95 per month for the Business plan. The annual package will cost around 15%.
Which is better Ahrefs vs Semrush?
Both Ahrefs and Semrush are great SEO tools, but Semrush has an edge in terms of data refresh frequency.