Does KWFinder live up to its name and help you find quality keywords? Find out in this detailed KWFinder Review.
KWFinder is part of Mongools SEO tool suite and is touted as the market's most cost-effective keyword research tool. Besides its competitive pricing, KWFinder is popular for its sleek and intuitive interface.
So, are there any pitfalls behind its simple interface and pocket-friendly pricing, or is the tool really the rare combination of affordability and excellent functionality?
To answer that, I have explored KWFinder inside out and compiled my findings in this in-depth KWFinder Review. Read it and understand whether KWFinder can help you uncover profitable keywords.
KWFinder Review – Quick Verdict
KWFinder is an intuitive tool with outstanding capabilities for discovering long-tail keywords. Besides, you can effectively analyze SERP and uncover your competitors' ranking keywords.
Furthermore, it packs enough punch in terms of performance and features at a low price and is suitable for small to mid-sized SEO projects. But above all, it's available free of cost for 10 days, giving enough time to evaluate the merits and shortcomings of KWFinder.
KW Finder – In a nutshell
| | |
| --- | --- |
| Tool Type | Keyword Research Tool (Part of Mongools SEO Toolkit) |
| Best For | Bloggers, Affiliate Marketers, SEO Professionals, Small Agencies |
| Pricing | $29 – $129 per month |
| User Experience | Excellent |
| Interface & Navigation | Excellent |
| Support | Average |
Pros & Cons of KWFinder
KWFinder has numerous strengths, but it's not without its limitations. In this segment, we will explore the good and the bad of KWFinder.

Pros of KWFinder
No learning Curve – KWFinder heavily emphasizes simplicity. You can begin keyword research right away.
Ultra-intuitive UX – KWFinder boasts a modern and sleek UI that facilitates smooth usage of the tools.
Uncovers long-tailed keywords – KWFinder has a real knack for uncovering low-competition, long-tail keywords.
Seamless API Access – Mongols also offers API access to KWFinder to enable extracting key matrices related to keyword research at scale.
Affordable Pricing – KWFinder is indeed one of the market's most pocket-friendly keyword research tools.
Accurate Keyword Suggestions – KWFinder excels in providing accurate Keyword suggestions helping you uncover untapped keyword opportunities.
Comprehensive and Detailed – KWFinder offers extensive details about keywords like volume, keyword difficulty, trend analysis, etc., to help you accurately gauge the value and potential of the particular term.
Allow Local Keyword Research – A big positive about KWFinder is its ability to suggest locally relevant keywords. You can search local keywords for around 50k locations.
5 Tools In 1 Package ( Whole Mongools Toolset) – KWFinder subscription also includes other tools in Mongools umbrella – SERPChecker, SERPWatcher, LinkMiner, SiteProfiler.
10-day Free Trial – KWFinder provides a free trial for KWFinder. The best thing is you don't need card details to activate Mongool's free trial.
Cons of KWFinder
No KD Score for Related Terms – Unlike Semrush of Ahrefs, KWFinder doesn't calculate KD of related keywords for the terms you are searching.
Inconsistent Search Volume Data – In some cases, KWFinder provides inaccurate search volume data.
Limited basic plan – The entry-level plan of KWFinder is quite limited ( only 25 keywords lookup and 50 suggestions) in terms of keyword research.
Not Suitable for advanced analysis – KWFinder might be simple to use, but it lacks advanced keyword research capabilities like search intent, variations, SERP features or paid keywords.
Features: What does KWFinder Include?
KWFinder is a complete package that includes several features for thorough keyword research. Let's get an overview first, and then we will explore how they fare in practice;
Explore Long-Tail Keywords – KWFinder particularly excels in finding low-competition, long-tail keywords that are easy to rank. These are low volume but have big potential to boost traffic and conversion.
Evaluate Search Volume – Each keyword search is accompanied by the associated search volume to evaluate the value of the search terms.
Discover Competitor's Keywords – KWFinder allows you to search keywords by domain. It enables you to uncover keywords targeted by competitors.
Extract Keywords from Google Auto Suggest – It enables you to utilize Google's Phrase Match algorithm and extract unique and lucrative keyword suggestions.
Local Keyword Search – It enables you to search for potential keywords according to specific geographic locations. You can target those keywords to cement your position in local searches.
SERP Analysis – Allow a central dashboard to help you analyze SERP and related SEO matrices.
Bulk Keywords Import – This allows you to import a list of keywords and analyze them with the features available on KWFinder.
Functionality – My Experience
I bought a subscription to KWfinder to understand how it works and whether it's practical in its approach to keyword research or not. Here's what I found out.
1. Keyword Research – General Overview
I found the keyword tool straightforward. You can enter terms and specify a location to get started with keyword Research. I have worked with several SEO tools, but KWFinder certainly looks better, in my opinion.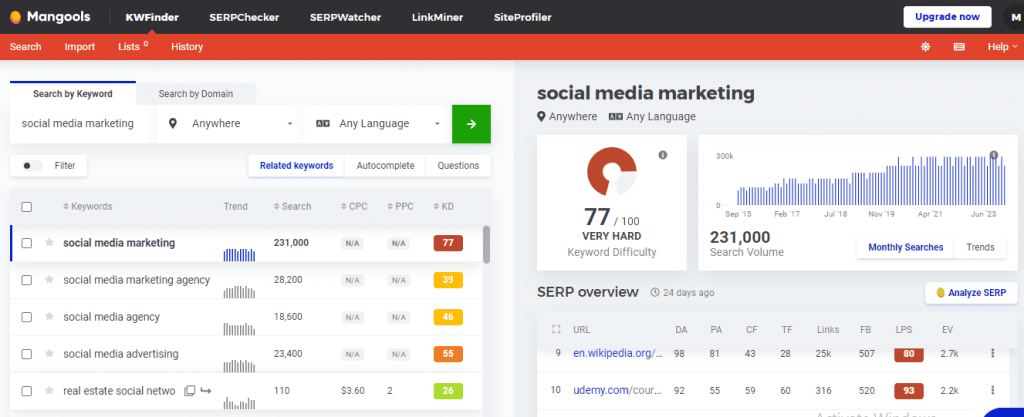 It presents data in an easily digestible format. You get the difficulty score, related terms, CPC, etc. It also features traffic evaluation over the years and a precise SERP overview.
I particularly liked that there's no scrolling down; everything is available on the same screen. Unlike the mighty Semrush or Ahrefs, you don't need to juggle different submenus.
Let's say I have to look for related keywords; I entered a search term, Social Media Marketing and KWFinder came up with up to 700 suggestions. Simple and easy. Till now, everything is to the point and complete.
2. Find Long Tails Keywords
Next, I wanted to test the tool to search for long-tail keywords, which KWFinder is famous for.
I added some filters, and to ensure that all the suggestions are long tails, I also specified the Maximum and minimum word length. My filters ensured that the suggestions were at least three words long.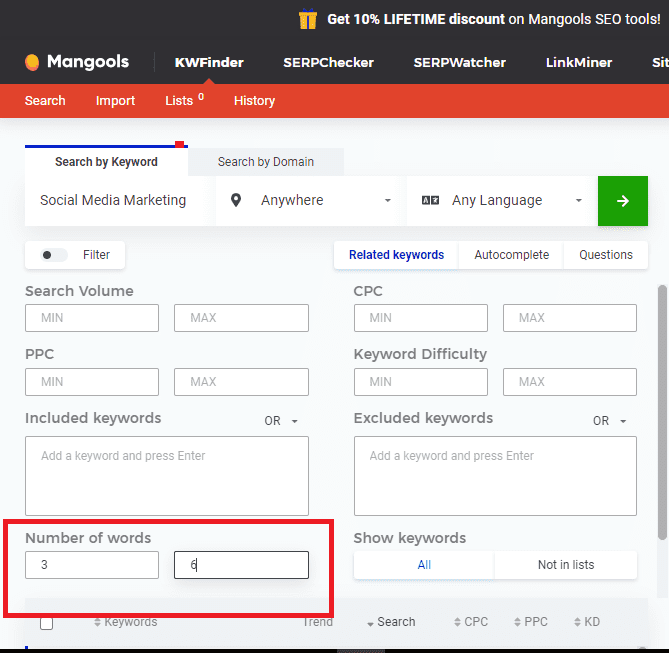 Well, I found around 20 long-tail keywords – not bad. Some seem promising, like 'Social Media Marketing for Real Estate.'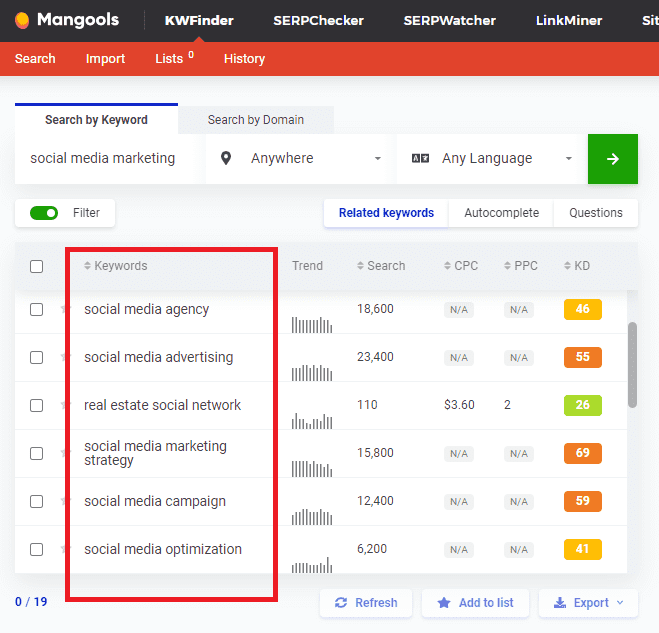 Suggestions are limited, but KWFinder doesn't require heavy lifting to uncover some lucrative options.
Pro Tip: Here is a straightforward guide to find Keywords for SEO.
Search By Domain
KWFinder also allows you to steal your competitors' domains. All you need is to shift to 'Search by Domain Option.'
I am taking the example of 'sproutsocial.com', which I got from the KWFinder SERP overview option.
KWFinder comes up with tons of keywords. But something that needs highlighting is that it lets you switch between organic and paid keywords.
Secondly, it shows the position of the top-ranking keywords of the specified domains.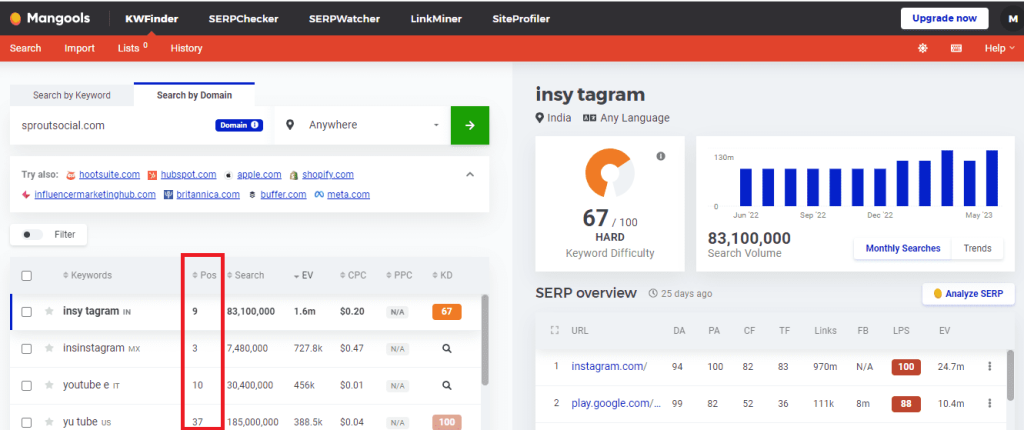 In the SERP overview, you even check out the inbound links and the domain and page authority. It gives you an idea of how much work will be required to rank for the keyword.
Once you have something promising, you can put it back in the keyword research tool, explore the related keywords, and autocomplete to churn out additional keywords of interest.
Overall KWFinder keyword research tool is complete, thorough and intuitive. You can easily explore quality keywords, filter out unnecessary terms, break down competitors' domains, and reveal their most valuable keywords.
KWFinder User Experience
Now, let's explore how KWFinder fare in terms of user experience;
Setup – How to get started with KWFinder?
The setup of KWFinder does not require any complex steps. A simple sign-up is needed to get you started with KWFinder.
The standout feature is the free trial. You can sign up for a 10-day free trial to test whether KWFinder aligns with your needs.
Notably, signing up for a free trial doesn't require you to provide card details – even elite tools like Semrush asks for card details to avail of a free trial.
All you need is to sign up with your email, and you are ready to dive into some serious keyword research.
Interface & Ease of Use
The UX of KWFinder is top-notch. The interface is minimalist and curated with bare minimum features to make it as easily navigable as possible.
But above all, it's the approach to present the data that significantly boost user experience. A simple search displays all the data – there's no need to tweak settings or navigate different sub-menus.
Every aspect of KWFinder's interface speaks of simplicity, isn't overcrowded with unnecessary features, and is easily accessible.
In short, beginners and experts alike can navigate KWFinder with relative ease and find tons of valuable keyword data.
Customer Support & Documentation
Good customer support is always expected from online tools. However, it's not always the case.
Thankfully, KWFinder doesn't disappoint with customer support. First, it has an elaborate and well-written Knowledge Hub that features every specific detail of KWFinder. Then there are live chat and email options to reach the support team.
Although phone support is missing, live chat compensates for it. I have tested the option and received quick replies.
However, it doesn't completely fill up for phone support, which could be handy to get real-time help from experts.
KWFinder Data Accuracy
KWFinder pulls its keyword data from Google Planner itself. And it determines the keyword difficulty score on several matrices pulled from multiple sources – moz matrices, domain authority, backlinks, etc.
Recently, Google Keyword Planner has been giving inflated numbers for keywords volume. It's because it combines volume for multiple similar-looking keywords into one. That's why KWFinder's keyword volume data is less accurate than other tools.
But that's not the case with its KD score. It relies on multiple matrices from Moz to calculate keyword difficulty.
To give you a context, Ahrefs relies solely on backlinks to determine KD. Therefore, the KWFinder KD score seems to be more accurate.
Pricing – Is KWFinder Cost Effective?
KWFinder offers four subscription plans – the entry-level plan is a recent addition. Both monthly and annual subscriptions are available, and you can avail of the annual subscription for a 10% discount.

Here are the details;
| | Monthly Pricing | Annual Pricing |
| --- | --- | --- |
| Mongools Entry | $29.00 | $19.90 |
| Mongools Basic | $49.00 | $29.90 |
| Mongools Premium | $69.00 | $44.90 |
| Mongools Agency | $129.00 | 89.90 |
KWFinder is undoubtedly affordable compared to other SEO and keyword research tools. But the amount of keywords data you can pull up is limited by the daily limits on each subscription.
I initially opted for the Mongols Entry Plan, which allowed me 25 keyword lookups and 25 keyword suggestions daily. These limits reset after 24 hours; however, you might find the entry plan quite limiting for any medium-sized SEO projects.
That's why I moved for the Mongols Premium plan, which offers unlimited keyword suggestions and 500 keywords lookup. These limits are enough for entrepreneurs, self-employed SEO professionals, small agencies, etc.
Overall, KWFinder is cost-effective, but it loses a few points when it comes to the number of keywords it can return.
What are the best KWFinder Alternatives?
Mongools remains a top choice for beginners and entry-level SEO professionals. But if it doesn't suit your needs, there are several Mongools alternatives you can try;
1. Ubersuggest – Best KWFinder Alternatives in terms of Affordability
Ubersuggest can rival KWFinder for simplicity and ease of use. Likewise, the data it can pull on keywords is comparable to KWFinder.
Like the Mongools tool suite, Ubersuggest is also a complete SEO tool package that pulls out relevant matrices related to SEO, such as volume traffic, backlinks, page speed, and more. Its pricing starts at $12/month for Individual Plan and goes all the way to $40/month for Agency Plan.
2. Semrush – Overall Best KWFinder alternatives
Semrush is a top-ranking all-in-one premium SEO tool that could outshine any other tool regarding features and functionality. It includes a powerful keyword research module that offers a detailed analysis of search terms, including volume, difficulty, CPC estimates, keyword variation and more.
Semrush also surfaces millions of related terms for any given keyword ( no comparison with KWFinder here). But it's way more pricey than KWFinder, and the standard plan will push you back $129.95 a month. Another caveat is its densely packed interface which might be overwhelming to newbies.
Bonus: Read our detailed Semrush Review to know more about Semrush.
3. SE Ranking – Low-Cost Alternative to KWFinder
SE Ranking provided functionality similar to Semrush but at a lower cost. Besides, it also features a refined interface that is easy to navigate. You can do thorough keyword research with SE Ranking.
Moreover, it also includes additional features like Keyword Suggestions and Keyword Grouper tool for advanced research. For complete website SEO, SE Ranking packs outstanding features like Backlink Tracking Tool, Rank Tracker, Content Marketing tools, etc. Its pricing starts at $44 per month.
Related Reads:
Conclusion: KWFinder Review
If you need an affordable, easy-to-use solution capable of handling small to mid-sized keyword research projects, KWFinder can be a good choice.
It's not perfect and lacks advanced features that you might find in other SEO toolkits, but for the price, it provides extraordinary value for money.
In any case, the 10-day free trial is an excellent opportunity to analyze the potential of KWFinder. On top of that, it also includes a 48-hour money-back guarantee which can further act as an extension of the trial period.
So try it and see how it helps you discover untapped keyword opportunities.
FAQs: KWFinder Review
Can I purchase only a KWFinder subscription?
No. KWFinder forms the five SEO modules that make up the Mongools SEO toolkit. Each subscription plan of Mongools includes all five SEO modules.
How does KWFinder work?
KWFinder has simple working – all you need is to enter a search term. KWFinder will come up with related terms alongside matrices like KD, Volume, SERP overview, CPC etc.
Is KWFinder a free tool?
No. KWFinder is part of Mongools and is available with a monthly or annual subscription. However, KWFinder offers a 10-day free trial to help you get an overview of the platform.
Does KWFinder support keyword research in multiple languages?
Yes. Besides English, you can perform keyword research in German, Spanish, Italian, French, and many more languages.