Does Serpstat hold enough power to help you ace the SEO game? Find the answer with my in-depth Serpstat review 2023.
You will agree with me that SEO is not possible without a quality SEO tool. One of the most popular tools that comes to mind when talking SEO is Serpstat. It's been around since 2013, and hundreds of thousands attribute their SEO success to Serpstat. It first gained notoriety as a keyword research tool and, over time, evolved as a full-fledged SEO tool.
One thing where Serpstat shines is its affordability. However, my interest was in finding whether Serpstat's affordability comes at the expense of functionality or the tool can indeed rival market leaders like Semrush. To find the answer, I signed up for Serpstat and thoroughly tested the features it packs under its belt. Now, I am ready to share my findings with a detailed Serpstat review.
What will you find inside?
Serpstat Quick overview
Serpstat Pros and Cons
Serpstat features analysis
Serpstat User Interface
Serpstat pricing
By the end of my Serpstat review, you will be better positioned to decide whether it's cut to meet your SEO requirements. Let's dive, then!
Serpstat Review: TLDR;
Serpstat began as a keyword research tool in 2013 and gradually added features to address other aspects of SEO.
Serpstat price ranges between $59 – $479 making it one of the most affordable SEO tools in the market.
Serpstat features a simple interface that is easy to navigate. In terms of usability, Serpstat rivals the likes of Ahrefs and Moz.
It maintains a decent keyword database but doesn't stand against Semrush (25 billion keywords) or Ahrefs (20 billion keywords).
Serpstat performance is outstanding when it comes to site audits or backlink analysis, easily matching its competitors like Moz or SE Ranking.
Serpstat SEO Tool – In a Nutshell
Serpstat is an all-in-one SEO tool that promises exceptional features to tackle website SEO. Here's a condensed summary of the Serpstat review in the form of ratings that I came up with after analyzing each of its aspects;
| | |
| --- | --- |
| Tool Type | All-in-one SEO Tool |
| Suitable For | SEO Professionals and small to medium sized agencies |
| Ease of Use | 4.9/5 |
| Keyword Research | 4.6/5 |
| SEO Research | 4.7/5 |
| Website Analysis | 4.7/5 |
| URL Analysis | 4.8/5 |
| Paid Search | 4.8/5 |
| Backlink Analysis | 4.8/5 |
| Rank Tracker | 4.9/5 |
| Site Audit | 4.9/5 |
What I liked about Serpstat (Pros)
Serpstat performs exceptionally well when it comes to site audits. The one-click audit function, its details, and the helpful suggestions make it an excellent tool for site audits. Besides, Serpstat scores well in backlink analysis and is almost as thorough as Semrush or Ahrefs. The link intersects feature needs a particular mention which reveals link-building opportunities and is at par with similar features in Moz. But above all, I was particularly impressed with how Serpstat segments domain and URL analysis. In particular, the URL analysis is impressive. It helps you eliminate the clutter and dive deep to analyze a single URL. With its help, you can curate a powerful SEO strategy page by page of your website. And as a cherry on top, Serpstat boasts a straightforward interface – nothing fancy, good data visualization and hassle-free navigation.
What I disliked About Serpstat (Cons)
Serpstat needs a revamp in terms of speed – it appears sloppy sometimes, especially during domain analysis and site audits. Additionally, its keyword research is not as thorough as other SEO tools. Likewise, the free version appears to be of no use to me. Its limits are so narrow you cannot extract any meaningful data before exhausting it all.
Serpstat Ease of Use (Excellent)
Before we dig into the features of Serpstat, it's prudent to first talk about its interface and usability. My thinking is that unless you can't navigate a tool properly, you won't be able to extract all its benefits.
Serpstat attempts nothing drastic regarding the user interface. The left sidebar includes all the features Serpstat offers, while the rest of the screen displays data related to the feature you accessed.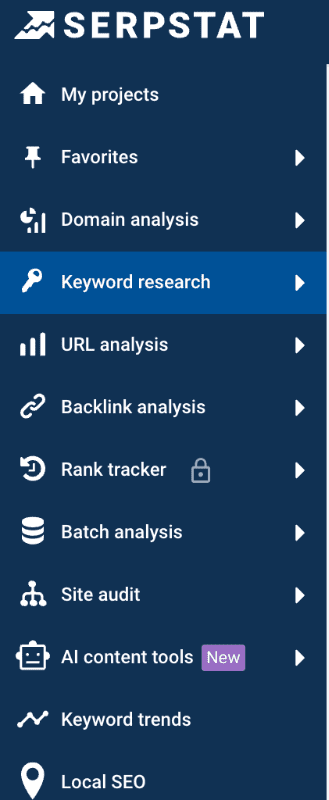 In appearance, you will find many similarities with the interface of Semrush. Serpstat has the same drop-down menus and the same layout. A big difference is that Serpstat doesn't try to cram every detail together. Sure, you have to scroll down a bit, but with a spacious layout, data visualization is more elaborate. It makes it easier to digest the information and find the necessary details.
However, I believe Serpstat is slower at fetching data than other tools, especially when extracting SEO details of a domain. Other than that, navigating Serpstat is smooth, and the features are easily accessible. Data visualization is comparable to the elite tools (Semrush, Ahrefs, Moz) or rather a step further, given that each element takes a big chunk of screen space, making it easy to make the head and tail of the presented information.
In short, Serpstat takes the lead with its straightforward interface.
Features – A Detailed Overview of Serpstat Features
Serpstat has five different toolsets that are geared to handle a specific SEO task, ranging from keyword research to site audit. Recently, it also added a new section for AI content generation. However, this module is not available with the free Serpstat version.
Let's discover how Serpstat features fare in practicality.
1. Keyword Research (Basic and Shallow)
SEO begins with keyword research, and Serpstat denotes a fair share of resources in this aspect. It has a decent enough keyword database of over 7 billion keywords. It further stores details about 570 million paid keywords.
Although meager is compared to elite tools, it is still enough to perform thorough keyword research. I was particularly impressed by the segmentation of keywords data based on Google's database. Incidentally, you can extract keywords details from over 230 Google databases. That's helpful if you want to narrow down the results to a particular location.
Keyword research on Serpstat is straightforward; you enter a search term in the keyword overview section, for example, 'Best SEO Tool', and it displays the relevant data.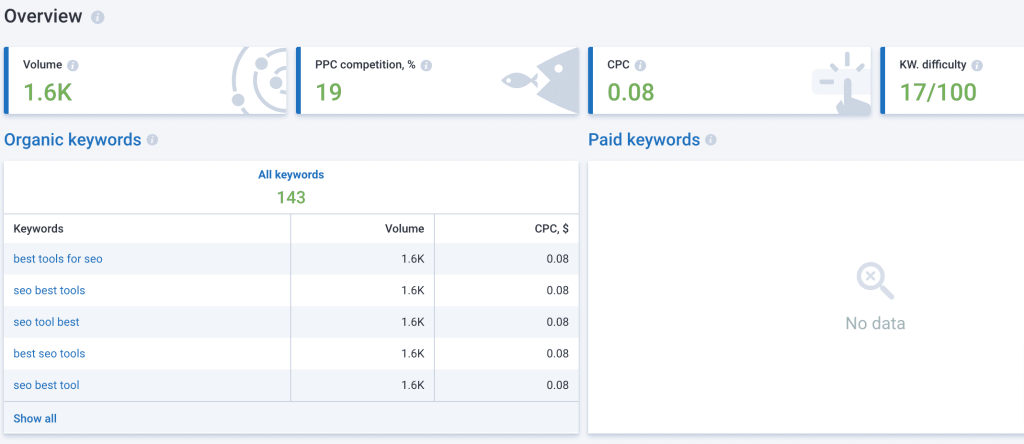 Nothing radical comes up on top, just the basic stuff like volume, CPC, and keyword difficulty. Several advanced matrices, like search intent, global volume etc., are missing. Similarly, Serpstat does come up with paid ad results. It does not display keyword ad history and related matrices.
But I found the competitor's section quite interesting; instead of just listing top-ranking pages, it also displays data regarding common keywords and visibility. It helps you gauge the competition for that keyword.
Another good thing, in my view, is keyword trends which Serpstat pulls from Google trends. This eliminates the hassles of finding the trend about the keyword separately.
Serpstat has also added a new tool in the keyword research section called Top By Keyword. It displays the top 100 urls ranking for the given keywords as well as keyword variations of keywords you are researching.
2. SEO Research (Helpful)
SEO research extends the keyword research functionally and provides additional tools to find potentially lucrative keywords.
It includes;
Keywords Selection – To find close variations of searched phrases that the top 100 urls rank for in SERP.
Related Keyword – To extract semantically related keyword ideas for a given seed phrase.
Search Questions – To obtain question keywords for a seed phrase.
Top Pages – It displays the list of top pages that rank for the most related or closely matched keywords.
In the related keyword section, the SERP feature attribute is particularly noteworthy, as it helps identify what kind of pages are ranking in search results. But I wasn't impressed with the related keyword section. Although it comes up with a fair number of keyword ideas, it stands nowhere when you compare it with the keyword magic tool of Semrush.
Overall, SEO research in Serpstat is thorough, although not as deep as premium SEO tools; it will help you find quality keywords.
3. Website Analysis (Average)
Website Analysis is an essential component of SEO, and Serpstat takes it seriously. You can easily analyze a domain or a URL to uncover its ranking strategy and the potential loopholes you can exploit to outrank it.
Although it's similar to the Site Explorer feature of Ahrefs or the Domain Overview feature of Semrush, there's one thing it does differently. Serpstat has separated domain and URL analysis. I think this division makes things simple and helps you define the scale of your analysis.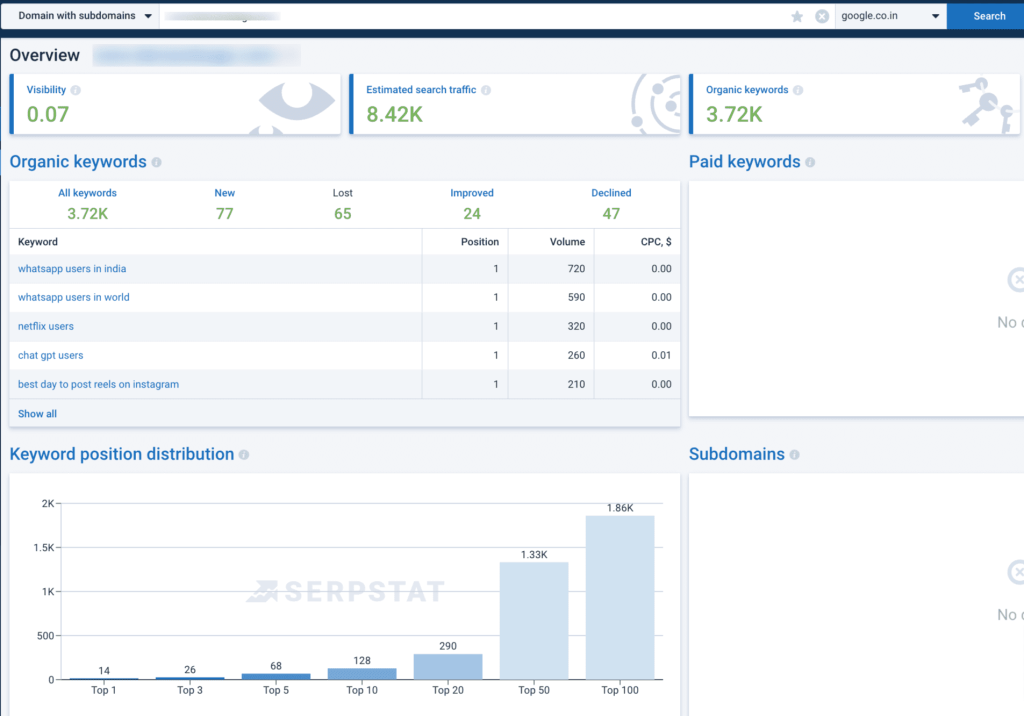 Website Analysis reveals organic and paid keywords that bring the most visitors to the domain or the URL. But the most unique matrix is the domain visibility – it estimates how often a domain appears in SERP for the keywords it ranks in search results.
Additionally, you can also analyze traffic changes over time. However, you can only access historical data back to 2015.
Another feature that needs a mention is the top-page analysis. It lists the website's top page that attracts the most traffic and ranks for the biggest cluster of keywords. You can utilize the tool for competitor analysis. Likewise, it can also help you identify topic clusters you can target to build topical authority.
4. URL Analysis (Exceptional and detailed)
I found the URL analysis feature the most helpful. It lets you analyze a single URL of your website or competitor's. That could help you devise an SEO strategy for individual pages. You can extract details like organic keywords, paid keywords, how the keywords are positioned in the SERP as well as the top organic competitors.
But the most noteworthy feature of Serpstat URL analysis, in my view, is the missing keywords. It's similar to the Kombat feature of SpyFu and helps you find the keywords your 20 closest competitors rank for, but your page doesn't. It can help you fill the keyword gap and outrank your competitors in SERP.
5. Paid Research (Thorough and useful)
In my opinion, Serpstat offers a decent PPC research functionality. It's straightforward and detailed – enter a domain, and Serpstat reveals the paid keywords they are targeting. It also displays the exact ad copy they use to run the PPC campaign.
Once you initiate PPC analysis, Serpstat comes up with the following details;
Paid keywords alongside various attributes like KD, volume, CPC, Ads by keyword etc. Plus Serpstat also ascribes a value to denote the level of PPC competition.
A list of competitors from the top hundred bidding for a given keyword.
Ads examples (my favorite). It also displays the text used in the ads.
In short, Serpstat PPC research gives a full breakdown of competitors' ads, their ad copies, targeted keywords and more.
6. Backlink Analysis (Outstanding)
Backlink Analysis in Serpstat reminds me of the Moz link analysis feature. It's similar and covers almost similar details as other tools.
You can extract details like external links, referral domains, top pages, anchor text etc. But most noteworthy is the link intersect and malicious site feature. With these features, you can easily uncover the gaps in your link-building strategy and find backlinks that your competitor has, but you don't.

Similarly, low-quality backlinks coming from shady domains are detrimental to SEO. Therefore, it's essential to weed them off. The malicious website feature proves a real help in this regard.
Another useful feature I found in backlink analysis is its Serpstat Domain Rank. It represents the domain authority of a domain that ranges between 0 – 100. Earlier, Serpstat didn't have this feature. It denotes the number of links a domain has as well as the links those referring domains include.
With SDR, it's relatively easy to sort out domains based on the strength of their link profile. Similarly, Serpstat also displays lost and acquired backlinks over time, giving a more detailed overview of the link profile and how it evolved.
All in all, Serpstat provides a deep backlink analysis and could easily match the link analysis capabilities of other elite SEO tools.
7. Rank Tracker (Simple and comprehensive)
If you have used the rank tracker tools of Ahrefs or Semrush, you will find the Serpstat rank tracker very similar in appearance and functionality.
But I will give extra points to Serpstat for the simplicity of adding keywords for tracking. Likewise, the daily ranking update is also quite helpful – in comparison, Ahrefs has a weekly update frequency, while Semrush takes around 48 hours to update keywords position data.
Other unique features of the Serpstat rank tracker are;
It allows tracking position for mobile and desktop results on Yandex and Google.
Rank trackers provide data about ranking changes for the top 100 results in Google and the top 50 in Yandex.
But what impressed me more is that the Rank tracker enables position monitoring down to a specific location. That simplifies things if you are trying to rank in local search results.
8. Site Audit (Powerful and in depth)
The depth of site audits directly relates to the strength of SEO tools. And I was amazed that Serpstat gives extra focus to this aspect.
I ran the site audit in theseoproject.org, and Serpstat came up with a comprehensive report on the SEO vulnerabilities. However, generating a site audit report took over 8 minutes, which I think is a bit slow.
I found the Serpstat site audit super detailed and comprehensive. The depth of the site audit is impressive.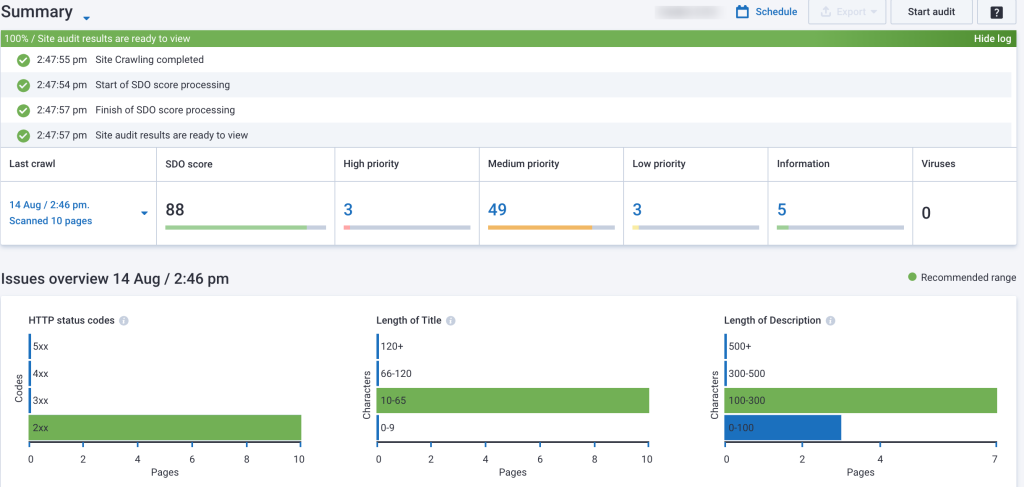 It details;
Serpstat Domain Optimization Score, which denotes how well a domain is optimized for SEO based on the error it found.
Issues are segmented as high, medium and low priority.
All issues and the related suggestions to weed off the errors.
I liked the simplicity of the site audit report and the clear and precise information regarding SEO issues. Besides, site audits allow tweaking the parameters to adjust the reports and showcase the most pressing issues needing prompt intervention.
In short, Serpstat excels in site audits. And the way Serpstat organizes audit details makes it easy to apprehend and quickly resolve the issues.
Pricing: Is Serpstat Affordable?
Like other SEO tools, Serpstat also has multiple subscription plans – the differentiating factor is the amount of data you can access. The good thing is that Serpstat has a free version and a 7-day free trial. The latter will need your card details, but I will recommend going for the free trial if you wish to evaluate the Serpstat feature before committing to a paid subscription. It's because the Serpstat free version is too limited and only allows a few reports.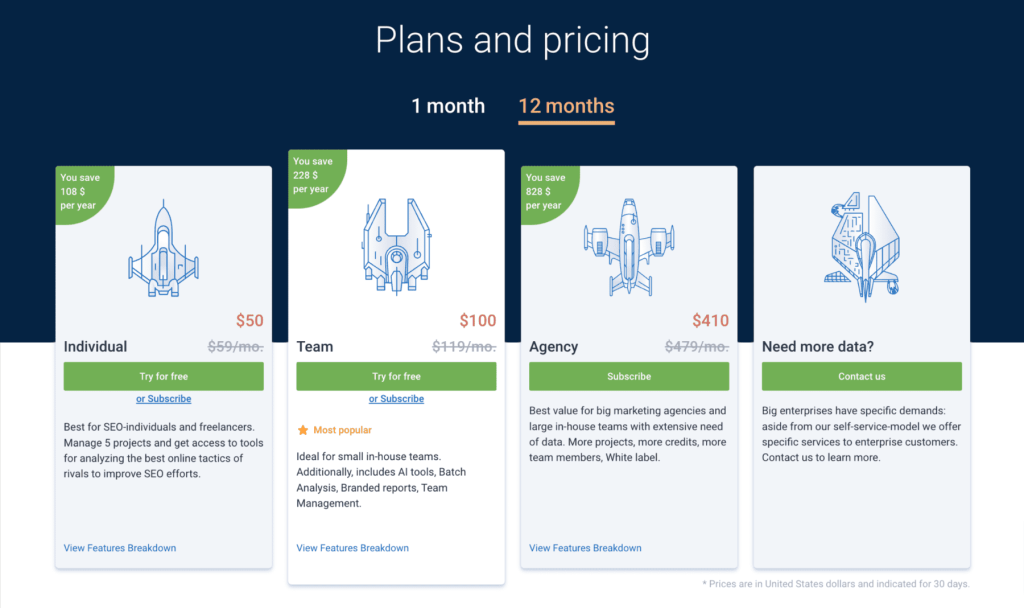 Serpstat has four plans – the Individual Plan, suitable for SEO beginners, costs $59/month and allows 100 daily searches. Moving further, Serpstat has a Team and Agency Plan that costs $119/month and $479/month, respectively. While the team plan only allows 500 daily searches, it suits small-scale SEO teams. On the other hand, the agency plan is more accommodating and allows 5000 searches per day, making it particularly attractive for agencies.
Serpstat Pricing vs Ahrefs vs Moz vs Semrush
Serpstat standout for its affordability. When you compare it with the big boys of the SEO tools arena, Serpstat appears to be a more accessible and cost-effective option. For example, its Individual plan ( $59/month) costs about 50% less than Ahrefs Lite Plan ($99/month)
Here's a quick comparison of Serpstat Pricing with other premium SEO tools to give you an overview;
| Serpstat Pricing | Ahrefs Pricing | Moz Pricing | Semrush Pricing |
| --- | --- | --- | --- |
| $59 – $479 monthly | $99 – $999 monthly | $99-$599 monthly | $129.99 – $499 monthly |
| $50 – $ 410 monthly | 2 Month Free on Annual Subscription | $79 – $479 Yearly | 108.33 – $416.66 Annually |
Here are some more comparisons :
Conclusion: Serpstat Review
Serpstat is certainly an affordable alternative to big players like Moz or Ahrefs. It offers powerful site audit and backlink analysis capabilities at a much lower cost. And for that, I will keep it in my SEO toolkit.
Overall, I will rate Serpstat 4.7 out of 5 and advise you to pick it for;
Exceptional ease of use.
Powerful backlink analysis.
In-depth site audits and detailed suggestions.
Although Serpstat still needs a big revamp to join the ranks of elites like Semrush, its outstanding price-to-performance ratio makes it a viable choice for SEO professionals with budget constraints. And if you're interested, the 7-day free trial provides a good opportunity to test if it holds enough juice to handle your SEO demands.