Between Ahrefs Vs. Moz, it's indeed challenging to pick a side. Both are big names in the SEO arena. Both pack ample tools and functionality to boost the website's visibility and ranking in search results.
If Ahrefs boasts exemplary backlinks analysis capabilities, Moz also has unique domain authority and page authority matrices.
So, between Ahrefs and Moz, which tool will be a better fit for you?
That's the question I will answer through a detailed comparison of Ahrefs and Moz.
By the end of this comparison, you will have a clear idea about which tool (Ahrefs or Moz) has the potential to propel you to new heights of SEO success.
And, to offer you a quick overview of the comparison, I will assess Ahrefs and Moz on these factors;
Backlink analysis
Keyword research
Rank tracking
Site audit
Competitor analysis
Ease of Use
Customer Support
Pricing
Primary Differences Between Ahrefs and Moz
There are certainly several overlaps between the features and functionality of Ahrefs and Moz, but both tools differ in several aspects;
Data Accuracy – Ahrefs and Moz both provide reliable, high-quality data, but when it comes to greater data accuracy, Ahrefs beats Moz by a margin.
Cost – Compared to Moz, Ahrefs is more pricey. Therefore it will be a better option for companies on a budget as it provides a wide range of features at an affordable price.
Working – Ahrefs is a comprehensive SEO tool with extensive link analysis features. Moz, on the other hand, is more focused on understanding the site's authority and exploring opportunities to improve it.
Usability – Ahrefs being more comprehensive and feature-rich can be overwhelming for newbies. Moz is more straightforward, with a shorter learning curve than Ahrefs.
Ahrefs Vs. Moz – Quick Comparison
Before diving into the details of Ahrefs and Moz, here's a quick comparison of both tools.
| Parameters | Ahrefs  | Moz |
| --- | --- | --- |
| Keyword Database | 12.5 billion | 1.25 billions |
| Backlink Database | 35 trillion | 40.1 trillion |
| Search Engines | Access data from Google alone. | Access data from 10 Google, Bing, Yahoo, YouTube. |
| Free Trial | No Free Trial Available | 30-day Free Trial |
| Pricing | $99 – $999 per month | $99 – $599 per month |
| Discount | Free two month on annual billing | 20% discount on annual billing |
Ahrefs Vs. Moz – Comparing the Core Features
Let's kick things off by comparing the core features of Ahrefs and Moz and see which tool has the upper hand.
1. Backlink analysis
Backlinks are often a deciding factor for ranking a website in SERP. Therefore backlink analysis forms the core of SEO. Let's look closer at the backlink analysis capabilities of Ahrefs and Moz.
Which tool has a bigger backlink database?
The first thing I looked for was the backlink database. It's publicly available information. I discovered that Moz has a massive backlink database – 40.7 trillion, to be exact.
On the other hand, the Ahrefs backlink database, although massive in its own respect, was way smaller than Moz' – only 35 trillion.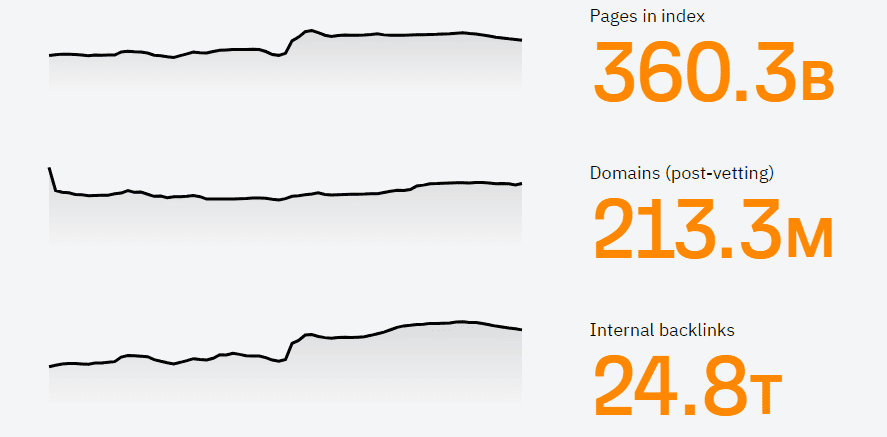 In theory, Moz must perform better in revealing the number of backlinks pointing to a given domain, which contradicts an established fact – "When it comes to backlink analysis, Ahrefs has no parallel."
So, I tested both tools to find out the total number of linking domains to a few websites, and the results were surprising – Ahrefs, with its smaller backlink database, revealed more referring domains than Moz.
Which tool has better backlink reporting capabilities?
While generating backlinks reports, Moz could only churn out these metrics:
New and Lost links
Nofollow links
Anchor text
In terms of filters, Moz only allows – link type and link status. While Ahrefs uncover way more data about backlinks:
Backlink platforms
Referring Domains traffic
Number of other outbound links
Backlink languages
Obviously, Ahrefs provides a better picture of link profiles than Moz. Similarly, regarding filters, Ahrefs has tons of them.
You can filter pages based on, Title, URL, Referring Domains, Traffic, and more. Similarly, you can filter target pages by URL, Content type, and Redirects.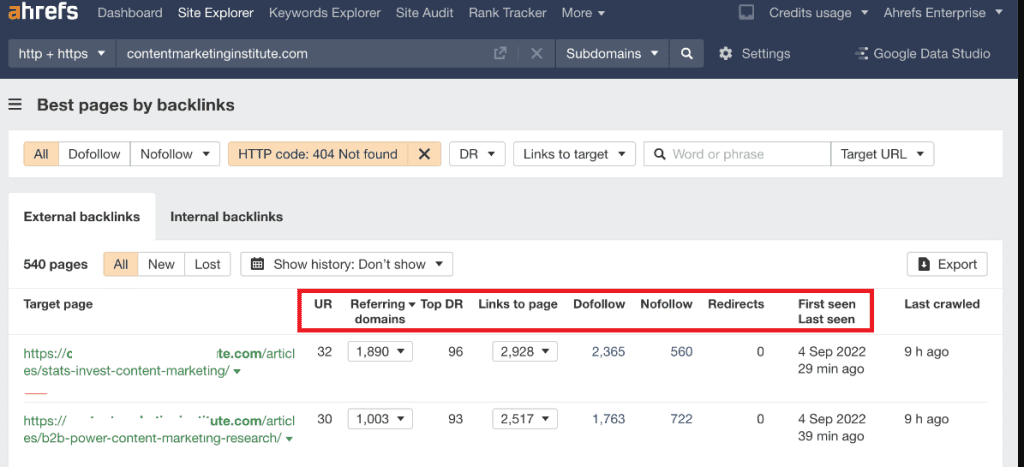 Another thing I found in Ahrefs is that it allows filtering backlinks based on the date it was first discovered.
There are no such features in Moz. However, Moz gets the upper hand with its Spam Score reports. It helps you gauge the quality of incoming links.
Which tools uncover better Link building opportunities?
Ahrefs and Moz both have Link Intersect features. It lists the domains linking to your competitor's website but not yours. In short, it helps you find link-building opportunities.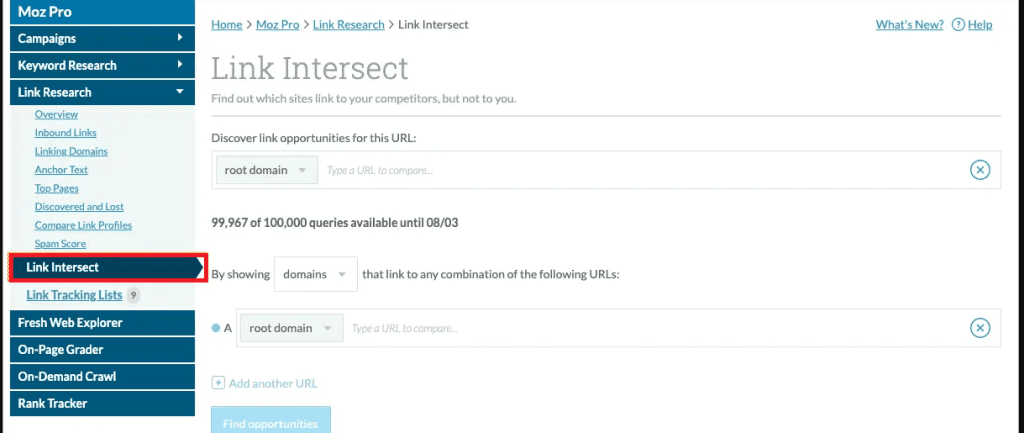 While both Link Intersect tools work similarly, Ahrefs is more thorough – it lets you compare 10 competitor URLs. In comparison, the Moz Link Intersect tool only allows five URLs.
Similarly, Ahrefs is far more adept at finding broken links (links that don't lead anywhere). It's because Ahrefs has a dedicated Broken Link feature in its Site Explorer tool.

Moz has workarounds to this but no dedicated Broken Link feature. Instead, you can access top pages and then filter them based on error codes – too daunting; plus, it's only limited to top pages and doesn't reveal the URL leading to dead content.
Also Read: Strategies To Build Links
2. Keyword research
Targeting the right keyword is essential to drive traffic to the website. Ahrefs and Moz perform well in keyword research segments, but which comes on top? Let's find out!
Ahrefs Vs. Moz – Which tool provides better depth in data?
Ahrefs runs on a massive 12.8 billion keywords strong database, which is updated on a monthly basis. Similarly, it comprises data from 171 countries.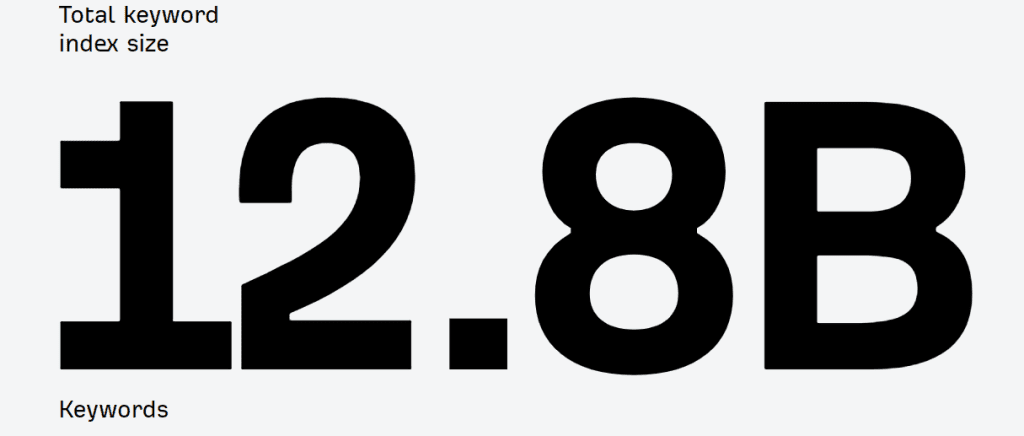 In contrast, Moz only has a database of over 1.25 billion keywords and collects data from 170 countries. But a major difference between Ahrefs and Moz is that Ahrefs Pulls data from 10 search engines (Amazon, Baidu, Bing, and YouTube, etc.), while Moz retrieves data from Google only.
Which tool provides a better Keyword Overview?
Ahrefs has a 'Keyword Explorer,' and Moz has a 'Keyword Overview' tool for keyword research.
Both tools provide the following:
Search Volume
Keyword Difficulty Score
Related Keywords
The website's Ranking for the Keyword
In particular, I have found Ahrefs keyword difficulty score helpful because it includes an estimate of the backlinks needed to rank for that keyword. An equivalent in Moz is the keyword' priority score' tool.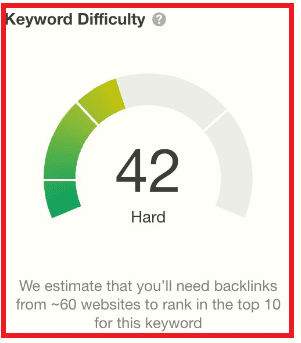 For me, it's the simplicity that I favor – In Ahrefs, you don't have to juggle between tools to get a correct picture of keyword difficulty.
Similarly, Ahrefs has a click-through rate while Moz has a percentage click-through rate. Both offer a similar function, but again I prefer Ahrefs' data because of the simplicity – Ahrefs provide direct value; Moz provides value in percentage, which adds an extra step to gauge the click-through rates details accurately.
Ahrefs Vs. Moz – Which tool offers better keyword suggestions?
Ahrefs involves two steps to key keyword suggestions. You enter a phrase in its Keyword Explorer Tool and then proceed to the 'Keyword Ideas' tab for keyword suggestions.
It reveals Matching Terms, related terms, and search Suggestions. Besides, you also get a range of filters to refine the results like Global Volume, Traffic Potential, SERP features, etc.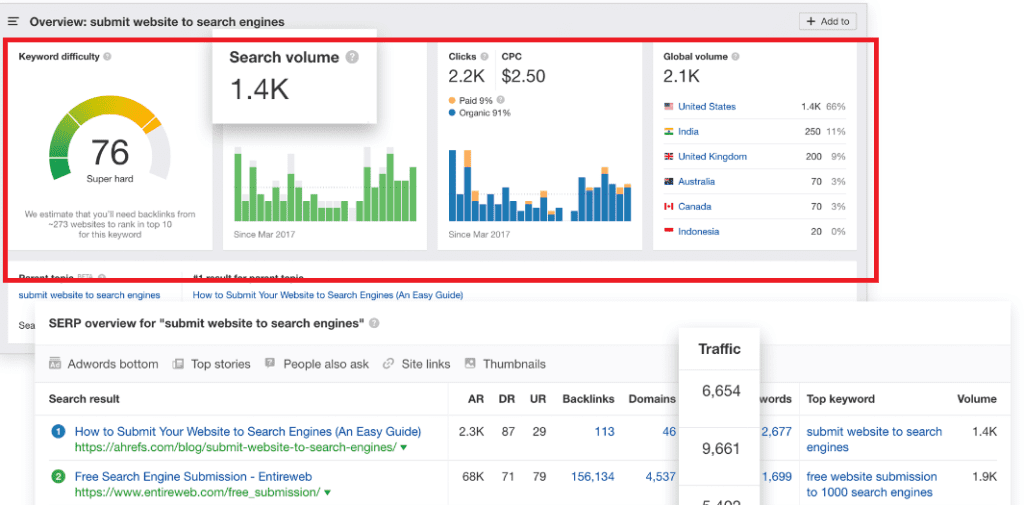 Getting keyword suggestions in Moz is straightforward – it has a dedicated 'Keyword Suggestions' tool. It allows similar suggestions as Ahrefs. The only thing missing in Moz is the autocomplete suggestions.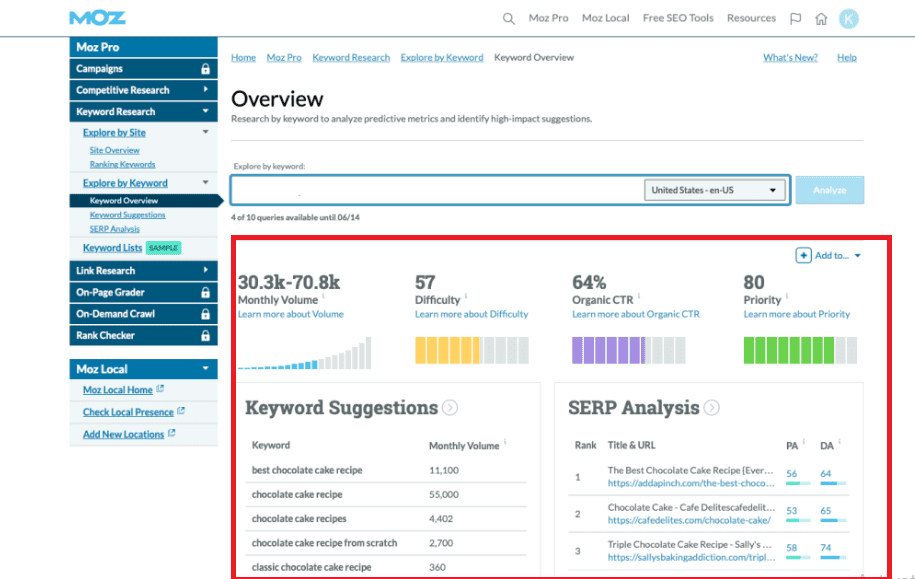 Regarding details, Moz keyword suggestions are limited – only two metrics: relevancy and monthly volume.
In contrast, Ahrefs offers way more data in keyword suggestions. You get keyword difficulty, search volume, traffic potential, cost per click, clicks per search, and parent topic. In short, Ahrefs's keyword suggestions are more thorough than Moz's.
Ahrefs Vs. Moz – Which tools offer better Keyword Gap Analysis?
Keyword Gap analysis informs you about keywords your competitors rank for, but you don't. Ahrefs has a 'content gap' while Moz includes a 'keyword gap' tool for Keyword Gap analysis.
I find Ahrefs better at Keyword Gap Analysis. Firstly you can analyze 10 websites in Ahrefs for keyword gap analysis, while Moz only permits three.
Secondly, Ahrefs makes more data available ( volume, CPC, SERP features, highest positions, etc.) and tons of filters than Moz. Therefore, regarding Keyword Gap Analysis, Ahrefs is a clear winner.
In terms of data, Ahrefs rank tracker offers more – you can even track ranking by city or language. Ahrefs also allows setting email notifications for any changes in keyword positioning. Moz neither provides this much data nor allows email notifications for ranking changes.
3.   Rank tracking
Rank tracking allows you to track your website's position in SERP for a particular keyword. Ahrefs has a separate, easy-to-use rank tracker. Once you enter the keyword, Ahrefs Rank Tracker allows you to track website ranking on desktop and mobile in 170+ countries. The only downside is that Rank Tracker in Ahrefs is available with project slots, which are limited based on your plan.
Moving to Moz – it has two rank trackers – a regular rank tracking tool and the 'on-demand' tracker. The regular rank tracker in Moz works similarly to Ahrefs and is limited by the projects allowed with each plan.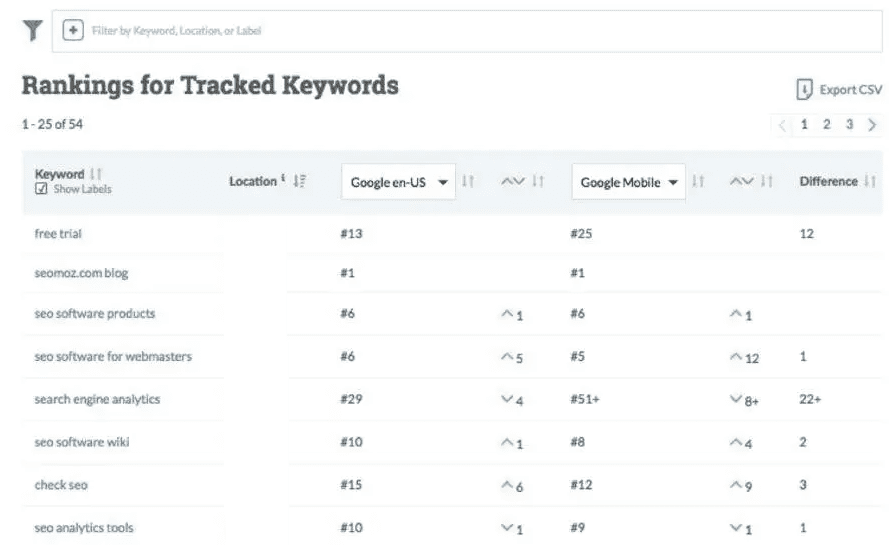 But the on-demand rank tracker is more accommodating – you can use it up to 200 times to evaluate the current ranking of a particular keyword. Overall, Ahrefs has a better rank tracker but is limited by the projects in your plan.
4. Site audit – Technical SEO
Site Audits in Ahrefs and Moz involve the technical SEO of websites. I found that both Ahrefs and Moz have somewhat similar expertise in evaluating technical and On-page SEO. They are equally adept at identifying key technical SEO issues like duplicate content, SSL issues, Crawl errors, headings, etc. Similarly, both tools offer relevant suggestions to weed out the issues.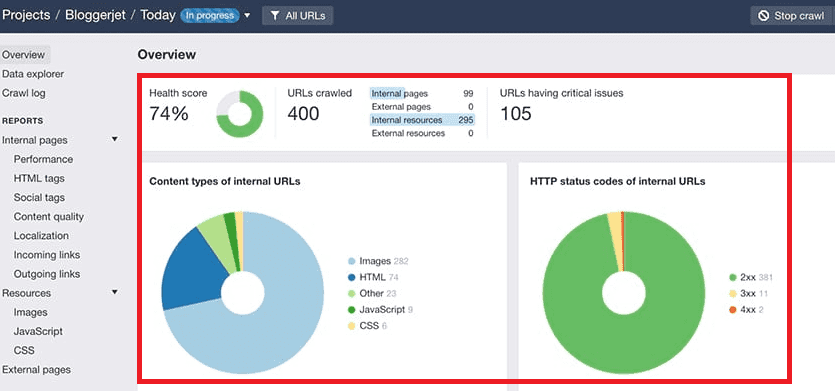 The only section where Ahrefs surpasses Moz is the core web vitals data. It's because Ahrefs offers two sets of Core Web Vitals – one is Lab Data, and the other is Field Data.
In contrast, Moz only offers Lab data. Between the lab and field data, the latter is more crucial because it comes from real users on Chrome – something that Google takes into consideration when ranking websites.
5. Competitor analysis
It's technically impossible to compete without knowing your competitors. Both Ahrefs and Moz include domain analysis tools. When you perform domain analysis, you get the following metrics;
The famous Domain Authority in Moz and domain rating in Ahrefs. Both give you the same information – how well a website will likely perform in SERP.
Also, top keywords, number of links, anchor text, and a list of competitors.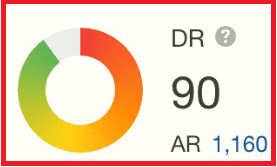 The working is the same, but again the ease of use takes center stage here. In Ahrefs, the Site Explorer tool is all you need to extract the relevant data.
Moz splits domain analysis into two sections – Keyword Research' and 'Link Research. Consequently, you have to juggle between two tools to get the competitor and domain analysis done. I believe Ahrefs has greater ease of use than Moz regarding competitors' analysis.
Similarly, Ahrefs provides more data for competitor analysis than Moz.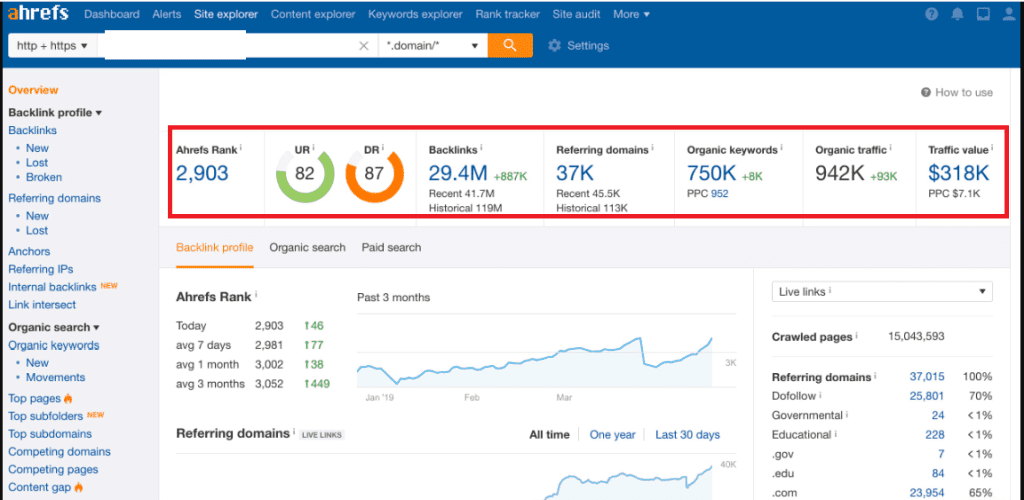 You get an estimate of the traffic to a particular domain, while no such data exists in Moz.
Similarly, Ahrefs displays, in graphical form, how the traffic was affected by each Google update. Ahrefs also display the traffic value of the domain – the amount you need to spend to get similar traffic. So, for competitor analysis, Ahrefs is a clear winner.
Data Accuracy: Which One Is Accurate?
As I told earlier, in the case of backlinks, Ahrefs reveals more data despite having a smaller database than Moz, which hints that Ahrefs data is more accurate. According to Search Engine Land study, Ahrefs shows 5x more keywords than Moz.
Similarly, traffic estimation by Ahrefs correlates with GSC data by 99%, according to a study done by Authority Hacker. Therefore, it's safe to assume that Ahrefs has better data accuracy than Moz.
Ahrefs vs. Moz: Ease of Use & Navigation
Ahrefs and Moz have a similar interface layout. The left pane displays menus for different SEO matrices, while the right side of the screen displays associated SEO data. In my opinion, though, the Ahrefs interface looks more modern, colorful, and intuitive.
On the other hand, the Moz interface appears a bit dated. Similarly, if you appreciate data visualization (I certainly do), you will find Ahrefs a shade better – it's because most of the data that Ahrefs display is in graphs or chart form.
However, I noticed that Ahrefs is a bit slow in presenting data – especially when performing site audits or domain analysis.
Similiarly, Moz swiftly returns data on whatever SEO analysis you are doing. In any case, I am inclined towards Ahrefs regarding Ease of Use, primarily for better data visualization, sleek and modern interface design, and more insightful analysis.
Ahrefs Vs. Moz – Pricing
Ahrefs and Moz both are high-end SEO tools with expensive price tags. Pricing details are as follows;
Ahrefs Pricing Details
| Plan  | Cost  | Power Users | Project | Keywords Tracked |
| --- | --- | --- | --- | --- |
| Lite | $99/month | 1 | 5 | 750 |
| Standard | $199/ month | 1 | 20 | 2000 |
| Advanced | $399/ month | 1 | 50 | 5000 |
| Enterprise | $999/month | 1 | 100 | 10,000 |
With annual billing Ahrefs ties a two month free offer. It will account for roughly 16% discount on annual subscription.

On the downsides, Ahrefs doesn't have a Free trial. However, there's the free Ahrefs Webmaster Tools that allows you a limited access to its site audit and domain analysis tools.
Moz Pricing Details
| Plan  | Cost  | Campaigns | Keywords Ranking | Keyword Queries/Month |
| --- | --- | --- | --- | --- |
| Standard | $99/month | 3 | 300 | 150 |
| Medium | $179/month | 10 | 1500 | 5000 |
| Large | $299/month | 25 | 3000 | 15,000 |
| Premium | $599/month | 50 | 4500 | 30,000 |
If you opt for the yearly subscription, you will get a 20% discount.
I was impressed that Moz offered a 30-day free trial – ample time to get the gist of it.
Most of the SEO tools in the market, like Semrush, don't offer this lengthy trial period.

I noticed that Lite Plan is limited in many aspects – no content gap tool, link intersects tool, historical data, or broken link checker.
In contrast, Moz is more accommodating. Its basic plan has pretty much all the features except template creation tools and branded report.
Similarly, Moz has a straightforward user allocation. The number of users for each plan increases from one to five as you move from 'Standard' to 'Premium Plan.'
In comparison, in Ahrefs, User allocation is confusing. In each Ahrefs Plan, there's one power user and unlimited inactive users.
The power user can generate 500 reports per month. But inactive users can only generate 5 reports per month. For $10 you can add a casual user who can generate 100 reports per month. And for $50 you can add another power user.
Another important aspect is project allocation because many of Ahrefs essential features are only available when you are working with projects like Rank Tracker or Site Audit.
In this aspect Ahrefs is more accommodating. For 50 projects, you have to pay $599 in Moz while in Ahrefs 50 projects are available with its $399 plan.
Customer Support And Documentation
| | Ahrefs  | Moz |
| --- | --- | --- |
| Support channels | Email | Email |
| Response time and effectiveness | 20 minutes to 45 minutes | 20 minutes to 1 hour |
| Documentation and resources | Help Centre, Ahrefs Docs | Help Hub, |
Ahrefs and Moz both have only email support. In Ahrefs customer support option is only available via dashboard. If you are logged out, you can't access the support option.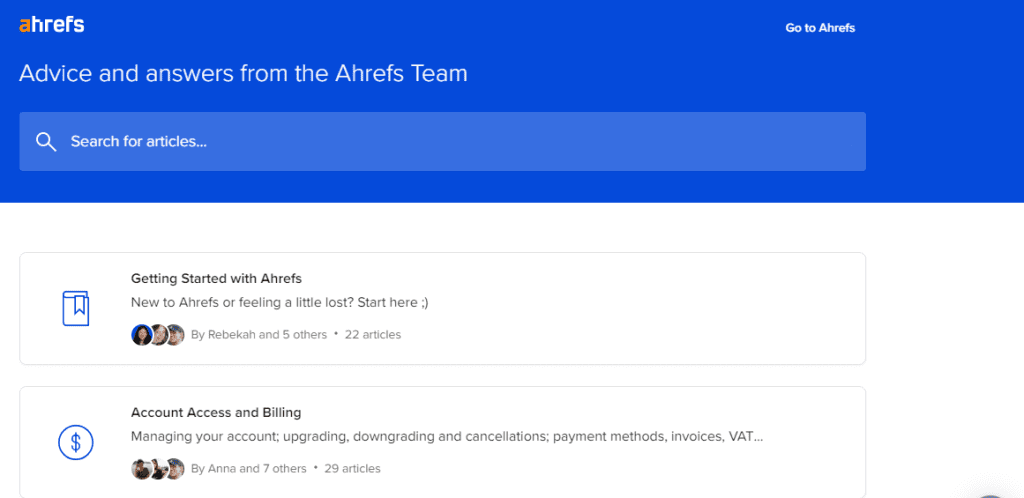 Although a general self-help center is available that details common issues and guidelines regarding different features of Ahrefs.
In Moz, you can access the support page whether you are logged in to your account or not. Similar to Ahrefs, Moz has a Help Hub with support materials and guidelines regarding different Moz tools.
The only additional information in Ahrefs is that it provides a rough estimation of response time which is generally between 20 to 45 minutes. Moz on the other hand doesn't provide any details of waiting time.
Related Reads: The Ultimate Comparison Between Semrush and Ahrefs
Conclusion – Is Ahrefs Better Than Moz?
Through my detailed Ahrefs Vs. Moz comparison, I have come to the conclusion that Ahrefs is certainly better than Moz in most aspects. It has more tools, extensive data, and better accuracy. Similarly, Ahrefs is more data-rich as it pulls it from multiple search engines, while Moz relies only on Google for data. In contrast, Moz wins big in terms of affordability and reporting capabilities.
In any case, pick Ahrefs fof:
Better keyword and backlink analysis.
More detailed domain analysis and accurate estimation of traffic.
Pick Moz for;
It's affordability
Decent technical and on-page SEO analysis.
If you are still reluctant to pick a tool, Ahrefs free Webmaster tools will be a good starting point to get a taste of its comprehensive features and capabilities.