As the digital landscape continues to evolve as we enter 2023, businesses must increasingly rely on data-driven insights to inform their marketing strategies and ensure they stay ahead of the curve.
Competitor analysis tools provide marketers with a detailed understanding of how their competitors are performing and how they can adjust their own approaches accordingly.
These tools will enable you to track a range of metrics in real-time, such as brand visibility, keyword rankings, & market share. By going through these metrics, You can gain valuable insights into what your competitors are doing differently and what can be done in your approach toward things.
So, to stay ahead of the pact, take a look at our list of top competitor analysis tools in 2023:
Competitor Analysis Tools (Category Wise)
There is no competitor analysis tool in the market that can do an excellent job in SEO, Social Media, Email, Ads, and Content. There are separate tools designed for each of these use cases.
We have divided our list based on these popular use cases to help you choose the best fit for your practice.
Let us have a look at it real quick:
Competitor Analysis Tools For SEO
SEO competitor analysis tools help monitor keyword rankings, backlink profiles, SERP analysis, Top ranking content, and much more. They also uncover weaknesses in your opponents' search engine optimization strategy overall:
1. Semrush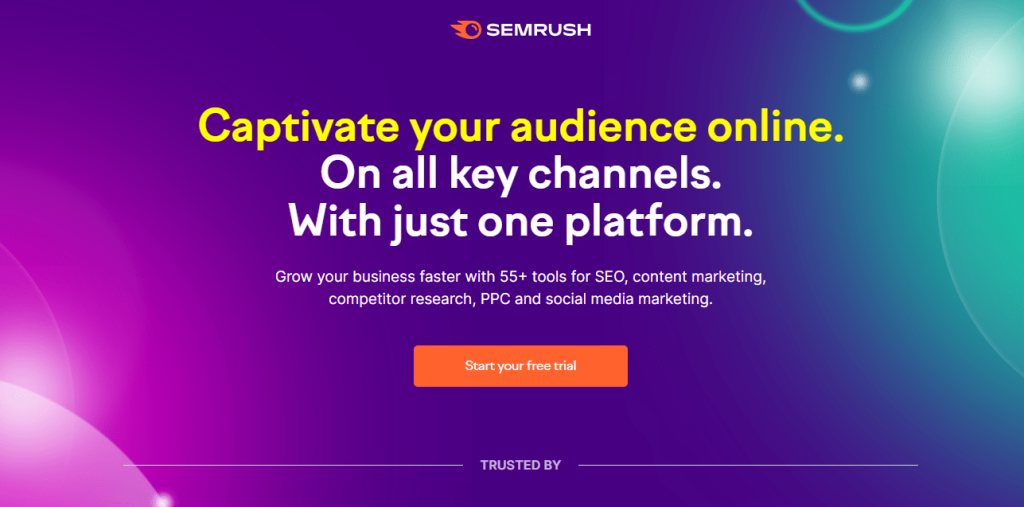 SEMrush has been in the SEO business since 2008. It makes the top of our list due its great competitor analysis tool.
SEMrush provides crucial insights into the ever-competing SEO landscape and helps you gain a significant advantage over your competition.
While competitor analysis is a time-consuming task, SMErush offers businesses an easier and quicker way to review competitors across various platforms such as markets, keywords, existing campaigns, and more.
Below is the list of a few SEMrush features that ace the competitor analysis process:
Traffic analytics
Keyword Overview
Keyword Gap
Backlink Analytics
Backlink Gap
Position Tracking
Pricing:
SEMrush plans start from $119.95/month to $449.95/month
2. Ahrefs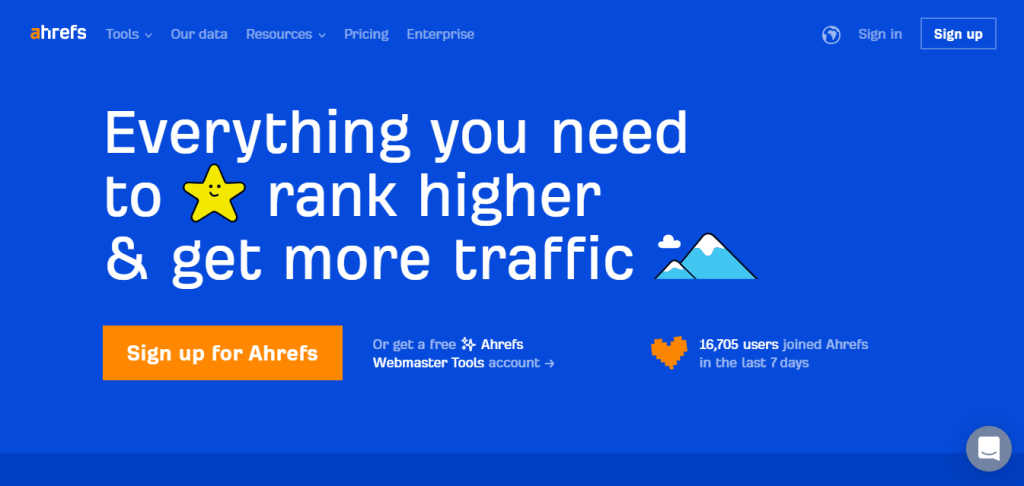 Ahrefs is an invaluable tool for conducting seo competitor analysis. It offers a comprehensive view of what's working and not working in the seo space for your specific niche.
The Tool is one of the veterans in the market and one of the most trusted alongside SEMrush.
Ahrefs' Site Explorer gives an in-depth view at both organic and sponsored search traffic, as well as backlinks for every website out there. One great addition to the arsenal of tools is the content gap tool, It displays keywords that your rivals rank for but you do not. These content gaps can immediately provide you plenty of new content planning ideas.
These and many other features make Ahrefs one of the best tools for competitor analysis.
Pricing:
Ahrefs plans start from $99/month to $999/month
3. MOZ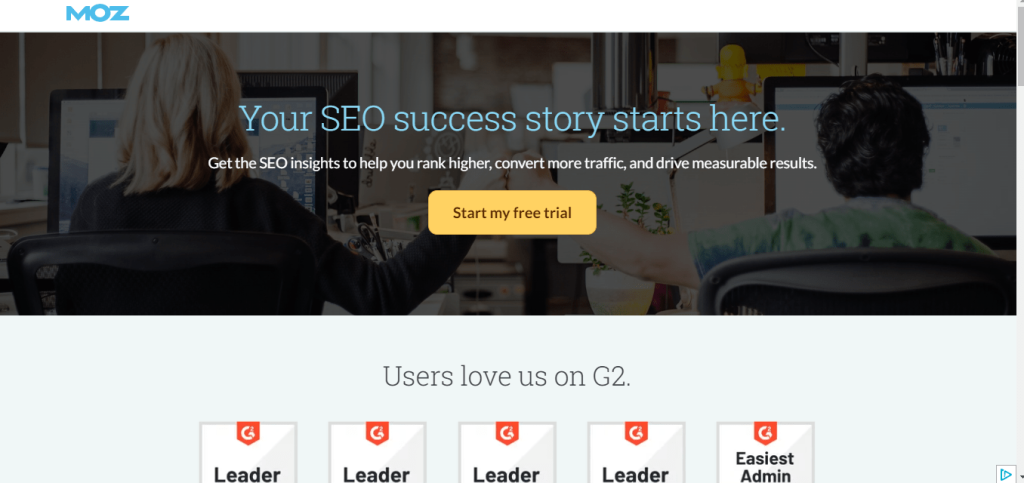 MOZ is yet another excellent tool for conducting competitor analysis in 2023. By using MOZ, you can get a comprehensive view of keyword opportunities and site metrics that will help you understand the keyword landscape of your top competitors.
Its keyword explorer feature allows you to easily see which keyword phrases are driving traffic to your competitors and which ones may be most beneficial for your website.
Additionally, MOZ's site metric features make it simple to compare each competitor's website side by side, giving you a clear understanding of what makes them successful and how you can use their strategies to your advantage. Overall, MOZ provides the necessary intelligence to investigate your competition thoroughly, enabling you to craft an effective SEO strategy.
Interested in using MOZ? Here is its Pricing
Pricing:
MOZ plans start from $99/month to $599/month
Competitor Analysis Tools For Social Media
As social media platforms are growing exponentially now more than ever, it is very crucial to keep up with your competitors.
Social media competitor analysis tools allow you to analyse the competitor's postings, engagement levels, and ad campaigns. We have picked the best ones for you, let's have a look at them.
4. Hootsuite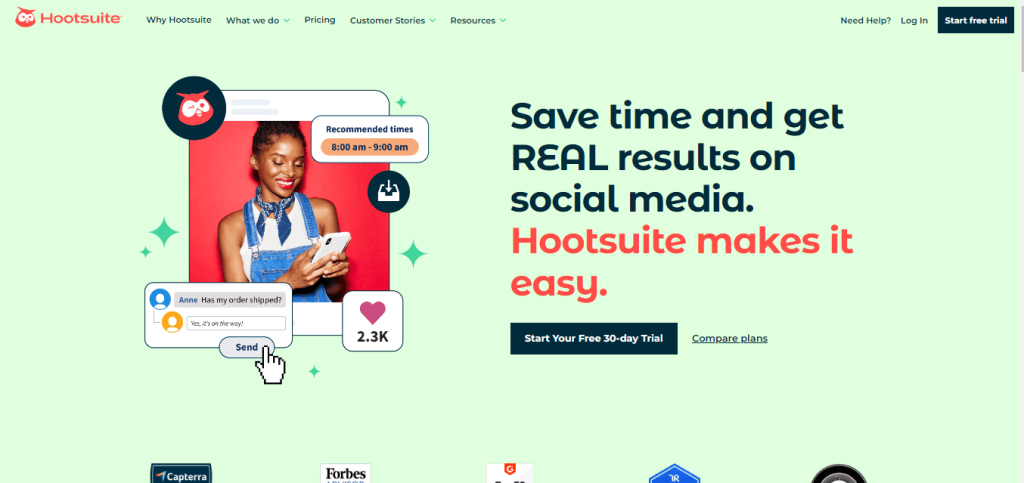 When it's about doing competitor analysis on social media, Hootsuite is a must-have tool for brands of all sizes. Hootsuite allows you to track your competitors' social media activity and performance across multiple platforms, giving you a comprehensive view of their social media strategy.
With Hootsuite, you can monitor your competitors' engagement rates, follower growth, and content performance. Additionally, Hootsuite's analytics tools provide you with valuable insights into your own social media performance, allowing you to adjust your strategy and stay ahead of the competition.
At the end of your competitor research, you will have actionable insights on the top posts, hashtags, and content formats in your niche.
Pricing:
Hootsuite plans start from $99/month to $739/month. Additionally, Hootsuite also has a custom plan, you have to get in touch with their support team for the quotation.
5. Brandwatch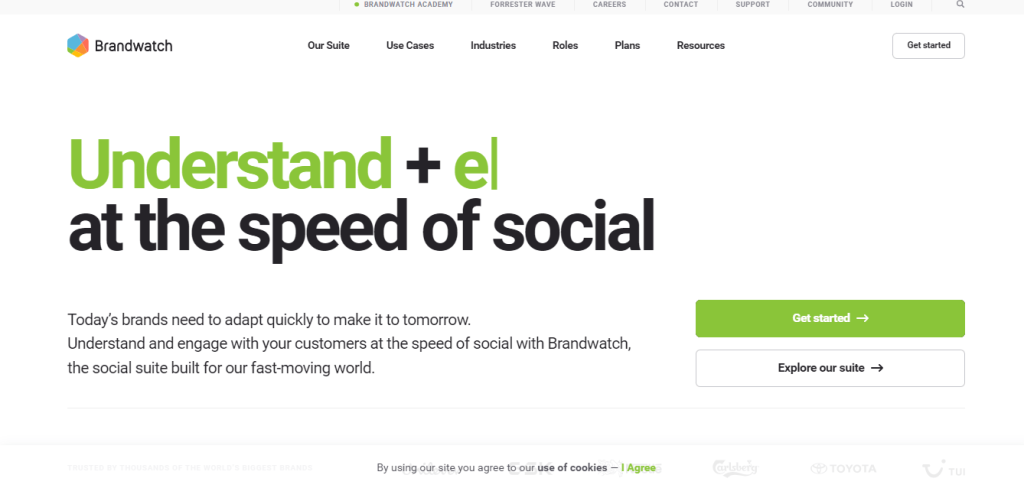 Brandwatch Consumer Research is a comprehensive social media monitoring tool that identifies conversations and trends on social media platforms related to your brand, competitors, customers, and industry.
With Brandwatch's powerful analytics capabilities and insights, you can effectively track social media campaigns running across all social networks including Facebook, Instagram, and Twitter.
Thanks to advanced natural language processing technology, the competitor analysis tool quickly evaluates social mentions with great precision, providing detailed insights into what people are discussing on social networks regarding your products or services in comparison to your competitors. Ultimately this helps you understand what strategies are successful in achieving desired marketing outcomes; helping brands gain a competitive advantage in the process.
Pricing:
Brandwatch follows a custom approach to each and every customer. So they do not have a fixed pricing plan, you have to get in touch with them to know the pricing for your plan.
Competitor Analysis Tools For Emails
Email competitor analysis tools let you track the performance of your competitors' emails including their open rates, click-throughs, and conversions.
Many tools claim to provide accurate data on email out there but most of them are good for nothing, We have shortlisted
6. Owletter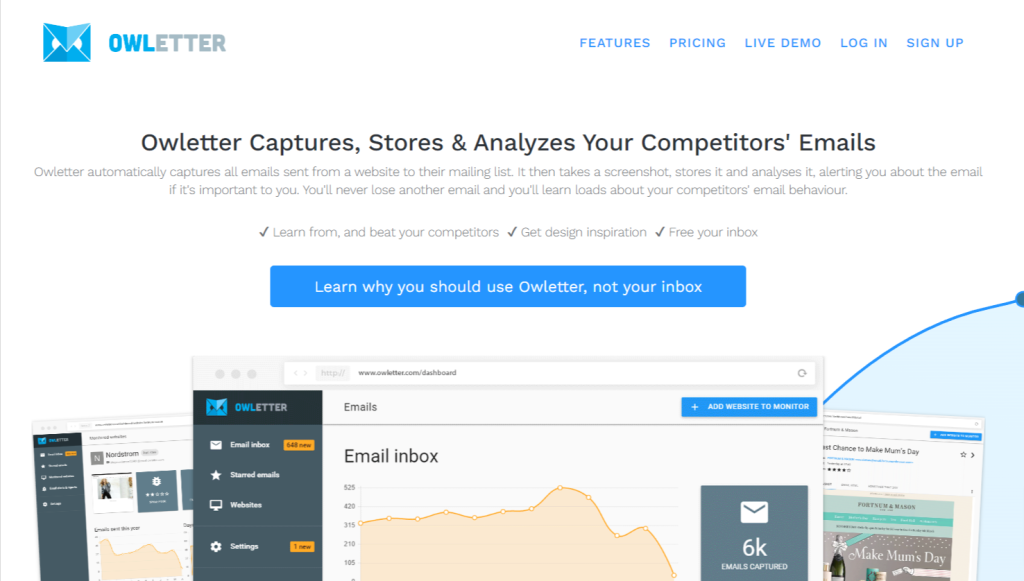 Owletter is a powerful tool for businesses that are looking to stay ahead of the curve when it comes to their email campaigns.
It provides analysis of competitors' messaging and audience engagement, enabling you to better tailor your email campaigns to attract more customers.
With its AI-driven insights, Owletter makes it easy to optimize emails for maximum performance and conversion rate. It also provides valuable metrics that will allow you to measure the effectiveness of your email campaigns in real time.
Pricing:
Owletter's pricing plans start at $19/month up to $79/month.
7. Mailcharts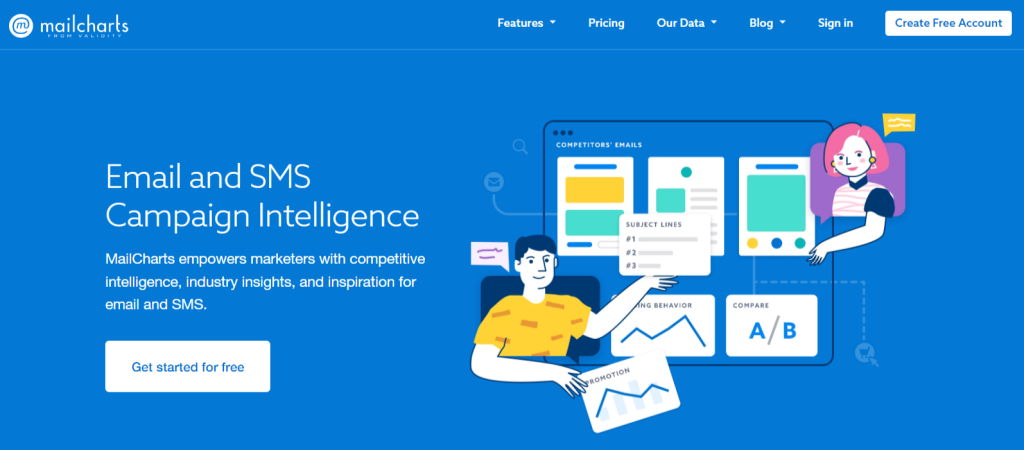 Mailcharts provides you with a comprehensive breakdown of your own email strategy as well as that of your competitors. With easy to read Side-by-Side Chart Comparisons, Email Metrics, and Competitive Trends, you can receive quick insights into every email sent from any brand or domain.
With its many intuitive filters, advanced search capabilities and metrics, Mailcharts is the perfect social media competitor analysis tool for emails. Try it today and get an edge over the competition!
Pricing:
Mailcharts has a free version and its paid plan costs $149/month. They also have a custom enterprise plan.
Competitor analysis tools for content
These tools will help you assess the success of your opponents' content marketing strategy and identify current trends in the industry.
Let us take a look at the best tools in this category below:
8. Buzzsumo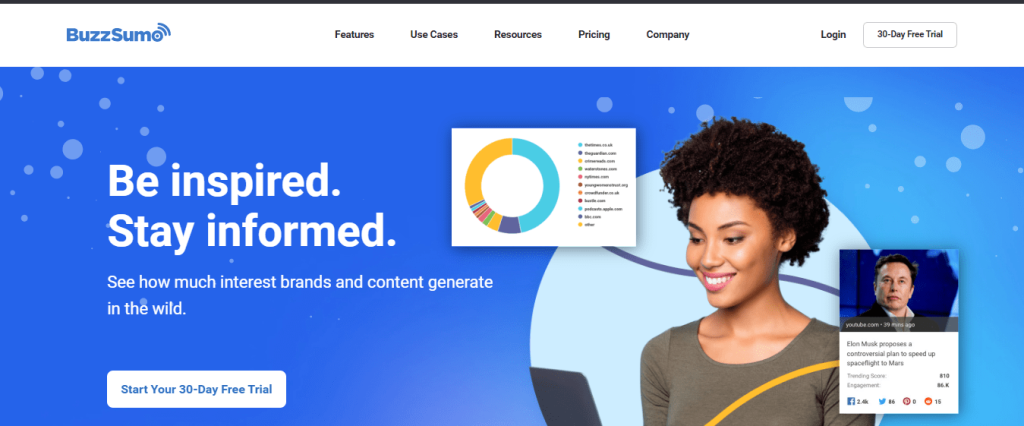 Buzzsumo is a powerful tool for conducting competitor analysis in the content marketing world. You can gain valuable insights into your competitors' content marketing strategies and identify opportunities for your own business with Buzzsumo.
Buzzsumo's influencer identification feature allows you to identify top influencers in your industry and understand their content preferences, enabling you to build meaningful relationships with influencers and leverage their audience reach to grow your own brand. Overall, Buzzsumo is an indispensable tool for businesses looking to gain a competitive edge in their digital marketing efforts.
Pricing:
Buzzsumo plans start from $119/month and range up to $999/month
9. Feedly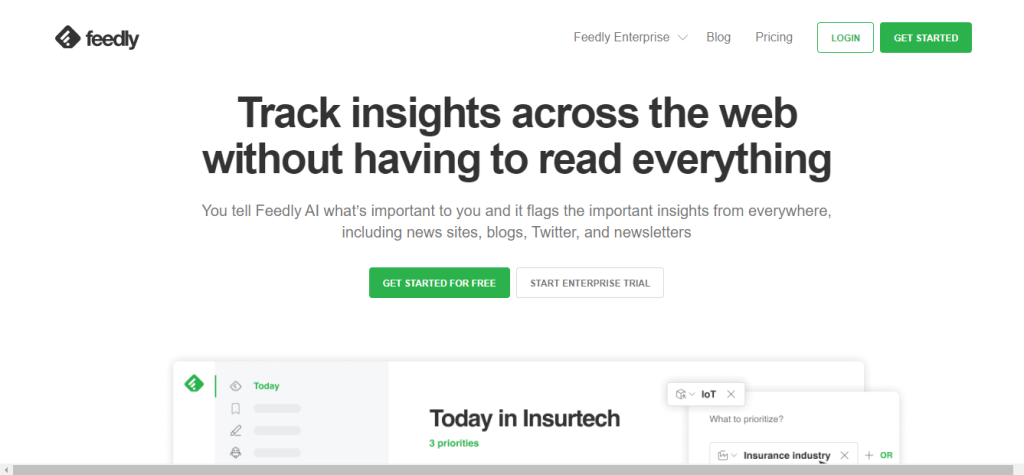 Feedly is a handy tool that allows organizations to easily do competitive analysis. You can use this tool to keep track of your competitor' latest news, industry trends, and content marketing tactics all in one spot.
Feedly also allows users to follow the blogs, news sites, and social media channels of their rivals, offering a full perspective of their online activities. Feedly's capacity to categorize and arrange material, making it easier to ingest and analyze, is one of its primary benefits. Furthermore, Feedly's search capability allows users to identify the most relevant articles for their requirements fast, saving time and enhancing efficiency.
Pricing:
Feedly pricing plans are very economical. They start from $6/month up to $8.25/month, both the plans are billed annually.
Related read;
Conclusion: Competitor Analysis Tools (2023)
This was my take on the best competitor analysis tool as of 2023.
A solid awareness of your competitors is critical for success in today's highly competitive digital world. Acquire significant insights into your rivals' strategy by employing the correct tools and remaining ahead of the game.
We've selected some of the best competition analysis tools in the business, each with its own set of features and benefits.
Hope you take full advantage of the tools that are mentioned above to spy on your competitors and make the most of your campaigns in the future.
FAQs: Competitor Analysis Tools
Why is competitor analysis important?
Competition is getting higher every single day. Brands need to spy on their competitors to see what is working for them and what they are missing. Knowing these things can help brands formulate effective marketing campaigns.
What are the best competitor analysis tools in 2023?
For SEO, Semrush and Ahrefs are top-notch. For Social Media, you can look for Hootsuite and Brandwatch. Newsletter and Buzzsumo are great tools for Email and Content competitor analysis.