In this digital world, content holds enormous power. Developing content following SEO standards is critical for the website's outreach. If you are more concerned about your website performance on search engines, here is the ultimate solution, i.e., the DIY SEO software.
There are many SEO tools available on the market right now. Picking the right SEO platform is entirely for business owners. One must carefully evaluate the best one that meets their needs and budget. However, one can enjoy the tools' free and paid features.
Here are a few questions to be considered while choosing DIY SEO Software.
Features the tool provides.
Price comparison.
How much the tool is reliable and flexible.
How well the reports are generated.
Accuracy of the DIY SEO's Platform data.
8 DIY SEO Software Tools: In A Nutshell (2023)
| | | | |
| --- | --- | --- | --- |
| Sr. No. | DIY SEO Software | Best For | Pricing |
| 1. | Semrush | All-in-one SEO Tool | Offers free trial as well as paid for $119/month |
| 2. | KWfinder | Keyword research | Free as well as paid. 29$/month |
| 3. | Screaming Frog | Website Auditing | Free as well as paid. 185 euros/year. |
| 4. | Keyword Surfer | Keyword research tool | Free |
| 5. | Ahrefs | All-in-one SEO Tool | Free for some features and $99/month |
| 6. | Moz Pro | Boosts ranks and keyword search, link building | 99$/month |
| 7. | Ubersuggest | All-In-One-SEO tool | Free and paid $12/month |
| 8. | Surfer SEo | All-In-One-SEO tool | $19/month |
Below are the 8 best DIY SEO software tools that drive good organic traffic, significant online presence, and decent revenue streams.
1. Semrush
Semrush is an all-in-one SEO tool for your business needs. It helps by performing keyword research, competitor analysis, backlinks, organic research, site auditing, etc.

This DIY SEO tool helps analyze essential metrics of your domain and competitors. You can gain complete website visibility and check which keywords bring more organic traffic.
By utilizing the Semrush backlink checker, one can quickly analyze the backlinks. Easily track and survey any domain for its backlinks and spot new and lost links.
The website audit functionality helps measure performance, track progress, and discover any technical issues within the website. Moreover, this DIY SEO tool helps connect with your audience and improve brand awareness. Tracks the keywords positioning on the website.
Key features of Semrush:
Keyword research based on PPC
Competitor Analysis
Technical SEO
Link building
Content marketing
Website Auditing
Paid advertisements
Tracking the traffic and ranking
Pricing Structure:
Semrush comes with different plans like a pro, guru, and business. The prices vary based on the features and the plan you opt for. The basic plan starts at $119/month.
2. KWfinder
KWFinder is a dynamic keyword research tool that generates a curated list of high-quality keywords based on performance metrics.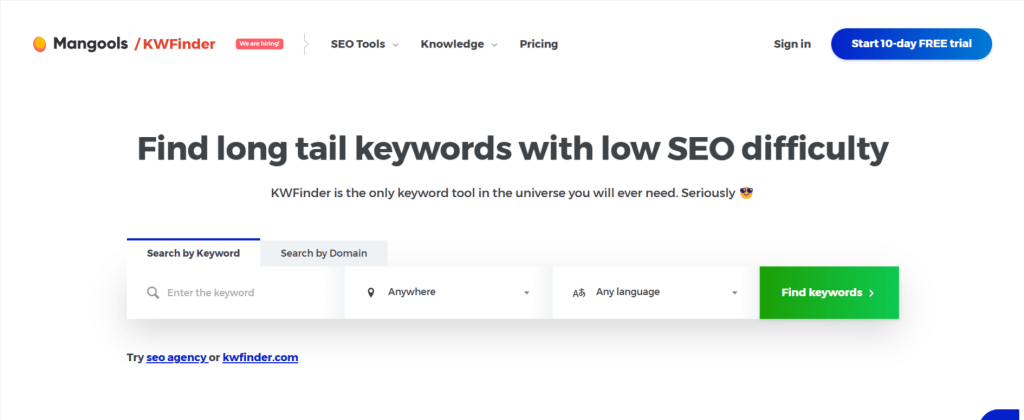 It enables users to interactively create a keyword list based on the keywords search volume, trending keywords, Keyword density (KD), pay per click (PPC) and cost per click (CPC), etc.
Key features of KWFinder:
The main features of KWFinder are:
Keyword research
Site explorer
Website auditing
Rank tracking
Analyzing the SEO metrics
Pricing Structure:
Kwfinder has three plans: Mangools basic, Mangools premium, and Mangools agency. The basic plan pricing is $29/month.
3. Screaming Frog
Screaming frog is an effective and powerful website crawler that crawls the website entirely and displays the results in real time. This DIY SEO tool serves both small and large websites to crawl the pages.

It is an informative tool because it fetches all the onsite information in one place and helps SEO experts make better decisions.
Key features of Screaming Frog:
Website crawling
Detecting the broken links and redirects.
XML sitemap generation
Integration of google analytics and page speeds.
Analyzing the page titles, metadata, and meta descriptions
Crawls the entire website.
Checks the duplication of pages
Pricing Structure:
It comes with free and paid versions. The paid version charges 185 euros/per year.
4. Keyword Surfer
Keyword surfer is a 100% free keyword research tool created by the surfer SEO. It helps to find the right keywords that are less competitive.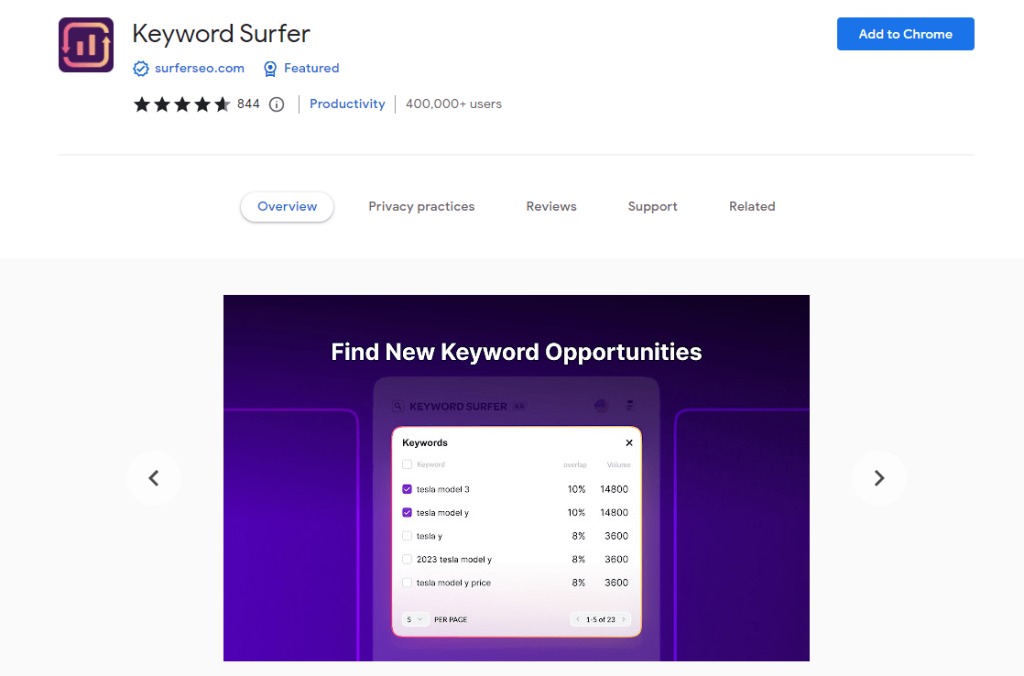 Keyword surfer helps identify the most relevant keywords and displays them in Google's search engine results. For every keyword, you type, Google shows valid data like keyword suggestions, performance metrics, total search volume, Cost Per Click(CPC), etc.
It helps in saving your precious time by optimizing keyword ideas into a .csv folder so you can use them whenever required.
Key features of Keyword Suffer:
Keyword Research: Generates content ideas and practical keyword suggestions.
Content Editor comes with the Surfer SEO tool not with the free took keyword surfer.
Pricing structure:
Keyword Surfer is a free chrome extension, the pricing is for The Surfer SEO.
Keywords suffer with different plans like a pro, advanced, and enterprise plans. The basic plans start at 49/month.
5. Ahrefs
It is a powerful SEO tool that helps you to perform different tasks and gives crucial data for better optimization.
Ahrefs comes with a handpicked toolset that offers different functionalities. Ahrefs site explorer helps analyze the website backlinks, websites of your rivals, and most organic traffic-generating keywords.

Keyword explorer helps obtain the most relevant keywords based on the search terms. Discover the trending topics on the social channels that gain the most social presence.
Ahrefs site audit performs auditing functionality to detect the health of the site and its performance.
Key features of Ahrefs:
Website auditing
Competitor analysis
Exploring the keywords
Rank tracking
Exploring the content
Pricing Structure:
Ahrefs has multiple pricing plans like lite, standard, advanced, and enterprise. The basic plan starts at $99/month.
6. Moz Pro
Moz is an excellent search engine optimization and data analysis software that assists businesses in driving traffic and exposure of their websites in search engine results. Site auditing, ranking analysis, link-building analysis, and searching for keywords are the essential functionalities of this software tool.

To establish great content and advertising campaigns, users can use DIY SEO software to categorize, compare, and prioritize keywords and phrases. Moz Pro helps in gathering important data like site crawling, page optimization, link building metrics, so that you can find it easily to implement your own SEO techniques.
Key features of Moz Pro:
Website crawling
Tracking the ranks
Analyzing the visitors
Exploring the link-building possibilities
On-page SEO
Generating the customized reports
Pricing structure:
Moz Pro offers four different plans standard, medium, large, and premium. The standard plan starts at $99/month.
7. Ubersuggest
Ubersuggest is a renowned SEO tool that helps in improving your search engine rankings. This tool helps to establish a significant online presence for your business.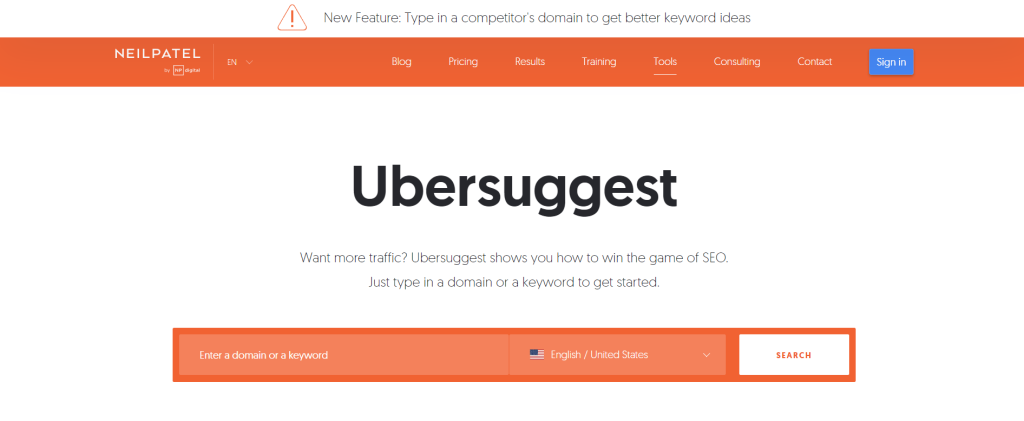 The key features of this attractive tool are keyword suggestion, backlink analysis, competitor analysis, content ideas, SEO analysis, etc.
Build an imaging link profile with Ubersuggest that dominates your rankings on Google. Effectively delivers keyword suggestions that help get more organic website traffic.
Key features of Ubersuggest:
Link building
Analyzing the competitors
Website crawling
Rank tracking
Keyword research
Pricing structure:
Ubersuggest comes with seven days free trial, and three different plans, individual, business, and enterprise. The individual plan starts at $12/month.
8. Surfer SEO
Surfer SEO is a comprehensive tool to optimize both SEO and content. It is the perfect fit for bloggers and marketers willing to improve their website's visibility and drive more traffic.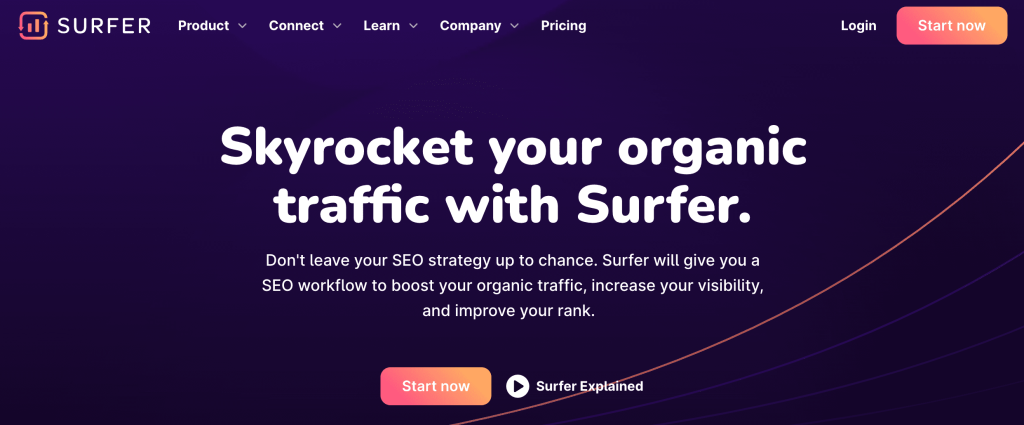 Surfer SEO provides data-driven analysis and insights. With Surfer SEO, one can find keywords, get accurate data, track ranking, improve, and make strategies for SEO campaigns.
Features of Surfer SEO:
Build-in plagiarism checker
500 plus metrics to analyze and optimize content
Content planner
Competitor analysis to spy on competitors
SEO audit reports within minutes
SERP analyzer
On-Page SEO recommendation
Pricing Structure:
Surfer SEO provides four plans: Lite, Essential, Advance, and Max. The Lite plan starts at $19/month.
Related Read:
Conclusion: DIY SEO Software (2023)
For any website to boost its online presence, content headed by the proper SEO strategy is necessary. The above-mentioned DIY SEO software tools are the best SEO tools that drive more traffic and improve rankings.
Semrush and Ahrefs are the most promising marketing tools that lead the present SEO industry. But Semrush is ranked top-notch in the industry because of its consistency in features and excellent support for its clients.
Get a chance to explode your website traffic and rankings with Semrush 30 days free trial offer.