Ahrefs is a hugely popular all-one-SEO tool that promises to help grow your organic traffic manifold.
But is it the top SEO tool in actuality?
To offer you a reliable answer, we tested the tool inside out and put up a detailed Ahrefs review.We will cover Ahrefs features, usability and the value it brings to businesses in boosting their online visibility.
So, join us as we delve into the details of Ahrefs and provide you with unique insights into the working of this widely regarded SEO tool.
Pros and Cons
Ahrefs is indeed an excellent SEO tool but it has some limitations too.
Pros
Keyword research is thorough.
Let you access keyword data from multiple search engines.
Link analysis is particularly detailed.
Site audit features assess websites on 140 pre-defined technical SEO issues.
The inbuilt data explorer feature in site audit tool let's to assess technical SEO with custom filters.
Useful 'Best By Links' features let you quickly identify pages with most backlinks.
Interface is straightforward and easily navigable.
Domain ownership proof allows you to analyze multiple domains at significantly low cost.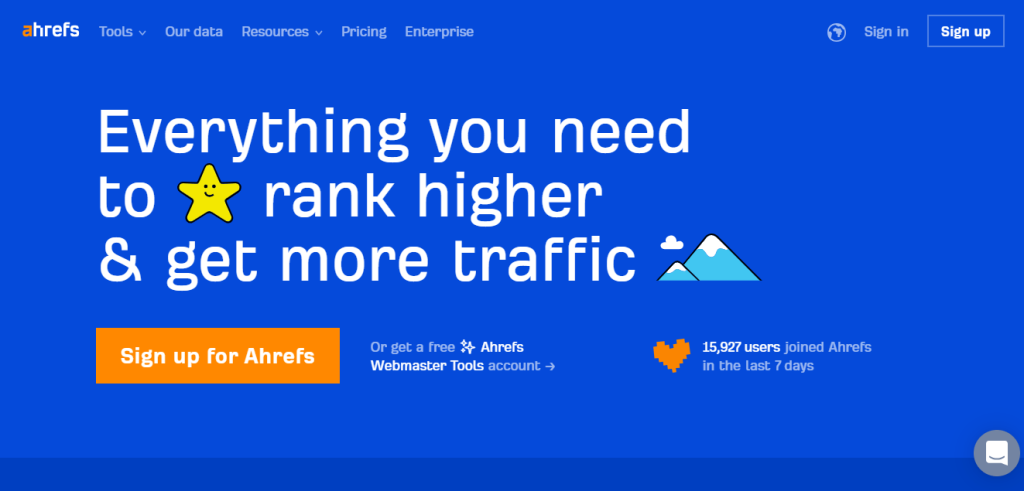 Cons
The price of Ahrefs plans are not cost effective.
No free trial to evaluate Ahrefs before purchasing a subscription.
There's no search intent features in the Keyword Explorer tool.
There's no feature to automate and streamline outreach campaigns.
The amount of data Ahrefs generate needs time and expertise to analyze everything the right way.
Quick Verdict
Ahrefs is a top-quality SEO tool with enough power to help you craft the most complex SEO strategies. The tool's extensive database allows users to do thorough keyword research, accurate rank tracking and comprehensive link analysis. The data is generally reliable and precise.
Besides, the tool provides actionable insights to boost website SEO effectively. There is one caveat, though – Ahrefs comes with a hefty price tag, and no free trial is available.
Ahrefs Top Features
Ahrefs yearns to position itself as the market leader for a comprehensive SEO intelligence. That's why the tool is packed with features to help businesses jump the SERP ladder and attain higher search ranking.
Let's explore them in detail, starting with Keyword Research:
Keyword Research
Keyword research constitutes the core of SEO; that's why almost every new SEO project begins with thorough keyword research. Ahrefs has aKeyword Explorer tool to do keyword research.
All you need to do is enter a phrase in the Keyword Explorer tool, choose a search engine, and Ahref will come up with all the relevant data.
The point to emphasize here is the search engine selection. Many SEO tools only serve Google's data, but Ahrefs lets you choose between multiple search engines – 10 to be exact, including Google, Bing, Baidu, Yahoo, etc.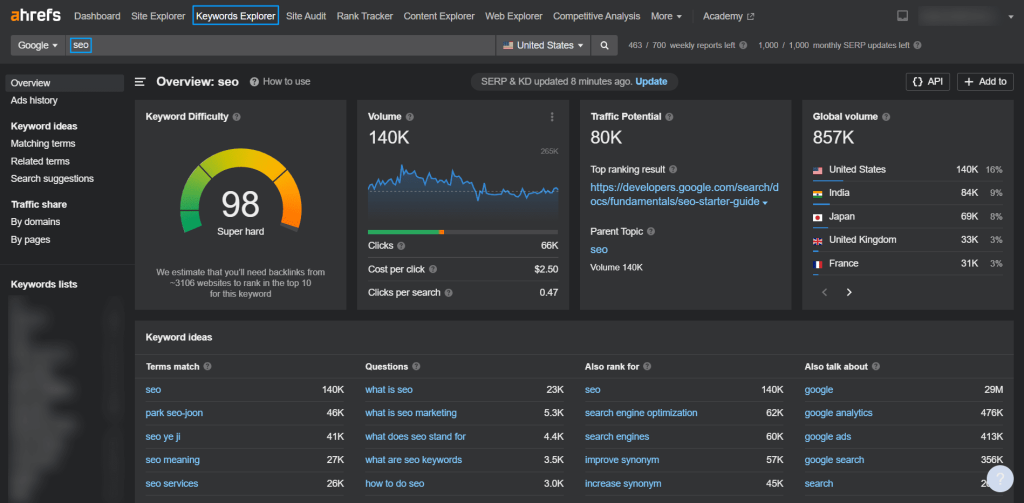 Ahrefs Keyword Explorer tools provide these details;
· Keyword Difficulty Score.
· Keyword volume ( searches per month)
· Related keyword ideas
· Website ranking for the keyword.
Among the matrices, the Keyword Explorer tool provides, Keyword Difficulty Score is the most useful. Ahrefs KD score scales from 0 to 100, with higher numbers depicting more difficulty.
But the essential part is that the KD score also provides an estimate of backlinks needed to rank for that keyword – it's beneficial in evaluating the work needed to rank the targeted keyword.
Next is search volume, which indicates the monthly searches for the targeted keywords. The data is further enriched by the total number of organic clicks, the CPC and trend data – a useful metric that depicts the popularity of a particular Keyword over time.
You can further expand the keyword research data through the Keyword Idea Section on the screen's left pane.
Ahrefs Keyword Suggestion provide details about;
· Matching terms,
· Related terms
· Search Suggestions.
Alongside the above details, Ahrefs also put potential traffic metrics – which is very helpful in gauging the potential of a particular keyword.
Verdict – Ahrefs keyword Explorer is thorough, and the details are provided in an easily readable manner. Its KD score and Traffic Potential data are particularly helpful – something missing in top SEO tools like Semrush or Moz. However, there's no Search Intent feature like Semrush, which provides a better context of the search phrase.
Domain Analysis
If you already have an SEO project, Domain Analysis will be a good starting point for a quick overview of your website's SEO. You can also do domain analysis on competitors to evaluate their SEO strategy or identify any weak points you can exploit to outrank them.
Ahrefs has a Site Explorer tool to perform an in-depth domain analysis.
To begin domain analysis, put a url in the Site Explorer tool and hit the search button.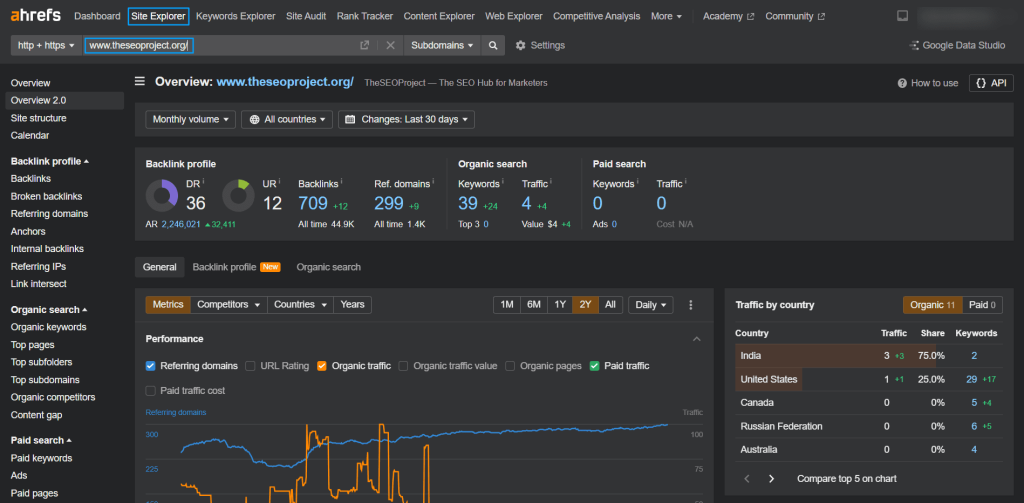 Ahrefs will come up with the following details;
· Domain Rating (DR)
· Monthly traffic volume on the website.
· Total backlinks pointing to the domain.
· Total number of keywords the domain rank for;
· Traffic value of the domain
· Anchor text used on the pointing backlinks
Note – you can click any of the above matrices to expand and drill down on the details provided by Ahrefs
The first thing to notice is the Domain Rating or DR – A matrix that Ahrefs determine based on the quality of backlinks pointing to the domain. It's the quickest way to gauge a website's health regarding SEO. Higher DR denotes a higher possibility of ranking for competitive keywords.
Next is traffic estimate – another useful value to determine the traffic potential of a website. You can filter down the results for specific countries, which is particularly helpful if you target a specific geographic location.
But don't take Ahrefs traffic estimates as absolute figures – it's just an overview. Throughout numerous SEO projects our team has handled, we have found that Ahrefs traffic estimate can be way off the charts in some cases compared with Google Analytics data.
Verdict – Overall, Ahrefs domain analysis provides a good overview of your website's SEO health. It acts as a pointer about which section you need to focus more on your website.
Technical SEO – Site Auditing
Technical SEO significantly impacts a website's ranking in SERP. In fact, Google has revealed that it considers factors like Site Speed to rank websites in SERP. Thankfully, Ahrefs provide ultra-detailed site audits – one particular reason for the popularity of Ahrefs.
Ahrefs Site Audit tool crawls the given domain and comes up with a concise SEO health score, relevant technical SEO data, issues holding down your website and possible suggestions.
One helpful feature in Ahrefs Site Audit is crawl speed adjustment. For verified domains (domains you have ownership proof), you can tweak the crawl speed for faster audits. It can be hugely beneficial if you have a big site. Similarly, you can scan specific sections or skip them altogether to perform more targeted site audits.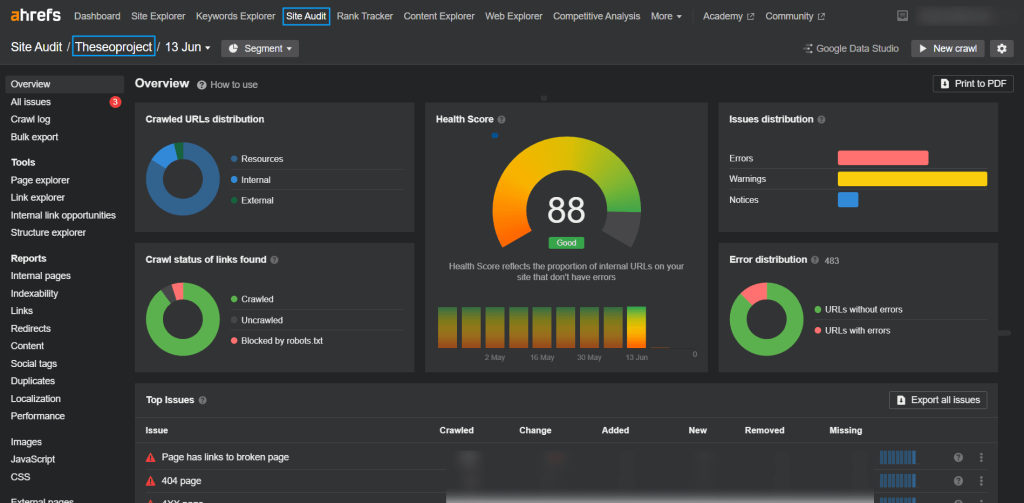 Ahrefs Site audits are full-scale. It analyzes websites on over 140+ predefined issues. Some of them that significantly impact your raking are;
· Slow loading speed and other performance issues like large HTML.
· Missing or duplicate tags.
· Issues with Hreflang
· Low content quality
· Issue with incoming and outgoing links – orphan pages, redirects, broken pages, no follow link issues etc.
· Missing social tags
Power users with skills in technical SEO can dig even further – its data explorer allows custom filters on numerous parameters ( indexable pages, heading tags, meta description, https code etc.) and hundreds of data points.
They can even configure Site Explorer to display specific issues and screen out certain sections or entire crawled pages. Also, you can direct Ahrefs Site Audits for your mobile website. It will ensure that your site complies with Google's mobile-first indexing update.
Data explorer further reveals specific detail about every url, like hreflang, duplicates, pagination, outgoing or incoming links etc. But above all, Site Audits integrate backlinks and organic traffic data into a single interface. It means you have all the essential data in one place – no more cross-referencing or juggling between different Ahrefs tools.
And to top it off, Ahrefs allows scheduling site audits on a daily, weekly or monthly basis. These audits will run on scheduled time and will be saved for evaluation. You can even export details for a better review.
Verdict – Ahrefs Audits are comprehensive and provide a complete picture of your website's health. But its Data Explore feature and assimilation of Backlinks and Organic Traffic details make Site Audits way more insightful and detailed.
Backlink Analysis
Link Analysis has been the heart of Ahrefs – something it was initially designed to perform. And this top-quality SEO tool still holds notoriety in link analysis and link building.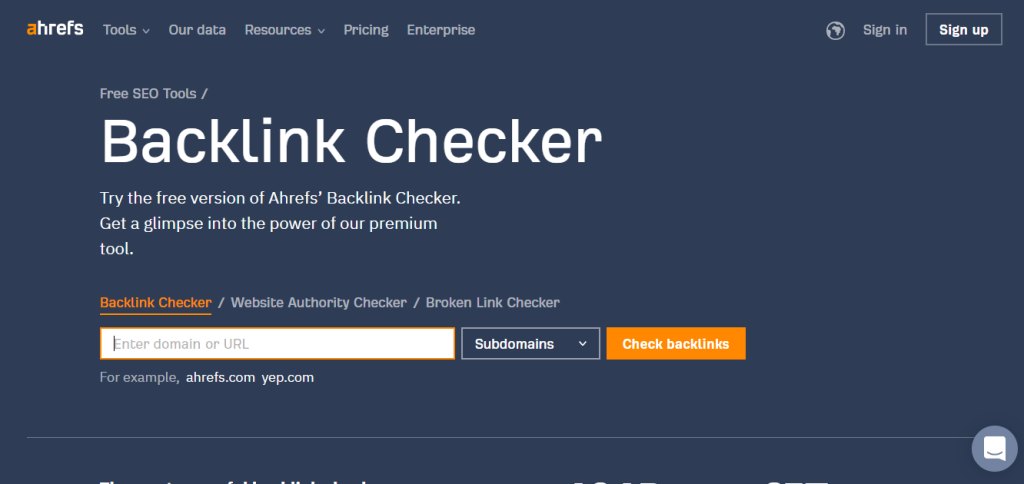 Note: Ahrefs has a free backlinks checker tool too. You can have a quick overview of your website link profile with the free tools.
Ahrefs has a massive database of 35 trillion backlinks. While Moz and Smerush have bigger backlinks databases, our experience while doing backlinks audits tools reveals that Ahrefs comes with more accurate backlink details.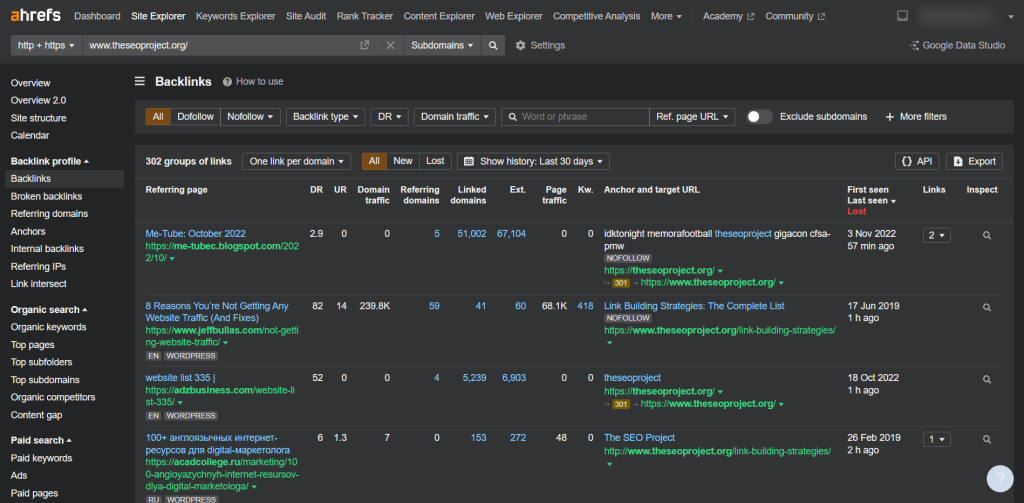 You can perform backlink analysis in the Site Explorer tool of Ahrefs. When you insert a url, Ahrefs comes up with the following;
· Total number of backlinks and referring domains.
· Backlink acquisition rate.
· Backlinks spikes which might indicate negative SEO
· Spammy links from CTLDs
· Anchor text profile
Besides the general overview, Ahrefs also let go deeper with link analysis. You can analyze wasted links. It's Best by Links provides detailed pages on your website with the most links.
We use it to explore content on our site that attracts the most links. Similarly, we also utilize it to extract content ideas from competitors.
But you can filter to identify 404 errors that are broken pages and then sort them by referencing domains. All the links on these broken pages are wanted – you can fix the issue to let link juice flow more around the site, build authority and gain a higher ranking.
Verdict – Site Explorer doubles up for domain and link analysis. But the amount of backlinks data provided by Ahrefs is impressive. It helps you assess your site's authority as well as determine how well your competitors are positioned in SERP.
Link Building
SEO has evolved a lot over the years, but backlinks are still a determining factor for higher ranking in SERP. That's why high-quality link building is still a dominating part of SEO.
While there's no specific link-building tool in Ahrefs, you can use a combination of its features to build quality links.
You can use the following;
· Site Explorer tool to identify referring domain for a given url.
· Content Explorer to identify authority sites in your niche
· Ahrefs alerts to know when your competitor gained a backlink.
· Link Intersect tool to explore backlinks your competitors have, but you don't
· Broken Links tools to uncover broken links and acquire them again.
How to use Ahrefs Site Explorer for Link Building?
Ahrefs Site Explorer lists all the backlinks alongside referring domains to a given. You can export the lists and then reach out to potential link-building prospects.
The only catch is that you have to do the entire thing manually. In Semrush, there's a CRM-like functionality that allows you to list all the backlinks in one place and manage outreach campaigns.
On top of that, it also reveals contact info for the potential linking source and allows you to connect your email for a seamless outreach process.
How to use Ahrefs Content Explorer for link building?
Content Explorer provides details of authority pages and website ranking for a particular topic. Enter a niche-relevant topic in Content Explorer, and it will show the top-ranking pages for the topic. You can even identify top authors for the topic in your niche alongside their Twitter handles, if any. You can then reach out to them for linking opportunities or content collaboration.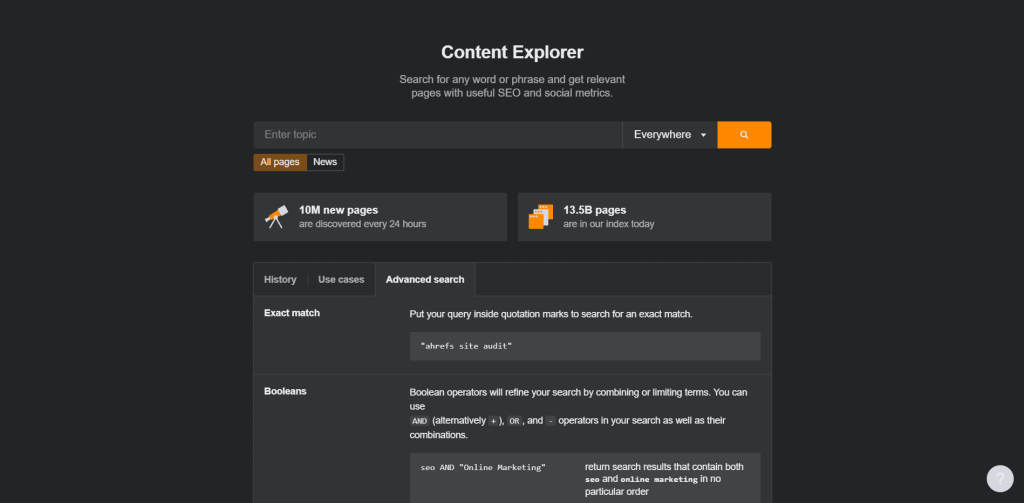 How to use Ahrefs Alerts to identify link-building opportunities?
You can insert your competitor's URL in Ahrefs Alerts to receive an email whenever it acquires a new backlink. The next step is to reach out to the link provider to request a link for your website. Simple!
How to use the Ahrefs Link Intersect tool to find backlinks opportunities?
Link intersect is a nifty tool in Ahrefs link-building toolkit. You can use the tool to identify linking domains to your competitor's websites that your sites don't. It provides an easy way to discover untapped link-building opportunities. You can contact the domain owner and request backlinks.
How to use the Ahrefs Broken Links tool to build new backlinks?
In Ahrefs, the process of finding broken links ( links no longer pointing to any live page) is straightforward. Enter a domain in the Site Explorer tool and filter the results with the broken link option.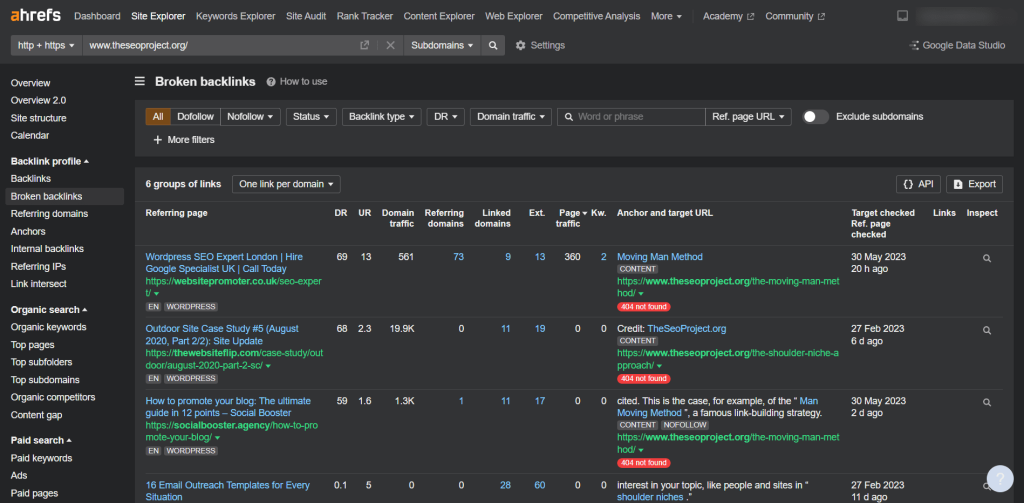 You can recreate the content once you have a list of broken links and dead pages. Next, ask the link provider to link with the new content again. This way, you will acquire new links, boosting your website's ranking.
Verdict – Ahrefs provide numerous features to supercharge your link-building efforts. However, the lack of automation or a dedicated tool for link-building campaigns is hurting, given the status of Ahrefs as a benchmark in the SEO industry.
Ahrefs UI/UX
Ahrefs has a traditional interface – the top includes the main features, while the left pane provides additional filters to expand and enrich data further. For example, you can find the Site Explorer feature at the top of the Ahrefs dashboard. And on the left, you have filters like backlinks profiles, organic searches, top pages etc. This interface design is pretty standard, one that is easily adaptable for beginners and experts alike.
But the true intuitiveness of Ahrefs appears in its extravagant adoption of data visualization techniques – you will see tons of graphs, charts etc. Ahrefs offer massive amounts of data, and graphical representation allows such an overwhelming amount of data to be easily digestible.
That said, Ahrefs interface takes a serious hit regarding responsiveness. Ahrefs dashboard doesn't adjust to the mobile screen and displays the desktop version only – it could require a lot of zooming to understand what's on the screen. Another aspect where the Ahrefs interface needs improvement is speed. We have found that while navigating different sections or loading large data sets, Ahrefs can be sluggish, leading to less than optimal user experience. And there's no Android or iOS app – Smerush at least has an app for rank tracking.
Verdict – Ahrefs interface is indeed simple – you can easily find your way around. And its focus on data visualization certainly makes things more clear. But Ahrefs UI needs improvement in terms of performance and responsiveness. Improving these shortcomings will enhance user experience and make Ahrefs more accessible to novices and experts.
Ahrefs Pricing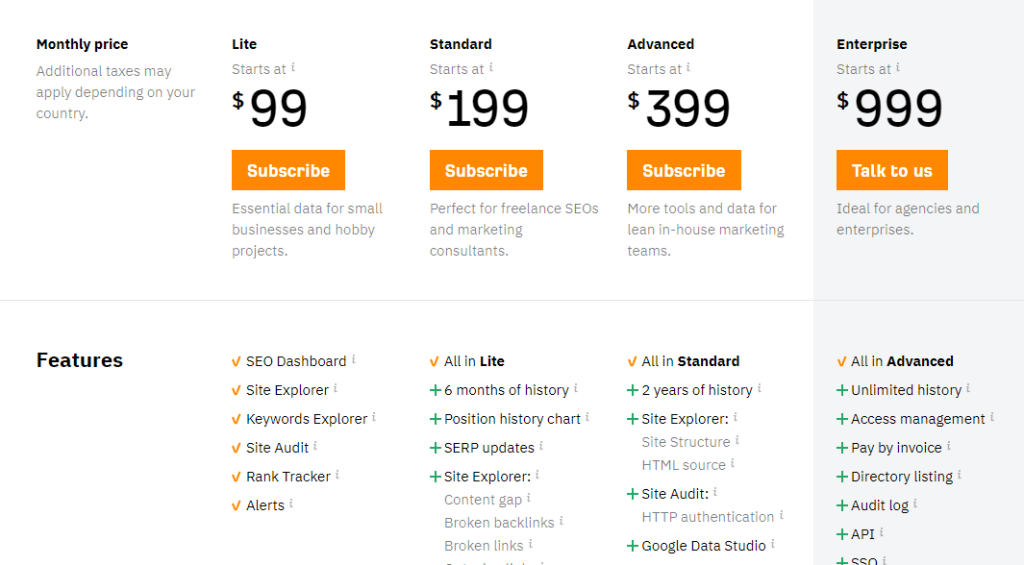 Ahrefs is relatively more expensive compared to other SEO tools in the market. The primary reason that contributes to the perceived high cost is the comprehensive sets of features. Besides, the high pricing can be justified further by the depth and accuracy of the data that Ahrefs provide.
Ahrefs has a tiered pricing structure, allowing users to choose a plan that fits their needs and budget.
Here are the pricing details of Ahrefs Subscription plans;
| | | |
| --- | --- | --- |
| S. No. | Plan | Pricing |
| 1. | Lite | $99 per month |
| 2. | Standard | $199 per month |
| 3. | Advanced | $399 per month |
| 4. | Enterprise | $999 per month |
Ahrefs Lite Plan
It's the basic plan and pretty restrictive in its own accord. You won't get the useful content gap analysis, broken link or even content Explorer feature. It includes 5 projects, 750 tracker Keywords and 5 keyword lists. Site audits are unlimited, and rank tracker daily updates are only available with $100 per month extra. In short, Ahrefs Lite's plan is only good for entry-level SEOs and beginners not dealing with complex SEO strategies, extensive data, or too many seo projects.
Ahrefs Standard Plan
Ahrefs Standard Plan offers more flexible limits to test various SEO strategies. Unverified project ownership rises to 20, while crawl credits increase to 100,000. Similarly, most of the missing features in the Lite plan are available with the standard subscription, like content gap analysis, content Explorer, Batch analysis, report sharing etc. Overall, Ahrefs standard plan is more suitable for seo professionals and small agencies.
Ahrefs Business Plan
Ahrefs Business Plan up the ante a bit more than the Standard plan. Additional features include Google Data Studio Integration, Dashboard folders and
Web Explorer. But above all, Ahrefs Business plan allows two years of historical data. It became beneficial for performance analysis, content evaluation, link profile analysis, and its impact on the website's ranking etc. The plan allows 50 projects, 5000 tracked keywords and 100 keyword lists. In particular, Ahrefs Business plan suits mid-level agencies that handle multiple clients.
Ahrefs Enterprise Plan
The enterprise plan allows 100 projects, 10,000 tracked keywords, 5 million crawl credits, 250 keyword lists etc. Extra features include unlimited history, Directory listing, API access, Audit logs etc. However, the Ahrefs Enterprise plan will set you back by $999 monthly. Therefore it's only suitable for big enterprises or large-scale agencies with international clients.
Does Ahrefs Have a Free Trial
The high price of Ahrefs often prompts users to look for any free trial that might give them an inside look into the tool without committing big time. Unfortunately, Ahrefs doesn't have a free trial which is surprising given its hefty price tag. It has a stripped-down free version instead, called the Ahrefs Webmaster tool. It provides you with a taste of its Site Audit and Site Explorer tools as well as a free backlink checker tool. In contrast, Ahrefs alternatives like Smerush offer a free trial. In case you wish to check out Semrush, here is a detailed Semrush review that will offer you a comprehensive analysis of its features, usability, pricing and more.
Verdict – Ahrefs is undoubtedly pricey, but the insights it provides and the competitive advantage you gain through its feature can potentially offset the high cost. But its price-to-performance value is unevenly distributed. The Lite plan is low-cost but limited. Higher-tier plans provide enough features but are costly. The best thing is that Ahrefs allows working on unlimited verified domains regardless of the plan. It significantly lowers the comparative cost of analyzing each domain.
Related read;
Conclusion – Is Ahrefs Worth Investing?
Ahrefs is a powerful SEO tool full of amazing features that could push your SEO game to the next level. It excels in backlink analysis, site audits and keyword research. Its features like wasted links analysis, identifying broken pages and exploring competitors' content make it stand out. Likewise, its ability to assess website authority and accurately analyze competitors positioning in SERP makes it a valuable asset. However, it's expensive and needs a bit of revamp regarding speed and responsiveness. In any case, the wealth of SEO details it provides makes Ahrefs a valuable SEO tool.
FAQs: Ahrefs Review
What are the key features of Ahrefs?
The key features of Ahrefs are;
·    Keyword Explorer
·    Site Explorer
·    Rank Tracker
·    Site Audit
·    Broken Link Analysis
·    Content Explorer
Does Ahrefs offer a discount?
Ahrefs offers a discount on annual billing. If you purchase Ahrefs yearly subscription, you get around a 20% discount.
What are some of the best alternatives to Ahrefs?
The best Ahrefs alternatives are;
·    Semrush
·    Moz
·    SE Ranking
Is Ahrefs an affordable SEO tool?
No, Ahrefs is a costly product. Its entry-level plan alone costs $99. However, the unprecedented SEO insights that Ahrefs provide is worth the price of the tool.