Welcome webmasters. This article will explore the best AI SEO tools in 2023.
AI is not a figment of science fiction anymore. It's here, and it's changing the world. So why not assimilate it into the SEO process too? The impact of AI will be monumental on SEO. In fact, AI-aided SEO tools are already changing the dynamics of how SEO is done.
With AI SEO tools, you can incorporate the power of artificial intelligence into your SEO strategy. It translates into data-driven insights, perfect content optimization, real-time rank tracking, and effortless competitor analysis.
The end result is higher search ranking and better visibility – the ultimate goal of doing SEO.
If it's appealing to you, here's a carefully curated list of the best AI SEO tools that are sure to take your SEO game to the next level.
Top 9 AI SEO Tools – Quick Overview (2023)
Before we dive into the details, here's a quick summary of AI SEO tools included in the article:
| S. No. | AI SEO Tools | Description |
| --- | --- | --- |
| 1. | Semrush | The automated content optimization tool |
| 2. | Postaga | Automated outreach and link building leveraging AI |
| 3. | Alli IA | Postage |
| 4. | Keyword Cupid | AI-driven keyword research and clustering tool |
| 5. | DiiB | AI backed SEO intelligence tool |
| 6. | MarketMuse | Comprehensive AI content analysis tool |
| 7. | CrawIQ | Intuitive keyword research and market analysis tool |
| 8. | BiQ | AI focussed all-in-one SEO tool |
| 9. | MarketBrew  | Extraordinary predictive modeling tool for SEO |
| 10. | Surfer SEO | AI focussed content optimizing tool |
List of Best AI SEO Tools In 2023
From Semrush to MarketBrew, I have picked the most sought-after AI SEO tools in 2023. Try these AI-powered SEO tools and witness your website soar to new heights.
1. Semrush
Pricing – $119.95 to $449.95 monthly.
At the top spot is Semrush – one of the most powerful SEO tools that leverage AI to offer an innovative range of features. With its AI-driven working, Semrush can help you minutely analyze key SEO matrices like content optimization and real-time rank tracking.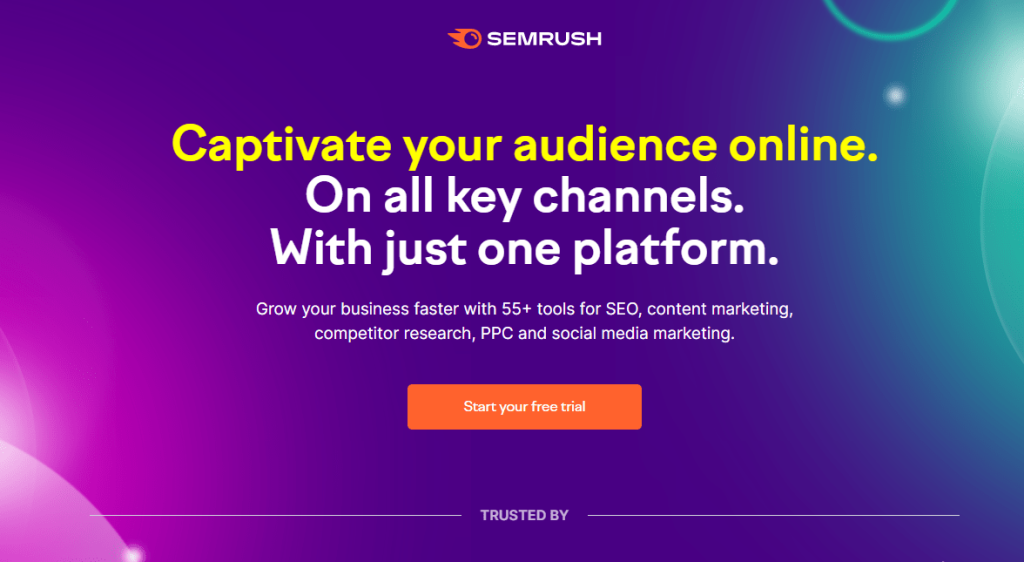 Besides, it can also help you identify lucrative keyword opportunities and perform in-depth competitor analysis to amp up your SEO game.
Moreover, Semrush also includes an AI copywriting tool called Rephraser. You can use it to mold your existing content to align perfectly with multiple platforms.
Important Highlights
Range of SEO tools to improve workflow and cover every SEO aspect.
Most accurate keywords database. You can refine the search for local, national, and international keyword data.
Powerful backlinks crawl engine to identify backlinks opportunities easily.
Advanced tracking tool to optimize the website's performance and measure results.
What's New In Semrush?
Semrush has released a more updated and exhaustive backlink database. Now users can access more backlinks data. Moreover, Smerush has improved its authority score calculation, allowing more accurate data.
2. Postaga
Pricing – $99 to $299 per month.
High-Quality backlinks can push you through the SERP in no time. But building them is an uphill task. That's where Postaga steps in – an AI-backed link-building tool designed to craft impactful outreach campaigns within minutes.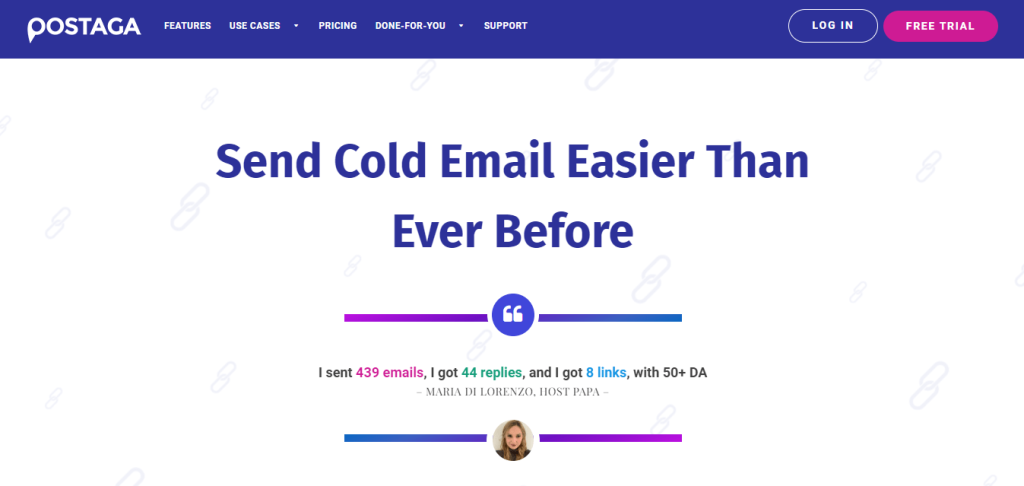 Besides, the AI SEO tool can also take care of prospecting, personalization, and follow-ups. Also, Postaga can supercharge your content promotion campaigns so that you get more mentions and, by extension, more backlinks.
And to keep you informed about how things are going, Postage also includes a robust reporting tool. It makes it easy to understand how impactful your outreach campaigns are and where they need improvement.
Important Highlights
AI-powered outreach assistant to boost your content share and help get more backlinks.
Campaign generator and content hub Features to automatically scan your website and generate outreach campaign ideas relevant to your site.
Opportunity Finder to help you uncover the most attractive link-building opportunities.
Content Analyzer tool to minutely analyze content and generate specific recommendations for outreach campaigns.
What's New in Postaga?
Postage will soon add API access and the Automated Reporting feature. That said, only the Agency Plan subscriber will have access to both the new features.
3. Alli AI
Pricing – $249 to $999 monthly.
Alli AI takes automation to the next level. It's an all-in-one SEO tool that is powered by artificial intelligence. In addition, Alli AI also uses machine learning to simplify the whole process.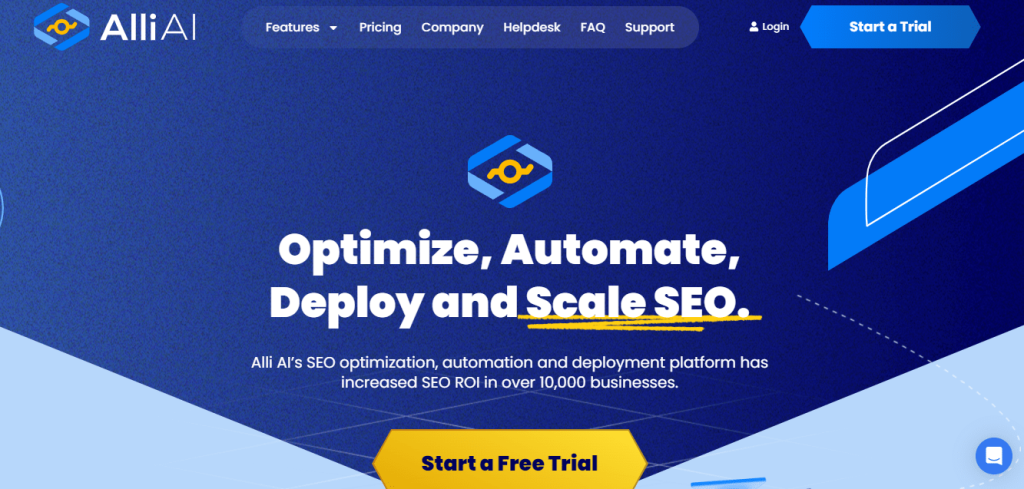 This way, it can be tailored to meet clients' specific needs. With Alli AI, businesses and enterprises can seamlessly optimize SEO and deploy sophisticated SEO strategies at scale.
Important Highlights
Allow automated on-page optimization in bulk. It can easily integrate with a CMS and do the optimization tasks at scale.
Includes Live Editor Chrome Extension to help you witness the content optimization process in real time.
Any optimization done by Alli AI reflects instantly on the website.
What's New in Alli AI?
Alli AI is soon going to add A/B testing features powered by AI. It will help implement the most working SEO and maximize ROI. Likewise, the Site Speed Optimizer feature is also in the pipeline, which could reduce the site loading time by 20 to 35%.
4. Keyword Cupid
Pricing – $9.99 to $499 per month.
Keywords are the backbone of SEO. Perfect content with a good sprinkle of the right keywords instantly ranks higher in search engines.
Keyword Cupid is an AI-backed keyword clustering tool that automates keyword research and lets you curate a perfect content strategy.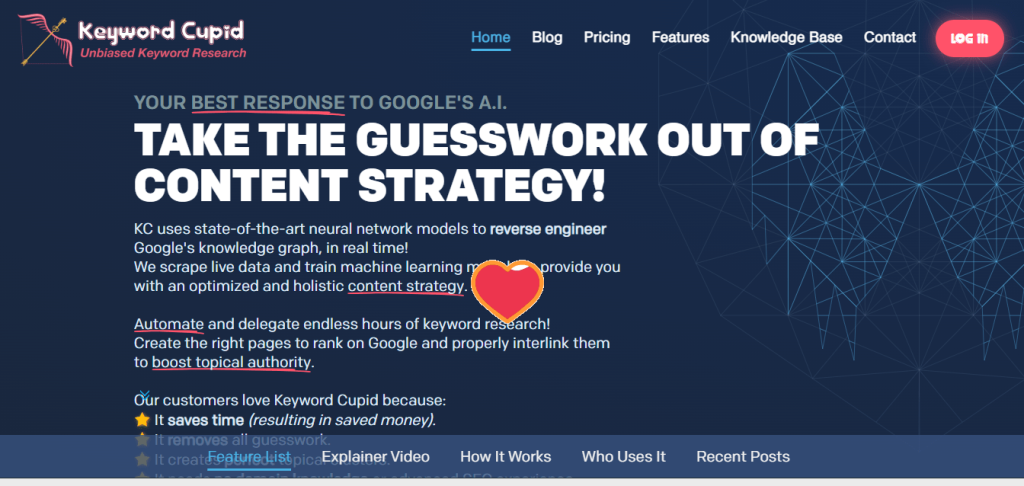 Keyword Cupid boasts state-of-the-art neural network models built to reverse engineer Google knowledge graphs. The tool scrapes millions of keywords and then uses machine learning algorithms to suggest the best keyword based on content.
Important Highlights
Online machine learning model to craft the most impactful topical model for your website.
It enables Live Data Pulls, ensuring that the scraped data is most relevant.
Allow extracting keywords data from specified geolocation.
Intuitive mind mapping feature, which enables easy data visualization.
What's New In Cupid Keywords?
Cupid Keyword has its trademarked URL Analyzer for effectively analyzing given URLs and suggesting keyword ideas.
5. DiiB
Pricing – $0 (free plan) – $7.99 ( Pro Plan) per month.
Optimizing content for search engines is a significant part of doing SEO, and that is where my next selection excels.
DiiB is an all-in-one AI SEO tool that can automate the whole SEO workflow, but I liked its content optimization feature the most.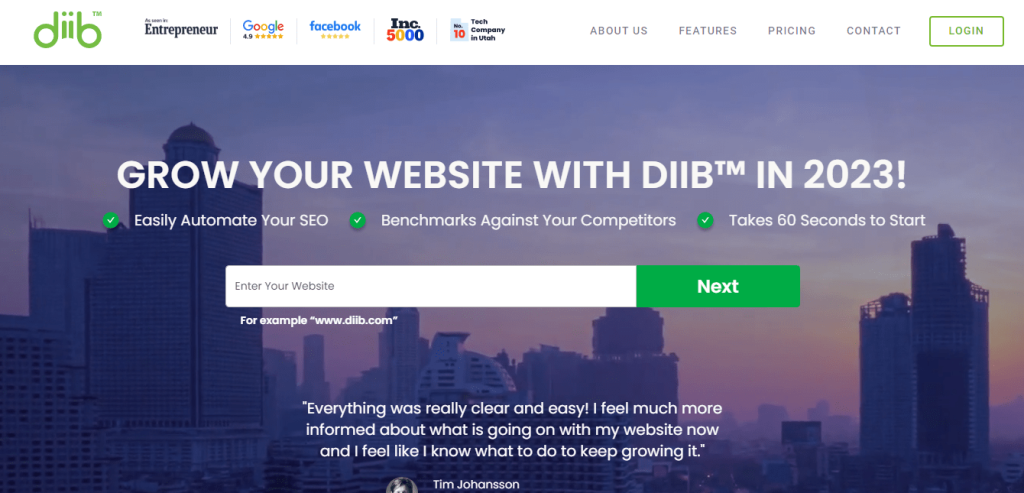 It incorporates a proprietary predictive algorithm and the ability to understand natural language. These features help DiiB provide actionable insights on optimizing your website's content.
On top of that, DiiB also packs a nifty Answer Engine. It deeply scans the ranking websites and then combines the data with your website's analytics to offer a complete overview of how quickly to surge through the SERP.
Important Highlights
Automate the whole SEO process.
Allow tracking keywords, monitor competitors, and offer content ideas.
Offer insights to optimize social media presence and boost engagement.
The intuitive benchmarking utility lets you see how your website stacks against competitors.
What's new in DiiB
DiiB now includes a featured member section that allows you to interact with industry experts and entrepreneurs using DiiB. It lets you peek into the strategies these members implement to achieve unprecedented success.
6. MarketMuse
Pricing – $149 to $399 monthly
If content analysis is something you struggle with, MarketMuse is the perfect tool for you. It's an enterprise AI SEO tool that excels in content analysis and optimization.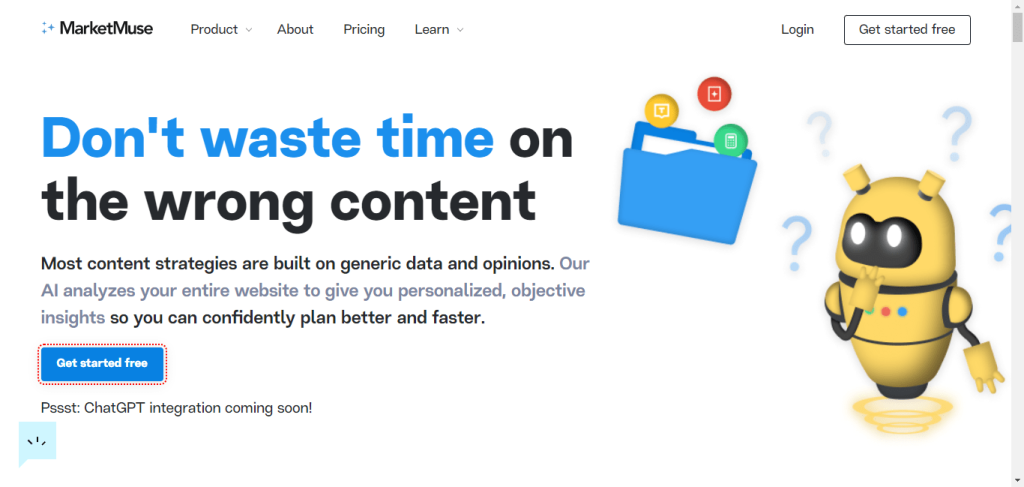 MarketMuse packs an internal knowledge database enriched with millions of data points. It enables it to offer relevant suggestions for content topics, titles, keywords, etc.
But the most impressive thing, in my opinion, is its ability to integrate with your website and the totally AI-backed 'first draft' generation. It offers you a starting point to build crisp, search-engine-optimized content.
And the job is not done here; MarketMuse constantly monitors your website's content to ensure it's relevant to the current SERP trends.
Important Highlights
Competitive content analysis feature to help you craft catchy content that ranks in search engines.
Content clusters features offer you valuable insights about topics likely to bring most visitors to your website.
Helps you prioritize topics to curate a high-performing content strategy.
What's new
MarketMuse is soon to roll out ChatGPT integration. It will help explore content opportunities further and make the Content Brief Generator feature more intuitive.
7. CrawIQ AI
Pricing – $49 – $499 monthly
Brainstorming content ideas is as hectic as optimizing the content itself. Well, the process can be simplified with CrawaIQ. It's an AI-powered research and writing assistant that offers you instant access to a massive database of niche-relevant information about your industry.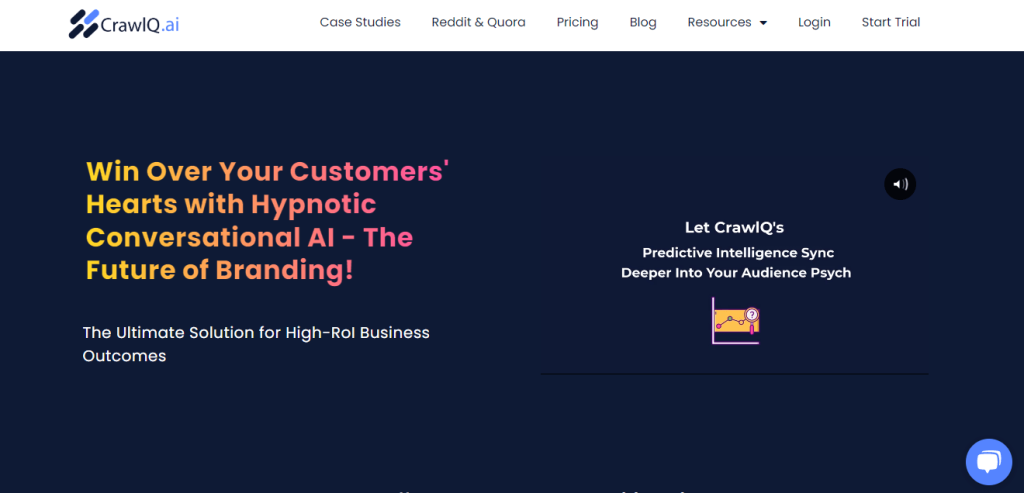 CrawIQ leverages AI to gather data on billions of content feeds. It then analyzes, organizes, and prepares a topical profile based on your website's niches. To extract the most lucrative content ideas, you can further refine the data based on filters like relevancy, category, etc.
Important Highlights
Let you finish hours of market research for content ideas within minutes.
Deeply analyze the target audience to suggest topic ideas that have the most potential to engage the users.
Works on conversational AI models that draft appealing content that instantly attracts and engages the audience.
Also, including intuitive tools like content summarizer, and copywriter, AI enables content creators to give wings to their content creation efforts.
What's New
CrawIq also includes Reddit, Quora, and Authority Builder add-ons to power content intelligence, boost predictive intelligence, and help build a brand's authority quickly.
8. BiQ
Pricing – BiQ pricing is available upon request.
BiQ is an all-in-one SEO tool unlike any other. It leverages AI to tackle different SEO aspects. The best thing is it covers, from top to bottom, everything you need to optimize for better search ranking.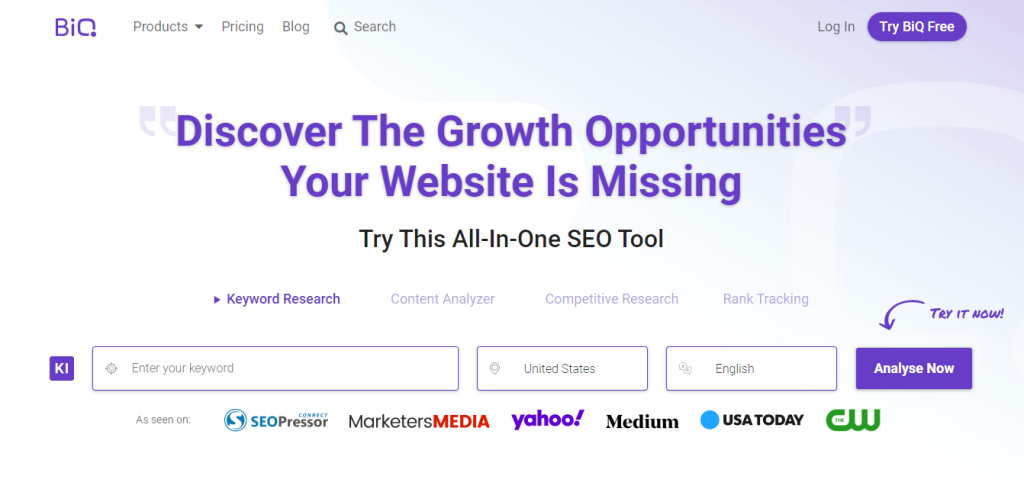 It lets you pick the best keywords, eliminate keywords that might be detrimental to your SEO, weave high-quality content, track your website's positioning, and monitor SERP changes.
However, I liked its AI-guided content optimization functionality the most. It uses nifty semantic analysis and word vector matrices to identify content that has the most potential for your website in terms of SEO.
Important Highlights
Let you uncover untapped, high-value keywords.
AI-guided Content Optimization, which makes content search engines as well as user-friendly.
Let you instantly analyze keywords you are currently ranking for in search engines.
What's new
No updates as of now.
9. MarketBrew
Pricing – Prices are tailored depending on the brand and agency.
MarketBrew is a novelty in digital marketing – instead of leaving you at the mercy of search engines, it lets you build your search engine SEO models. Based on the dynamics you provide, it then predicts how much you must grind to achieve top ranking.
It works as a roadmap offering you the perfect overview of the road ahead for SEO. Market Brew employs machine learning algorithms and runs on powerful AWS software providing instant SEO models to test SEO strategies.
Likewise, Market Brew also boasts genetic algorithms that allow you to compare your landing pages with that of the top performers. It helps you uncover the potential roadblocks preventing your site from reaching the top.
Important Highlights
Blink Javascript rendering and Googlebot Crawler to help you gauge SEO changes before they impact your ranking.
A unique Particle Swarm Optimization process that lets you calibrate all your search engine models.
Automated and fast A/B testing allows you to switch strategies quickly and maintain ranking.
What's New in Marketbrew?
MarketBrew is offering a flat 20% discount on the license for brands and third-party vendors.
10. Surfer SEO
Pricing- $69 to $249 per month
Surfer SEO is a cloud-based content intelligence platform that helps you generate content and optimize it as per On-page SEO that ranks higher in search engines. It uses machine learning and natural language processing to comprehend and analyze the top-ranking pages and then provides a detailed recommendation to improve your content.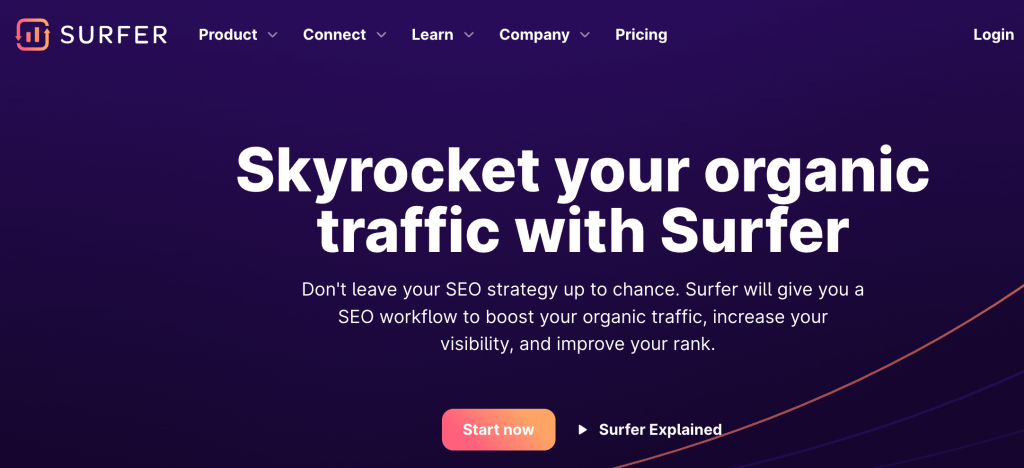 Moreover, Surfer SEO is a powerful tool that can help in keyword research, content planning, content editing, and auditing in order to improve overall SEO.
Important Highlights:
Keyword research tool to identify and target the best keyword based on keyword difficulty, volume, competition, and relevance.
Surfer SEO can help you create a content plan covering essential topics related to your target keywords.
Content audit tool to audit all the existing content and locate the necessary areas for improvement.
What's New in Surfer SEO?
Recently, Surfer SEO integrated with Semrush, allowing access to Semrush's backlink data directed from within the Surfer SEO. Furthermore, it has added a growth management tool that tracks your progress.
Related read;
Conclusion: Best AI SEO Tools (2023)
To navigate the rapidly evolving SEO landscape, it's crucial to adapt to the changes ahead and leverage the latest tools. In this endeavor, AI SEO tools can be a big lever that can propel your website's ranking to new heights.
These tools can help you automate the task, give you a better perspective of the SEO landscape, and give you clarity while devising the SEO strategy.
In my opinion, these are the best AI SEO tools to take advantage of in 2023;
Semrush – Undeniably the best SEO tool available right now.
Postaga – Helpful AI tools to automate outreach and link-building campaigns.
MarketBrew – Perfect for predictive analysis and timely adjustment of SEO strategy.
Utilizing these AI SEO tools can solidify your online presence and ensure continuous online growth.