ChatGPT can help with various SEO tasks but how effective is ChatGPT as an SEO keyword research tool?
The advent of SEO was followed by the popularity of search engines like Google. So, came the adoption of SEO tools. Some of them are comprehensive. Some are specific, like a keyword research tool.
The latest in SEO-scape is a free keyword research tool, ChatGPT.
Well, for those familiar with the power and versatility of ChatGPT, that's an understatement. However, SEOs across the globe experimenting with ChatGPT for SEO would agree with it: ChatGPT is a free tool for keyword research, keyword grouping, keyword analysis/extraction, and more. And as an AI chatbot cum text generator, it is only getting better.
In this guide, we are going to cover how ChatGPT finds keywords, steps, and best practices. We'll also answer if AI content and keywords are good for SEO. But before that, let's briefly explore the breadth of ChatGPT as an SEO tool.
ChatGPT for SEO Tasks
SEO and content go hand-in-hand for organic growth. Churning out quality content economically in high quantity is a constant struggle of SEO. That's where ChatGPT comes in!
ChatGPT (Chat Generative Pre-trained Transformer) is a machine learning model that is able to carry out natural language generation (NLG) tasks with a high level of accuracy. So, it makes sense for SEOs to explore this AI for content creation at speed and scale.
So, what can ChatGPT do for SEO:
Evidently, ChatGPT can pretty much take care of all SEO content-related tasks. However, they have the chance of being flagged as spam (which we discuss later in this guide). Still, expert SEOs say that for keyword research, ChatGPT is safe and effective.
Let's delve into it a bit before moving to the steps of using ChatGPT for keyword research.
Keyword research, keyword research tool, and ChatGPT
ChatGPT, for its ability to process natural language, can suggest keywords related to any niche, extract keywords from a paragraph, and even suggest LSI keywords!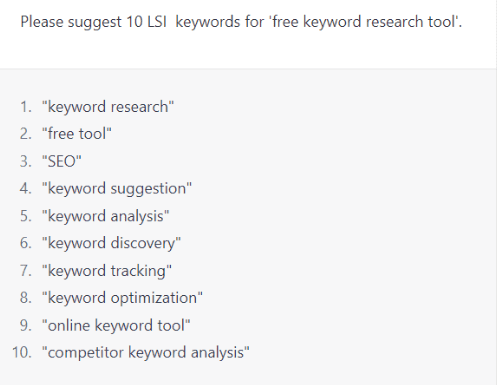 Of course, you need to check if those keywords are usable or not. But it's much more economical – for both time, effort, and costs involved. In fact, the usage of ChatGPT for keywords goes further if one gets a command over effective prompts as it can:
Factor in persona and intent for keyword strategy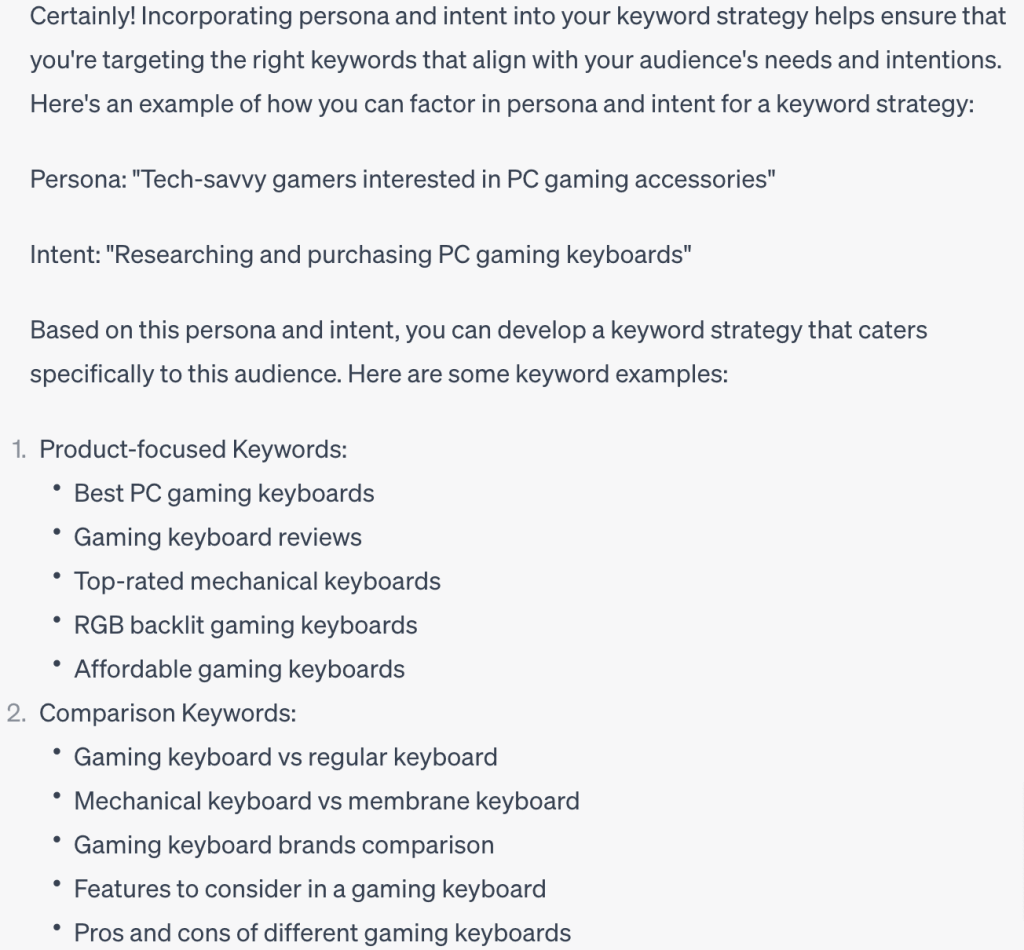 Suggest keyword buckets/clusters (even as table)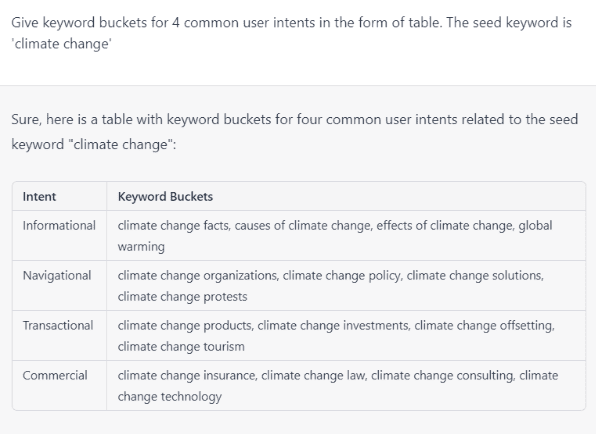 ChatGPT can map keywords with their intent in a table
Find short tail, long tail, and LSI keywords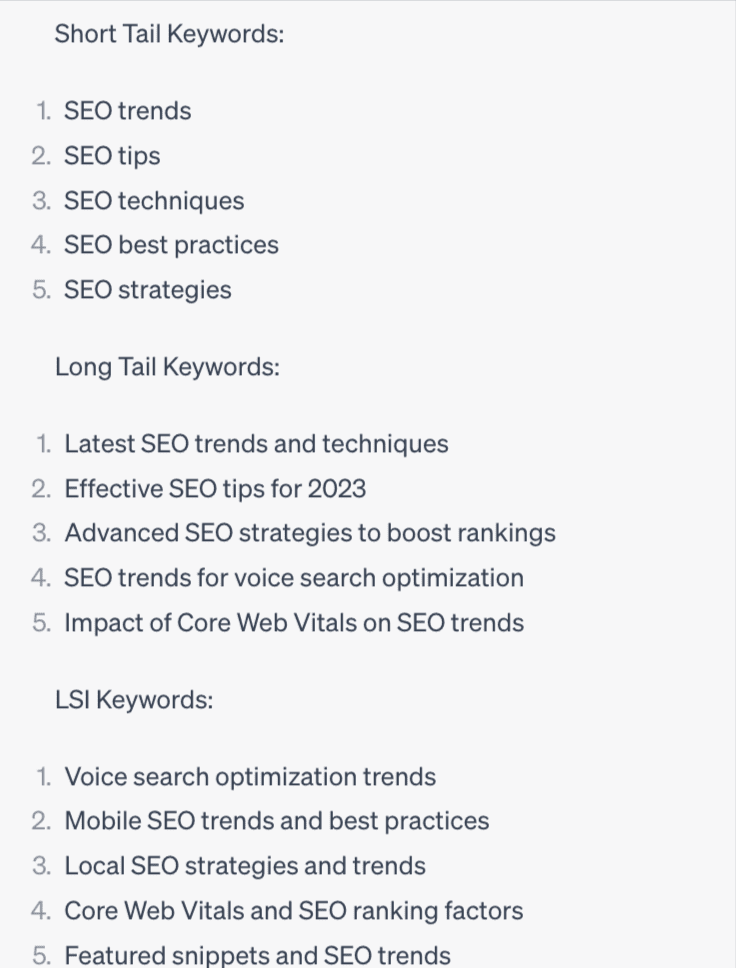 Split primary and secondary keywords
Fine-tune keyword list for intent
Find keywords in any niche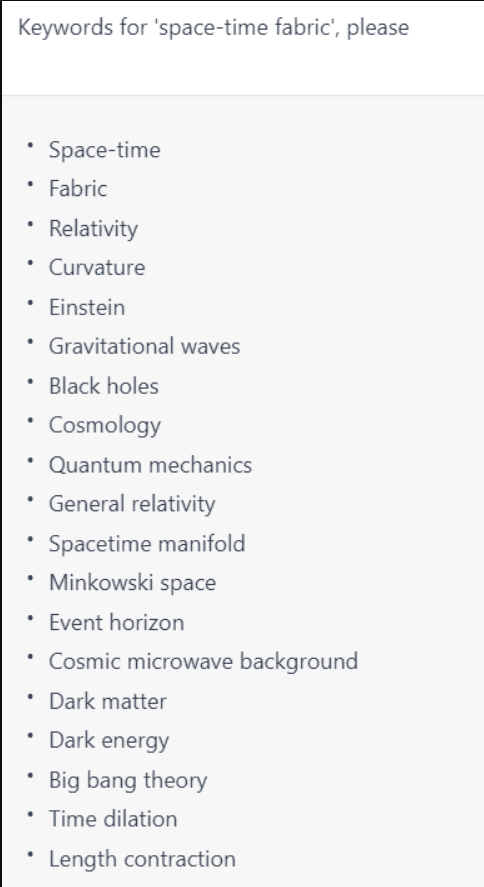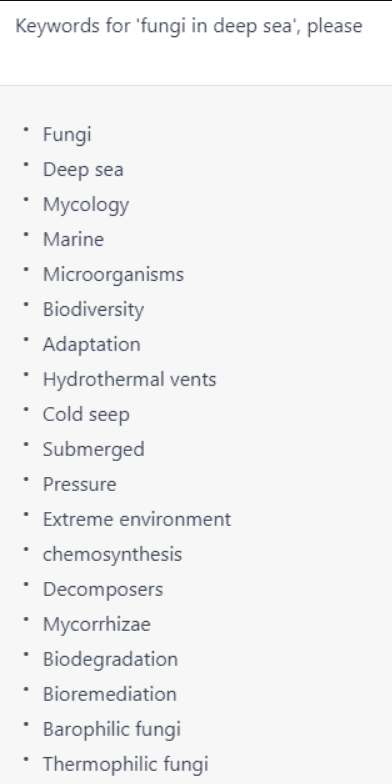 Support keyword research in most languages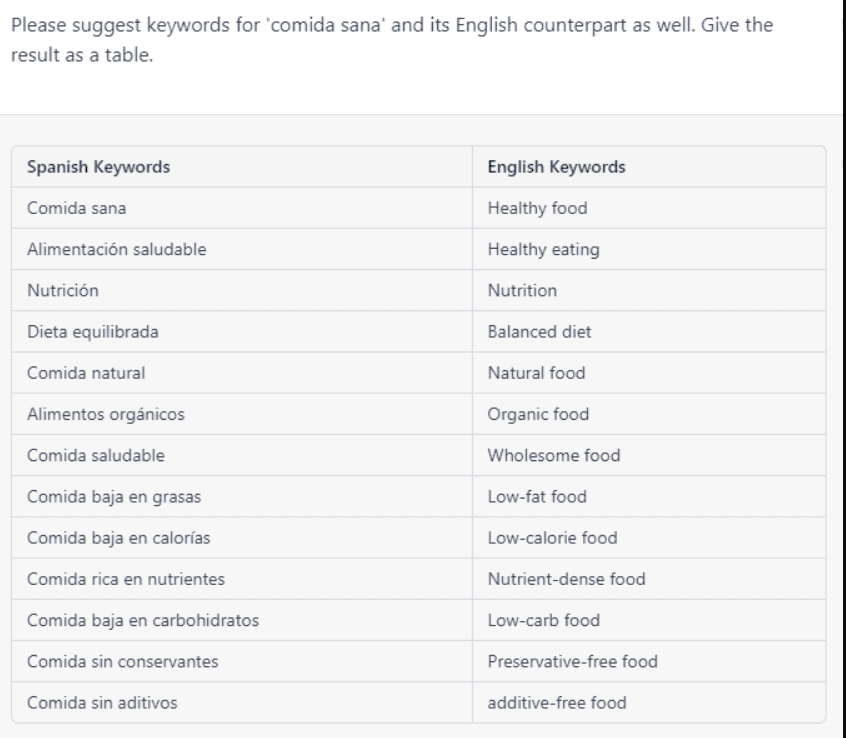 Extract keywords from existing content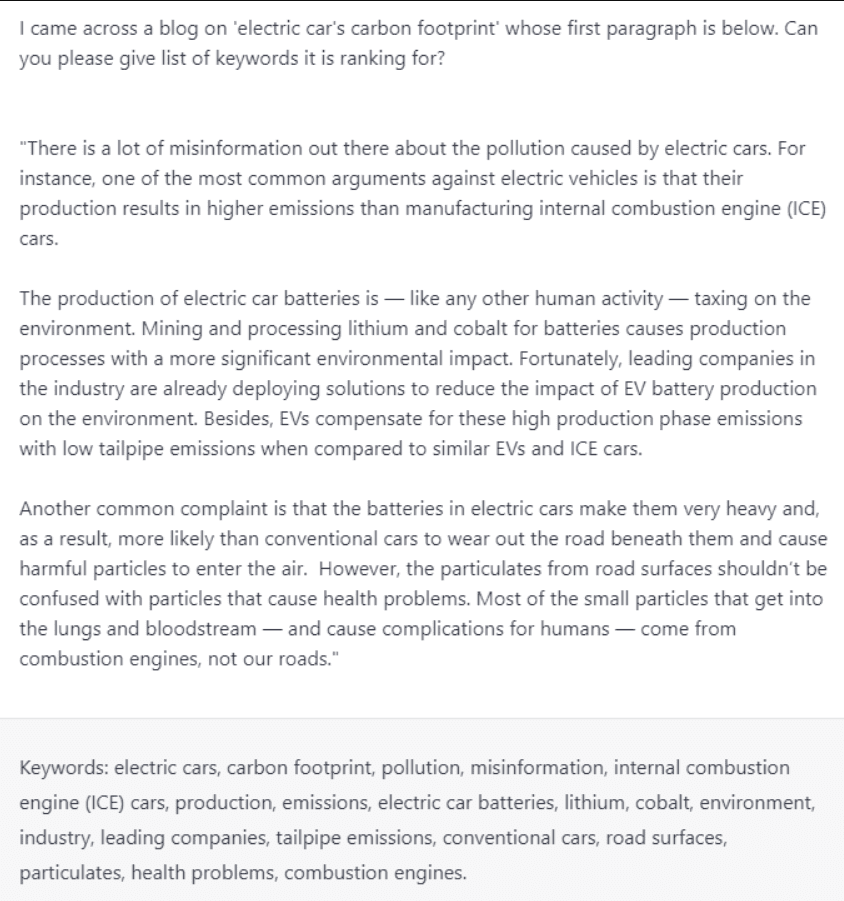 List suitable keywords from a table of keyword vs volume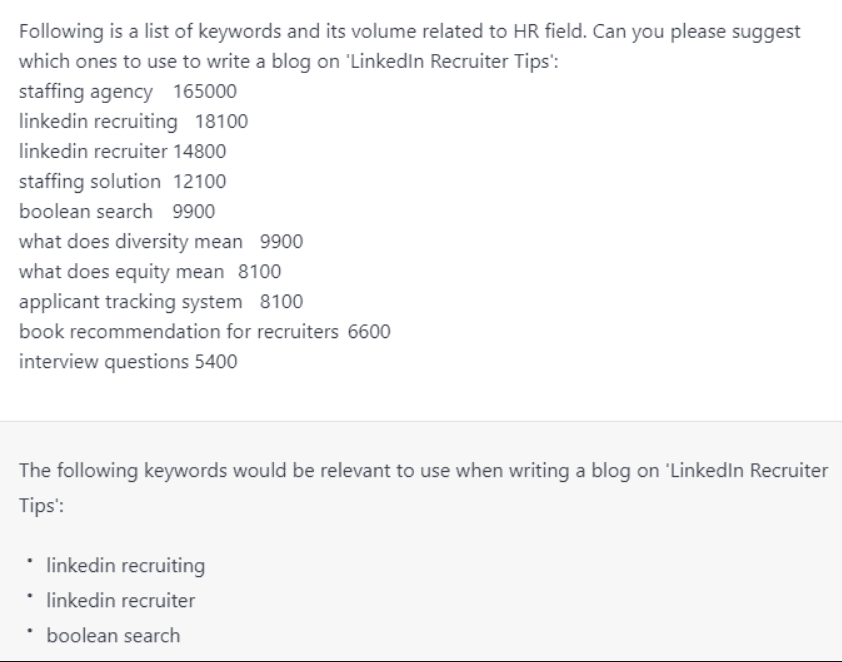 Generate FAQs from keywords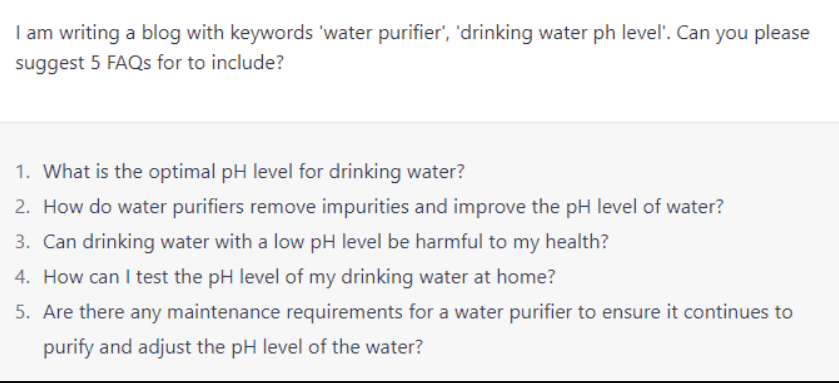 Evidently, for all its benefits, ChatGPT can be used as a keyword research tool. In fact, if you are new to SEO content, it goes a step forward by suggesting where to use keywords in the content and metadata to optimize your overall piece.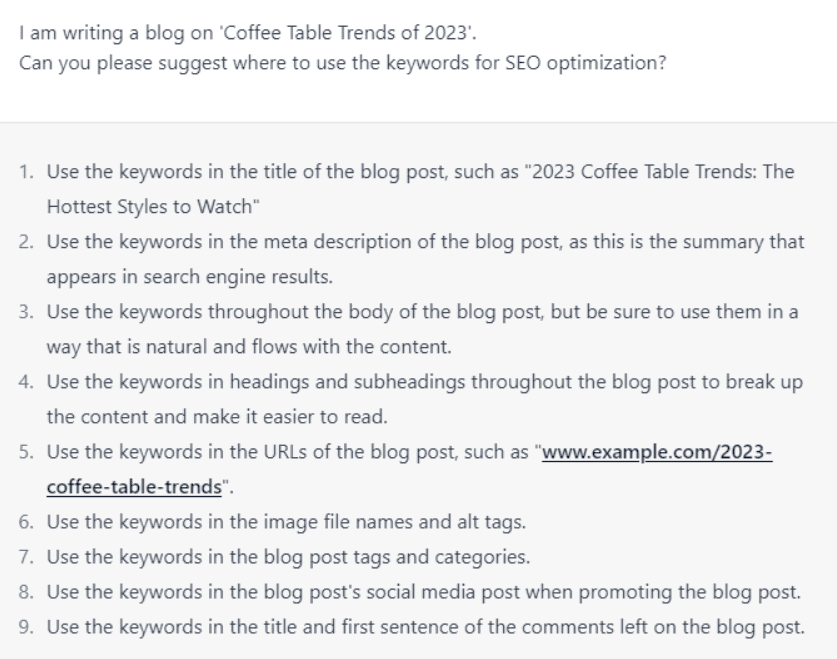 Now that's how you cover the whole ground for keyword research!
Steps of using ChatGPT for Keyword Research
Impressed by the keyword research ability of ChatGPT? Want to see how exactly to use it as a keyword research tool? Great!
Below we take you through the stepwise application of ChatGPT for keyword research. As an example, we attempt to find keywords for a BFSI client who wants to target salaried employees in their early 20s.
Step 01: Open a 'New Chat' and notify of your intent
When you have a very specific audience, it's recommended to start a New Chat. It helps ChatGPT to avoid cues from your previous entries.
Step 02: Start with keyword buckets
When asking for keyword buckets, you can specify the tone, intent, and even count of the buckets you want.
Step 03: Ask for primary keywords of your pick of keyword bucket
Out of the 10, we liked the idea of starting with the keyword bucket 'Student loan repayment' as most of the employees in that age focus on managing their finances around the repayment of their student loans.
So, we asked ChatGPT to help out with primary keywords or seed keywords for it –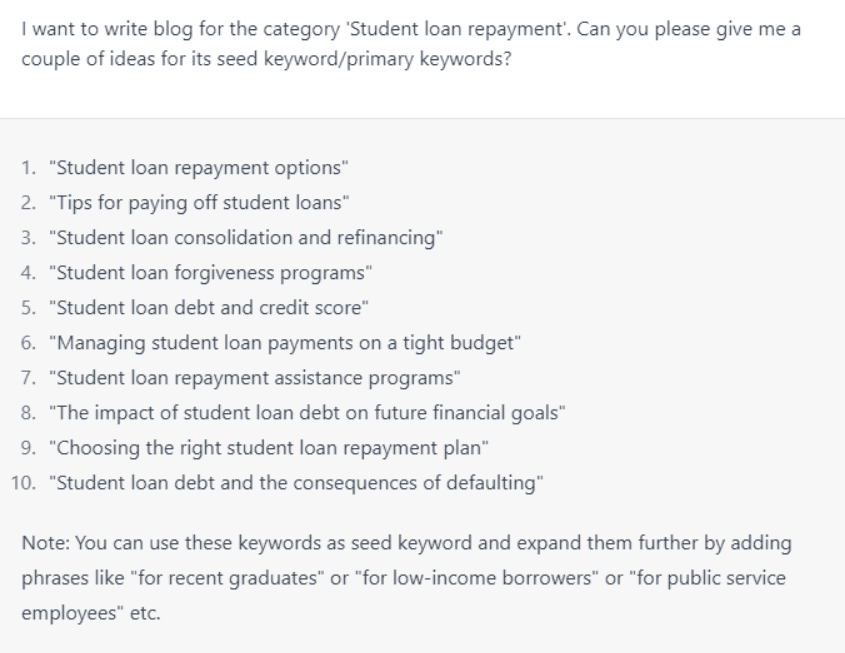 Here, we have the list of keywords to set our way in a couple of directions.
Interestingly, along with keywords, ChatGPT also added a note on how to extend our research in a similar direction further.
Step 04: Add some long tail keywords
With so man options, we narrowed down to writing a blog on 'Tips for paying off student loans'. Then asked ChatGPT for long tail keywords to use as the secondary keywords of the blog.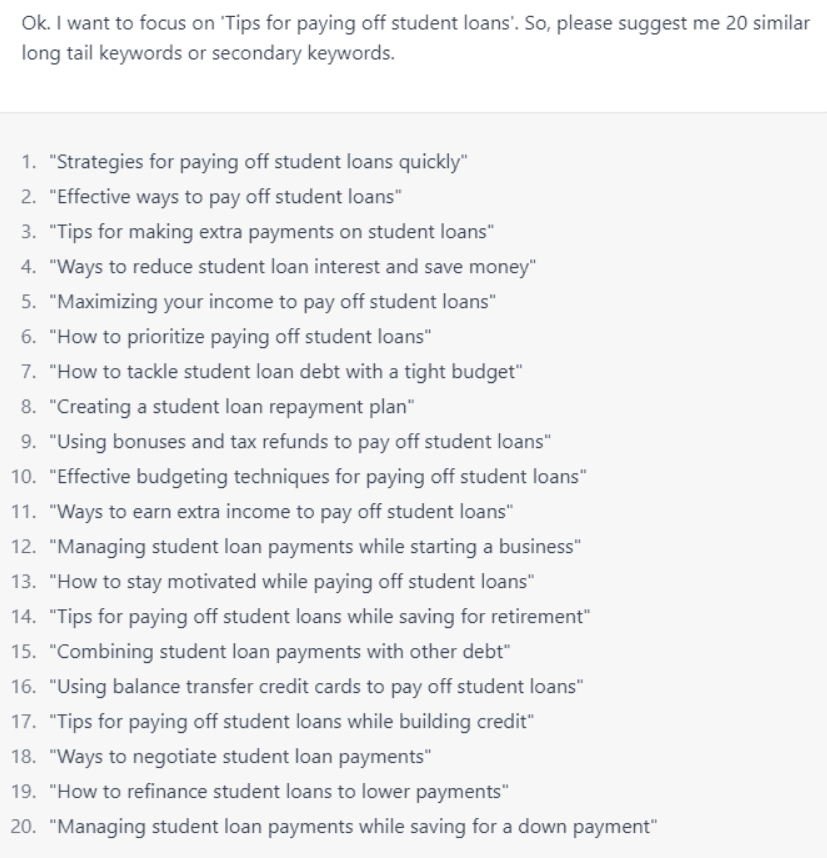 Step 05: Get LSI keywords
To ensure that we cover the surrounding grounds of keywords, we wanted to include LSI keyword instances in our blog as well.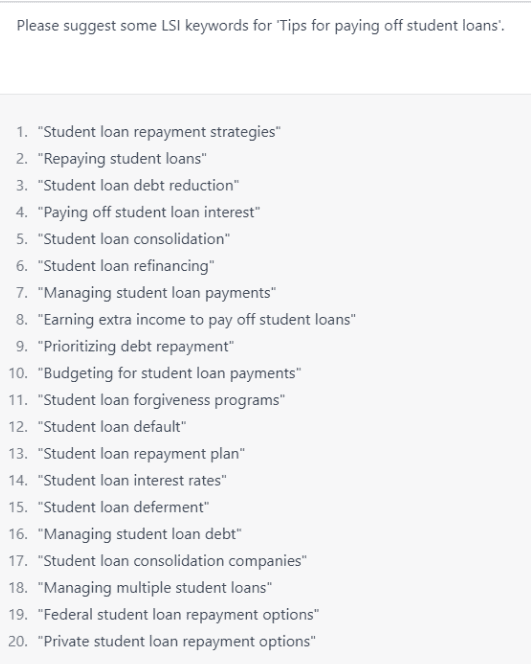 With this output, we can also keep some ideas in the bank to use later when adding more blogs in our category of 'Student loan repayment.'
Step 06: Extract keywords from a high-ranking reference
A simple Google search on 'Tips for paying off student loans' returned a couple of blogs. Out of which, we liked one's opening paragraph a lot – copy-pasted it in ChatGPT and asked it to extract keywords from it.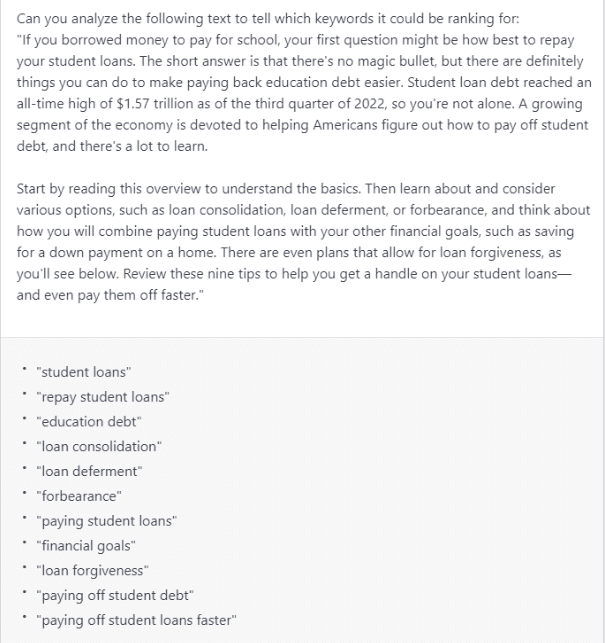 It gave us an idea of what the top-ranking blog could be ranking for, so we could plan touch points of our content material.
Step 07: Collate all keywords to see their fitment
We have dozens of keywords from the previous 5 steps. To finalize our list, we'll have to collate them and map their volume, difficulty, and relevancy. For this, we used other popular Keyword Tools like Google Keyword Planner.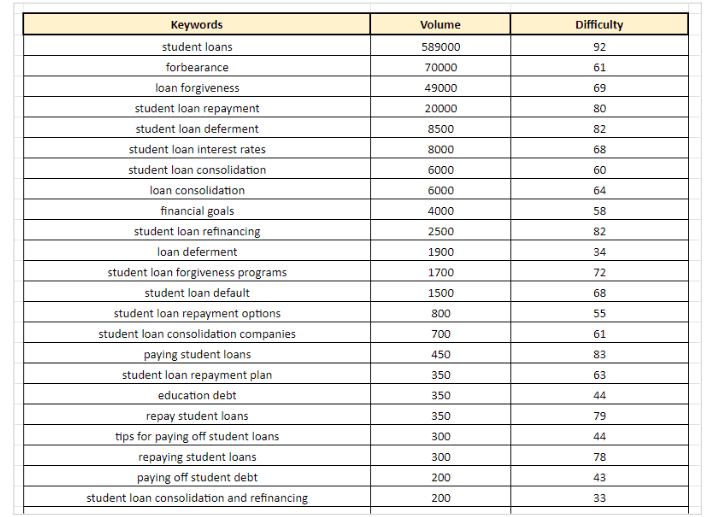 With the top ones bunched together, we asked ChatGPT for its take on the final list of keywords.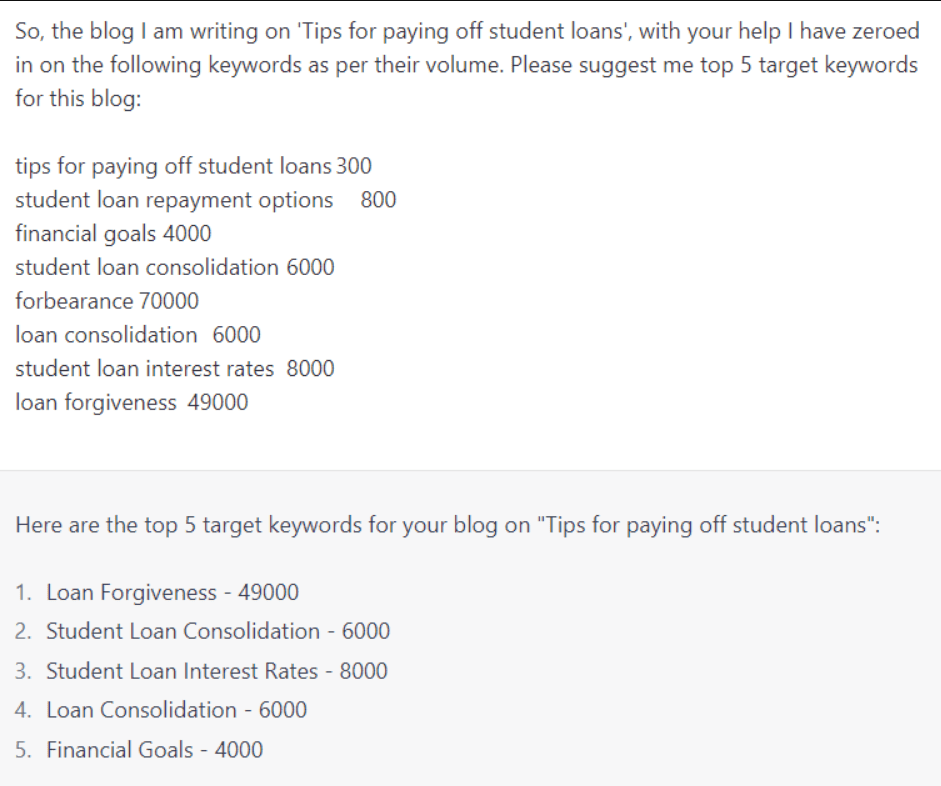 Notice how the list does not necessarily list the keywords with the highest volume (e.g. forbearance is left out in the final list) but the ones which are more relevant to the topic.
And there you have it – A list of keywords from ChatGPT for your blog!
Step 08: Generate FAQs with the keywords
As an additional step, we can use the finalized list of keywords and our blog topic to generate a bunch of FAQs that we can add at the end of the blog.
Just a reminder: Don't forget to add People Also Ask queries that Google shows in your blog as FAQs.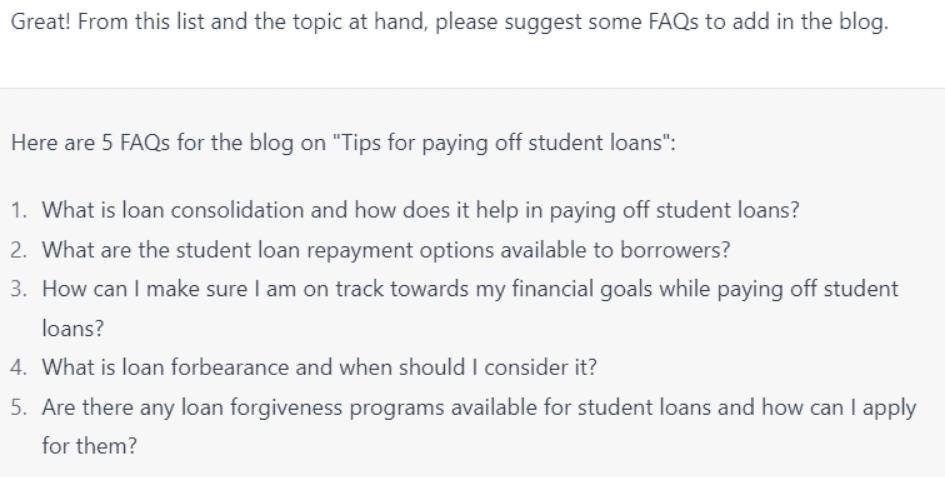 In the next section, we discuss more best practices to follow for effective keyword research on ChatGPT.
Best Practices of Keyword Research on ChatGPT
Practice makes perfect. And best practices make for the perfect output.
Ok, we got a little carried away over there. But what we meant is that like any keyword tool, ChatGPT, too, requires operating with certain guidelines in mind for effective results with the least effort.
With our experiments (and those of SEOs around the world posting online), we have figured out the following as the best practices to make the most of ChatGPT for keyword research.
1. Give detailed prompts
ChatGPT can understand misspellings. It can also figure out the grammatically incorrect syntax. But it should not be an excuse to input half-baked prompts in the chat when expecting very specific results.
2. Tweak instructions to refine results
Feel free to use the 'Edit' option in the chat to re-frame your instruction if the results don't go your way. In fact, save time and use 'Stop Generating' if required.
3. Use other tools to ensure effectiveness of keywords
As ChatGPT cannot process keyword volume and difficulty, so it's highly recommended that ChatGPT be used in coordination with other keyword tools for reliable keyword research.
Limitation of ChatGPT for keyword research
ChatGPT is learning and improving by the second with gazillion data sets across the world. But as of now, it has some limitations when it comes to using it as a keyword research tool. It's important that we familiarize ourselves with it so that we plan or commit to keyword research accordingly.
1. Cannot check keyword volume and difficulty
ChatGPT does not have direct access to real time data or search engine metrics.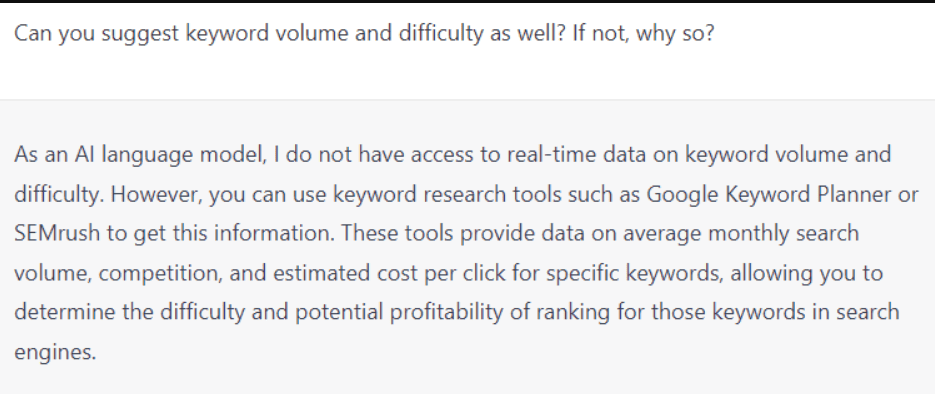 2. Cannot suggest trending keywords
ChatGPT's knowledge and database are limited to 2021; hence, it cannot suggest keywords according to the latest trend.
3. Unable to scrape a website for keywords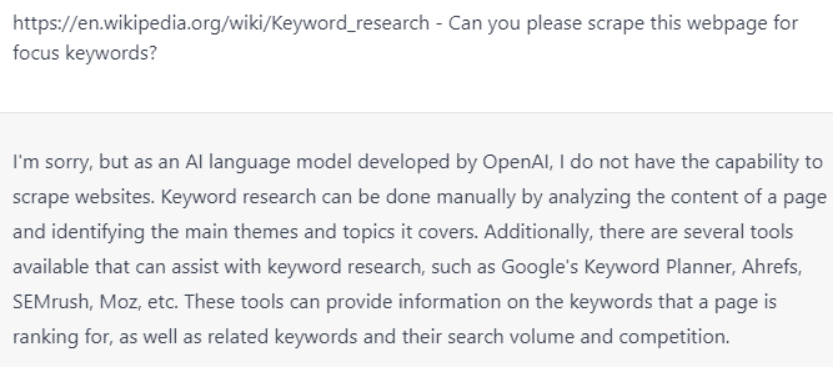 Keyword scraped from a paragraph are not accurate
Is ChatGPT better than Existing Keyword Research Tools?
When compared with existing keyword research tools, we see that, in some cases, it fares better. That's because of its low learning curve, high calibration, and width of topic coverage. However, for its lack of keyword volume and difficulty processing, it drops the ball flat when it comes to finalizing the list of keywords.
On the other hand, the (obvious) fact in favor of Google Keyword Planner, or other popular keyword research tools like Semrush's Keyword Magic Tool is – reliability. These tools have been out in the market, stress-tested by experts, and produced results for brands — for years. They cover a wider range of languages and regions. Although the advanced features of these tools may be available on subscription, their freemium is helpful enough for small projects. You can check out the full features of Semrush for 30 days for free to decide on it. 
So, using ChatGPT for keyword research is a good starting point but we don't see it replacing the so-called best keyword research tools in the market – as of yet.
Will Google penalize content with keywords from ChatGPT
No!
We know that Google considers AI-generated content – with the sole objective of ranking – as spam. Even if it can't detect all AI-generated content as of now, it's plausible that in the coming time, it will be able to. So, heads up to all SEOs using ChatGPT for SEO content.
That said, keyword research sources cannot be recognized by Google. So, there is no risk of sabotaging your SEO content by inserting keywords you pulled from ChatGPT.
Key Takeaways on ChatGPT For Keyword Research
The key to using ChatGPT as a free keyword research tool is — clear instructions.
Throughout this guide, we observed how ChatGPT can help out with various flanks of keyword research. Its adaptability, range, and efficiency are also impressive. However, it's also vital to be aware of its limitation of real-time data on keyword volume and difficulty.
ChatGPT can be a valuable tool for keyword research in the SEO process. If we follow the best practices and use them in conjunction with other keyword tools and human intervention, it can potentially generate great results. What's promising is the idea that it's a new AI tool that's improving at the speed of the world (literally). So, worth keeping eye on. 
FAQs: ChatGPT For Keyword Research
What is ChatGPT?
ChatGPT is an AI-based chatbot which is developed by OpenAI. It was launched on 30th November 2022.
Which is the best tool for keyword research?
Semrush is a popular keyword research tool that is used by professional SEOs.
Can ChatGPT generate responses in other languages?
Yes, ChatGPT can generate responses in other languages but may vary in fluency and accuracy.