Automating content creation is faster than ever. But ain't Search Engines skeptical of its value?
ChatGPT Enters SEO Chatroom
It's not even a year since ChatGPT has been out and the online world, as we know it, is not the same. The feelings are mixed, though. Especially if you are a brand that believes in organic growth powered by SEO. Well, using ChatGPT, SEOs can churn out content faster than ever. So, what's their concern?
A few.
Does ChatGPT write plagiarism-free content with reliable facts? After all, it's important to avoid duplicate content and score high for E-A-T.
Can ChatGPT use keywords meaningfully? Because a rookie SEO writer tends to either overstuff keywords or have thin instances. Neither is good.
And plausibly the most critical one – Will Google penalize ChatGPT-generated content?
These are what we clarify in this quick guide for SEOs. We'll also share our observations on the best practices for using ChatGPT for OnPage SEO – with an example.
So, let's chat about it.
ChatGPT is typing…
ChatGPT (Generative Pre-trained Transformer) is an AI chatbot; free to use and open to all (as of yet). It can take directions in human language and write a piece on virtually any topic. You can produce essays, fictional stories, poems, ad copy, codes, tables, and listicles — actually, its range is still being explored.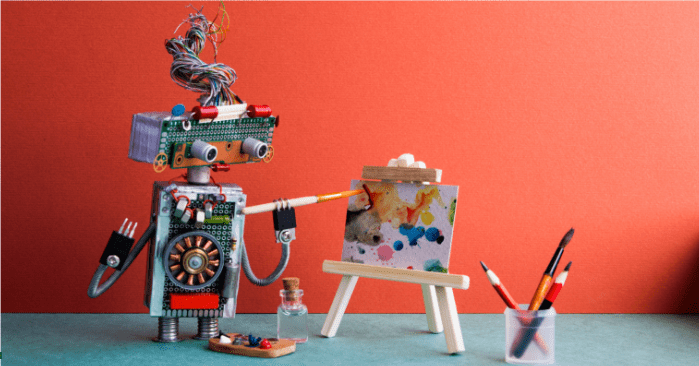 How to Leverage ChatGPT for OnPage SEO
Now that you know about the limitations, next, understand that the idea of using ChatGPT for SEO content creation is not unethical. There are legit ways forward (or around) that experts around the world are expermenitng with and observing.
Let's understand them by writing an SEO article on 'Ahrefs vs Semrush: Which is the Better SEO Tool' using ChatGPT.
1. Research Keywords
AI:
Once you have a bunch of keyword buckets and primary keywords, you can ask ChatGPT for Similar Keywords
For this article, we think the primary keywords can be:
ahefs vs semrush
best seo tool
compare seo tool
And this is what ChatGPT returns when asking for relevant keyword suggestions: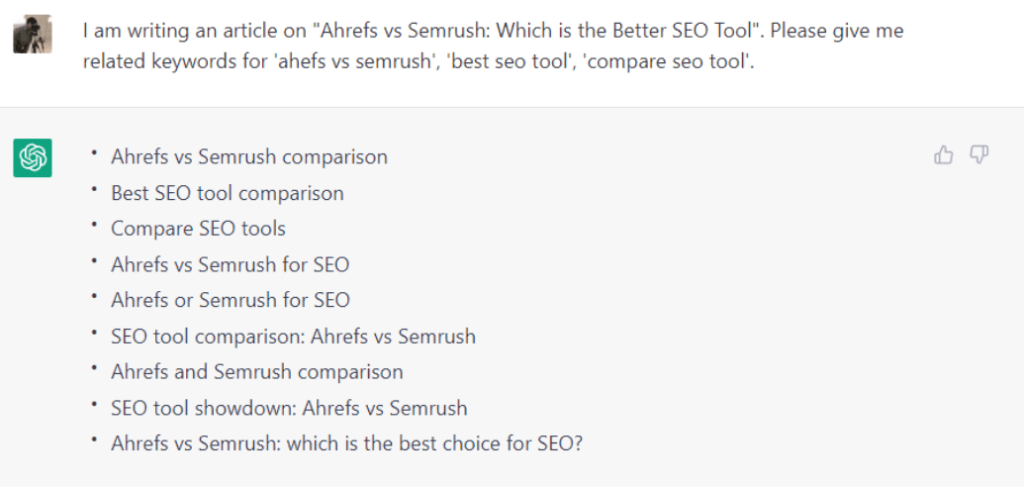 You:
Do Analyse Their Volume and Difficulty to Finalise the list of Keywords
So, we did.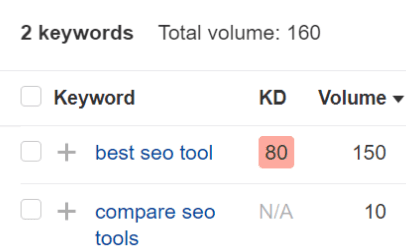 Turns out only one of them is usable viz. best seo tool.
2. Think up Titles
AI:
Use the Finalised list of Keywords as input on ChatGPT to get Suggestions for Blog Titles
This is what ChatGPT came up with: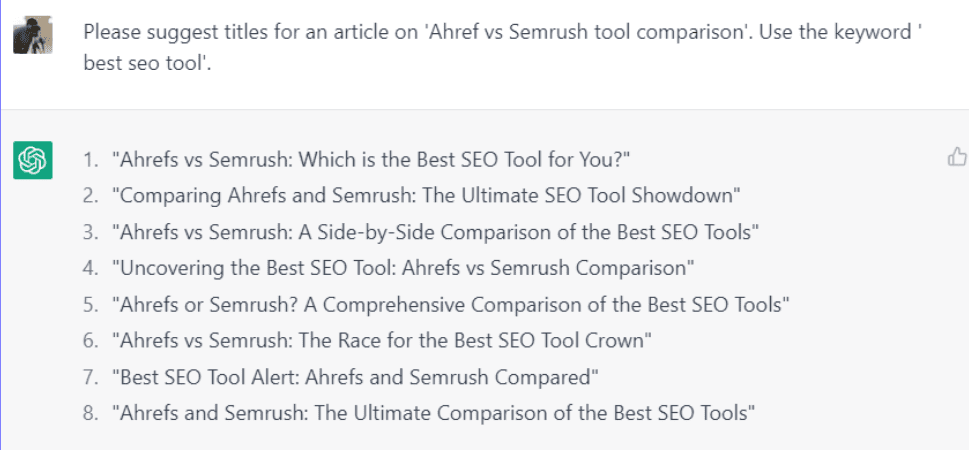 See, some really good ones there!
You:
However, if your piece is to become a part of an Existing Blog Resource, You Must Weed Out the Similar Titles You've Already Used
Or, as in this case, we are writing for a new website, so we're gonna look up these titles on SERP to see if something with exact/nearby wordings already exists.
It's a tad manual work but you'll realize it's worth it. See some examples below:


After doing this exercise, we locked in on the title — "Best SEO Tool Alert: Ahrefs and Semrush Compared" 
The rationale here is that in the previous step, we found that 'ahrefs vs semrush' has little to no volume, so it makes sense to focus on 'best seo tool'
3. Collect Writing Material
AI:
Ask ChatGPT for Blogs that are Already Performing well for the Topic you want to write on.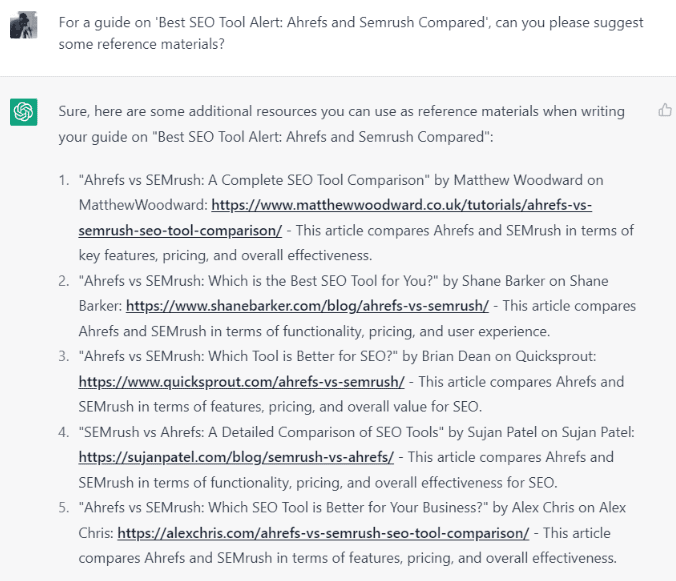 You:
Use These Resources for Competition Analysis and Starting Point for your Article.
A cursory glance at the resources suggested by ChatGPT and Google SERP for the title ("Best SEO Tool Alert: Ahrefs and Semrush Compared") helped us come up with the following content flow:
Ahref vs. Semrush: A head-to-head comparison
Backlink Analysis
Keyword research
Domain analysis
Broken link analysis
Rank tracking
Competitor analysis
Technical SEO and site auditing
Pricing
Ease of use
Support
Unique features
Should you use Ahrefs or Semrush?
4. Assisted Writing  
AI:
Feed your content flow to ChatGPT for an article outline.
When we did so, ChatGPT produced a rather long write-up of around 500 words covering 3/4th of the content flow and stopped. So, we asked it to 'Please continue'; then it covered the rest of the flow.
Below are some screenshots of that: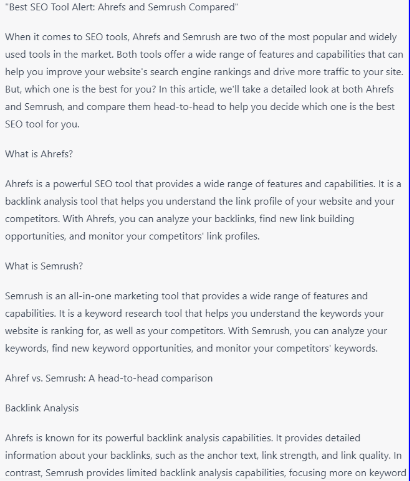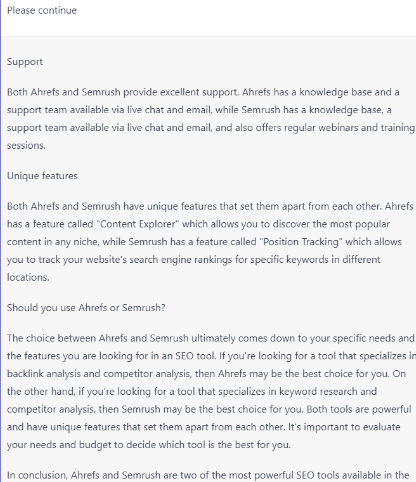 You can read the entire article written by ChatGPT on 'Best SEO Tool Alert: Ahrefs and Semrush Compared' here.
You: This is the most important step for SEOs while using ChatGPT for content writing. Referencing your notes, keywords, and outline – edit the draft. Use keywords properly. Polish it to the point that it becomes yours — an original by a real writer.
Use online tools for ensuring grammatical correctness and eliminate plagiarism.
5. Check for Errors — Proofreading
AI:
Paste the content and ask to correct the typing errors for the given text.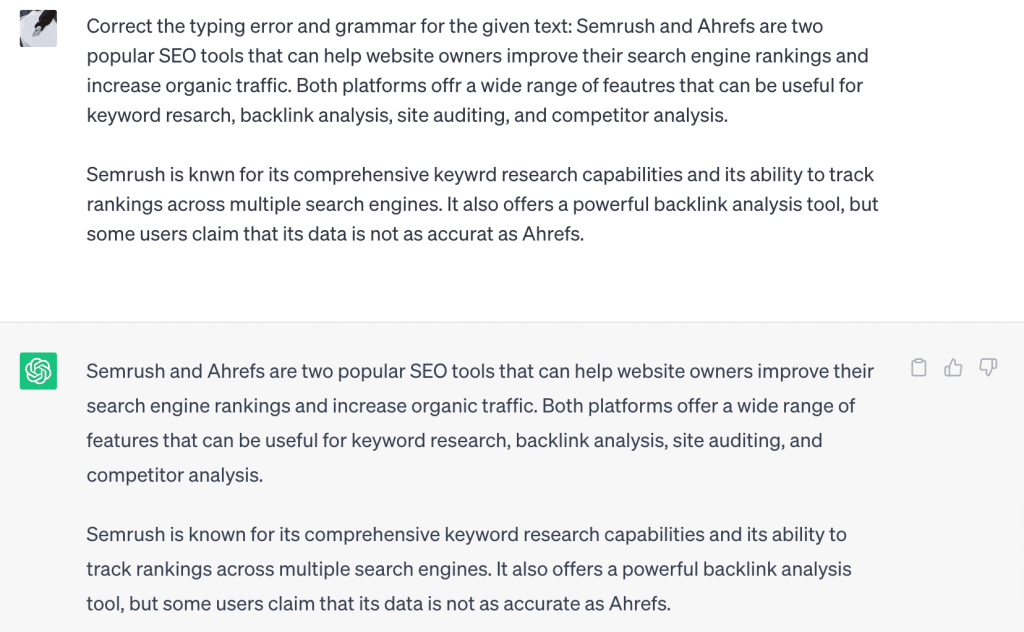 You can see that the grammatical and spelling errors have been rectified, making the content user-friendly.
You:
Many bloggers and writers write fast and make typing errors in a hurry. ChatGPT can proofread the content and fix the relevant errors as per your commands in just a blink of an eye.
6. Get Meta Data — Meta Title and Descriptions
AI:
Input your final content flow and ask for the meta title, description, and slug from it
Below is what we got for our article: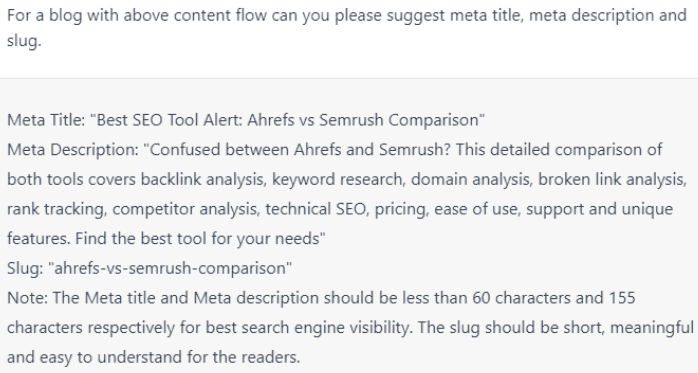 Amazing how it left a note for the user at the bottom on how to optimize the SEO meta!
You:
Revise these SEO metrics to as per your blog's tone and keywords.
We revised it to:
Meta Title:
"Best SEO Tool Alert: Ahrefs vs Semrush Comparison"
Meta Description:
"Confused between Ahrefs and Semrush for the best SEO tool? This guide compares the two SEO tools on critical factors to help you choose the right one for you."
Slug:
"ahrefs-vs-semrush-comparison-for-best-seo-tool"
And there you have it— SEO content written hand-in-hand with ChatGPT that Google will not deem spam!
Once you publish it, keep a close eye on its indexation and performance over the weeks. Then, tweak the content as required with rich media, FAQs, GSC queries, etc.
SEOs find it Flirtatious
It's only natural that SEOs would want to leverage it to increase their bandwidth for content production.
But we are a cautious bunch.
Because we know that Google considers AI-generated SEO content as spam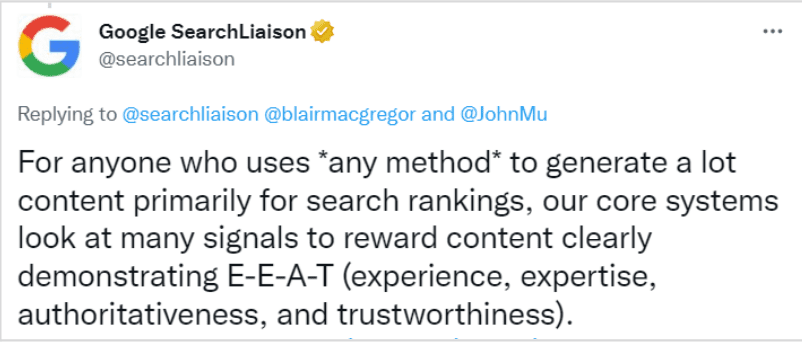 Google can detect it; if not now, then later. Plus, OpenAI researchers are also developing cryptographic watermarking to aid such detection. They want to keep things ethical, valuable and fair for all — and it makes sense.
In addition, ChatGPT's knowledge is limited to 2021 data and is trained to sound truthful and harmless. So, its opinions are questionable.
So, How About ChatGPT for SEO Wingman?
They say, "AI will not replace you, but the person who uses AI will." So, SEO can't not be using it.
ChatGPT, Perplexity or the next AI writer tool lurking on the horizon can be relied upon for researching and outlining SEO content. But Google is as sceptical of it as your client. So, for it to help rank a webpage, you have to add the human touch. Know the basics. Follow the best practices. Stay persistent.
And in the end, it's only fitting to reiterate what's been since the beginning —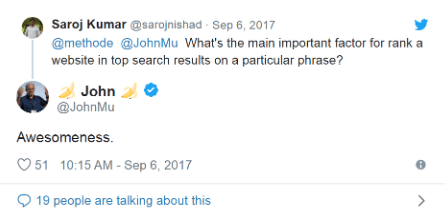 Want to stay updated on ChatGPT's impact on SEO and other similar hacks? Visit us again.
FAQs- ChatGPT For SEO
Can ChatGPT optimize on-page SEO?
Yes, ChatGPT can guide you to optimize On-page SEO by providing suggestions like internal linking, high-quality content creation, keyword optimization, decreasing page loading speed, increasing user engagement rate, mobile friendliness, etc.
Can Google detect whether the content is AI written?
Google can detect AI-written content.
Is it recommended to use ChatGPT for keyword research?
You can always use ChatGPT for your assistance, but it is of utmost importance and recommended to check the volume and keyword difficulty. These parameters help you analyze whether your keyword can rank on search engines. Semrush and Ahrefs are two popular tools that you can use for the same.