Surfer SEO is all the rage these days – its proponents call it the best On-Page Optimization tool. Given its traction and my job as a content writer, I was compelled to give this on-page SEO tool a try. 
After five months of comprehensive usage and hands-on experience, I am ready to share my findings with a detailed Surfer SEO review. In this in-depth Surfer SEO analysis, I will break down its features, usability and pricing. 
Ultimately, I will give you my verdict on whether Surfer SEO is the best On-Page SEO tool.
Let's dive in!
Surfer SEO Pros and Cons
In this segment, we will look at where Surfer SEO shines and where it needs improvement.
Pros
Provide detailed keyword analysis related to ranking pages in SERP.
Semrush and Google Search Console integrations.
Real-Time Analysis of SERP.
Free outline generator tool.
The multi-user subscription helps lower the cost.
Automatic content briefs.
Built-in plagiarism checker.
AI-powered writing tool.
Grammarly integration in the content editor.
7-day money-back guarantee.
Cons
Not an affordable solution for small-scale projects.
Involves a steep learning curve.
Keyword research needs to be more thorough.
Limited queries each month.
Some suggestions are just exaggerations and not practical.
Surfer SEO Features Explained
Surfer SEO helps with content optimization based on the insights it gathers through On-Page SEO analysis of top-ranking pages. And to perform its analysis, it relies on its core modules;
SERP Analyzer
Content Editor
Keyword Research
Content Audit
Content Planner
Let's explore them each and understand how Surfer SEO works;
1. SERP Analyzer – The Core Of Surfer SEO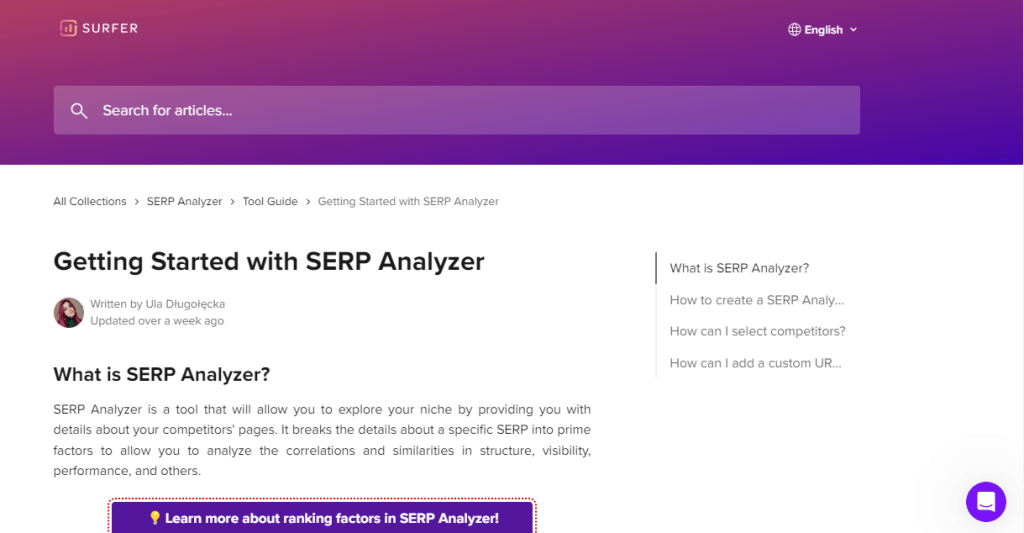 SERP Analyzer is the main feature of Surfer SEO. It provides a detailed analysis of top-ranking pages against a given keyword. You can use the data to gauge the On-Page strategies of your competitors and how their content's structure, keywords usage, etc., correlates to their rankings in SERP.
In the beginning, SERP Analyzer will undoubtedly be overwhelming. There's simply too much data:
Total Word Counts
Keyword Density
Question related to the seed phrase
Structured data
Hidden Content
Search Visibility
Backlinks Profile
page speed metrics
Multimedia
titles
Content Score
There's a total of 500 factors; however, once you learn your way around, its details give unprecedented insights about your competitors' on-page SEO.
Once you enter a keyword in the SERP Analyzer, let's say – 'Coconut Cream,' the tool will come up with the ranking pages all the way back to the 48th position.
First, you will see the graph depicting the word counts of ranking pages. While the information is detailed, it's unnecessary. I think no one will bother with the word count of a page ranking at the 30th position.
The good thing is you can tweak the results to display specific competitors.
Moving below, you will find some cool and helpful figures. The Content Score against each ranking page gives you an overview of how optimized the content is.
Another piece of info that I find quite helpful is the Domain Score. It's identical to the domain authority matrices in Semrush or Moz. The score ranges between 1 to 10 and denotes the strength of the domain. A higher number indicates more difficulty in outranking it.
Furthermore, SERP Analyzer now displays backlinks details – it's a significant step from Surfer SEO as it helps assess the competition for a given keyword.
The only downside I could find in SERP Analyzer is that you cannot expand the results to get additional information. It would have been helpful if I could click on a specific page to evaluate additional keywords the page is targeting.
Overall, SERP Analyzer can be an invaluable tool to evaluate the level of competition for any given keyword and the essential details to outdo it.
2. Content Editor – Surfer SEO's Primary Strength
Content optimization begins with quality content, and I must say Surfer SEO excels at improving the content's quality.
It has a dedicated tool called Content Editor to help you curate content that ticks all the boxes to be search-engine friendly. The first thing I liked about Content Editor was its straightforward interface.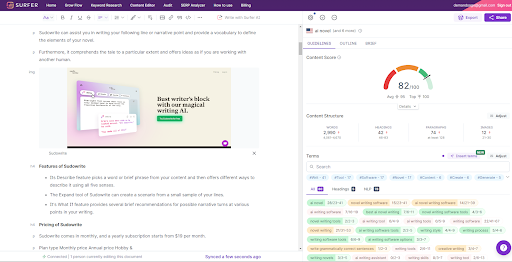 First, you need to enter your target keyword or keywords if you have more than one in the Content Editor. Next, you have to select the country, which is helpful as it helps you craft location-specific content and hit the go button.
Now, Surfer SEO will do its analysis on over 500 web signals. And with a mix of NLP solutions, its priority algorithm and machine learning, it will offer suggestions to optimize the content.
As you begin to write your content, surfer SEO will grade it, give it a score between 0-100 and suggest changes to make it more Google-friendly.
Once you apply the suggestions, like LSI keywords to insert etc., your Content Score will improve, indicating that the text now has a better chance of ranking in the top position in SERP.
Primary Highlights of Content Editor
The content score presents a concise overview of the content's quality.
The Outline Builder helps you craft a primary outline to get you started.
The term assistant helps speed up the content writing process.
Plagiarism Checker to make your content unique.
Effortless integrations with Google Docs, Writesonic, WordPress, Jasper.
Grammarly extension integration directly into the Content Editor.
In my opinion, Surfer SEO's Content Editor is a real gem that can be a boon for us content writers. It ensures quality articles optimized enough to win the top place in SERP.
3. Keyword Research
Keyword research is an indispensable part of SEO, often the starting point for any seo project. Surfer SEO includes a keyword research module in its toolkit. 
It works simply – once you enter a seed phrase, for example, 'Golf,' the Keyword Research tool churns out several related terms.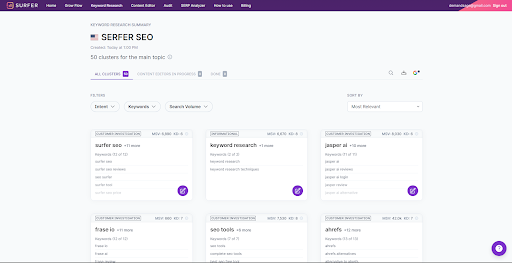 You can sort the results for volume or SERP similarity. The latter is a new addition that gives a list of similar keywords ranking for your entered phrase. I found it helpful because it offers a ton of similar keywords to rank for.
It brings variation to your content, and targeting multiple of them helps you build topical authority. I also found the 'related question' features useful. Targeting question keywords enables you to tackle search intent better, and also they are slightly easier to rank.
But frankly, the Keyword Research tool in Surfer SEO is not as powerful as other SEO tools like Semrush or Ahrefs. There are not enough matrices to gauge the difficulty of keywords, traffic potentials, ranking sites, CPC, global or local volume, etc.
Overall, the Keyword Research Tool is rudimentary. But it's nice to find new keyword ideas for content without investing in a separate tool.
4. Content Audit
Regularly posting new content can push you higher in SERP, but updating older content periodically also helps maintain high visibility. Surfer SEO has a tool for that – content audit.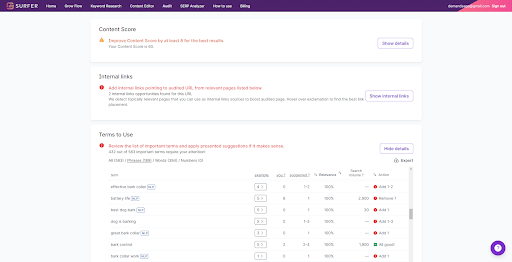 Content Audits let you analyze older pages on your website to evaluate whether they can be tweaked further to gain a better ranking.
All you need to do is put a URL, specify your keywords and choose a country. Once you run the audit, Surfer SEO will check it for on-page SEO errors and provide suggestions.
What information do you get from Surfer SEO Content Audit?
Content Audit runs a similar analysis and SERP Analyzer and comes up with valuable data;
Number of headings
Content length
NLP entities coverage
Page speed
NLP Sentiment
Keyword density
Referring domains
Missing backlinks
Meta tags structure
Based on my experience, putting your content through audits occasionally is useful. It helps you adjust your existing content based on the latest developments in SERP.
One more thing I liked about Content Editor is the refresh functionality. You can refresh the results after tweaking your content to assess how the changes reflect your content's quality. You can make new changes to your content, return to the content editor, and click the refresh button. It will rerun the report without counting it as a new audit.
It's useful because content audits are limited by the plan. This way, you can run content audits on the same pages without spending credits.
5. Content Planner – To Build Topical Authority
Content Planner is one of my favorite tools of Surfer SEO because it gives me tons of ideas for creating content.
It's helpful in many ways – first, it gives you a starting point from where to begin crafting content for your site.
You can enter a broad keyword like, 'How to Write a Blog,' in the content planner, and it reverts with related keyword clusters. You can click on an individual cluster to open another window with all the keywords related to that cluster and their volume. In short, it provides topic ideas to get started.
But don't take these suggestions for granted – analyze them further, like check their difficulty, or run them through SERP Analyzer to evaluate the content already ranking for those keywords.
Furthermore, you can use a content planner to build topical authority around the main content. You can target the topic cluster to create support pages that, in return, push your main content or pillar page to the top. This way, you can rank even for highly competitive keywords.
And to boost the efforts further, you can even connect your domain to the content planner. This way, you can get more ideas to support your pillar content.
I use a content planner a lot, and it's helpful. It makes sure that I never run out of content ideas. Plus, the feature to export keyword ideas in CSV files is an absolute convenience. It means I can analyze keywords ideas at my own pace.
That's all the main modules of Surfer SEO. But it has many more utilities in its arsenal. Let's check them out;
Keyword Surfer Chrome Extension – Valuable Data Right In the Browser
Keyword Surfer is a free Chrome extension from Surfer SEO. And I keep it installed permanently on my browser. The reason is the convenience that comes with it. Keyword Surfer offers tons of keyword data right in the browser. You can see the search volume for the given keyword as well as keyword ideas, overlap score and search volume of each related term.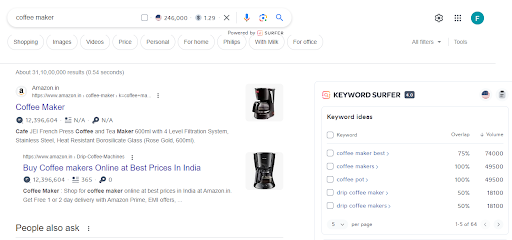 Besides, it fetches data from over 70 locations allowing you to create a comprehensive content calendar that aligns with your targeted location. But the thing that pushes the ease to a new level is the ability of Keyword Surfer to let you create a keywords folder. It helps you keep track of all the essential keywords. Moreover, you can even export keywords data in a CSV file anytime you want.
Surfer Grow Flow: AI-Backed Growth Management Platform
Surfer Grow Flow is a new addition to the Surfer SEO toolkit. It's an AI growth management platform that sends personalized recommendations about your website's content. It continuously analyzes your content against your competitors and provides helpful suggestions.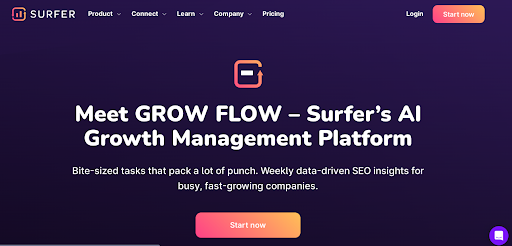 In my opinion, it's a nifty solution that eliminates the guesswork for developing an effective on-page strategy.
With Grow Flow, you can retrieve a variety of data. For example, you can configure Grow Flow to send you lists of keywords you can add to your content to make it rank higher. Similarly, you can receive weekly action plans like internal links, suggestions etc., to improve your on-page strategy.
Furthermore, you can connect Search Console with Surfer SEO to receive more accurate suggestions, which is convenient and expands the scope of Grow Flow. And to correctly assess the impact of Grow Flow Suggestions, you can access Grow Flow reports with all the details about the suggested action and how it impacted the page's ranking.
Surfer AI (Write With AI) – Surfer SEO's AI Writing Tool
The Content Editor of Surfer SEO recently added a new feature called Write with AI. Instead of writing yourself, you can employ AI to write for you based on the keywords. The content is then added to the content editor, which you can optimize further based on the suggestions. Besides, you can set the tone of the voice to match the search intent or the requirements of the content. But the most helpful feature of Surfer AI is the Anti-AI detection features. Once you turn it on, Surfer AI generates content that could pass AI detectors. This way, you will have content that can't be flagged as AI-generated.
Surfer SEO Pricing – Is the tool affordable?
Surfer SEO has recently revealed its pricing structure. Earlier, they used to have three subscriptions, but now they have four plans, excluding the Custom one. But to tell you the truth, Surfer SEO is not cost-effective. Especially after price revisions, Surfer SEO has become more costly.

Surfer SEO Pricing Overview
| Surfer SEO Plan | Price | Features |
| --- | --- | --- |
| Lite | $29 monthly | 3 Content Editor credits |
| Essential | $89 monthly | 7 Content Editor credits |
| Advanced | $179 monthly | 25 Content Editor credits |
| Max | $299 | 50 Content Editor credits |
Note – Surfer SEO subscriptions are also available with annual billing. The advantage of Surfer SEO annual subscriptions is that they are available at a 34% discount.
Lite Plan – Good for beginners in SEO
Lite Plan is only $29 monthly, but it's quite restrictive. I can only suggest this for SEO neophytes still learning their way around. It only has 3 content editor credits and 10-month Keyword Research credits. Besides, there is no facility for Whitelabel, even with an add-on. In short, only useful if you are using it for basic on-page SEO.
Essential Plan – Suitable for Bloggers
Surfer SEO Essential Plan will be best for you if you have a medium-sized blog. Although there's a huge price jump from the Lite Plan, things are more relaxed with Essential Plan. You receive 7 content credits and 100 keyword research credits per day. Along with that, the Essential Plan also unlocks Terms Assistant, Plagiarism Checker and Google Docs and WordPress integrations.
Advanced Plan – Best for SEO professionals
While the Advanced plan costs well over hundred dollars, it has the best value for money. Although there's nothing extra regarding features, the credit limits are more generous. You receive 25 content editor credits; for additional articles, there's only a $3 cap for each credit.
Max Plan – Best for SEO Agencies
Well, the Max Plan will put you back $299 each month. Therefore it is only suitable for SEO agencies with multiple projects. It includes 50 content editor credits and 100 keyword research each day. The good thing is you don't have to pay extra for SERP Analyzer and Content Audits. Furthermore, it also includes White Label, which again is helpful if you deal with multiple clients.
Surfer SEO Add-ons Pricing
Surfer SEO's Lite, Essential and Advanced plans only include Content Editor. Other modules like SERP Analyzer etc. are available as add-on. It means you have to purchase them separately other than the subscription.
Here are the pricing details of Surfer SEO Addons;
| | | | | | | |
| --- | --- | --- | --- | --- | --- | --- |
| Add-ons | Grow Flow | Audit | SERP Analyzer | Surfer AI | White Label | API |
| Pricing | $9/month | $49/month | $29/month | $29/month | $49/month | $29/month |
Related read:
My Verdict on Surfer SEO (After Testing It For Months)
Overall, Surfer SEO is a good On-Page optimization tool, if not the best. I have used Surfer SEO to optimize several of my content, and the results are satisfactory.
Following the suggestion provided by the tool has certainly helped to jump the SERP ladder and reach the top. Especially the content planner tool, which is excellent for extracting content ideas, and keyword clusters and building topical authority.
Similarly, the Keyword Surfer extension deserves mention too. It brings convenience plus the power of Surfer SEO right in the browser. And it's Free, so you don't need to shell dollars to obtain useful keywords details.
That said, some aspects of Surfer SEO are ultra-detailed (Content Editor), some are unnecessarily detailed(SERP Analyzer), and others are outright limited (Keyword Research).
But the biggest downside about Surfer SEO is the way it's priced. Although it has five modules, no plan includes all five, so you have to pay extra to retrieve additional functionalities.
Based on my experience, I will rate Surfer SEO's features like this;
SERP Analyzer – 4.7/5
Content Editor – 4.9/5
Keyword Research – 4.3/5
Content Audit – 4.7/5
Content Planner – 4.8/5
I will advise you to utilize the multi-user feature and go for the Max Plan. This way, you get most of the features in one pack, plus sharing the subscription will lower the final cost. Also, there's a 30-day money-back guarantee, so you have a way to back down in case surfer SEO doesn't meet your expectations.
FAQs: Surfer SEO Review
What are Surfer SEO add-ons?
Some tools are not available with Surfer SEO subscription packages. These are available as standalone tools with extra payment.
Add-ons include;
Grow Flow
Surfer AI
Audits
SERP Analyzer
White Label
APIs
What are extra credits in Surfer SEO?
Each Surfer SEO plan has usage limits on the features they include – these are called credits. When you spend all of them, you can no longer use that feature even though your subscription is active. In that case, you must buy extra credits to keep your Surfer SEO subscription functional.
Does Surfer SEO have a free trial?
Surfer SEO used to have a $1 trial offer that lasted seven days. But they have discontinued the trial plan now. Instead, every Surfer SEO subscription plan now includes a 30-day money-back guarantee, provided you watch at least two of their training sessions.
Is the Surfer SEO's free plan still active?
No, Surfer SEO doesn't have a free plan anymore. Instead, it offers free tools. Its Outline Generator and Keyword Surfer extension are available free of cost.