Content analysis is an integral part of any content marketing plan. It gives you information and insight into your site visitors or clients, identifies gaps in your service or product offering, and provides you with the data you need to decide how to serve them best.
An ideal content analysis tool may help you get started analyzing your own content as well as your competitors' content strategies and determining what works best.
Not just this, these tools will provide you with key metrics to help you design the killer marketing strategy that will surely rank you high on search engine results.
But, the question is how to find the best content analysis tools, as countless tools are available in the market.
We are here to help you. We have done all the heavy lifting for you and compiled this list of the top 9 content analysis tools available on the market.
So, without any further ado, let's get started.
Best Content Analysis Tools: In a Nutshell
If you are in a hurry, check out the table below to get a quick overview of all the listed content analysis tools.
| | |
| --- | --- |
| Best Content Analysis Tools | Key Takeaway |
| Google Analytics | Easy-to-use content marketing analytics tool |
| Google Search Console | Free content analysis tools |
| Semrush | Popular content analysis tools |
| Ahrefs | SEO software suite |
| Moz Pro | All-in-one SEO tool |
| Screaming Frog | Fast and advanced SEO site audit tool |
| SimilarWeb | Best suite of SEO tools |
| Searchmetrics | Excellent content marketing analytics platform |
| Surfer | Data-driven content analysis tool |
List Of 9 Best Content Analysis Tools
Here's the list of best content analysis tools. We have discussed each tool's overview, key features, and pricing to help you choose the ideal one for your business needs.
1. Google Analytics
The first tool in our list of best content analysis tools is Google Analytics which provides real-time analysis and insights into user interaction with your website. It is a web-based analytics service that offers data and core content analysis tools for SEO and marketing needs.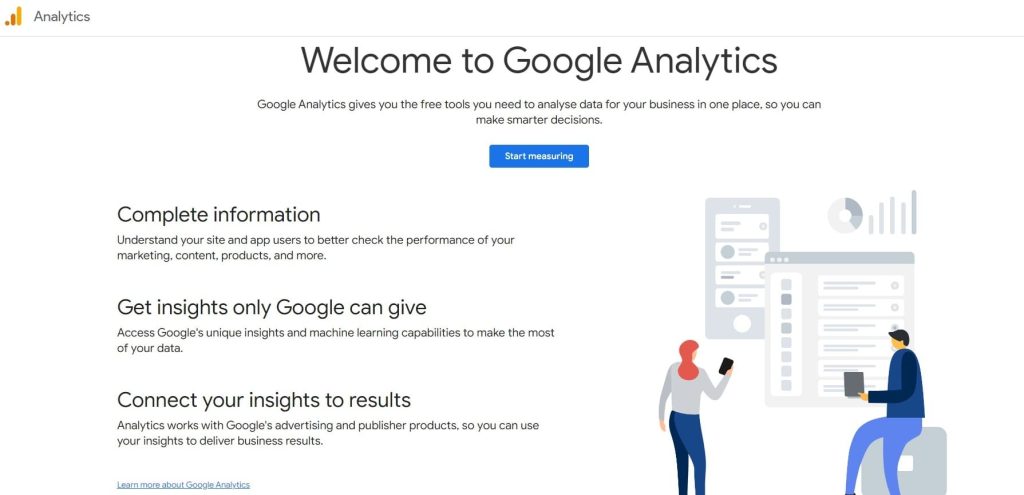 Anyone with a Google account can use this tool for free as it is one of the essential products of the Google Marketing Platform.
With the help of Google Analytics, you can track your website performance and gather visitor data.
Additionally, this analysis tool can help you identify top sources of website traffic, measure the success of your marketing efforts and campaigns, discover trends and patterns in user engagement, track goal completions, and collect other important data about your content, website, or visitor.
Prominent Features of Google Analytics
Reporting and visualization
Tag management
Funnel analysis
Data activation
Smart goals
Integrations
Campaign tracking
Content grouping
Channel grouping
Google analytics API
Custom reports
Pricing of Google Analytics
Google Analytics is a free content analysis tool.
2. Google Search Console
Google Search Console is yet another service hosted by Google which is absolutely free. As the name suggests, the tool allows publishers or website owners to track the overall performance and health of their sites related to Google searches.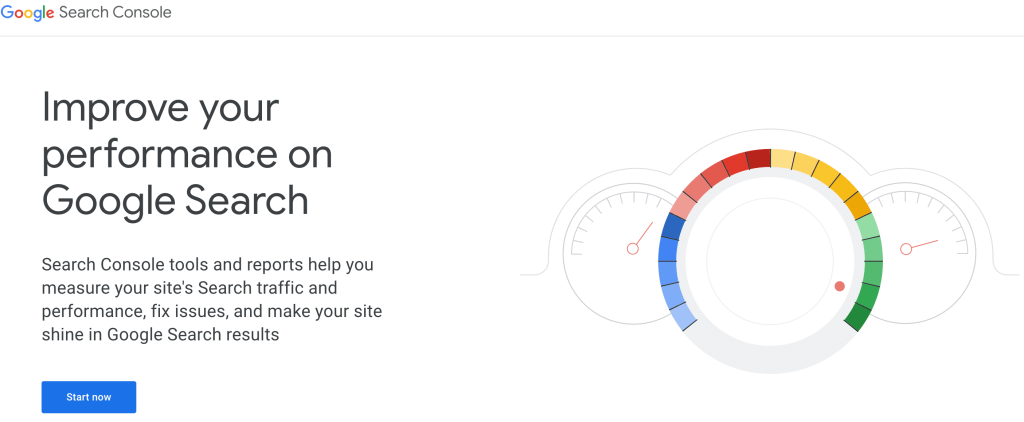 Anyone with a website can use this content analysis tool to analyze how Google evaluates their website and optimize its organic visibility. This includes analyzing indexing status, crawling errors, the performance of your mobile site, rich search results, top queries, pages, countries, devices, and search appearances.
Furthermore, Google Search Console allows you to resolve server errors and security issues like hacking vulnerabilities.
Prominent Features of Google Search Console
Performance reports
Page experience report
Index coverage reports
Enhancements reports
URL inspection tool
Links report
Manual actions report
Add XML sitemap
Identify and fix errors
Mobile usability
Pricing of Google Search Console
Google Search Console is a free service offered by Google.
3. Semrush
Semrush is the third content analysis tool on our list. It is the most popular tool for effective and fast analysis of content intended for broad engagement via organic or paid traffic.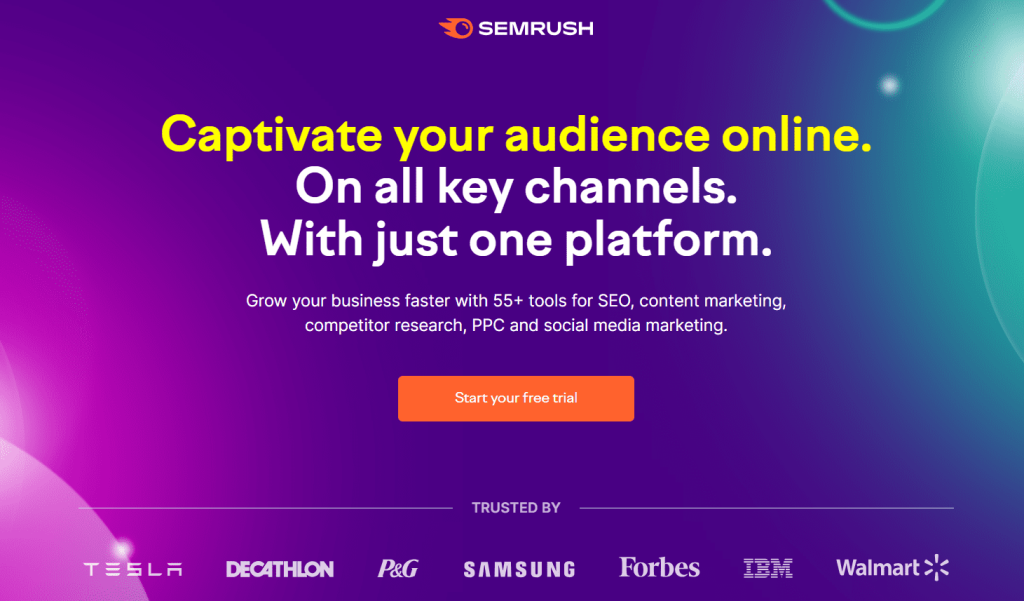 Semrush unites competition research, content marketing, and pay-per-click marketing into one platform to explore killing content ideas.
The primary advantage of using Semrush is that it allows users to analyze their competitors' SEO strategies and see what they are doing to get on the top search results of Google. This helps users develop content marketing strategies, optimize their content accordingly, and outrank their competitors on Google organic results.
Furthermore, its topic research tool enables you to find highly converting topics ideas to write quality content that ranks. Not just this, Semrush offers 50+ SEO tools that can help you with proper content analysis.
Prominent Features of Semrush
Site audit
Competitive research
Keyword research
Topic research
Keyword manager
SEO writing assistant
Automate content briefs
Track keyword performance
Content audit
Pricing of Semrush
Semrush has three pricing levels: Pro, Guru, and Business, ranging from $119.9 to $449.95 per month.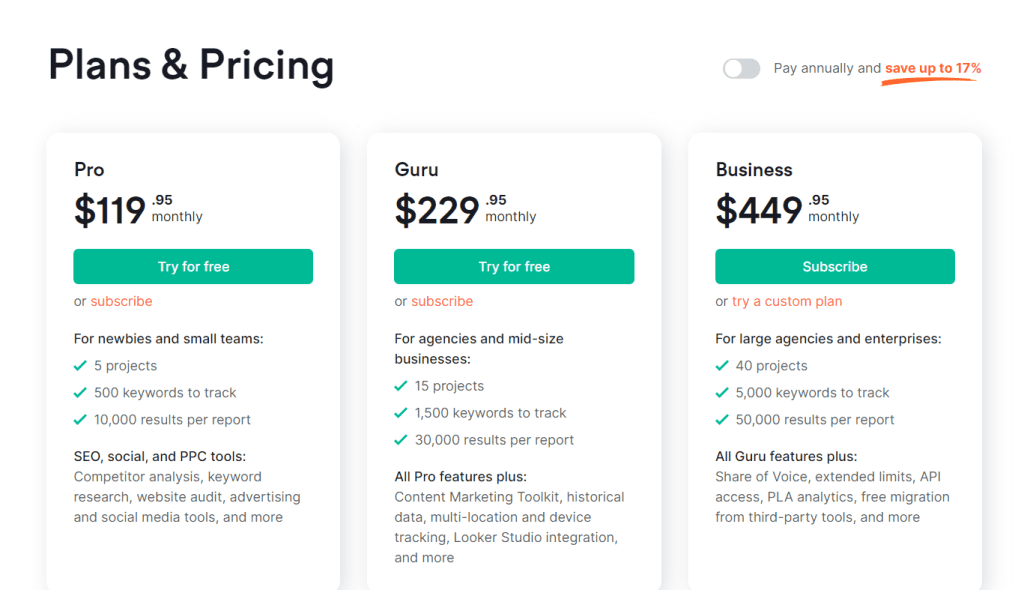 4. Ahrefs
Ahrefs is another powerful tool for content marketing professionals. It features a wide range of advanced tools to analyze, monitor, and optimize your content, including keyword rankings, link data, and more.
Additionally, it provides users with tools to help them enhance their website, discover a converting topic to write about, and track their website performance.
Moreover, Ahrefs make it easy for you to create valuable content and improve its visibility on search engines like Google.
Besides, its site audit feature helps you to analyze your website for any errors which might be causing you trouble in search engines. This will enable you to quickly discover the pages that require attention if you have a large website with several pages. Not just this, Ahrefs will also provide you with guidance on resolving those issues.
Prominent Features of Ahrefs
Site explorer
Site audit
Keywords explorer
Content explorer
Rank tracker
SERP updates
Content gap
Broken links
Broken backlinks
Link intersect
Outgoing links
Batch Analysis
Domain Comparison
Pricing of Ahrefs
Ahrefs has four subscription options starting from $99 per month.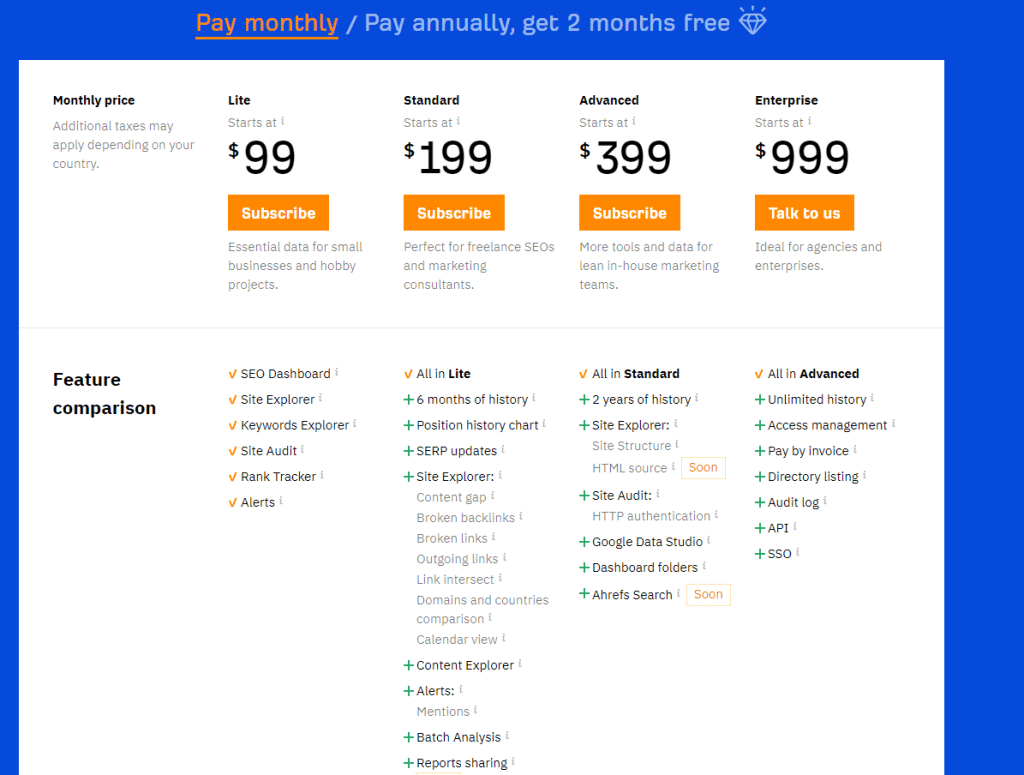 5. Moz Pro
Moz Pro is an all-in-one SEO tool that can assist users in improving their organic reach and search engine rankings. It contains a wide variety of SEO tools, including website rankings, page optimization, link tracking, internet-wide crawling, and analysis using its fresh web explorer and open site explorer tools.
In addition, while its content optimization and site crawling tools will show you how to solve technical issues and give on-page SEO tips, its keyword research and rank-tracking tools can help uncover new opportunities and track the outcomes.
Prominent Features of Moz Pro
Competitive research
Content auditing
Keyword research
Link building
SERP rank tracking
Chrome extension
Reporting tools
Keyword Explorer
Pricing of Moz Pro
Moz Pro has four different pricing options starting from $99 per month.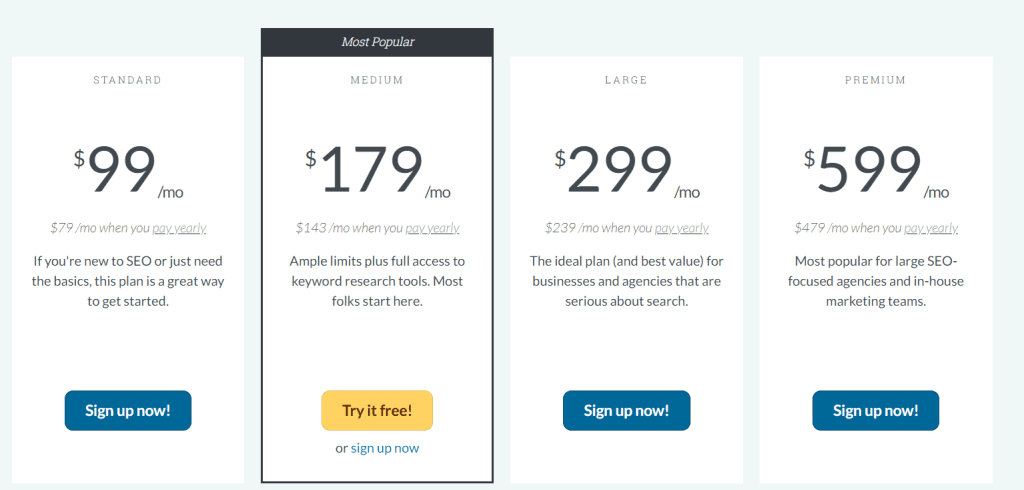 6. Screaming Frog
Screaming Frog helps content marketers with custom metadata extraction, XML sitemap generation, crawl scheduling and reporting. Many SEO experts use this tool to analyze broken links, design PPC campaigns, meta descriptions, H1 tags, title tags, and more.

Furthermore, it is a helpful tool for search engine optimization since it enables you to analyze a website's structure and identify any technical glitches that could be blocking it from appearing in the search engine results.
Other than this, Screaming Frog integrates with PageSpeed, Google Search Console, Google Analytics, and Link Metrics for further analysis.
Many big companies, like Amazon, Google, Disney, and Apple, use this site auditing tool to optimize their website.
Prominent Features of Screaming Frog
Generate XML sitemaps
Schedule audits
Crawl javascript websites
Visualize site architecture
Compare crawls & staging
Review Robots & Directives
Audit Redirects
Discover Duplicate Content
Pricing of Screaming Frog
Screaming Frog's pricing model is based on the license that starts at $259 per year.

Along with this, it offers a free plan with limited options.
7. SimilarWeb
SimilarWeb is renowned as one of the most popular content analysis tools, providing a comprehensive suite of tools to all webmasters, marketers, advertisers, data analysts, and organizations.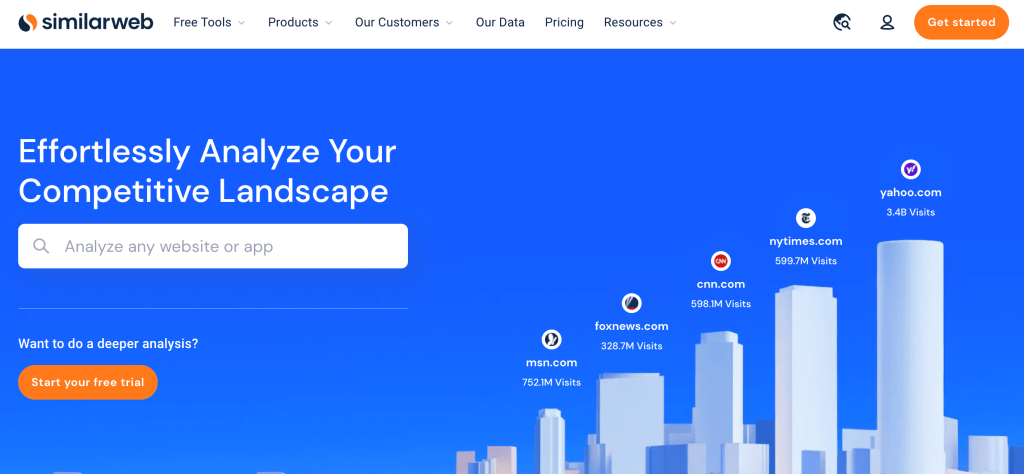 Furthermore, you can compare your business and your competitors to industry benchmarks for monthly visitors, bounce rates, visit durations, and a variety of other performance criteria with SimilarWeb's benchmarking tool.
Aside from this, an organic search overview of Similarweb can help you examine a website's organic traffic.
You can see how many people came through paid, organic, and branded traffic. You will also be able to check the keywords the website ranks for. Then, you can use these keywords in your content strategy.
Prominent Features of SimilarWeb
Competitive tracker
Multiple site management
Goal tracking
Campaign management
Competitor keyword analysis
Keyword research tool
Organic versus PPC keyword
Mobile app popular keywords
Industry analysis tool
Side-by-side website traffic comparison
Pricing of SimilarWeb
Pricing details are not mentioned in their official website, you need to contact them to get a pricing quote.

8. Searchmetrics
Searchmetrics is another excellent content marketing analytics platform that aims to increase the number of visitors to your website. The tool provides you with vital details about your website, such as keyword targeting data, search engine rankings, and link-sharing measures.

The SEO visibility feature of Searchmetrics is one of the key reasons content marketers use the platform. Searchmetrics Suite also contains a content generation tool known as Content Experience. This tool uses keyword and SEO metrics to assist you in the creation of blog articles and other online content.
The feature's built-in keyword analysis is its most helpful element. Based on how you currently rank in the search engines, this feature will determine "Must Have Keywords." Overall, this tool can be your one-stop solution for search and content marketing analysis.
Prominent Features of Searchmetrics
Keyword research
Search visibility in organic and paid
Competitive benchmarks
Site crawl
Topic Explorer
Rank tracking
SEO-guided content creation
Pricing of Searchmetrics
Searchmetrics doesn't provide any pricing details on its website. You can contact their sales team for the pricing information.
9. Surfer
Surfer SEO is a data-driven content analysis tool. It assists you in creating the most search engine-friendly and on-page optimized content possible. It evaluates over 500 ranking variables, compares your content to your competition, and produces a data-driven SEO strategy to help you rank higher in the search engine results like Google.

Further, its SERP analyzer improves existing content on your website, and its Surfer content editor assists in creating new content that can rank in Google.
In addition, the Surfer SEO tool generates a content score for your particular keyword and guides how to enhance your writing.
Prominent Features of Surfer
On-Page optimization
Keyword research
Content optimization
Competitor analysis
SERP analysis
Backlink analysis
Content editor
Project management
Reporting
Pricing of Surfer
It offers four pricing options: Basis, Pro, Business, and Enterprise: ranging from $49 to $199 per month.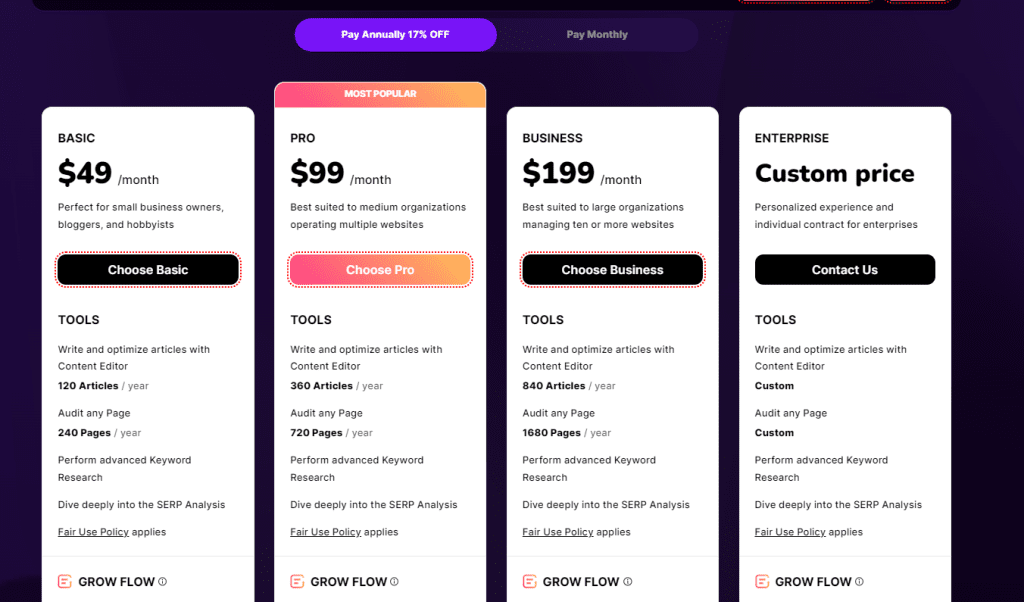 10. Frase.io
Frase.io is an AI-powered content analysis tool that helps businesses and content creators improve their content SEO and overall performance.
It provides a real-time content score and feedback to help users optimize their content for search engines and readers. This includes identifying missing topics, keywords, and other important elements.
Moreover, Frase's AI writer can help you generate brief content, outlines, and even full-length articles. This can save a significant amount of your time and effort, while also ensuring that their content is well optimized for SEO.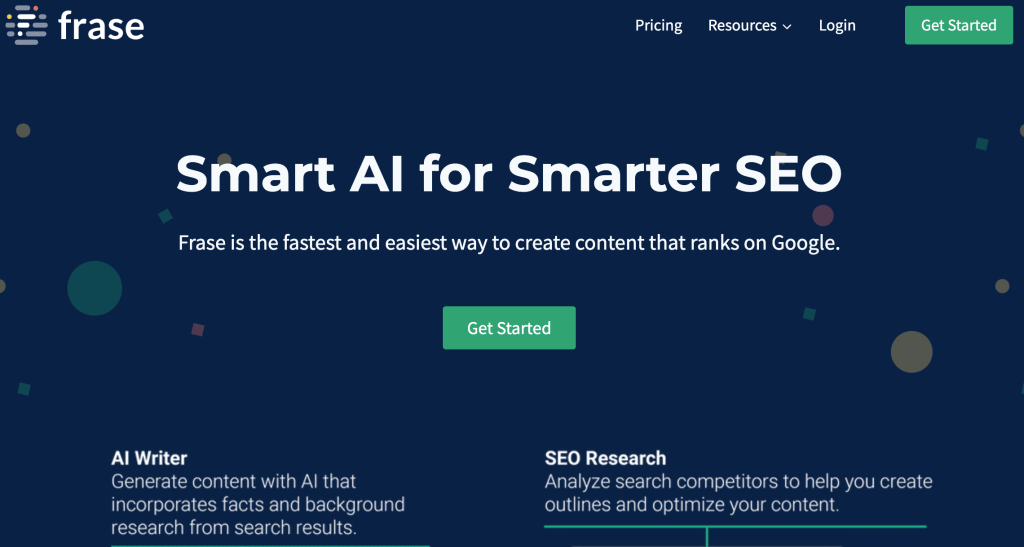 Prominent Features of Frase.io
Content optimization
Topic research
SERP analysis
Content brief
Content creation
Pricing of Frase.io
It offers three basic plans namely: Solo, Basic, and Team. Starting from just $12.66/ month if paid annually.

Related Reads:
Final Note On Best Content Analysis Tools
In every data-driven business, content analysis is a critical step. Content analysis lets you gain complete insight into your clients or website visitors and their requirements, allowing you to optimize your content strategies effectively.
With the above-mentioned tools, we are confident that your effort with content optimization will become more effective.
With this, we are wrapping up this post, hope this post has helped you find the ideal content analysis tool for your content needs.
FAQs- Best Content Analysis Tools
Which is the most user friendly content analysis tools?
Surfer SEO is a user friendly content analysis tools.
Name the best content analysis tools.
Google Analytics, Ahrefs, Moz Pro, and SimilarWeb are some of the best content analysis tools.