Welcome readers. Here, I will reveal the best content writing tools for SEO in 2023.
The secret to higher search ranking is relevancy, which comes with great content. But content writing is a craft that needs tools to refine it to perfection.
That's why I extensively use a handful of content writing tools for every SEO piece I weave. And till now, they have never failed to help me curate content that brings tons of traffic, clicks, and conversions.
If you wish the same, here are the best Content Writing Tools for SEO to help you write copy that your audience and search engines will love.
Best SEO Writing Tools For SEO – In a Nutshell
Before you dive deeper, let me give a taste of what's included with a quick summary.
| | | |
| --- | --- | --- |
| Sr. No. | Content Writing Tools For SEO | Best For |
| 1. | Google Docs | For simplicity and collaborative editing. |
| 2. | SEMrush | To improve content quality with SEO backed writing assistant |
| 3. | KW Finder | To identify valuable long-tail keywords for SEO optimized content. |
| 4. | Answer The Public | To identify valuable long-tail keywords for SEO-optimized content. |
| 5. | Google Trends | Discover trending search topics over time and geography. |
| 6. | BuzzSumo | To explore content ideas that resonate with your audience. |
| 7. | For AI-powered writing assistance. | To write optimized content for on-page SEO ranking factors. |
| 8. | Grammarly | To improve grammar, tone, and overall content quality. |
| 9. | Frase.io | For AI powered writing assistance. |
List of Best Content Writing Tools For SEO In 2023
Now the fun begins – my top recommendation for the best Content Writing Tools for SEO right away and with details:
1. Google Docs
Google Docs is my trusty sidekick for content writing. It's a versatile tool from the king of search engines that greatly simplifies the content-writing process.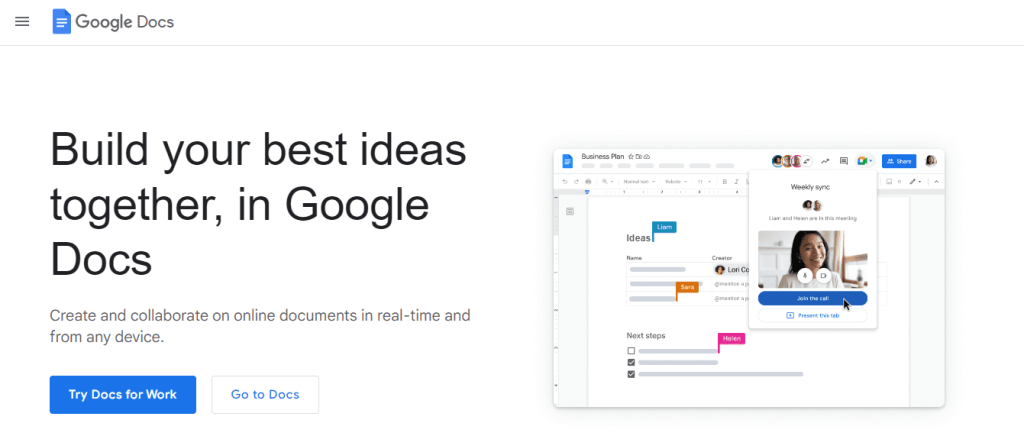 Plus, it's perfect for collaborative work and ensures that my team and I are on the same page.
But more than that, the dozens of little plugins make it a perfect writing aid for content writers. You can integrate add-ons for SEO, table of content, highlight tools, etc.
While it may not be the fastest writing tool, it surely makes up for it with its extensive functionality. I would recommend sticking to it for its impressive writing and collaboration capabilities.
Google Docs Highlights
· Table of Content add-ons goes a long way for perfect SEO-optimized copy.
· Full-screen editors eliminate distractions and let you focus on work.
· Nifty add-ons for grammar checks to refine your writing.
· Intuitive voice typing feature to put your thoughts into words.
Pricing
Google Docs is a free tool from Google.
Also Read: How To Create Content Brief In 2023
2. SEMrush Writing Assistant
If you want to jump on the bandwagon of elite content writers, I don't think there's any better SEO writing tool than SEMRush Writing Assistant.
The best part is, it brings the formidable powers of Semrush SEO tools to help you write SEO-friendly content. I have avidly enjoyed Semrush Writing Assistant for its valuable suggestions based on keywords or the title. It's like having a personal writing assistant and the coach rolled into one.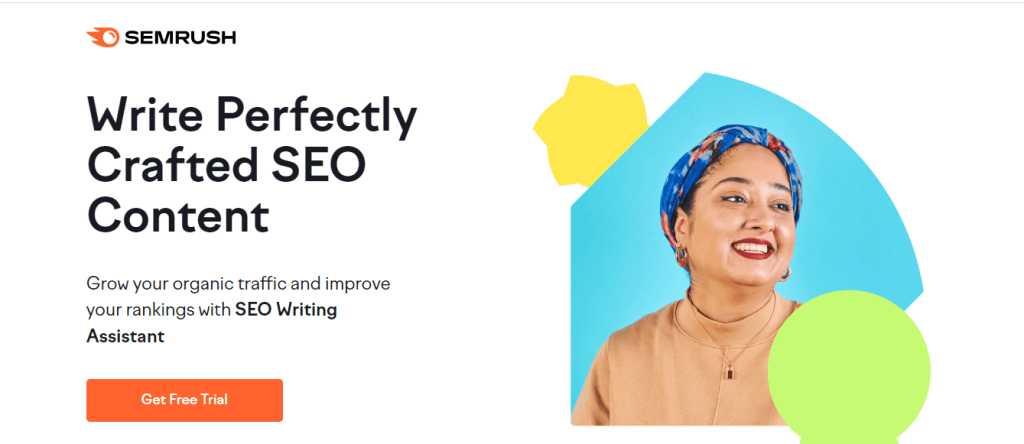 The tool doesn't let you go astray – it constantly analyzes your content based on readability, SEO, and tone of voice. Whenever your content divulges from any of the key matrices, it raises a red flag.
Not only that, but it also provides a rating for your content and offers helpful suggestions on how you can improve the rating and, by extension, the quality of your work.
Another thing I like about Semrush writing assistant is its integration capabilities. It seamlessly connects with WordPress, MS Word 365, and Docs. So, whatever tools you use to craft content, you always have the power of SEmrush with you – amazing!
Semrush Writing Assistant Highlights
· Ensure that your content copy is SEO optimized.
· Ensure that you have the right mix of keywords to make your content search engine friendly.
· Scoring algorithm to quickly inform you about the quality of your content.
· Offers recommendations based on targeted keywords, devices, and locations.
Pricing
SEMrush Writing Assistant is available with the Guru and the above plans.
Details are as follows;
· Guru plan costs $229.95 monthly.
· Business plan costs $449.95 monthly.
3. KW Finder By Mongools
Keywords form the foundation of SEO-optimized content. Right keywords hit the right chords, making your content engaging and search engine friendly.
But above all, a keyword must have;
· Good Volume (frequent searches)
· Less competitive
To find such keywords, I mostly rely on KW Finder by Mongools. It's a nifty little utility, devoid of fluff – no distraction, only straightforward keyword research. It's like my trusty treasure map to locate the gold in the SEO world, which is keywords.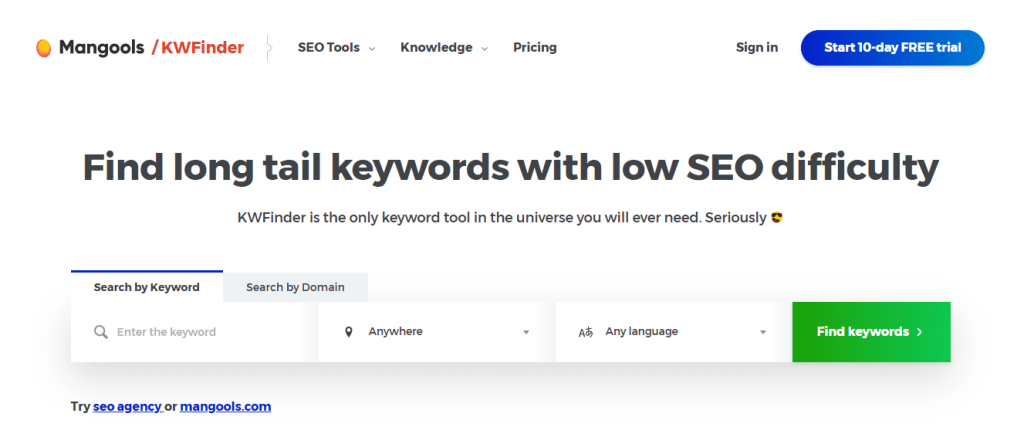 Therefore I spend a generous amount of time in KW Finder. Its working is simple – you enter a keyword, let's say the best 'SEO writing Tools,' and it returns with the most important matrices;
· How often are people searching for that keyword in Google
· Heavyweights that are ranking for the keywords.
But the fun doesn't end here. KWFinder also displays related terms, questions, long tail, or LSI keywords. These are the garnishings you need to make your content SEO friendly.
Mongools KWFinder Highlights
· Simplistic tool to easily gauge keyword difficulty.
· Let you explore keywords that your competitors are ranking for.
· Display search volume as well as historical data.
· Allow refining keyword research based on locations.
Pricing
KWFinder is included in all Mongools subscriptions. Here are the details;
· Mangools Basic – $29.90 per month.
· Mangools Premium – $44.90 per month.
· Mangools Agency – $89.90 per month
To conclude, KW Finder is a powerful and convenient SEO tool that enables you to refine your content to rank higher in search engines.
4. Answer The Public
I can't say enough how crucial Answer The Public is to instil diversity in your content. There are thousands of ways to search a term on Google and Answer The Public informs you how.

It's like immersing yourself in the reader's thought process. When you put those search variations in your content, it ultimately becomes user-friendly.
Also, nothing complex about using the platform. You enter a term, say, 'SEO Writing Tools,' and it spits out hundreds of questions, queries, related searches, and whatnot.
Answer The Public Highlights
· Visually appealing format for displaying related terms.
· Display thousands of related searches based on the seed term.
· Generate commonly asked questions and queries related to the seek phrase.
Pricing
Answers the Public used to be free. While a free 7-day trial is still available, the tool is now premium.
Here are the details;
· Individual – $9 per month
· Pro – $99 per month
· Expert – $199 per month
5. Google Trends
The popularity of a search term is connected to relevancy. Targeting popular terms means you are serving readers what they are interested in. Therefore, finding popular topics is your key to writing reader-centric content.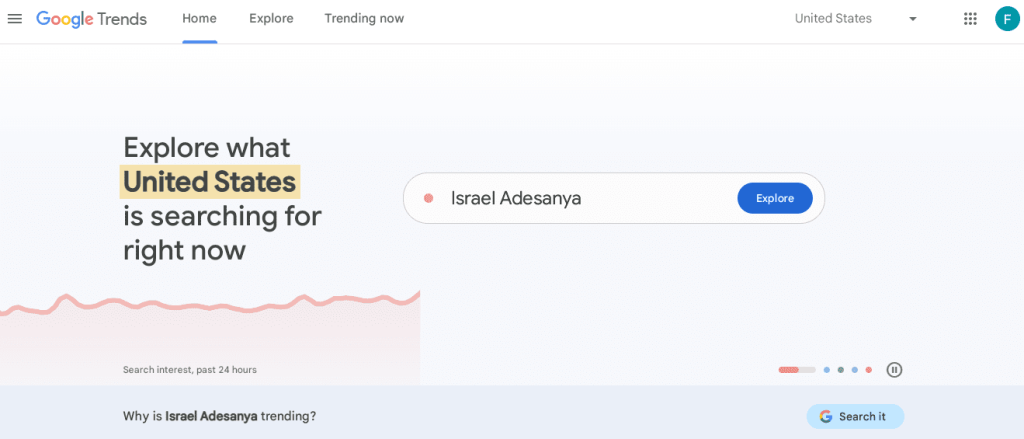 And the best tool to do that is Google Trends.
I delve into Google Trends to uncover long-tail keywords that are in demand. You put them in your SEO content and watch how your content becomes a traffic magnet. It's like your personal hype man for SEO content writing. It lets you stay ahead in the game by providing you with popular search terms to include in the content.
Google Trends Highlights
· Let you hop on early on the emerging trends and weave content surrounding the popular topic.
· Suggests related popular terms (very helpful).
· Allow location-based trends ( beneficial for luck audience targeting)
· Let you compare two related terms for popularity in specific locations.
Pricing
No burden on your pocket – Google Trends is Free.
6. BuzzSumo
There's no harm in peeking over sometimes and seeing what your competitors are writing. BuzzSumo can be your secret ally in this endeavor. It's like a spy that grants you access to the content-writing secrets of your competitors.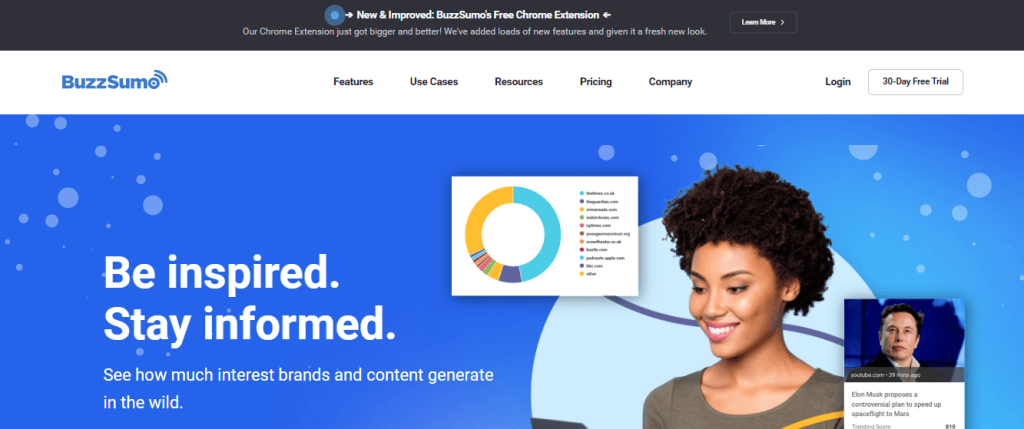 I employ it to uncover the most viral content in my niche and the reason for its popularity. It further helps me explore engaging topics and emerging trends. But above all, I love it for its competitive analysis feature. It lays bare the content writing strategy adopted by my competitors, along with their keywords.
As if it's not enough, BuzzSumo also includes a free Chrome extension that was revamped recently. It displays content engagement rate data from multiple platforms. Likewise, it also provides key insights about rankings, links, and shares regarding a particular content in SERP.
BuzzSumo Highlights
· Content Discovery feature for brainstorming content ideas.
· Content research feature to pick topics that are in-demand and trending.
· Competitive benchmarking to uncover content targeted by competitors.
· Monitoring features to keep you informed about industry trends, brand mentions, competitors' activity, and more.
Pricing
· Basic – $119 monthly.
· Content Creation – $249 monthly.
· PR & Comms – $249 monthly.
· Suite – $399 monthly.
· Enterprise – $999 monthly.
7. Yoast SEO Real-Time Content Analysis
Yoast SEO Real-Time Content Analysis is akin to an SEO-obsessed overlord – always watching your moves (In a good way, though.) Yoast is a powerful plugin offering valuable SEO suggestions for better ranking. Its content analysis platform combines its SEO capabilities with a text editor. Therefore, it keeps a check on your writing and corrects you for SEO mistakes or discrepancies. Moreover, Yoast SEO Real-Time Content Analysis is a web-based service, so you can begin writing SEO-optimized content right away.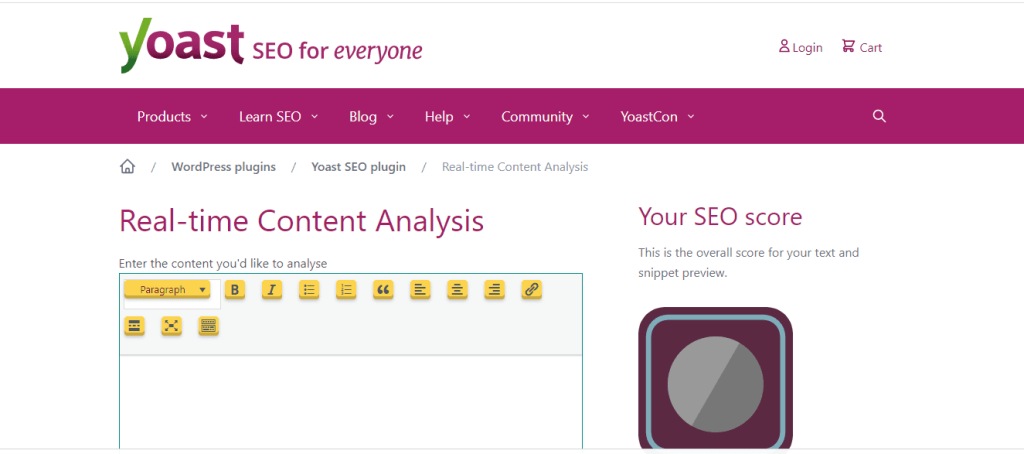 Yoast SEO Real-Time Content Analysis Highlights
· Lets you craft content around focus keywords for better visibility and ranking.
· Let you tweak Titles and Meta Descriptions to align with search engine ranking criteria.
· Provides an SEO score to give you an overview of how SEO-optimized your content is.
Pricing
Yoast is a premium plugin, but its Real-Time Content Analysis editor is free.
8. Grammarly Premium
Talking about SEO content writing tools and skipping Grammarly will be a crime. In my opinion, no tool has aided content writers more than Grammarly in writing good-quality content.
It has been in my arsenal for a long time, and I regularly use it to weed out any grammatical inconsistencies in my writing.
But Grammarly is more than correcting Grammar – it helps you eliminate embarrassing typos, punctuation mishaps, overuse of words, etc. Likewise, it also offers valuable suggestions about vocabulary usage, writing style as well as the tone used.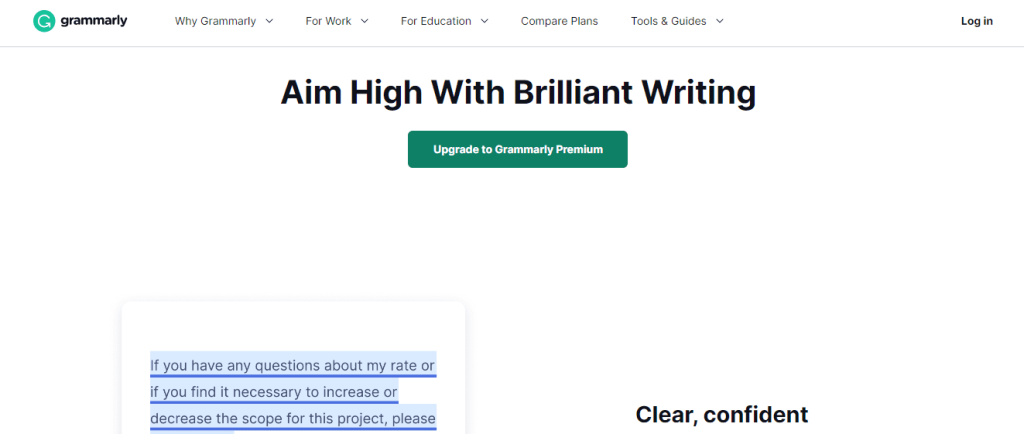 And did I forget that Grammarly has a sense of humor – Yes, it can gauge when you are trying to be funny, knowledgeable, casual, or neutral. Keeping up with the tone, Grammarly molds its suggestions to make your text more engaging.
Grammarly Premium Highlights
· Remove mistakes, spelling errors, missing punctuation, and more.
· Provide helpful suggestions based on the tone and style of writing.
· Simplify hard-to-read sentences to make your writing more precise and crisp.
· Allow sharing of the writing guidelines with the team for uniformity in the content.
Pricing
Grammarly has a free and premium version. The free version is limited in suggestions, while the premium version unlocks Grammarly's full potential.
Grammarly Paid Version has two plans;
· Premium – $30 monthly.
· Business – $75 monthly for three users.
9. Frase.io
Your content always ends up buried under tons of search results. Use Frase, an AI-powered writing and SEO tool that can help you pump out killer content.
Frase has everything you need to curate content that can dominate SERP. From keyword research to SEO optimization, Frase aids you at every step. And with a sprinkle of AI, it lets you create content faster, more varied, and catchy.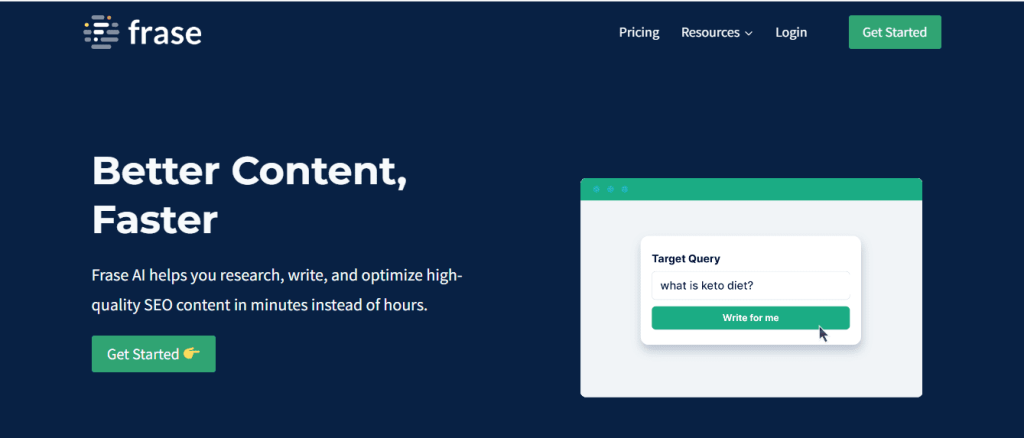 To me, it's the content briefs part that is most appealing. Give Frase a keyword, and it comes out with a unique content brief within minutes. But it doesn't stop here – it provides a detailed roadmap, including suitable titles, keywords, heading, etc., to help you craft content that's eye candy for Google.
Frase.io Highlights
· Frase lets you speed up the entire content-writing process.
· Lets you create content briefs within minutes.
· Content optimization feature to compare and optimize content based on top-ranking pages.
· Content analytics features to monitor performance and adjust strategy.
Pricing
· Solo Plan – $14.99/month
· Basic – $44.99/month
· Team – $114.99/month
Related Reads:
Conclusion: Best Content Writing Tools For SEO
These are all the tools ever present in my SEO content writing toolkit. I use them to craft content that resonates with my audience and ranks high in SERP. It's all about picking the right mix of tools, using them optimally, and implementing the suggestions.
In any case, if you are serious about boosting your content quality and pushing it to the next level, I highly recommend trying SEMrush Writing Assistant. It's a complete tool, plus it integrates with multiple platforms and has all the might of Semrush SEO tools behind it.