SpyFu and Semrush are both formidable seo tools, but which one is supreme? Find out with my detailed SpyFu vs. Semrush comparison.
It's a real struggle to choose between SpyFu and Semrush. That's because both SEO tools include powerful features to surveil competitors and unearth untapped SEO and SEM opportunities.
To help you out, I will pit SpyFu and Semrush head-on. I will dissect their features, strengths, and weaknesses to give you a clear overview of both tools.
This way, you can accurately pinpoint the best tool ( SpyFu or Semrush) for your digital marketing needs. Let's dive in!
Which tool is better – SpyFu or Semrush?
When it comes to the amount of data, its accuracy, and the number of features, SpyFu lags far behind Semrush.
Similarly, Semrush has a more comprehensive approach as it extends its functionality to content marketing, local SEO, and social media marketing too. So, if you are a professional, deep into SEO and SEM and regularly deal with complex digital marketing strategies, choose Semrush.
On the other hand, SpyFu wins over simplicity, affordability, and relaxed limits on data availability and reports. It's an attractive option for individuals and small businesses with limited budgets.
SpyFu vs. Semrush – Pros & Cons
Both SpyFu and Semrush have their strengths and weaknesses. It's prudent to have an overview of them before heading to a detailed comparison.
SpyFu Pros
Intuitive and straightforward interface
Regularly update keyword's database so that you always have relevant data.
A free version is available to test the tool prior to purchase.
Detailed reports with the feature to include branding.
Access to up to 17 years of historical data.
Robust PPC Analysis features.
30-day no-question asked money-back guarantee to further assure you of the tool's quality.
SpyFu Cons
No technical or local SEO features.
Nothing to optimize content and make it SEO-friendly.
Basic backlinks analysis tool.
Data inconsistencies in domain analysis feature.
BONUS: Excited to know more about SpyFu, here is our detailed review on SpyFu.
Semrush Pros
Includes almost every feature to dominate SEO and SEM.
There's a free trial available with each subscription plan.
Powerful keyword research capabilities.
Humongous keywords and backlinks databases.
Include tools to manage social media marketing.
AI tool for content creation
Extensive site audit capabilities with useful suggestions to eliminate technical and On-Page SEO issues. 
Semrush Cons
Semrush is too expensive
It provides too much data, which is overwhelming at times.
Reporting limits need to be more flexible.
SpyFu vs. Semrush – Features Comparison
Below I have compared Semrush and SpyFu on various parameters.
1. Keyword Research
Let's begin with an essential component of SEO – Keywords Research.
Keyword research on both SpyFu and Semrush is a straightforward process. You enter a phrase, and the tools come up with the relevant keyword data.
Keyword Volume
Keyword Difficulty
Related Keywords
Pages Ranking for that Keyword
At-a-glance overview of keyword research might appear similar in both tools, Semrush provides more details. For example, its keyword difficulty score also includes the number of backlinks needed to rank for the keywords. There's nothing like this in SpyFu.
Which Tools provide better keyword suggestions?
SpyFu and Semrush list related keywords you can explore for more ideas. It has a separate section called Related Keywords for the task. SpyFu maintains a keyword database of around 7 billion keywords and comes up with an extensive list of related keywords.

In Semrush, you can choose Keyboard Magic Tool to search related terms. But I have found that suggestions in Semrush are more detailed. It's because Semrush has a massive keyword database of 25 billion. Also, you can filter the data by volume, KD, CPC, competitive density, SERP features, etc.
Interestingly, I found that SpyFu offers more filters to extract keywords from paid campaigns, while Semrush tilts more toward organic search results.
Answer – Semrush offers better keyword suggestions.
Which tool offers better search intent of a keyword?
Semrush includes a dedicated feature called Search Intent to signify the intent of the entered phrase. It's particularly handy when searching related terms in the Keyword Magic Tool. You can filter the results based on search intent and exclude irrelevant data. In contrast, there's nothing comparable to Search Intent in SpyFu.

Answer – Semrush offers better search intent for any given keyword.
Expert Advice: Read our article on Semrush Review to know in detail about the same.
Which tool provides better Keyword listing capabilities
In my opinion, creating a Keyword list in SpyFu is confusing. You cannot create individual lists; instead, you have to attach them to a project. This list in SpyFu is known as Keyword Universe, but there's a caveat. It's already filled with numerous keywords that SpyFu think is relevant to your search. It might be helpful in some situations, but I found it only to be a hassle. Similarly, there's no KD in Keyword lists, so I can't assess the difficulty of a keyword right in the list.
Semrush lets you create a keyword list with its 'Keyword Manager' tool. Besides, Semrush has upgraded the tool to create topical clusters. This way, you can group a bunch of keywords and target them to build topical authority.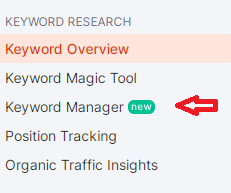 Answer – Semrush has far superior capabilities when it comes to creating keyword lists.
Verdict: SpyFu offers a powerful Keyword research functionality. But, Semrush has more refined keyword research capabilities. It offers better keyword suggestions, search intent, and keyword listing capabilities. Besides, it includes more filters to refine the results. All these factors combine to make Semrush a better choice for keyword research.
2. PPC Research
Semrush and SpyFu excel in PPC research, which is rare as most SEO tools primarily focus on organic search.
PPC Research In SpyFu
SpyFu has a specific section solely for PPC research. All you need to do is enter a domain, and SpyFu comes with a wealth of SEM data.
It includes;
Paid keywords the domain is targeting
Estimated Monthly PPC Clicks
Estimated Monthly PPC budget
Top Competitors bidding for the keyword
History of any PPC campaigns.
Keywords suggestions to target in PPC
Top paid competitors
Shared paid keywords between you and competitors.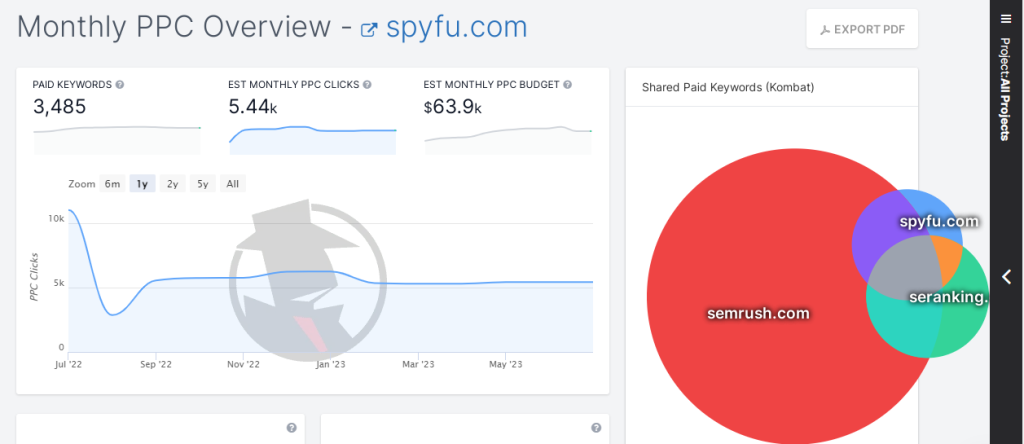 In some aspects of PPC research, SpyFu exceeds Semrush. First of all, there's the 'Google Ads Templates' that allow you to have ready-made adwords templates based on specified criteria – there's no such tool in Semrush.
Similarly, the 'Google Ads Advisor' feature is a real gem too. It offers PPC keywords with potential based on cost and competitors' interest. SpyFu has also added its popular Kombat feature to PPC research. Now you can identify potential PPC keywords that your competitors target, but you don't.
Another department where SpyFu exceeds Semrush in PPC research is ad history. SpyFu allows 17 years of ad data. In comparison, Semrusn only goes 11 years back.
PPC Research In Semrush
Semrush also has plenty of PPC research features. You can explore domains for their paid campaigns, do keyword research for PPC, and search related keywords for more refined PPC targeting.
But the best thing is that paid research in Semrush isn't just limited to Google. You can do advertising research for Amazon and other third-party apps.
Then there's the PLA research tab (no such functionality in SpyFu). These are 'Product Listing Ads' usually run by online sellers. It could be particularly beneficial for those who run an ecommerce business.
Verdict – Regarding PPC research, SpyFu, and Semrush are closely matched. Both offer a comprehensive set of features to unravel the PPC strategies of competitors.
3. Backlinks Analysis
Both SpyFu and Semrush let you explore competitors' backlinks. All you need to do is enter a domain to obtain all the links pointing to that domain.
Which tool has a larger backlinks database?
Both tools have revealed the strength of their backlinks database. SpyFu maintains a database of around 120 million domains. In contrast, Semrush contains over 800 million domains in its dataset.
Answer – Semrush has a far more massive backlinks database than SpyFu.
Backlink Analysis in SpyFu
SpyFu is abasic backlinks analysis capabilities that come nowhere near Semrush. However, one thing of interest is that you can filter data based on backlink types which can help you explore backlink opportunities in particular niches.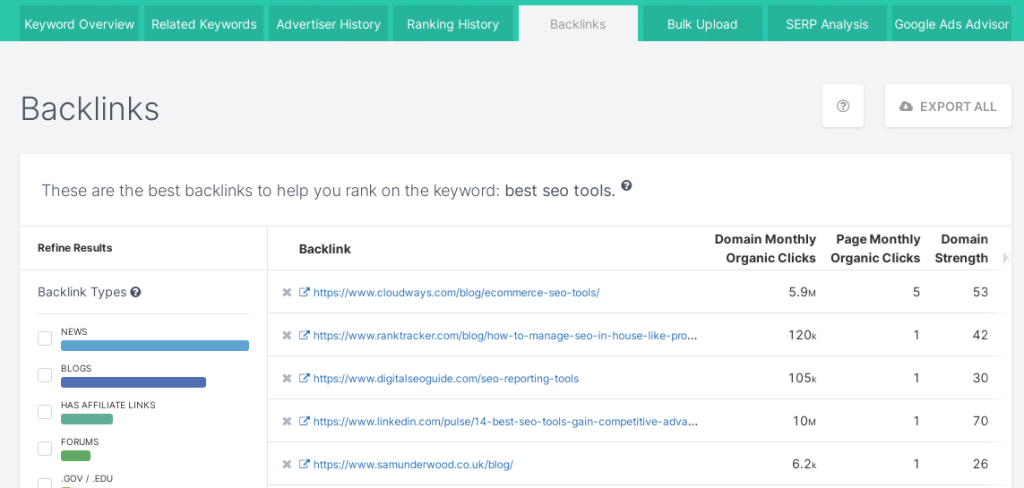 SpyFu has also added backlink outreach tools, but again, it only allows basic outreach. The biggest hurdle is entering a list of domains yourself to uncover contact details. In contrast, Semrush automatically lists potential domains based on the analysis of a given URL. You can then contact the site owner from the Semrush dashboard itself.
Backlinks Analysis in Semrush
As expected, Semrush offers way more data about backlinks than SpyFu. You can search for
Dofollow and Nofollow backlinks.
The region from where the backlink originated
Anchor Text
New and Lost domains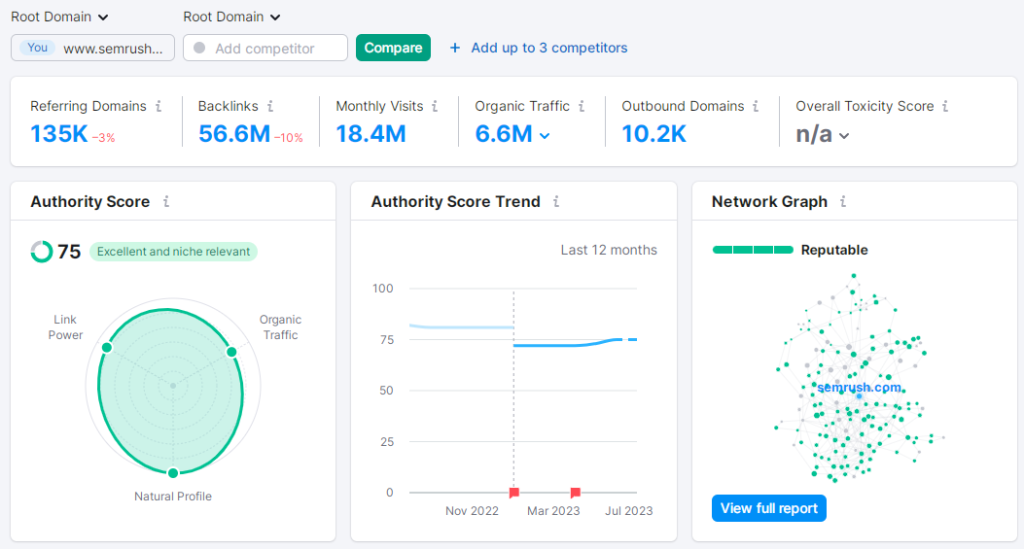 Besides, Semrush neatly stacks all the data and presents it in a visually appealing format so that you can quickly grasp it. Semrush also has a Link Intersect tool to identify domains pointing to your competitor's domains but not yours. You can use the information for backlink outreach.
Verdicts – Unlike Semrush, SpyFu falls flat regarding backlinks analysis and link building. Semrush is indeed a better option for backlinks research.
4. Site Audits
Semrush has powerful site auditing tools that allow you to scan your website and uncover technical SEO issues. You can run Semrush Site audits to uncover issues like;
Duplicate content
Missing tags
Slow loading pages
Crawl errors
Issues with core web vitals
But the best thing is that each issue is accompanied by actions you can take to rectify it.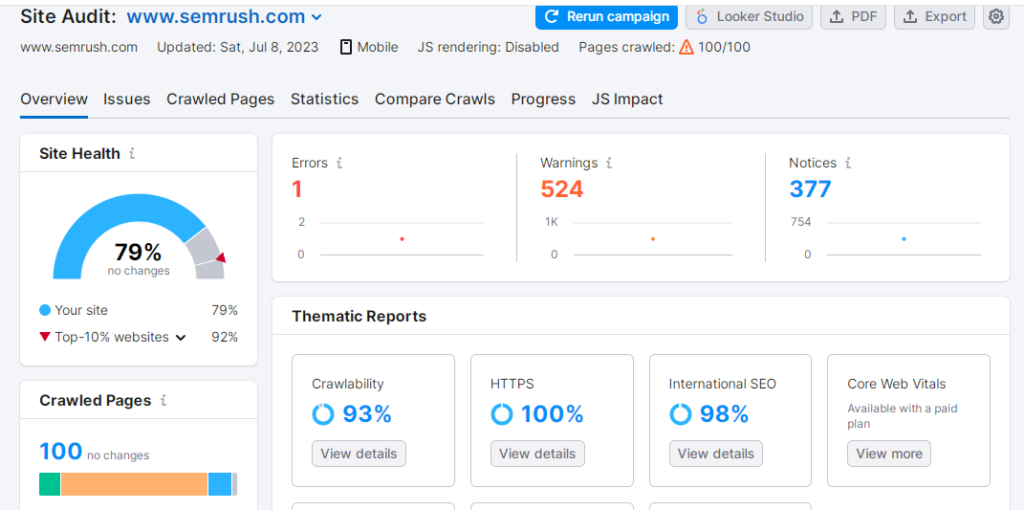 SpyFu lacks a site audit tool. It means there's no way to assess the SEO health of your website in SpyFu. It's a huge setback because site auditing is a massive part of SEO, offering you deep insight to identify roadblocks on your way to the top of SERP.
Verdict – Semrush is a clear winner regarding site auditing.
5. Local SEO
Local SEO helps you rank higher in local search results. Semrush packs ample tools to tackle challenges that might hamper your website's growth on local searches. It includes a local listing management tool that allows you to;
Optimize GMB Profile
Track and manage local listings
Find locally relevant keyword
Find citation opportunities
In short, you can quickly launch SEO campaigns targeting local searches in Semrush.
Unfortunately, there's no dedicated tool for local SEO in SpyFu. However, you can extract relevant data for local SEO from its keyword research, rank tracking, and competitor analysis features. Although, they have limits because they aren't designed to churn out local SEO data. Besides, listing management tools are completely absent in SpyFu. You cannot track and manage your business listings via SpyFu.
Verdict – Semrush is undoubtedly a better choice for local SEO because it has tools dedicated to local SEO.
6. Content Marketing
Content marketing refers to curating and promoting content for better website visibility and traffic. Semrush has a set of content marketing tools available with the Semrush content marketing platform.
You can use it to;
Search for new topic ideas.
Draft SEO-friendly content with the help of the 'SEO writing assistant' feature.
Spy competitors for keyword ideas.
Audit existing content for SEO vulnerabilities.
Recently Semrush has also rolled out its AI writing platform called 'Compose with AI.' It can be helpful to quickly draft short pieces of text you can insert into your main content.
Verdict – SpyFu lacks content marketing or optimization tools. Therefore, Semrush comes out as a clear winner for content optimization.
SpyFu Vs. Semrush – Pricing Comparison
SpyFu and Semrush both offer three subscription plans. But, compared to SpyFu, Semrush is way more expensive.
SpyFu Pricing Details
SpyFu doesn't offer a free trial. Instead, it has a free version available you can use to pull limited SEO and competitor analysis reports.
Additionally, there's a 30-day money-back guarantee, which means you can use any SpyFu subscription for thirty days without incurring any cost. And if you do plan to purchase a subscription, annual billing is also available. SpyFu cut down the price of its subscription plans to almost half with annual billing.

If you are planning for a long-term commitment with SpyFu's annual subscription can help you avail of its services at a much lower cost.
Semrush Pricing Details
Semrush falls in the category of high-tier SEO tools. It's expensive, without a doubt, but you will be shelling dollars for the extensive features that are not available with any other tools. Semrush also offers an annual subscription. But the discount with an annual subscription is only 17% which is significantly lower than SpyFu. There's no money-back guarantee, but a 14-day free trial is available. Therefore, you can easily test Semrush for its alignment with your business needs. 

Side By Side Comparisons
Let's checkout, how both tools compare in terms of
Number of Projects
| | Features available for Project | Project limits |
| --- | --- | --- |
| SpyFu | Site audits, Rank Tracking, Backlink audits, Link Prospect. | 5 to 40 ( Based on Plan) |
| Semrush | Keyword Lists, Contact list for backlinks outreach. | No limit |
Although SpyFu puts no cap on the number of projects, it allows significantly less in terms of functionality. Semrush, on the other hand, allows the creation of several different projects ranging from site audits to rank tracking.
Historical Data
| | Limit | Availability |
| --- | --- | --- |
| SpyFu | 6 months to 16 years. | Available with all plans. |
| Semrush | 11 Years. | Available with Guru and higher plans. |
Result – Historical data is available at a lower cost with SpyFu. But given the extensive database of Semrush, you can pull out more data with it.
Rank tracking
| | |
| --- | --- |
| | Limits |
| SpyFu | 5,000 to 40,000 keywords |
| Semrush | 500 to 5000 keywords |
Result – SpyFu definitely offers more value when it comes to keywords rank tracking.
Reporting
| | |
| --- | --- |
| | Reporting Limits  |
| SpyFu | 10,000 reports ( all types) in the Basic Plan |
| Semrush | 3,000 reports (keywords) in the basic plan. |
Result – SpyFu seems more relaxed on reporting limits, but the variety of reports you can pull in Semrush is much higher. Similarly, Semrush reports are more detailed.
Verdict – SpyFu and Semrush pricing comparison reveals that SpyFu is much cheaper. But the extensive functionality and features available with Semrush justify its high price. You get extra details, features, reports, and the number of users. SpyFu is cost-effective and better for small agencies or businesses. Semrush is more comprehensive and better for professionals, large agencies, and big in-house teams.
SpyFu vs. Semrush Data Accuracy – Which Tool is More Accurate?
Semrush has far more extensive keywords and backlinks databases than SpyFu. Consequently, Semrush is better equipped to provide superior data accuracy.
I have found its search volume data to be more in line with Google Search Console numbers than SpyFu. Similarly, Semrush collects traffic analytics data from around 200 million real internet users globally.
Also, Semrush employs a neural network algorithm to recognize, scan, and segment data. Therefore it won't be an exaggeration to assume that Semrush has better data accuracy than SpyFu.
SpyFu vs. Semrush – Ease of Use
SpyFu and Semrush have radically different interface layouts. Personally, I found SpyFu's interface to be more relaxed and intuitive.
It has a simple grid layout, listing its features on top as menus. You can easily shift between different sections with relative ease. On the other hand, the Semrush interface appears to be cluttered – it can be associated with the huge number of features the tool includes.
But Semrush wins big with data visualization. For example, you can find graphs of just about anything on Semrush. It makes data easily digestible. I also noticed that Semrush loads data faster than SpyFu, which makes it more convenient if you have to extract large amounts of data.
Verdict – SpyFu has a more user-friendly interface, but when it comes to details and data visualization, Semrush wins by a margin.
Customer Support & Documentation
| | SpyFu | Semrush |
| --- | --- | --- |
| Support channels | Email, Phone, Live Chat | Email, Live Chat, and Phone |
| Response time and effectiveness | 30 minutes to 45 minutes ( for email | 15 minutes to 30 minutes ( for email) |
| Documentation and resources | Help Centre | Semrush knowledge hub, academy |
| Availability | 6 am to 5 pm ( Live Chat) | 24/7 |
SpyFu and Semrush both offer the same avenues to obtain customer support. You can use the phone, live chat, or email to reach the customer support team. Besides, both maintain a comprehensive help center and knowledge hub with detailed tutorials, videos, and training material. However, Semrush goes a step further and offers Semrush Academy too. It's a platform that offers multiple courses to further your understanding of the tool and SEO and digital marketing in general.
Verdict – SpyFu and Semrush offer the same level and efficiency regarding customer support. Both quickly respond to customer queries and offer a satisfactory resolution of issues at hand. 
Some Related Comparisons:
Conclusion – Is Semrush Better than SpyFu?
In conclusion, Semrush comes out as a more powerful, feature-rich, and insightful SEO and PPC analysis tool. It easily surpasses SpyFu in almost every aspect. Therefore, if you can afford it, there's no better SEO tool than Semrush. Anyway, SpyFu is useful in its own regard and might be a suitable option for SEO beginners or those on a budget.
My Rating for;
SpyFu – 4.7/5
Semrush – 4.9/5
In any case, pick SpyFu for;
Its affordable cost and simple functionality
Comprehensive competitive analysis and detailed PPC research.
Choose Semrush for;
Detailed on-page and off-page seo research.
Powerful link-building, content optimization, and local SEO tools.
Good value for money