If you've ever dived into the world of digital marketing, you must have come across SpyFu. It's a competitive intelligence tool designed to give you an edge in your online marketing campaigns and SEO efforts. But does it offer a free trial?
If you are looking for an answer to this question, this is the right post for you. The following guide will help you claim SpyFu free trial without much effort.
Let's get started.
About SpyFu Free Trial
So, you're interested in giving SpyFu a shot? You might be wondering if there's a free trial. Unfortunately, SpyFu does not offer a conventional free trial. But don't let this deter you just yet!
Here's the silver lining: SpyFu offers a 30-day money-back guarantee. You can subscribe to any of their plans, and if you're not happy with it within 30 days, you can ask for a refund.
There's also another option. You can subscribe to SpyFu's Free Plan without any credit card requirement. However, the free plan comes with very limited features. With these features, you can only check how the platform works and what results you will get.
How to Claim SpyFu Free Trial?
Quick Overview of SpyFu
SpyFu is an online tool that allows businesses to track their competitors' online marketing strategies. It provides information on both paid and organic search campaigns, including keyword rankings, ad copy, and website traffic.
Apart from that, SpyFu also offers competitor research tools such as domain overviews, contact information, and social media profiles. With SpyFu, businesses can gain a better understanding of their competitors' online presence and adjust their own marketing strategies accordingly.
To know more about SpyFu read our honest review.
As you already know SpyFu doesn't offer a free trial, but you can still claim the 30-money back guarantee and its free plan. I will explain both methods so you can claim the one you prefer.
Method 1: 30-Day Money Back Guarantee
This method requires you to add your card details and invest some money for a significant time, but it also allows you to check all of SpyFu's premium features. Let's see how you can use this offer to use SpyFu for 30 days.
Step #1: Visit SpyFu's official website and go through its Pricing section.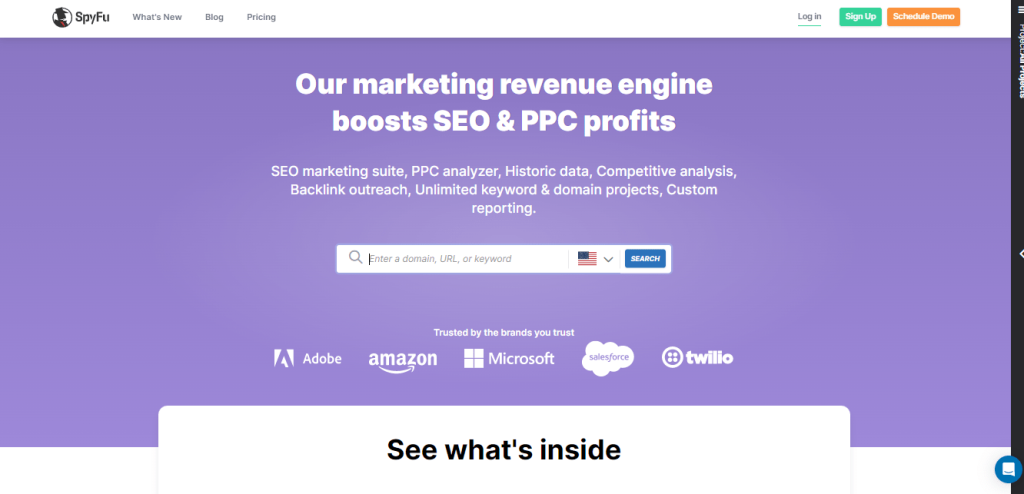 Step #2: On this page, you will see several paid plans of SpyFu. Click the Select option under your preferred plan to proceed further. And don't worry, all plans are backed with a money-back guarantee.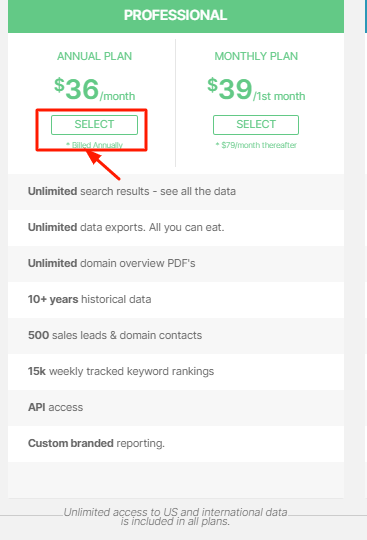 Step #3: Next, you will need to create a SpyFu account using your email & password and add your card details to complete your purchase.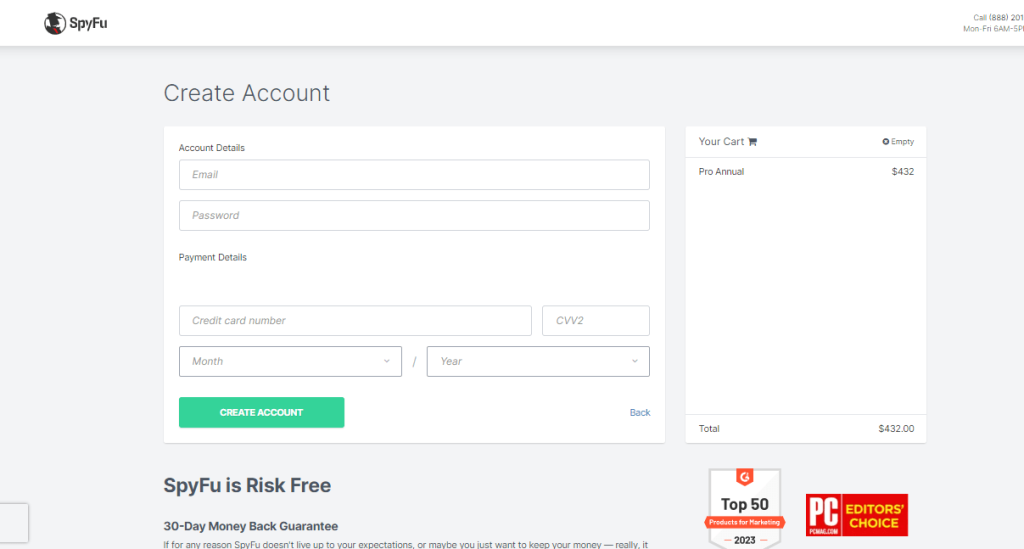 Once you have filled in your details, click on Create Account to complete your payment.
Step #4: Now you can use SpyFu and its features as much as you want. If you don't want to use its services anymore, cancel the subscription before 30 days of purchase and get a full refund.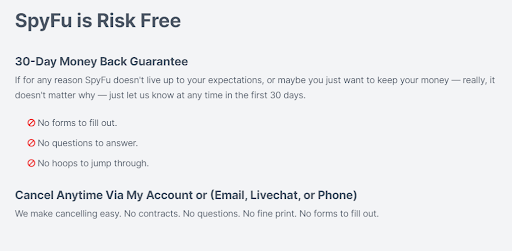 Method 2: Create A Free Account
If you just want to see how SpyFu works, you can subscribe to its free plan. This method doesn't require you to add your card details. You can create a free SpyFu account in just two steps.
Step #1: Click here to access to SpyFu free account page.
Step #2: Enter your name, email, and password. Then, click on Create Free Account to complete the process.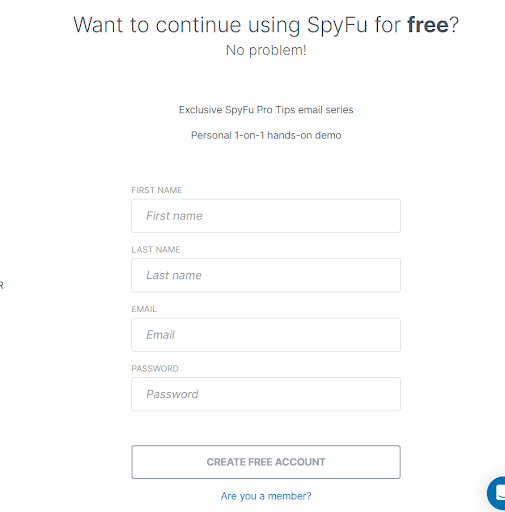 And just like that! You can start using the basic tool of SpyFu to see how it works.
SpyFu: Key Features
Here are some remarkable features of SpyFu that make it an invaluable asset for digital marketers.
Keyword Research: It allows you to see the most profitable keywords for your competitors. You can also see an estimation of the number of clicks, rankings, and cost per click (CPC) for each keyword.
Competitor Analysis: SpyFu lets you see your competitors' SEO and PPC strategies. You can find out which keywords they're targeting, how much they're spending on ads, and what their ads look like.
Backlink Analysis: With SpyFu, you can check the number and sources of backlinks a website has. This feature also lets you see the quality of these backlinks, which can help you devise your own link-building strategies.
Rank Tracking: This feature allows you to track keyword rankings over time. You can monitor how your SEO efforts are affecting your rankings and adjust your strategies accordingly.
PPC Competitor Research: SpyFu gives you the opportunity to research competitors' PPC strategies, including their Adwords history. This can provide valuable insights into what has and hasn't worked for them.
SEO Reports: You can generate easy-to-understand reports about your website's SEO performance. These reports can help you spot opportunities for improvement and areas where you're performing well.
Domain Comparison: This feature allows you to compare up to three domains side-by-side to see their keyword overlaps, shared keywords, and unique keywords.
Ad History: SpyFu has a vast database that contains the last 14 years of Adwords spending and ad variation history. This can provide insights into the seasonality of keywords and successful ad copy.
Bonus: Comparing SpyFu and SEMrush, know which SEO tool is right for you.
SpyFu Pricing Plans
If you decide to go all-in on SpyFu, you'll find three pricing plans available: Basic, Professional, and Team.
Basic Plan: This plan costs $39 per month. It includes access to all of SpyFu's features, but it is limited to 10,000 keyword searches per month.
Professional Plan: This plan usually costs $79 per month. But if you are a first-time user, it will cost you $39 for the first month. It offers unlimited keyword searches, as well as access to additional features such as API access and custom reports.
Team Plan: The Team plan costs $299 per month. This plan is designed for teams of up to 5 users. It includes all of the features of the Professional Plan, as well as unlimited user accounts and the ability to create custom reports.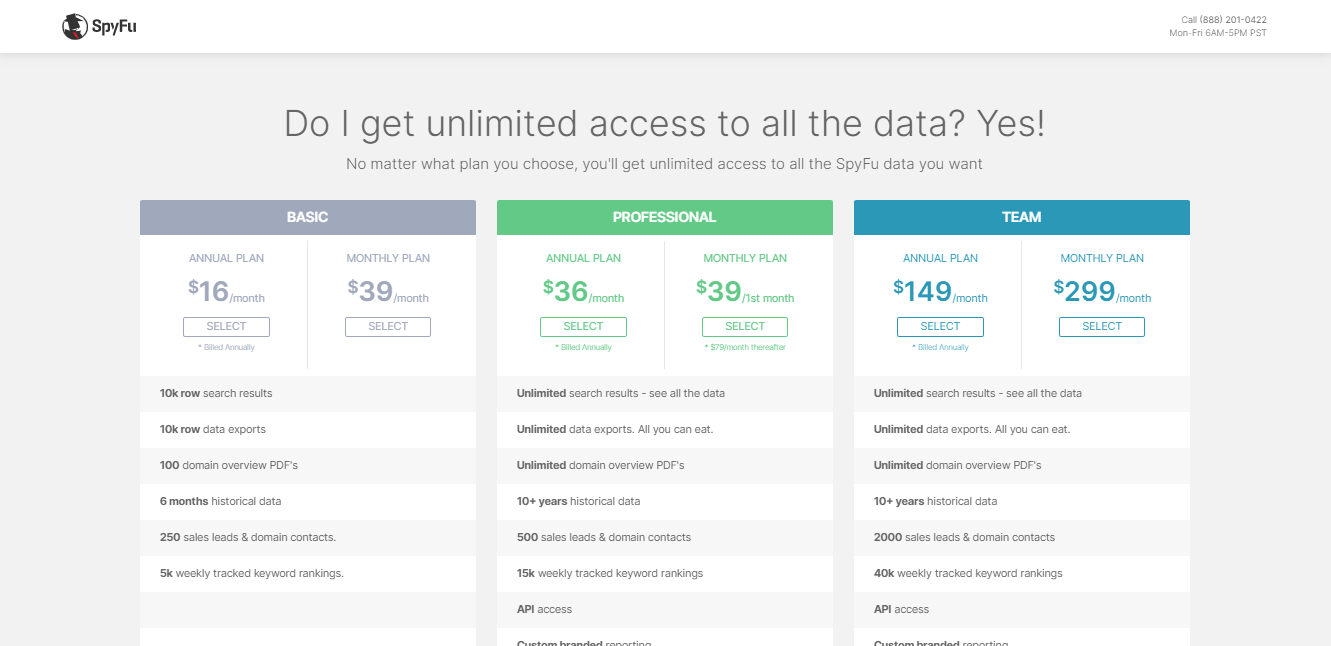 Each of these plans comes with a monthly or annual cost. The annual option for each plan offers a discount compared to the monthly rate, making it a wise choice if you're in for the long haul.
Related read:
Conclusion: SpyFu Free Trial
In conclusion, while it's true that SpyFu does not offer a traditional free trial, it provides a compelling alternative in the form of a 30-day money-back guarantee. This ensures that you can fully explore the tool's robust features risk-free within the first month of your subscription.
The free version, though limited in functionality, also allows you to get a feel for the platform before committing to a paid plan. So what are you waiting for? Use this guide to use SpyFu for 30 days for free.