Read my in-depth SpyFu review to understand the worth of this competitive intelligence tool.
Gaining a competitive edge is crucial to staying ahead in digital marketing. Enter SpyFu, a veteran in the SEO tools arena that promises unprecedented insights into competitors' strategies.
But the question remains whether SpyFu is as good as it claims.
Come along to find the answer as I delve into the features and benefits of SpyFu and offer you an unbiased review of the tool.
SpyFu Review – At a Glance
This section will give you a quick overview of SpyFu;
| Tool For | SEO Competitive Intelligence |
| --- | --- |
| Installation Type | Web App (SaaS) |
| Best For | SEO Professionals, marketers, bloggers and in-house SEO teams |
| Price | $39 – $299 per month |
| User-Friendliness | 4.9/5 |
| Functionality | 4.8/5 |
| Ease of Setup | 4.9/5 |
| Customer Support | 4.7/5 |
SpyFu Review – Pros & Cons
SpyFu has many things to appreciate and a few that need further improvement. In this segment, I will list the aspects where SpyFu excels alongside the things that need a revamp;
What I liked about SpyFu (Pros)
Easy to Use – I found the SpyFu dashboard incredibly intuitive, modern and sleek. It neatly stacks all the different matrices in one simple screen, with each feature reachable within one click.
Regular Keyword Updates – SpyFu regularly updates keyword databases; It's something truly appreciable as you have the latest data about keywords based on SERP.
Comprehensive Reports – SpyFu reports are detailed and include branding, which is particularly beneficial if you work with clients.
Historical Data – It has helped me evaluate how competitors' SEO and SEM strategies have evolved over time.
Detailed PPC Insights – I particularly liked the campaign analysis feature of SpyFu. It offers valuable data on competitors' PPC campaigns as well the amount of ad spend.
Fast Working – There's no drag when loading data. For example, SpyFu only takes a second or two to come up with tons of keyword ideas.
Free Usage – A big plus of SpyFu is the availability of a free version. Although limited, it offers a detailed overview of SpyFu's working and usability.
Money-Back Guarantee – SpyFu has a 30-day no, question-asked money-back guarantee, which certainly pushes user experience to the next level and offers peace of mind that the investment is safe.
 Generous Reporting Limits – Compared to other SEO tools, SpyFu offers more data at less price. Even its basic plans features are exhaustive, like 10k rows of data and 5k weekly keyword rank tracking.
Where I think SpyFu needs Improvement (Cons)
Data accuracy – Although SpyFu is reasonably accurate, I found some discrepancies in domain analysis.
Limited Link Analysis – Link analysis is not SpyFu's strong suit, especially the inbound link data, which needs to be more comprehensive.
Overwhelming for Beginners – SpyFu has a wealth of features running from SEO analysis to PPC. Figuring out the details and making sense of the data takes time.
Bugs In File Exporting Process – I found exporting or downloading CSV files troublesome. Sometimes the process becomes unresponsive. It's probably due to a bug which SpyFu needs to resolve quickly.
Not tailored to address local SEO – Spyfu might not be the best platform if you compete for local SEO. It doesn't have any dedicated tool for local search results.
SpyFu Review – Features
SpyFu packs tons of features to evaluate nearly every aspect of SEO and SEM. You can do Keyword research, competitive analysis, PPC analysis, backlink analysis etc., with SpyFu.
These are the features that SpyFu includes;
SEO Research – Provides you with details about traffic, ranking keywords, SERP positioning etc.
PPC Research – Gives you a detailed overview of competitors' paid campaigns alongside estimated clicks and budget, paid keywords, top keywords etc.
Keyword Research – Let you do complete Keyword Research.
Backlinks – This lets you search for the best backlinks based on the provided keywords.
Keyword Tracking – Provide weekly updates about keyword positioning in SERP.
Now, let's explore the top SpyFu features in more detail;
1. SEO Research
This section of SpyFu is entirely dedicated to analyzing the organic search performance of a given URL. You can access multiple data points for any website, including yours or your competitors.
What does it include?
SEO Overview
Ranking History
Competitors
SEO Keywords
Top Pages
Backlinks
SEO Reports
To best illustrate this section, let's analyze the domain – 'demandsage.com.'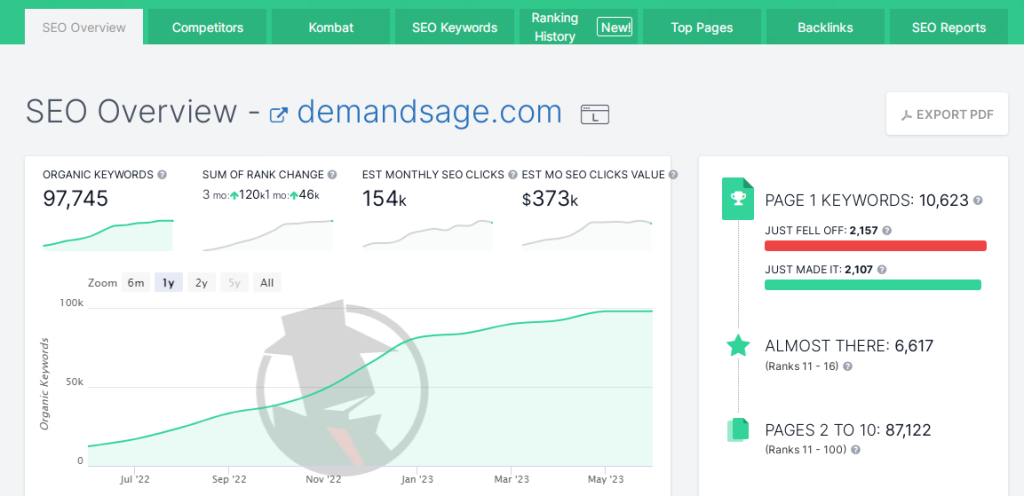 Straight away, you will see the ranking history of the domain that goes as far back as the beginning when the domain was first registered. It's helpful to have an overview of how a domain evolved over time. Next, it displays the number of keywords ranking on the first page and those that rank between 10 to 100 positions.
Another crucial piece of information is the top organic competitors that list the competing domains in your niche.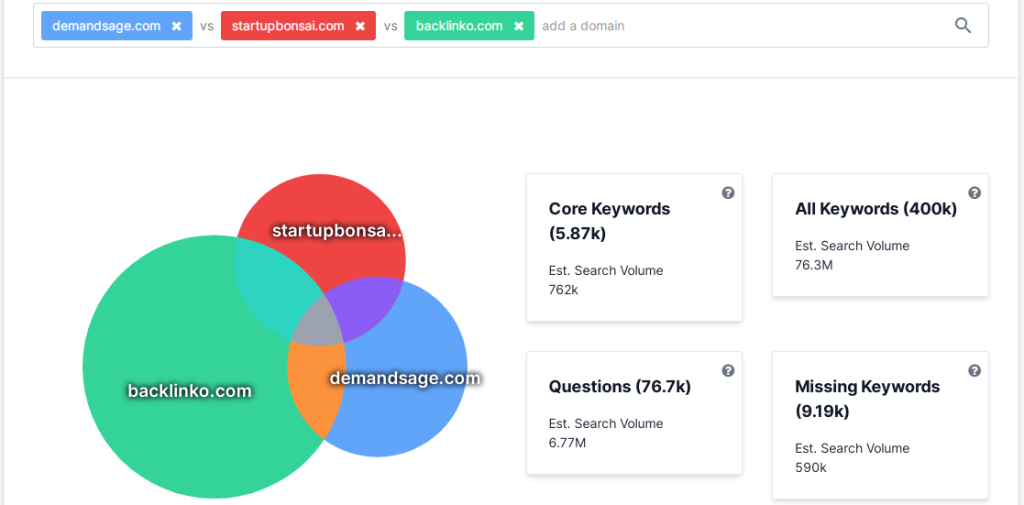 But the next section is the most interesting, in my opinion. It's called Kombat and lists all the common keywords your competitors rank for. Similarly, it also lists the keywords that you have missed. This way, it helps find relevant keywords that your competitors are ranking but you don't.
Moving further, you will find the most valuable keywords, newly ranked keywords, top pages that the domain rank for and the number of inbound links.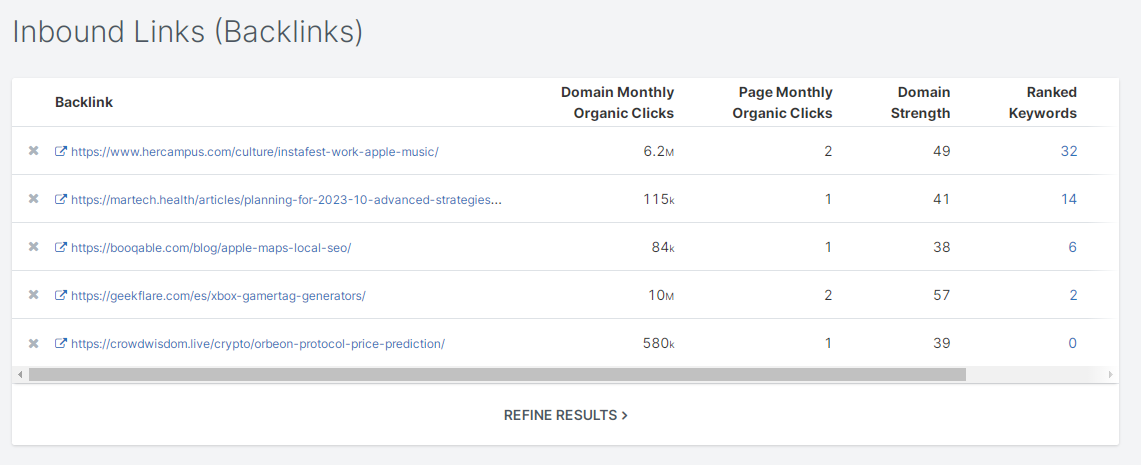 In summary, SpyFu SEO research is thorough to the point that it becomes overwhelming. You can expand each section further for more comprehensive insights. The big plus here is the Kombat features that help you find keywords with good potential.
2. PPC Research
This section is as comprehensive as the previous one but deals with SEM or PPC Research. It's almost identical to SEO Research and includes nearly the same features.
What does it include?
PPC Overview
List of Competitors
Ad History
Google Ads Advisor
Google Ads Template
We will take the example of 'SpyFu.com' to understand its functionality. The PPC Research segment lists the number of paid keywords, estimated monthly PPC clicks and estimated PPC budget.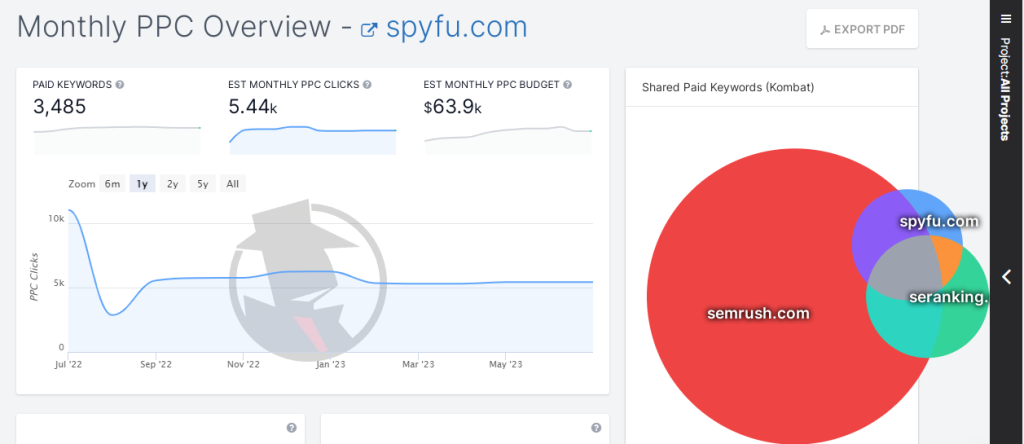 You can also search ads history, top paid competitors etc. However, the most exciting part, in my opinion, is the top Google ads buy recommendations. It lists the most lucrative keywords to target with PPC ads.
SpyFu has added its Kombat feature to the PPC research segment too. You can use the Kombat feature to extract paid keywords from your competitors.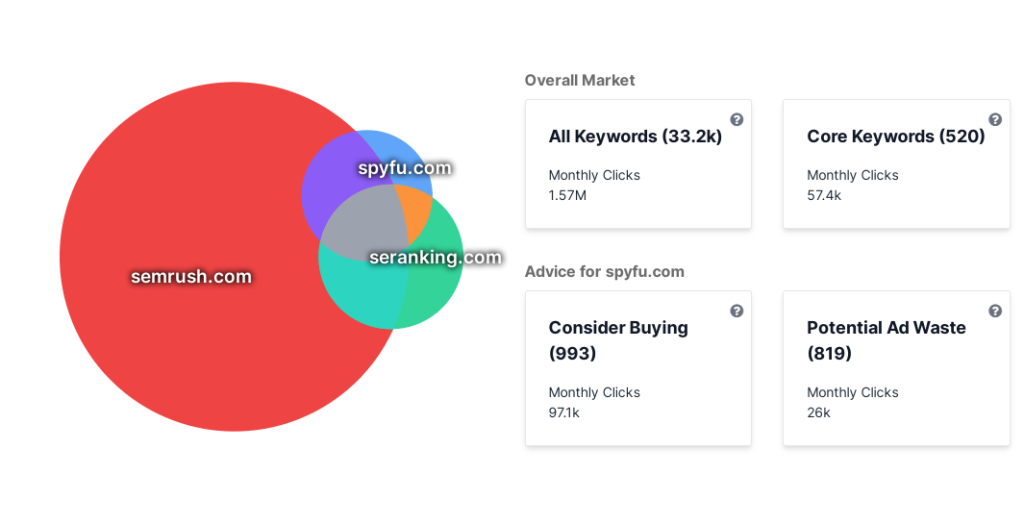 Overall, SpyFu's detailed PPC research provides deep insights into competitors' paid ads strategy. To me, Google ads buy recommendation was particularly helpful as it eliminated hours of brainstorming and researching and provided ready-made suggestions to run impactful PPC campaigns.
3. Keyword Research
I have found the SpyFu Keyword research tool to be extremely powerful, something that could rival premium SEO tools like Semrush.
Let's examine a keyword, 'Best SEO tools', with SpyFu's Keyword Research feature.

SpyFu lists its monthly volume, estimated clicks, difficulty, paid clicks etc. Moreover, it also displays related keywords that can be helpful in building topical authority.
Likewise, it lists related questions you can target to satisfy search intent better. Besides, SpyFu also details the organic ranking history and the top domains ranking for the given keywords.
It gives you an overview of how much work you need to be on top in SERP for that keyword.
Similarly, SpyFu also displays the PPC details of the given keyword. You can drill further into top bidders on the keyword, related terms to target in PPC ads and any current ads running on the keyword.

In short, the SpyFu Keyword Research feature is powerful and detailed. You can combine it with historical data to explore the long-term perspective of a given keyword. An Export PDF feature is also available that lets you export the keyword list for further analysis.

And to aid the keyword research further, you can employ the Yeh Kombat feature. You can then directly extract keywords you are missing from your competitors and target them.
4. Backlinks Analysis
SpyFu has been traditionally focused on competitors' research and keyword analysis.
However, it also features a functional backlink analysis tool. Although less elaborate than top SEO tools like Ahrefs or Semrush, it features simple and effective functionality. For any given Keyword, SpyFu lists backlinks pointing to a domain.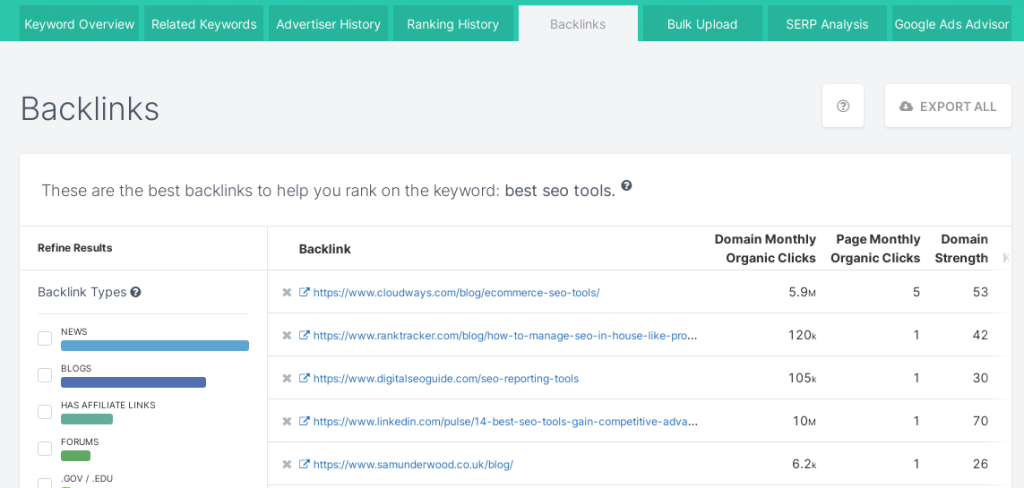 Besides it also details the strength of referring domains and monthly traffic. On the left pane, SpyFu displays a backlinks type which helps you understand where the backlinks are coming from – whether it's news sites, forums, blogs, etc.
Incidentally, SpyFu maintains a backlinks database of over 100 million domains and around 7 billion results. Compared to Moz or Semrush, SpyFu has a much smaller backlinks database, but it still provides a workable backlink analysis at a much lower cost.
SpyFu – User Experience
An SEO tool can have everything, but if it isn't user-friendly, users won't be able to use it to its full potential. In this segment, we will analyze SpyFu for its user-friendliness.
Setup
SpyFu is a SaaS, therefore, doesn't require downloading or installing anything on the system. All you need is a SpyFu account and its subscription, and you are good to use all its features. Besides, a free version of SpyFu is also available. You can enter a domain and get all the essential matrices regarding SEO and PPC. In my opinion, getting started with SpyFu is straightforward and smooth.
Interface & Ease of Use
After the initial onboarding and setup of SpyFu came the interface. I found it to be intuitive and well laid out. It lists all its features on the top menu which is easy to find and navigate.
Below the top menu, you will find the search box to enter keywords, domains or a URL to get the relevant matrices. To get started, you need to select the SpyFu feature from the top menu, then enter a search term, and that's it. SpuFu will do the rest and come up with all the relevant data.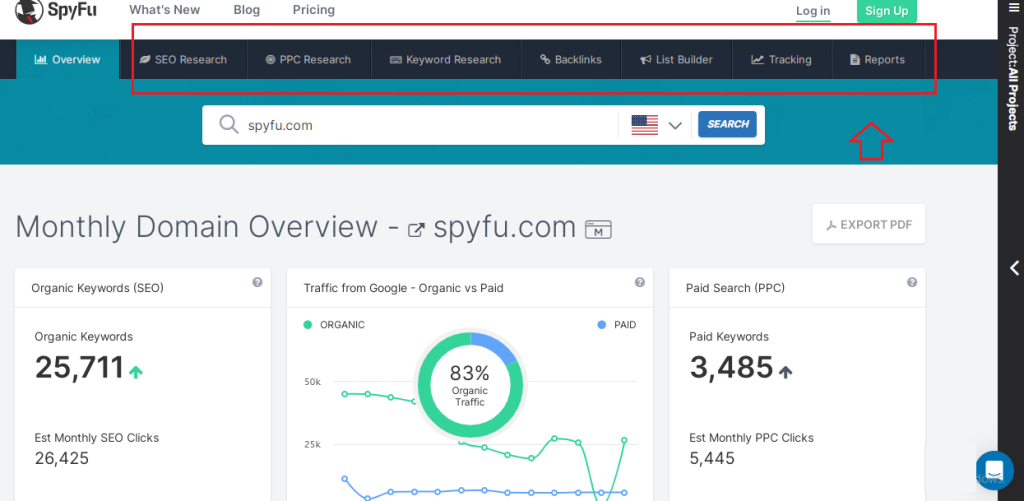 Speaking about ease of use, the smartly designed SpyFu interface certainly pushes usability to the next level. The interface has no clutter; everything is easily accessible and navigable.
Although the amount of data that SpyFu displays might overwhelm new users, other than that, SpyFu scores big in terms of ease of use. After an initial learning curve which is much shorter than other SEO tools like Ahrefs or Sermush, navigating SpyFu becomes a breeze.
Support & Documentation
SpyFu customer support is available via phone, chat and email. Given the many avenues, reaching out to SpyFu customer support is easy.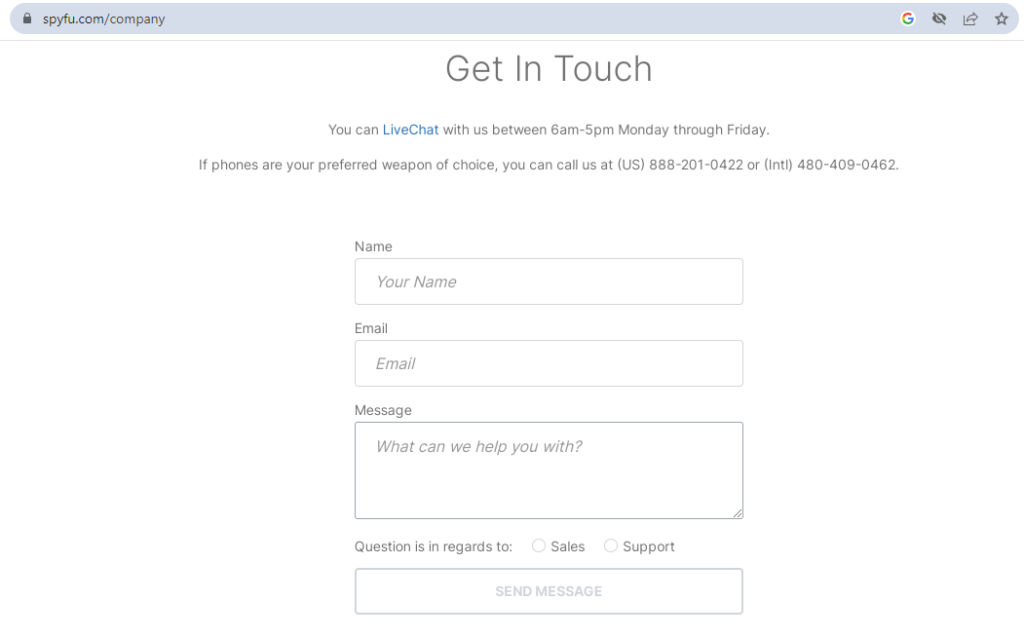 But there's a catch – Live chat is only available between 6 am to 5 pm ( US time). It's a bit of a letdown because a popular tool like SpyFu must include 24/7 live support.
Other than that, I found the support interactive and fast. The team gets into the details and comes up with a solution as soon as possible.
Besides customer support, SpyFu also maintains a comprehensive help center to help users with the working of SpyFu. The SpyFu help center lists everything that the platform includes. It has detailed documentation, how-to guides etc., to make the most of the platform.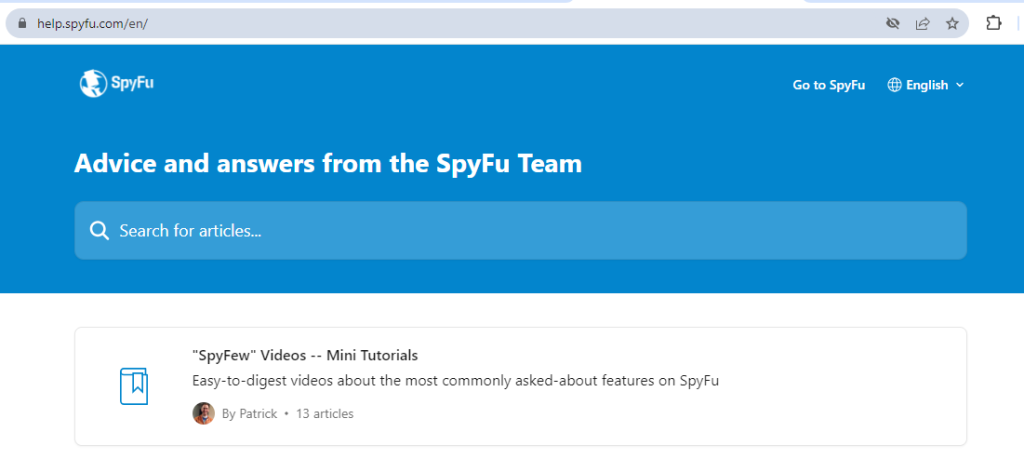 But I liked SpyFu mini tutorials in the form of short video clips the most helpful. It explains the working of various SpyFu features in a practical way that is certainly easier to understand.
SpyFu Review – Pricing Overview
When you compare SpyFu with similar tools ( Semrush, Ahrefs etc.), it appears more affordable and pocket-friendly.

SpyFu offers both monthly and annual subscription plans. The advantage of the SpyFu yearly plan is that it provides a discount of up to 49%. Let's explore SpyFu pricing in more detail;
| Plan | Monthly Pricing | Annual Pricing |
| --- | --- | --- |
| Basic Plan | $39 monthly | $16 monthly |
| Professional | $79 monthly | $36 monthly |
| Team | $299 monthly | $149 monthly |
SpyFu Basic Plan:
Best For- Individual SEO professionals and bloggers
The plan caps data exports and search results to 10k. Similarly, only six-month historical data are available with the basic plan. Moreover, you can track over 5k keywords ranking weekly, plus generate 250 domain contacts and sales leads. In short, SpyFu's basic plan is well-equipped to meet the needs of individuals with one or two medium-sized websites.
SpyFu Professional Plan:
Ideal For- Small SEO teams
The professional plan unlocks API access as well as custom-branded reporting. But the most exciting thing is that there's no cap on search results, data exports and domain overview PDFs. On top of that, you can access 10 years of historical data, which is a big jump from the basic plan. Teams working on multiple seo projects will find the SpyFu professional plan the most suitable.
SpyFu Team Plan:
Best For- Big SEO agencies and in-house SEO teams
The team plan lets you implement SEO strategies at scale. The most notable feature is the 5-user login which expands the usability and accessibility of the platform. Similarly, the team plan allows tracking of 40k keyword ranking weekly and allows 2000 domain contacts and sales leads.
TIP: SpyFu also offers a 30-Day Money Back Guarantee where you can try the platform.
How is SpyFu pricing compared to Other Similar Tools?
SpyFu has direct competitors like Semrush, Ahrefs, Serpstat etc. But when you compare the pricing, SpyFu appears to be a more cost-effective solution, especially in terms of usage limits like the number of rows of data you can pull, historical data etc.
Here's a comparison of SpyFu pricing against its top competitors;
| Tools | SpyFu | Semrush | Ahrefs | Serpstat |
| --- | --- | --- | --- | --- |
| Pricing | $39 – $299 per month | 119.95 to $449.95 | $99 to $999 per month | $69 to $499 per month |
Are there any Good SpyFu Alternatives?
SpyFu holds notoriety regarding competitive intelligence and competitor analysis. However, there are SpyFu alternatives that exceed it by a margin in terms of features and functionality. I am talking about elite SEO tools like Ahrefs and Semrush. Here are the top SpyFu alternatives you can checkout;
1. Semrush
Frankly speaking, Semrush has no parallels when it comes to SEO tools. Like SpyFu, Semrush also allows competitive analysis, keyword research, and PPC analysis. But Semrush has one of the largest databases, allowing deeper and more accurate SEO insights than SpyFu. The price of Semrush, nevertheless, is significantly higher than SpyFu.
Bonus: Want to know more about Semrush read our detailed report on the same here.
2. Ahrefs
Ahrefs is another comprehensive alternative to SpyFu. Thanks to its massive keywords and backlinks database, we can accurately analyze competitions, track keywords, evaluate traffic and monitor specific domains. Incidentally, Ahrefs is more complete than SpyFu but also more expensive too.
Pro Tip: We have covered a detailed guide on Ahrefs where we have analyzed the platform thoroughly.
3. Serpstat
For a low-cost alternative to SpyFu, Serpstat is the best. It's an established SEO tool with intuitive features and robust support. It includes 20+ tools to effectively run SEO, SEM and PPC projects, analyze competitions and draft powerful strategies. It only lags behind SpyFu, in terms of usability and features a dated interface.
SpyFu News – Latest Updates
The mark of a good tool is that it continually adds new features to its arsenal. SpyFu does the same. Here are the latest updates in SpyFu worth checking out;
Updated charts that reflect data according to the new Google 2023 updates.
Upgraded Google ads templates with new business selections to craft more comprehensive Google ad campaigns.
In the keyword research API, there's a new option to search for Paid Competitors.
SpyFu HQ homepage now has a new feature that allows it to pick competitors from specific domains. It helps shortlist the main competitors and put a tab on essential competitors' matrices.
SpyFU Kombat tool now has a new segment that lists all the Transactional Intent Keywords. It helps list all the keywords with transactional intent a domain ranks for.
Related Reads:
Wrap-Up – My Opinion On SpyFu
SpyFu wraps together a wealth of features and functionality and offers them at a lower cost than other elite SEO tools – I think that is its most significant selling point.
But, in my opinion, its functionality that efficiently combines both the SEO and SEM aspects of online marketing is where its real value lies.
For companies and individuals looking for a tool that can help them craft a holistic strategy that equally encompasses organic and paid elements, there's no better tool than SpyFu.
And, if you are still reluctant, there's a 30-day money-back guarantee to test SpyFu without putting a dent in your pocket.
FAQs: SpyFu Review
What is SpyFu?
SpyFu is an all-in-one SEO and PPC analysis tool that helps you monitor online strategies adopted by your competitors.
What is the best use of SpyFu?
SpyFu is a valuable competitive intelligence and keyword research tool for those on a budget.
You can use SpyFu to identify;
·    Organic and paid marketing tactics employed by your competitors.
·    Lucrative keywords you can use to curate content or run paid ad campaigns.
Is there a free trial offer for SpyFu?
No, SpyFu doesn't offer a free trial. Instead, it has a free version for basic SEO and PPC analysis.