Semrush or Moz – which tool is superior? Discover it with my in-depth Semrush vs. Moz comparison.
Semrush and Moz are two popular SEO tools that have gained widespread recognition. Both are amply equipped with features to help businesses enhance their online visibility.
But which tool has the upper hand?
To answer that question, I have compiled a detailed comparison of Semrush and Moz. I will evaluate the key aspects of both tools to determine which tool reigns supreme.
Let's dive into the Semrush vs. Moz debate and determine the tool that better aligns with your SEO needs.
Which Tool is Better – Semrush or Moz (Quick Verdict)
Upon comparison, Semrush comes out as a better tool. It has far more features, an enormous database, provides more data, and has flexible reporting limits. Moz also has its advantage – it pulls data from multiple search engines, boasts more comprehensive crawl limits, and packs a powerful link analysis tool. But when it comes to value for money, Semrush packs enough punches to throw Moz out of the ring and emerges as the winner.
Pros and Cons of Semrush and Moz
Before we head to the comparison, it will be helpful to have an overview of the positives and negatives of Semrush and Moz.
Semrush Pros
More intuitive and modern interface
Bigger keywords and backlinks database.
Tons of addons are available for an extra price.
Superior link-building and outreach tools for link prospecting.
Keyword search intent feature to gauge the intent of the searched phrase.
More avenues to reach Customer Support than Moz.
Valuable topic clustering tool available to target keywords that allow building topical authority.
KD scores offer more insights, like the number of backlinks needed to rank for the keyword.
Allow more reports than Moz.
Better data visualization with extravagant use of graphs and charts.
Semrush Cons
It only fetches data from Google.
Addons are quite costly.
Crawl limits are restricted.
BONUS: If you want to know more about Semrush, you can read our detailed Semrush review.
Moz Pros
Crawl limits are more extensive, allowing you to scan large websites quickly.
Free tools are available that don't need login or signup.
Useful Moz bar extensions that provide valuable details like DA, PA, etc., in search results.
Includes a significantly longer trial period of 30 days.
Unlike Semrush, where you must pay extra users, more users are allowed in Moz's top-tiered plan.
Far superior Link Intersect tool than Semrush's Link Gap feature.
It offers ranking data from Yahoo and Bing too.
On-demand rank tracking tool is available, which is missing in Semrush.
Includes nifty Spam Score feature.
Moz Cons
The dashboard needs a revamp and should focus more on simplicity.
Moz higher plans are more expensive than Semrush.
Keyword research is not as thorough as Semrush.
What are the primary differences between Semrush and Moz?
Here are the primary difference between Semrush & Moz;
Functionality – While both tools offer comprehensive features, Moz's functionality is limited to SEO only. On the other hand, Semrush allows you to address SEO, SEM, and Social media as well.
Database – Semrush can fetch data for over 25 billion keywords and 43 trillion backlinks. Conversely, Moz only has 1.25 billion keywords in its database.
Price – Semrush only has three subscription plans, while Moz offers four. However, besides its Standard Plan ($99 per month), Moz is slightly more expensive than Semrush.
Data – Semrush fetches its data from Google alone. However, Moz extracts its ranking data from three search engines: Google, Yahoo, and Bing.
Semrush vs Moz – Features Comparison
Semrush and Moz are both feature-rich tools. In this segment, we will analyze and compare the most crucial features of both tools.
Let's start with keyword research;
Keyword Research Feature Comparison
Finding quality keywords is an essential aspect of SEO. Semrush and Moz included a dedicated section to tackle Keyword research;
Semrush Keyword Research
Semrush has a keyword database of over 25 billion keywords. When you enter a search term in its Keyword Overview tools, it comes up with matrices like;
Local Volume & Global Volume
Intent
CPC for the keyword
Related Ideas
Question Keywords
The Search Intent feature significantly stands out as you can easily gauge the intent of the entered phrase. Similarly, Semrush uses a scale of up to 100 to denote the difficulty level of the provided keyword.

In addition, Semrush also provides an estimated number of backlinks needed to rank for that keyword – you won't find it in Moz. Semrush also includes a keyword manager tab to create keyword lists.
The tab is recently updated with a new feature called topic clustering – it enables you to group similar keywords you can use to build topical authority.
Then there is the Keyword Magic tool to get additional keyword ideas for any given phrase. The level of filtering you get and the amount of data the tool provides is way more comprehensive than anything on Moz.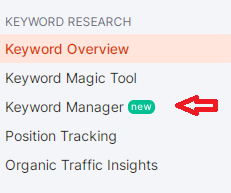 It fetches millions of keyword ideas, and you can filter them based on difficulty, CPC, region, volume, keyword type, and more.
Moz Keyword Research
Moz has a Keyword Explorer tool for Keyword research. When you enter a phrase, it comes up with details like volume, difficulty, CTR, and keyword suggestions.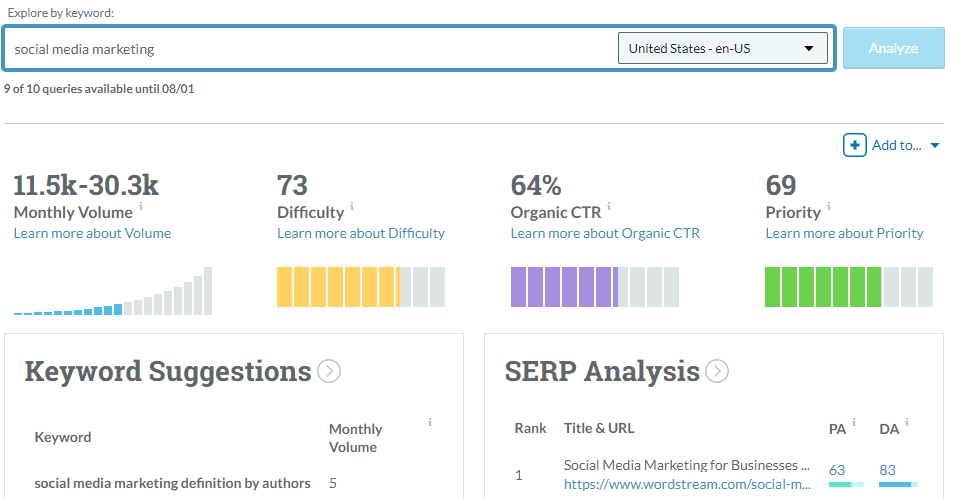 Similar to Semrush, Moz also scales difficulty between 1 to 100. But it also includes a Priority Score. It tells you the viability of the keyword and the amount of work needed to rank for it.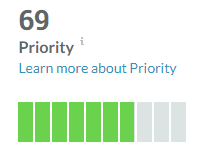 Moz also lists an overview of SERP for the given keyword alongside the Domain Authority (DA) and Page Authority (PA) of the ranking pages. I found it helpful because you can easily find out the competition for the keyword.
Winner – Semrush is better suited for keyword research. It has a larger database than Moz (1.25 billion). Also, it offers more context, larger filtering options, and more keyword ideas.
Backlinks Analysis
Backlinks remain a crucial factor for higher search ranking. Incidentally, Semrush and Moz both include robust backlinks analysis tools.
Let's check out how they compare with each other;
Semrush Backlinks Analysis
Semrush boasts a massive 43 trillion backlinks database that covers over 808 million domains. Consequently, Semrush allows you to pull comprehensive backlinks details, including follow and 'nofollow links, anchor text used, active and lost links, etc.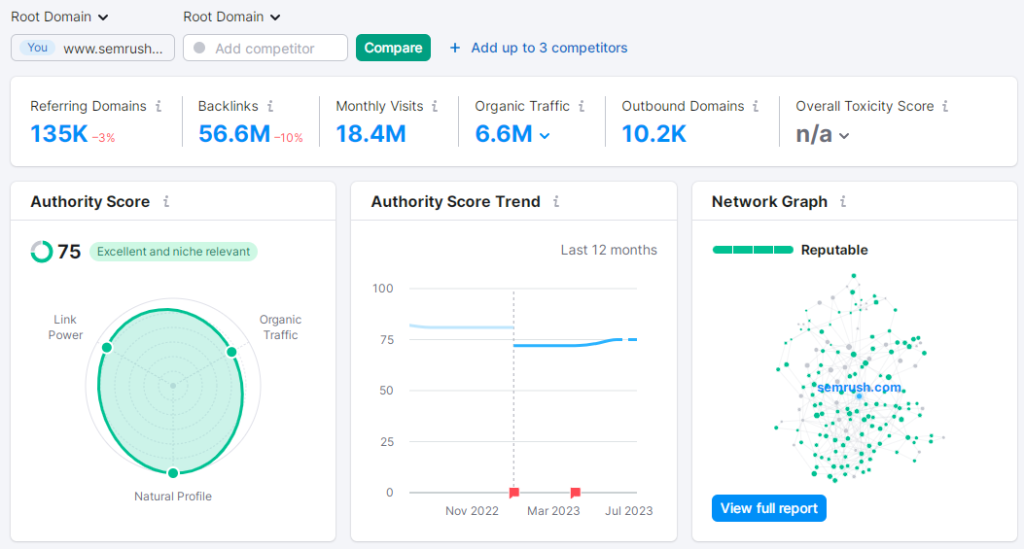 Besides, it also offers details about outbound links, country of origin, referring IPs, and backlinks by industry – you won't find this many details in Moz. On top of that, Semrusn also offers tons of filtering options (time period, authority score, industry category, etc.) to refine your results further.
Additionally, features like Link Gap further facilitate link building and finding linking opportunities. What's more, it can even list contact details of the domains that might be useful from a link-building point of view.
But I particularly liked the way Semrush presents its data – you will be greeted with lots of charts and graphs depicting essential backlinks details.
Moz Backlinks Analysis
Moz has a comparable backlinks database to Semrush. It maintains a backlink database of 40.7 trillion links covering 718 million domains. Moz has a comprehensive link overview feature that offers detailed insight into link profiles of any given domain.

You can extract information like domain authority, linking domains, inbound links, ranking keywords, discovered and lots of linking domains, and more.
Moz link analysis is almost as thorough as Semrush, but it lags in terms of data visualization. There are only a few tables and graphs which downgrade user experience a little.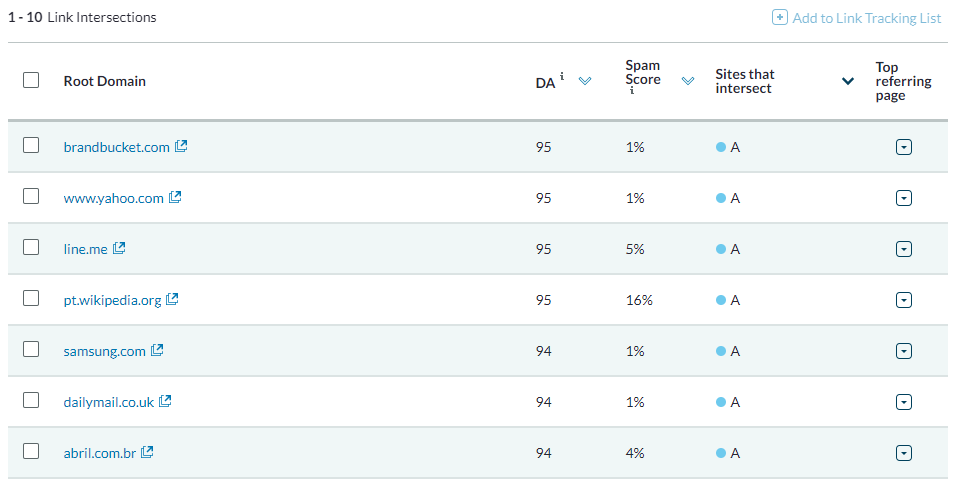 Like Semrush, Moz has a Link Intersect tool to explore backlinks-building opportunities. I found it a shade more powerful than Semrush, as it must have more domains for comparison. Also, Moz has recently added a Link Tracking feature to track your link-building progress easily.
Winner – Link analysis features of Semrush and Moz are somewhat equally matched. But to me, Semrush is better because of its superior link-building capabilities.
Site Audit Features
Site audits are vital to keeping the website optimized for search engines. Let's analyze the Site Audit capabilities of Semrush and Moz.
Semrush Site Audits
Semrush has a proper Site Audit tool to scan websites for SEO issues. Semrush allows you to set the domain and limits of the pages for site audits.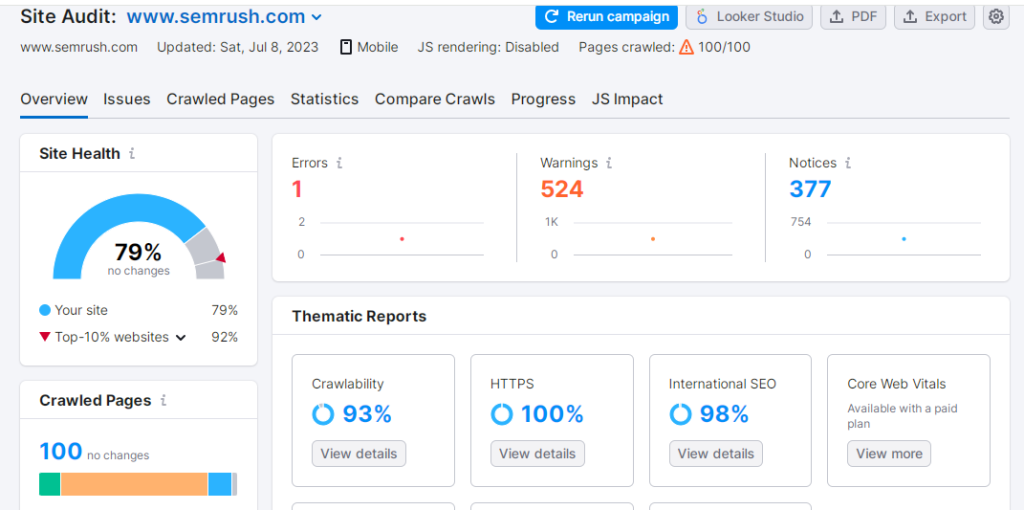 Similarly, you can also tweak crawler settings, set url parameters, bypass any restrictions, and to even schedule an audit for a later date. Semrush site audits check for 140 on-page SEO factors, but its actual value lies in the suggestion that it provides to weed off the issues.
What's more impressive is that you can go really deep with Semrush site audits and uncover complex technical errors like broken links, in-depth analysis of AMPs, correct usage of the hreflang attribute, HTTPS implementation, indexability, and crawlability.
Moz Site Audits
In Moz, doing site audits involves a little hassle. For the starter, there are not one but two tools to analyze a site for on-page SEO. You can use the domain analysis tool and the Site Crawl feature to conduct site audits in Moz.
Juggling multiple tools introduces hassle in the site audit process, but Moz also comes up with detailed On-Page audits. Its page optimization score is most noteworthy as it offers detailed insights into your site's SEO health.
Similarly, its On-Page grader tool is a real help too – it offers you detailed steps you need to undertake to rank the page for a given keyword.
Likewise, Moz also allows prioritizing the most critical On-Page errors and addressing them first. You can leave the rest for later review – this way, you can quickly fix the issues that might be most detrimental to your site's SEO.
Winner – Semrush and Moz are equally matched regarding site audits. However, I will favor Semrush more primarily for the ease of use associated with the site audit feature.
Pricing: Which One Provides Value For Money?
Semrush and Moz are high-tier SEO tools with heavy price tags. Let's understand which tool provides more bang for the buck it charges.
Semrush Pricing
Semrush offers three subscription plans tailored to address the needs of different users.

Pro Plan – The basic plan costs $129.95 per month. The Pro Plan suits seo beginners or small-time SEO professionals who don't deal with multiple seo projects. The plan includes 10,000 results per report, 5 projects, and allows 500 keywords to track. However, you won't get historical data, looker studio integration, a content marketing platform, and API access.
Guru Plan – The Guru plan unlocks the true power of Semrush and includes additional features like content marketing, plagiarism checker, etc. It costs $249.95 monthly, comprising 15 projects, 30000 reports, and 1500 keywords to track.
Business Plan – This plan is cut for agencies and enterprises and costs $499.95 monthly. The plan supports 40 projects, 5,000 keywords to track, and 50,000 results per report.
Note – Semrush annual subscription is also available at a 17% discount. Additionally, you can also opt for the 14-day free trial; however, you have to provide card details.
Moz Pricing
Unlike Semrush, Moz offers four subscription plans. Another thing to note is that its Standardard plan includes almost all the features that Moz provides. That's not the case with Semrush – its Pro plan is severely limited, and only when you move to the Guru plan can you enjoy most of the features of Semrush.

Let's explore Moz Subscriptions;
Standard Plan – Moz's standard plan comes with a price tag of $99 per month and supports 3 campaigns. It's suitable for SEO beginners.
Medium Plan – Moz medium plan costs $179 monthly and allows 10 Campaigns. It's best for entry-level SEO professionals and small agencies.
Large – The Moz large plan will set you back $299 monthly, enabling you to run 25 campaigns. It's ideal for medium-sized agencies and businesses.
Premium – It's a high-tier plan tailored for large enterprises and big agencies. It costs $599 per month and allows 50 campaigns.
Note – Moz offers a 20 percent discount on its annual subscription. Besides, it offers a unique 30-day free trial.
Semrush and Moz – Side By Side Pricing Comparison 
| Parameters | Semrush | Moz |
| --- | --- | --- |
| | | |
| No. Of Users | One User per plan. Additional users available for $45/mo per 'Pro' user, $80/mo 'Guru' user and $100/mo 'Business' user. | 3 -5 User based on the plan. Additional users available at $49/mo irrespective of the plan. |
| Projects | 5 to 40 projects per the subscription. | 3 – 50 campaigns, depending upon the plan |
| Reports Per Day | 150 keyword, 5,000 backlinks | 10k to 50k per day. |
| Crawl Limits | 100k pages in the entry level plan. | 400k pages in the starter plan. |
| Rank Tracker | 500 keywords in Pro plan | 300 Keywords in Standard plan |
Winner – Moz wins in one aspect, which is crawl limits. Other than that, Semrush offers better value for money and is more cost-effective than Moz.
Semrush Vs. Moz – Data Accuracy
Data accuracy is closely tied to the strength of databases that tools maintain. As we have discussed above, Semrush has a larger database than Moz, which results in slightly better data accuracy in Semrush. But some users have raised concerns that its paid search and social media data is less accurate than other tools. Overall, Semrush is slightly more accurate than Moz.
Semrush vs Moz: Ease of Use
The efficiency of an SEO tool directly correlates to user interface and ease of use. Semrush and Moz both yearn to provide the highest levels of customer satisfaction. Let's check out how they fare in terms of ease of use.
Semrush Ease of Use
Semrush boasts a modern and intuitive interface. Each section is carefully placed, keeping in mind the accessibility of the features.
Similarly, every search on Semrush is followed by detailed graphs and charts, so Semrush also scores well in terms of data visualization. Also, Semrusn follows a one-click approach to provide all the relevant data – lesser shifting or navigating to different sections. In Moz, users usually have to dig a bit to uncover all the relevant details.
Moz Ease of Use
Moz has a grid layout and lists all its features at the top. The screen is further divided into two parts – the left pane lists additional sub-menus while the right pane displays the relevant data, charts, and graphs.
I found the interface a bit old-fashioned and lacking the smoothness that latest-generation SEO tools include. Similarly, data visualization is also not well defined and, at times, seems cluttered.
However, the interface quickly presents all the relevant data, so, in my view, the speed of the Moz Interface is something that deserves appreciation.
Winner – Semrush has a better interface than Moz and offers more ease of use than its rival.
Semrush vs Moz Customer Support
Semrush and Moz maintain a robust customer support structure, but Semrush outdoes its rival by a significant margin. Let's explore why;
Semrush Customer Support
You can reach Semrush customer support via phone, email, and chat. So, there are plenty of options to avail of support in Semrush. Besides, Semrush also includes a help center and Semrush Academy. The former lists detailed guides and how-to articles to effectively utilize the Semrush platform, while the latter feature numerous courses to advance your understanding of SEO and digital marketing.
Moz Customer Support
Unlike Semrush, Moz only provides a single avenue to obtain support or assistance. It only has email support, which is disappointing given the stature of the tool. Moz also manages a help hub that includes all the support material regarding the working of the Moz tool, but there is no counterpart for Semrush Academy in Moz.
Winner – Semrush comes out way ahead in terms of Moz with its multiple avenues to provide customer support.
More Comparisons:
Semrush vs Moz – Final Verdict
It comes out that both Moz and Semrush are powerful and are equally equipped to handle most of the SEO tasks. However, the value for money you receive from Semrush (a large number of features for SEO, SEM, PPC, and Social Media) is far greater than Moz. Semrush stands out for its superior keyword research, domain analysis, and site audit capabilities. In contrast, Moz needs a better dashboard, more extensive link analysis, and reporting capabilities.
In short, pick Semrush for its;
Extraordinary research, audits, and link-building capabilities.
More intuitive interface and seamless working.
More features in terms of PPC, social media, local SEO, etc.
Pick Moz for its;
Slightly cheaper entry-level plan.
More flexible crawl limits.
Powerful link analysis features.