SEO is ever-evolving, and its dynamics shift swiftly. A robust SEO Reporting Tools enables you to stay ahead of the curve.
Reporting is the crux of any meaningful SEO strategy. Without the right data, you will be aiming in the dark and wasting your marketing budget. A detailed SEO report lets you look deep into what's working and what's not.
With the right SEO report, you can timely adjust your tracks, implement the needed changes and mitigate potential ranking issues. And for that, you need the right SEO reporting tool.
In this article, we will explore the best SEO reporting tools geared for delivering top-notch results.
Best SEO Reporting Tools (In a Nutshell)
This section includes a quick summary of the best SEO reporting tools included here:
| S. No. | SEO Reporting Tools | Description |
| --- | --- | --- |
| 1. | SEMrush | Comprehensive SEO reports and insights. |
| 2. | Mangools | User-friendly SEO toolset with intuitive reporting features. |
| 3. | SEObility | Technical on-page SEO analysis and reporting |
| 4. | Google Data Studio | Customizable reporting for SEO data. |
| 5. | SEOZoom | Powerful SEO platform for data-driven decision making. |
| 6. | SE Ranking | Competitive SEO analysis tool with dedicated reporting feature |
| 7. | Screaming Frog | Crawler for technical SEO auditing and reporting |
| 8. | Conductor | Enterprise-level SEO platform with actionable insights and reports |
| 9. | SEO Site CheckUp | Diagnostic tool for SEO auditing. |
| 10. | Raven Tools | Enterprise level integrated SEO reporting. |
Top SEO Reporting Tools In 2023
SEO reporting tools can vary in features and functionality. Here's a detailed overview of top SEO Reporting tools geared toward delivering top-notch results.
1. Semrush
Pricing – $119.95 (Pro) to $449.95 (Business) per month.
Use Semrush for its ultra-detailed SEO reports and extensive functionality.
If Semrush tops every SEO tools list, there's a reason for that. It packs features you won't find anywhere else. Likewise, its robust reporting dashboard impresses too. Semrush provides detailed insights into various SEO aspects, including traffic, ranking, backlinks, site audits, and more.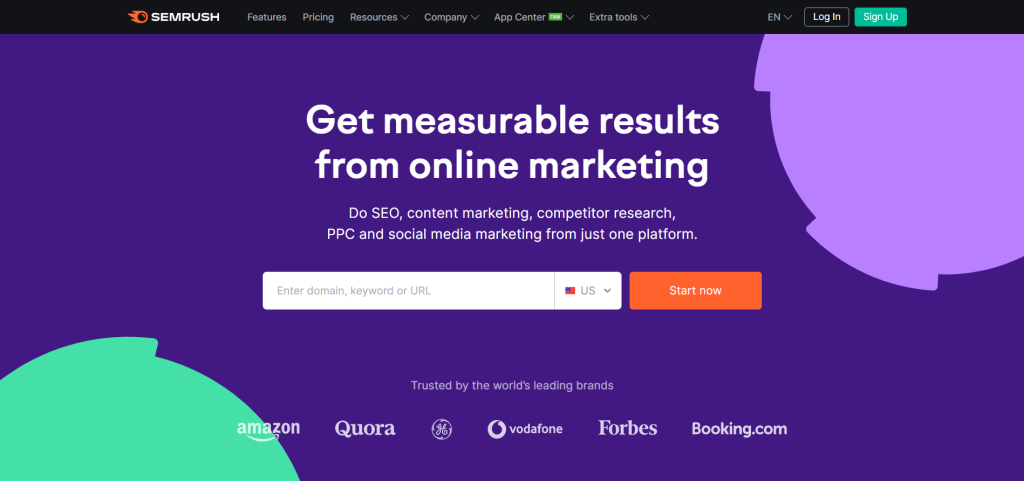 On top of that, Semrush also allows white-label SEO report creation, with specific customization features to tailor it for specific clients. And as a cherry on top, you can also schedule SEO reports for automatic delivery.
Features
Allow building SEO reports from scratch or with the aid of interactive templates.
Lets you pull data from multiple sources like GSC, Google Analytics, GBP, etc.
Custom themes with white labeling to create brand-specific SEO reports.
Scheduling option to automate the delivery of SEO reports.
Interested In Building Solid Backlinks? Read Our Extensive Guide On Link Building Strategies
2. Mongools
Pricing – $29.90 (Basic) to $89.90 ( Agency) per month.
Use Mongools for its simplicity and powerful SEO features
If you are just venturing into the SEO arena, Smerush can be a bit overwhelming. For those, there is Mongools – a simplistic SEO tool with powerful features and a user-friendly interface. It's an ideal solution for entry-level SEOs, marketers, and bloggers.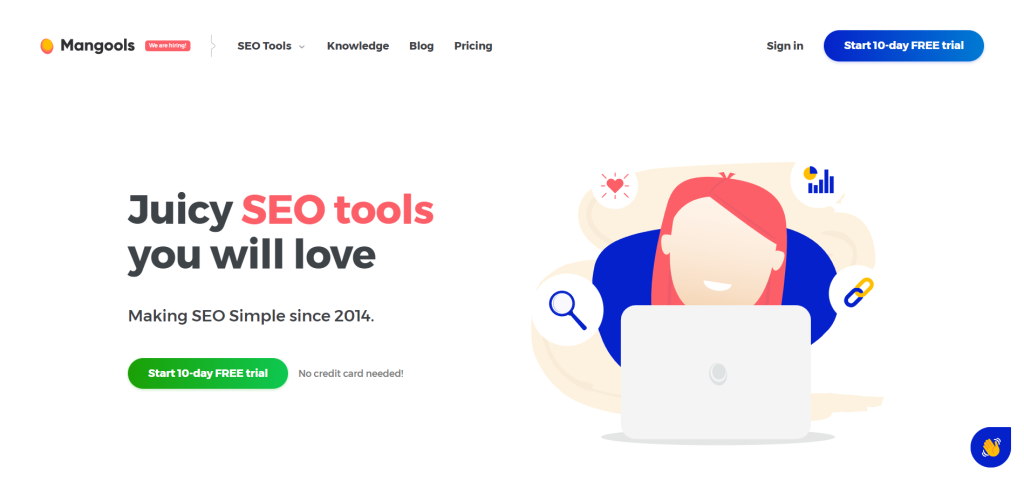 Moreover, Mongols includes a dedicated reporting module known as SERPwatcher. The feature offers concise, ultra-detailed reports, including ranking keywords, website traffic, and other SEO metrics.
Likewise, the reports are customizable and can be white-labeled for client sharing. You also get the option of automatic delivery via email.
Features
Email alerts are included to stay updated on any developments in SERP or the website's SEO.
In-browser reports with the latest data. Also, it can be refined to access details for specific time frames.
Emphasize interactivity. Lets you easily share keyword details, ranking details, and the overall impact of the SEO efforts.
Event-based automatic alert to inform you about rank changes in SERP.
3. Google Data Studio
Pricing – Free to use.
Use Google Data Studio for its powerful data visualization features and interactive SEO reports.
Google Data Studio is an incredibly effective tool that tracks all the essential SEO KPIs from a single dashboard. But the most impressive thing about GDS is its powerful visualization features with the ability to create custom dashboards and generate interactive SEO reports.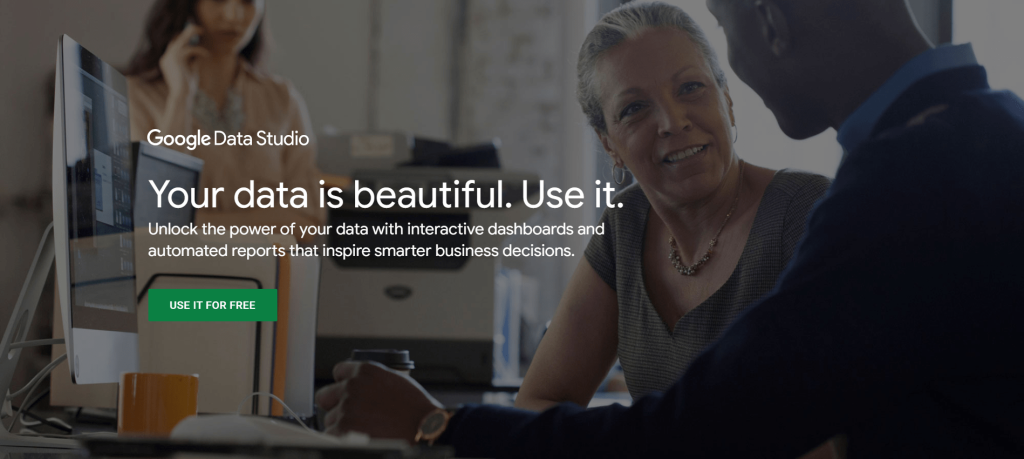 However, its dexterity doesn't end here – you can integrate Google Data Studio with multiple third-party tools and apps. Consequently, you can fetch data from multiple sources and have a more elaborate overview of your website's SEO.
Likewise, it also includes intuitive customization features to let you make SEO reports more insightful. It ultimately assists you in making data-driven decisions and implementing an impactful SEO strategy.
Features
Multiple visualization features, including line charts, tables, and heat maps, to easily understand and communicate data insights.
Allow implementing automatic updates that timely alert you for any changes in the website's SEO performance.
Intuitive features like data range controls help you refine your reports further.
Customizable Dashboard that allows you to populate it with SEO KPIs that matter to you.
Hassle-free integration with multiple data sources for more extensive data.
4. SEObility
Pricing – $50 (Premium) to $250 (Agency) per month.
Use SEObility for its user-friendly working and insights reports on Competitors.
SEObility is all about website optimization. It's an amalgamation of multiple SEO tools that tackle one aspect of SEO. However, SEObility particularly stands out for its user-friendly interface and hassle-free navigation.

Regarding its reporting capabilities, SEObility reporting features provide a detailed overview of a website's health, ranking keywords, and technical SEO. Additionally, you can also generate detailed reports on competitors. It will allow you to compare SEO strategies and find loopholes that may be detrimental to your website's SEO.
Features
Detailed on-site audits and reports.
Precise rank tracking, including data from multiple search engines and locations.
Extensive backlinks analysis and monitoring.
5. SEOZoom
Pricing – € 59 (Lite) to € 569 (Corporate) per month.
Use SEOZoom for its all-in-one functionality and in-depth SEO reports.
SEOZoom is an all-in-one SEO tool with a range of features to track and measure SEO performance. It allows its users to analyze and report key SEO metrics to achieve better search ranking.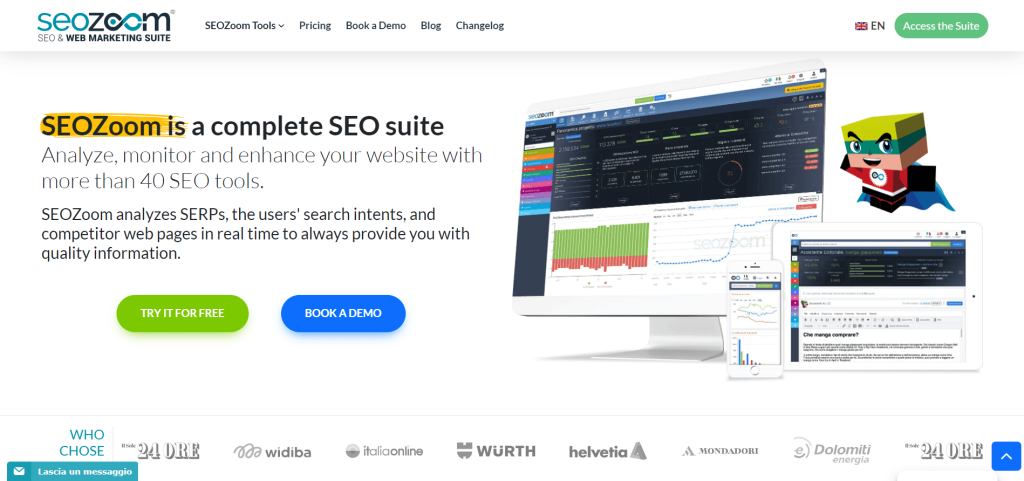 But the most striking feature of SEOZoom is its intuitive reporting dashboard that offers an at-a-glance overview of technical and on-page aspects of a website's SEO. Its reporting dashboard further allows you to customize and filter the data as needed.
Features
Provide a concise overview of your website's health.
Intuitive Time Machine features to measure traffic drop at particular instances in time.
Allow report customization to meet clients' needs.
Allow automatic email scheduling for easy updates regarding SEO strategy and developments.
6. SE Ranking
Pricing – $31.20/month (Essential) to $151.20/month (Business)
Use SE Ranking for its extensive features and intuitive SEO reports.
SE Ranking has positioned itself as a top drawer in the SEO world. But its notoriety also stems from its unprecedented SEO reporting capabilities. It includes a dedicated SEO report generator that takes into account all the SEO vitals and presents data-rich and easily readable SEO reports.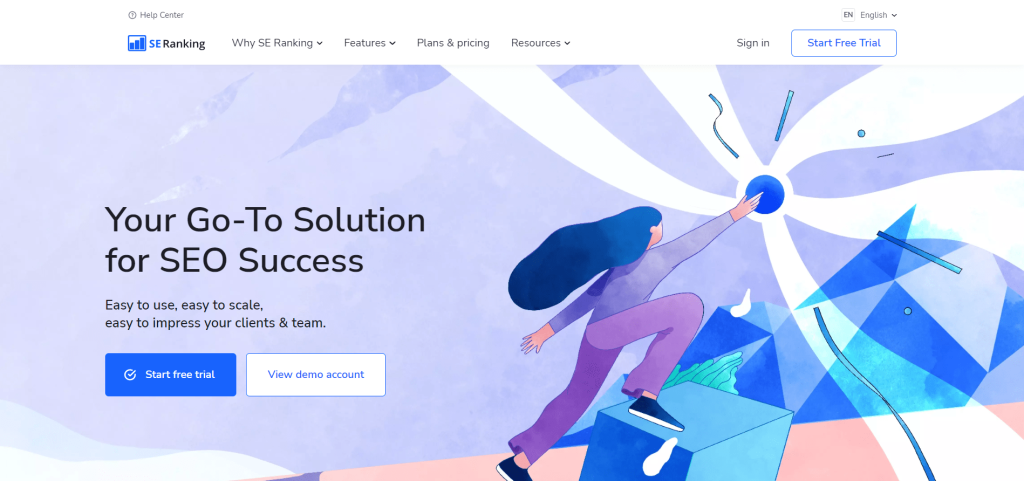 To top it off, SE Ranking doesn't put a cap on report generation. You can go on until you come up with SEO reports that cover every SEO matrix important to you. And to make it more interactive, you can customize the SEO reports with logos, custom covers, etc.
Features
Stand-alone SEO Reporting utility for report generation.
Cover all the vital data about competitors' ranking, traffic and conversion, and technical issues.
Automated reporting to keep the clients and collaborators in the loop.
Allow building reports from scratch or via pre-built templates.
Allow exporting reports in pdf and .xls format for easy sharing over email.
No additional cost for an SEO reporting tool.
7. Screaming Frog
Use Screaming for insightful technical SEO reports and analysis.
Screaming Frog is a reliable SEO tool specializing in technical SEO analysis. Likewise, it's a valuable tool for SEO reporting as it provides a comprehensive analysis of a website's technical SEO performance. Moreover, the tool also allows users to identify and fix SEO issues that might hamper a website's growth in SERP.

Additionally, Screaming Frog SEO reports also include key insights and data about page titles, broken links, header tags, meta descriptions, etc. Its reports also include details about duplicate content and other technical issues that could harm a website's SEO in the long run.
All in all, Screaming Frog is a valuable SEO reporting tool ideal for businesses and marketers looking to gain unprecedented insights into the technical aspects of their website's SEO.
Features
Site visualization feature to better understand the positives and negatives of a website's technical SEO.
Allows integration with PageSpeed Insights, Search Console, and Google Analytics for more exhaustive reports.
Allow Google Data Studio Crawl report for hassle-free access to the crawl data.
8. Conductor SEO
Pricing – Reach Out to The Support Team For Price Quotes
Use Conductor for advanced SEO insights and thorough SEO reports.
If you yearn for an enterprise-grade SEO and content reporting tool, look no further than the Conductor. It promises advanced SEO insights, timely suggestions, and thorough reports to conquer every hurdle that might come your way doing SEO.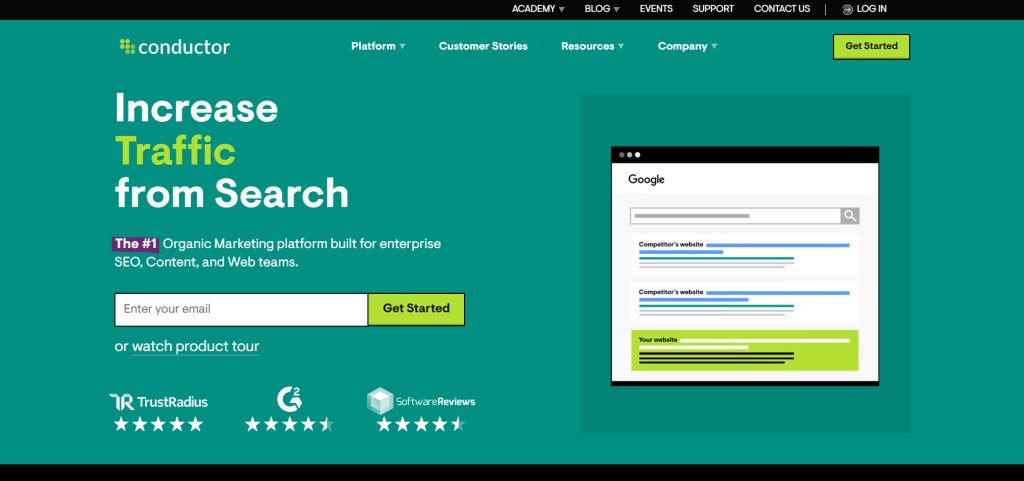 Above all, the Conductor denotes its powerful resources to generate ultra-detailed SEO performance reports. You can automate the process, create custom reports and share it with your team or client for hassle-free collaboration.
Features
Detailed reports with key KPIs for tracking organic performance.
Easy integration with web analytics tools for measuring the cross-channel impact of your SEO strategy.
Automation to timely detect changes in content optimizations and measure how it impacts the website's ranking.
Customizable report template for easy aggregation of data.
9. SEO Site CheckUps
Pricing – $29.95 (Basic) to $89.95 (Professional) per month.
Use SEO Site CheckUps for its accurate data and detailed reports.
The name may be a mouthful, but SEO Site CheckUps offers a quick and straightforward approach to measuring various SEO KPIs. Simplicity apart, the tool includes tons of tests to measure and evaluate every detail that could impact a website's SEO performance.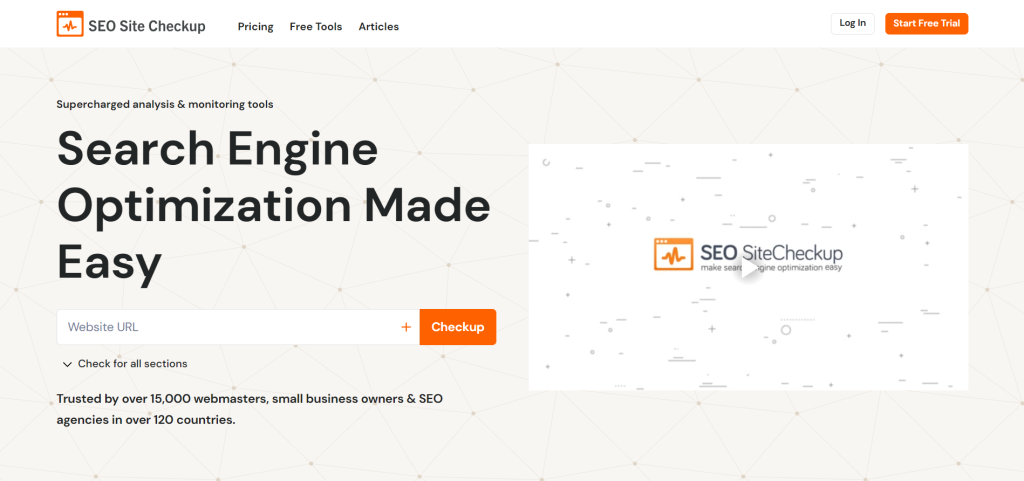 But above all, it's the speed and the detailed reports that are most impressive about SEO Site CheckUps. With exhaustive SEO reports, you can monitor keyword performance, track ranking in SERP, and easily identify areas for improvement.
Features
Powerful servers that return the most accurate SEO data within minutes.
Cloud-based storage that allows hassle-free access to previous SEO reports.
Provide automation features for weekly SEO checks and reporting on autopilot.
Allow easily customizable white-label SEO reports for hassle-free sharing with clients and partners.
Lists all the technical shortcomings that might be hampering your website's ranking.
10. Raven Tools
Pricing – $39 (Small Business) to $399 (Lead) per month.
Use Raven Tools for its White Label SEO Reporting
Raven Tools is another enterprise SEO solution with excellent reporting capabilities. It particularly excels in white-label SEO reporting. What's impressive about Raven Tools is that it focuses on not only report generation but also organic growth via precise data.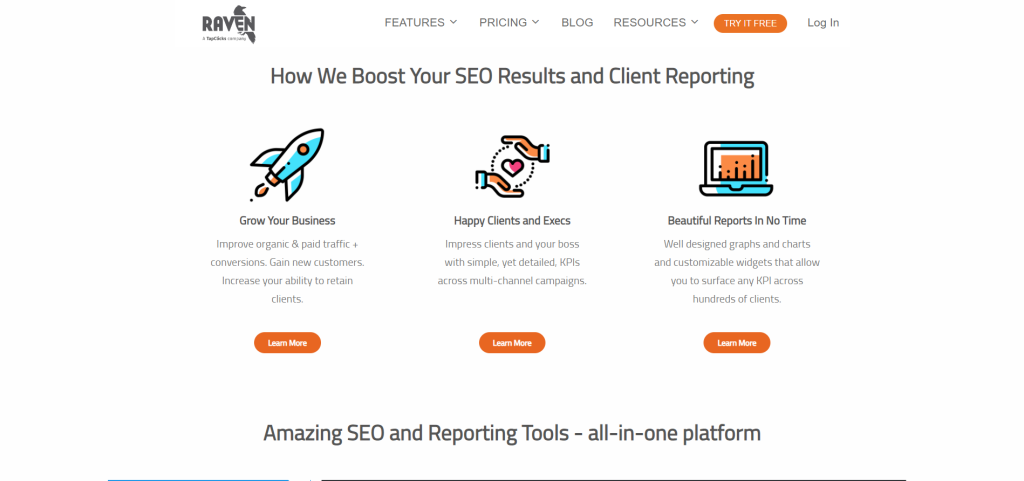 Consequently, it covers everything in its SEO report allowing a 360° overview of a website's SEO. Additionally, Raven Tools also allows the integration of multiple marketing tools and apps to populate reports with in-depth enriching of the report's extensive data points. This facilitates better decision-making, translating to a higher ranking in SERP.
Features
Offers branded and white-label SEO reporting.
Drag and Drop Editor to create custom reports with essential metrics.
Automation features to retrieve data about SEO, Social, PPC, etc., on autopilot, neatly stacked in a well-organized report.
Accurate data to facilitate the right marketing decision.
What to Expect and Look for in the Best SEO Reporting Tools
It is a tough decision to choose between the Best SEO Reporting Tools. These reporting tools analyze and track essential SEO metrics like visits, ranking, URLs, backlinks, keyword usage, etc. These metrics provide valuable insights that can increase the website's overall performance.
When you are looking for an SEO reporting tool, there are several features that you must take into consideration before selecting one.
Ease Of Use: The tool must have a user-friendly interface that makes the data easy to find and navigate.
Comprehensive Data and Accuracy: An effective reporting tool must provide various data like competitor analysis, backlinks, keyword ranking, etc. The data provided by the software must be relevant and accurate so that one can make an informed decision about his website.
Customizable Reports: Search for the software that allows the customization of reports according to your needs. Customization enables you to focus on the metrics that are important and relevant to your website.
Competitor analysis: A good SEO reporting tool should be able to analyze and provide insights about your competitors' strategies, including backlinks, keywords, ranking and other metrics.
Integration with other tools: Integration allows data consolidation from various sources like Google Search Console and Google Analytics, creating a comprehensive view of your SEO performance.
White Labeling and Branding: If you provide SEO services to clients, ensure that the reporting tool you select offers branding and customization of your logo, ensuring consistency. (No client would like a Google logo on the top of their website's report)
Also Read:
Conclusion– SEO Reporting Tools
SEO reporting is an indispensable component of any good SEO strategy. However, without a quality SEO reporting tool, you cannot retrieve the required precision and depth in data that could offer any useful insights.
Thankfully, there are tons of SEO reporting tools to effectively track SEO progress and measure the effectiveness of SEO efforts.
In my opinion, these are the best SEO Reporting Tools;
SEMrush – Primarily for its data accuracy and unprecedented functionality.
SE Ranking – Equally intuitive as Semrush but a more cost-effective solution.
Raven Tools – Pick it up for its white-label SEO reporting.
Why wait, then – choose the one that fits your needs and utilize the data to refine your SEO strategy to achieve better results.