If the website is an office space, then WordPress a construction company. While SEO could be that benevolent employee who calls for visitors – screaming out the office window.
Funny allegory, but we take that as you are already here looking for a checklist for WordPress SEO; you are aware of both WordPress and SEO (and a checklist). And you are looking for it because you know that the value of the #1 position on Google is 34% of the organic traffic! 
In this comprehensive guide on optimizing WordPress for SEO, we cover the steps you need to know before and after releasing a website. We, also, take you through WordPress SEO tips for content. And, lastly, end the debate on "Whether to implement WordPress SEO with or without plugins?".
But just for the sake of primer, let's start with dusting off the basics.
What does WordPress SEO mean?
WordPress is an open-source Content Management System (CMS) that allows you to build and host websites. While SEO (Search Engine Optimization), is all the activities you do to improve any website's visibility.
Informally entwined, the term 'WordPress SEO' means the practices and processes implemented to boost the chances of your WordPress website being shown to your target audience on search engines.
Is WordPress good for SEO?
Short answer: Yes, WordPress is good for SEO!
WordPress is not the only CMS but it's arguably the most versatile. Its user-friendly themes come readymade with features to customize SEO elements from the get-go. Moreover, WordPress offers a range of SEO plugins that keeps updating with search engine algorithm announcements. No surprise, with over 60% CMS market share, WordPress just dominates the SEO-scape [2].
Now, convinced that WordPress makes sense for building an SEO-optimized website, let's dive into its exact steps.
How to implement SEO in WordPress?
Now, coming right at the WordPress SEO Checklist.
First, we'll take up the essentials and tech aspects that go into the backend as the foundation of the website. Then we'll move to the content creation part that your user interacts with first-hand.
Starting with the basic must-haves for WordPress SEO –
Essential WordPress Technical SEO Checklist
Lets have a look at the essential WordPress Technical SEO Checklist in detail.
1. WordPress theme
By default you get the "Twenty Twenty-Something" theme on WordPress but it's not necessarily the best for SEO. You can choose from the thousands of free and paid themes on WordPress for SEO optimization and test their demo site performance on Google PageSpeed Insights.
2. SEO plugin
Whether you are new to WordPress SEO or a Pro, it helps to have an SEO plugin that can quantity SEO optimization, alert of misses, and help customize quickly.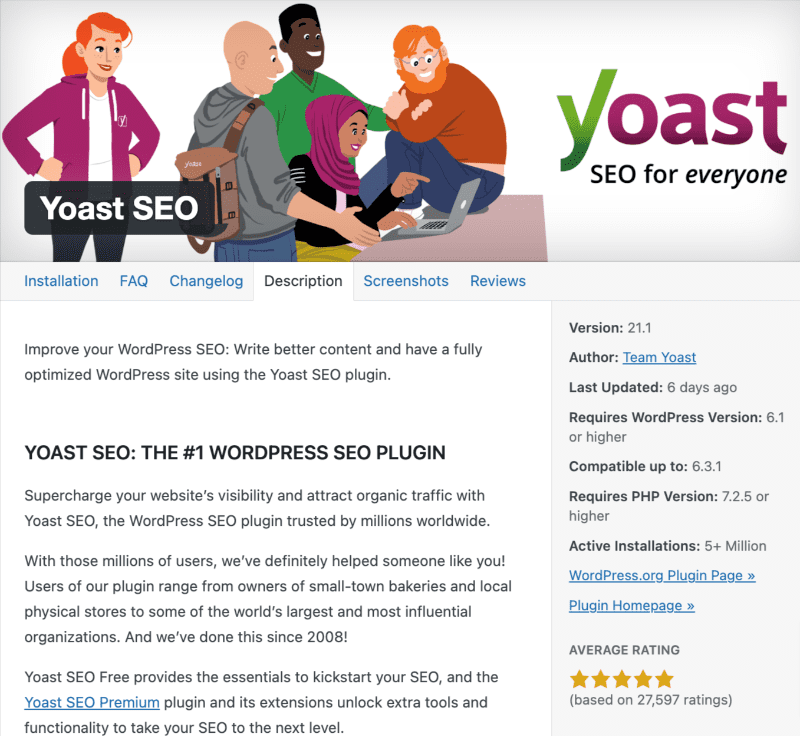 Over the years, Yoast SEO Plugin has turned out to be the most popular and reliable.
3. Domain
Most common requirements for choosing a domain are: keep it short, relevant to the niche, and have no symbols or stylized spelling. If you plan to rely on organic growth only, it wouldn't be an overstatement to suggest that pick your brand name basis domain available.
4. Hosting
Your hosting provider affects many things related to SEO— especially site speed, uptime, and security. Also, keeping CMS compatibility in mind, you can look into hosting providers recommended by WordPress itself: Bluehost, DreamHost, and Siteground
5. Google Search Console
For keeping track of and maintaining your site health, linking your website to Google Search Console is imperative. It not only provides information on Tech SEO aspects (indexation status, crawl errors, top referrers, etc.) of WordPress sites but also, signals Google crawler of any new page made live (with XML sitemap).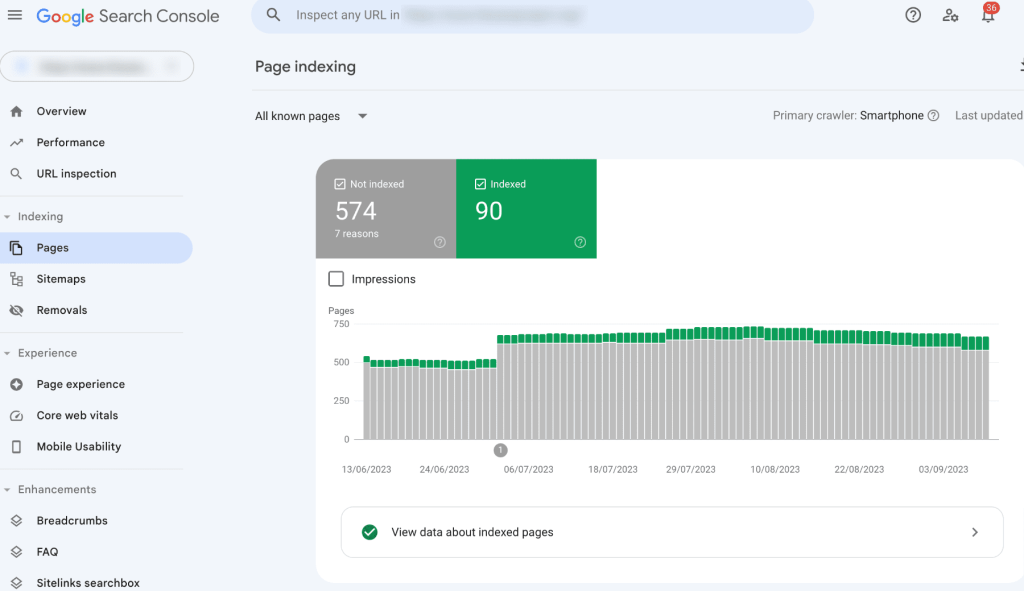 6. Responsiveness
Users could be accessing your website on a desktop, mobile, iPad or other devices of different screen sizes. As Google has been increasingly putting emphasis on user experience, it makes sense to make your website device responsive from the beginning.
7. SSL Certificate
Don't you get spooked when landing on a website, the URL bar alerts it of being 'Not Secure'?
Even though your website may be harmless to visitors, Google considers it a must to encrypt it with an SSL (Secure Sockets Layer) certificate. It sounds technical, but it can be done easily by one of the many WordPress SEO plugins for free!
8. XML Sitemap
XML sitemaps are basically a to guide for search engines to discover the pages on a website. You can create on with either Google Sitemap Generator or a WordPress plugin.
It's advised to update your site map periodically especially if you add lots of pages to your website.
9. Robots.txt
Depending on the purpose of the website, you might be looking to make some pages public, and keep some private. May even want crawlers to stay away from specific pages like an admin section. Having a robots.txt file would come in handy in directing crawler bots on whether to crawl and index specific parts of a website or not.
So far so good?
Till now we understand the essentials to make a website live and running. But what engages users is the content on your website – especially blogs.
A HubSpot survey revealed: "about 90% of the leads they generate every month come from blog posts published in previous months." So, next, we touch upon WordPress SEO tips for blogs. Actually, these apply to any content on your website.
WordPress Blog SEO Checklist
Start with locking on your niche and target audience. Plan what topic you want to write about, then go for the following optimization:
1. Keywords
Let's look at the important factors that you need to keep in mind.
1.1 Keyword research
What keywords are needed to rank for or what in-demand topics to write for can come from doing keyword research. Each page should be targeted to rank for a couple of keywords that ideally should have a balanced volume vs difficulty level.
There are ample of keyword research tools available in the market but Semrush is the best tool for keyword research.
Bonus: See how you can use ChatGPT for Keyword Research.
1.2 Keyword density
Once you lock in on a set of keywords for a topic, aim to use them in your content naturally. While having keywords in headers, slug, and metadata is helpful, it should be done cautiously to avoid keyword stuffing.  
To know more about keyword density read our article on how many keywords should a page target.
2. Content
Before Writing Content you need to make sure certain things are done in a certain manner, lets look at it below.
2.1 Header tags
Header tags help to assign a hierarchy of content flow and break text for better readability. It also enables readers to skim through the content.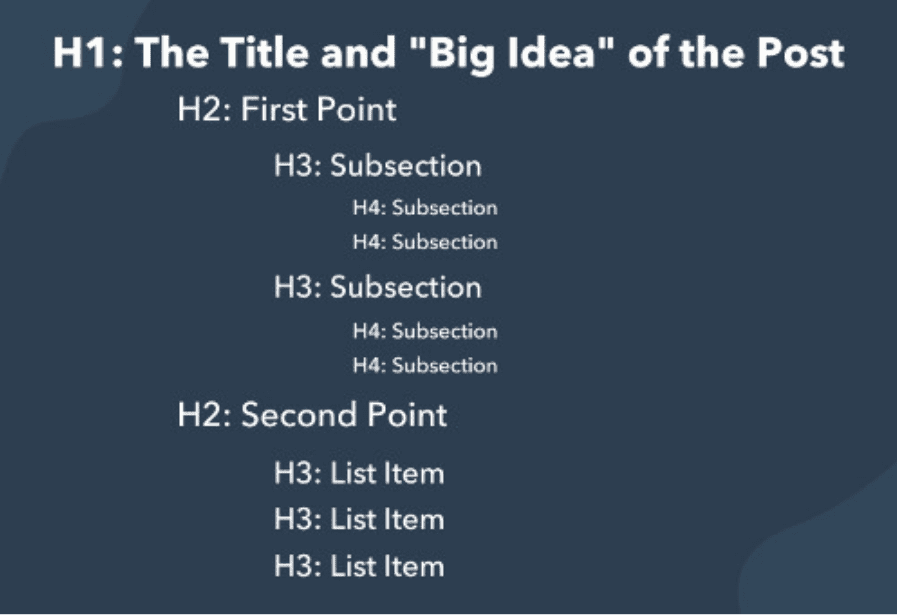 You can have only one H1 but multiple H2s, H3s, H4s, and so on. Clearly, H1 holds the most importance and others in decreasing order.
2.2 Body copy
This is the part where you have the most liberty of being creative with keywords.
However, for SEO, it's suggested to make your body content easy to read by dividing it into smaller sections (that's why the emphasis on headers). Avoid lengthy paragraphs and write in the tone of your reader.
2.3 Internal and external linking
Interlinking within the content on the same domain is great for navigational and contextual purposes. While external links are recommended to highlight the trustworthiness of the material.
If you are linking another website on your content, make such links 'open in a new tab' or just mention them as resources at the bottom of your content.
Optimizing the content for Search Engine is important for attracting organic traffic, improving online visibility, and growing your audience. Hence, we have compiled a comprehensive guide to optimize content for SEO.
2.4 FAQs
Including a FAQ section at the bottom of your content serves as what manuals for using a product do on its packaging.
In addition, for almost every keyword you put on Google, People Also Ask is returned. These questions are what people are looking to be answered in relation to your topic. Include these questions with their answers as part of FAQs on your blog.
3. Rich-media
To make your article look attractive and pleasing you have keep these things in mind. Let's look at all those things.
3.1 Featured image
You must have noticed an image showing up when you share a link to chat apps. That's the featured image of that webpage. It's like a visual identity of that page.
3.2Images optimization
To optimize images, write a descriptive file name as well as an alt tag and caption. It's also important to have images in the right format and optimal file size as they impact the page loading speed.
3.3 Other multimedia files
While images and infographics are the most popular form of rich media, SEO also favors other multimedia like videos, audio, and interactive widgets. So, if you plan to use them, optimize their format, size, naming, and description as well.
3.4 Meta data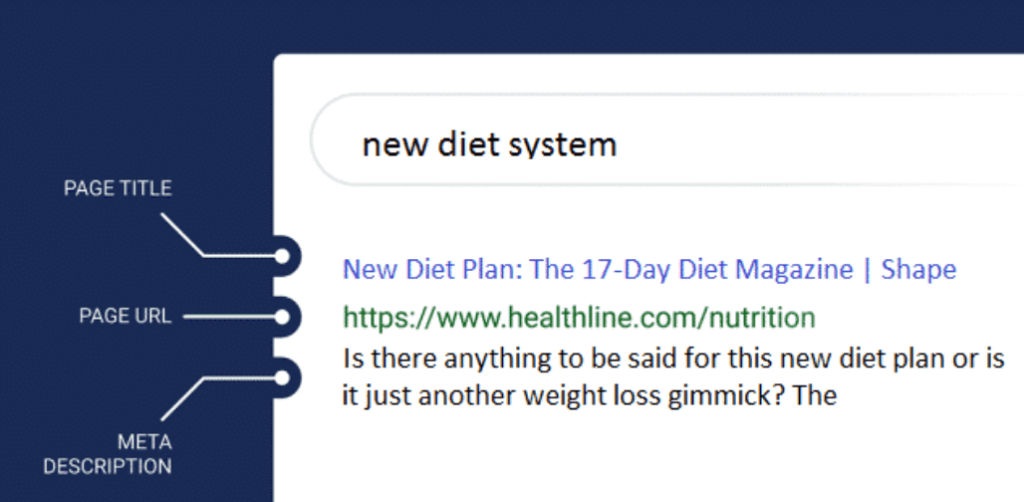 When searching anything on Google, each listed result includes three things:
Meta title:
This may or may not be the same as H1 of the blog. Its ideal length is up to 60 characters.
URL:
While the domain and directory is usually fixed for each blog, the slug of a URL remains in your control. Slugs should be three to five words long and include keywords.
Meta description:
This WordPress SEO element is your opportunity to write promotional text to attract users. Its ideal length is around 160 characters.
Note that the meta description is dynamic in nature; Google may show your created meta description or any other text from your content basis the user query.
And that's the end of the WordPress SEO Checklist!
Well, one can only wish so. But the fact is that SEO is a dynamic process and webmasters need to be on top of all the updates to customize their SEO metric for the best possible result. Still, this list of activities should give you a fair idea of what all you need to look into to optimize WordPress for SEO.
Common WordPress SEO mistake
Despite having WordPress SEO Checklist many miss out on the finer optimization opportunities. Some of them, which we've listed below, are quite common among WordPress SEO beginners.
1. Not optimizing with page speed in mind
To ensure your WordPress site's high speed consider minifying code, using a CDN, installing caching plugin, etc.
2. Not performing link hygiene regularly
To deal with broken links, un-indexed links, misspelt links, etc. periodically run website-wide link audits to diagnose and fix them.
3. Not updating old content
The pages which are not garnering any traffic, either cull or merge them with similar ones. For blogs that contain factual information, simply update the factual information.
4. Not using schema markup
Using Schema Markup in pages helps search engines characterize and categorize the content of web pages like reviews, FAQs, products, events, etc.
5. Not having 404 page
Having a customized 404 Page can reduce bounce rates by taking users from an unavailable page to the front page or any other relevant page.
WordPress SEO Without Plugin vs With Plugin
The WordPress SEO Checklist mentions using WordPress plugins a couple of times for efficient SEO optimization. But you may have also heard that WordPress plugins are like loads that your website has to carry to maintain itself. So, should you go for WordPress SEO with or without plugins?
Well, the answer is rather simple – SEO plugins are helpful for users with little to no WordPress coding skills. But for those with more skills, SEO plugins can be redundant. And as a website owner, you know yourself and your resources the best. So, choose (or invest) wisely.
Related Read:
Conclusion: WordPress SEO Checklist
The impact of the WordPress SEO Checklist is not in implementation but in iteration.
– You can ensure the site's health is good with regular SEO hygiene checks. Publish unique, trustable, and engaging content. You can even master WordPress SEO to a level when you do it without any plugins. But, after the first push of SEO, if you stagnate then it's not going to bore the expected results.
With that, we hope that you check all the boxes of WordPress SEO on your website. Make informed decisions about maintaining the site's health. And churn out content to keep the internet interesting. Good luck!
FAQs
Does WordPress have SEO?
Yes! WordPress has built-in SEO features and can be optimized for better search engine ranking.
Is WordPress bad for SEO?
WordPress itself is not bad for SEO, it depends on the person who builds and managers the WordPress site.
What are SEO tools in WordPress?
SEO tools in WordPress enable features to optimize and customize various SEO metrics including keywords, images, URLs, etc. These are available as WordPress SEO plugins.
Which SEO plugin is best for WordPress free?
The best SEO plugin for WordPress would depend upon your need, skills, and budget. That said, Yoast SEO is the most downloaded SEO plugin for WordPress.
How long does it take for WordPress SEO to show results?
The efforts of WordPress SEO to show results depend on various factors like what, how, and when of implementation. Plus, the niche of your website as well. Still considering an ideal situation, typically a new SEO-optimized WordPress website should bring in visible results in 3-4 months.