Keyword research is one of the most important aspects of SEO and content marketing.
Choosing the right keywords to target can make or break your content and search engine optimization strategies. There are many keyword research tools available to help you find low-competition, high-volume keywords that will bring qualified traffic to your site.
In this article, we will look at 9 of the best keyword research tools and how to use them for effective keyword research.
9 Best Keyword Research Tools in 2023
Here is the list of the best keyword research tools for your online stores and websites.
| S.No. | Keyword Research Tool | Ratings |
| --- | --- | --- |
| 1. | Keyword Magic Tool by Semrush | 4.9 |
| 2. | Ahrefs | 4.8 |
| 3. | Google Trends | 4.6 |
| 4. | Soovle | 4.7 |
| 5. | AnswerThePublic | 4.8 |
| 6. | ChatGPT | 4.4 |
| 7. | Keyword Surfer | 4.5 |
| 8. | AlsoAsked | 4.3 |
| 9. | TubeBuddy | 4.2 |
1. Keyword Magic Tool by Semrush
Semrush is one of the leading SEO and marketing suites, and its Keyword Magic Tool is a powerful keyword research tool. It allows you to generate keyword ideas by entering a seed keyword.
You can filter suggestions by search volume, competition (KD score), CPC data, and more. Keyword Magic also provides keyword difficulties, allowing you to gauge how hard it will be to rank for a given term.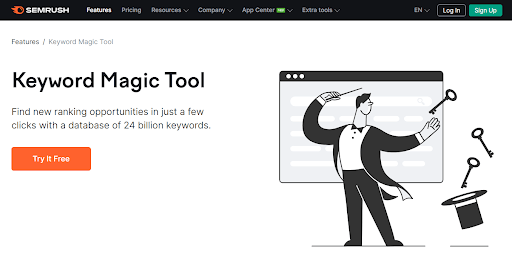 Beyond generating new ideas, Keyword Magic is great for doing in-depth keyword research. You can see historical statistics, search volume trends, and click-through-rate data. There are also related keywords and questions to help expand your research.
Overall, Semrush's Keyword Magic tool is incredibly robust while still being easy to use. It's one of the best options for comprehensive keyword discovery.
Key Features:
Generate keyword ideas by seed keyword
Filter suggestions by search volume, competition, CPC
See historical statistics and trends
Related keywords and questions
Drawbacks:
Requires Semrush subscription
It can be overwhelming with so many data points
Pricing: Starts at $129.95/month for Pro plan (Exclusive Free Trial Available)
2. Ahrefs
Ahrefs is another premium SEO tool with excellent keyword research capabilities. The Keyword Explorer tool allows you to get search volume, CPC data, and keyword difficulties for any term or phrase. You can easily filter keywords by difficulty, volume, CPC, and more to identify promising targets.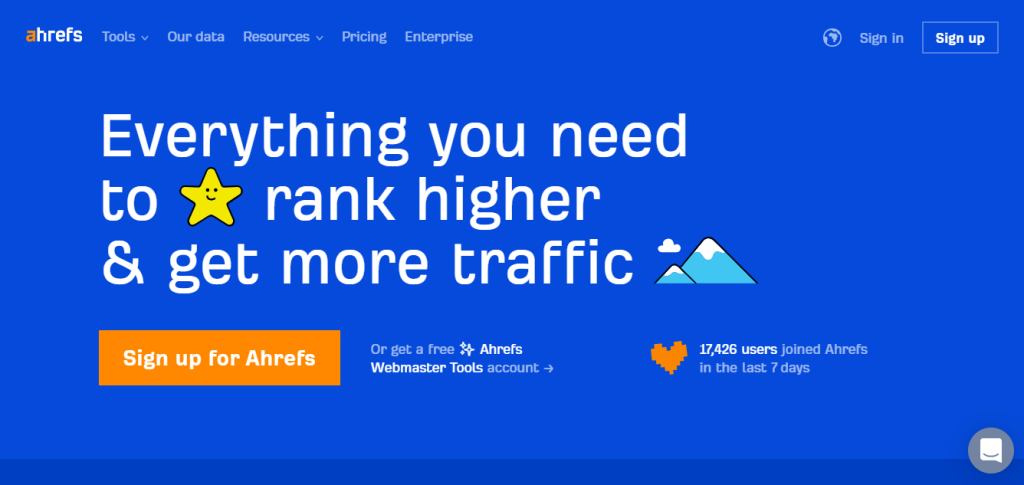 A key feature of Ahrefs is its ability to find "long-tail" keywords. These ultra-specific phrases tend to have lower competition while still driving targeted traffic. The tool makes it easy to build out expanded keyword lists with long-tail variants.
Beyond generating ideas, Ahrefs shows competing domains and top-ranking pages for keyword analysis. The tool is very intuitive while still providing the data you need for proper keyword evaluation.
Key Features:
Search volume, CPC, and keyword difficulty data
Filter keywords by difficulty, volume, CPC
Find long-tail keyword variants
Analyze competing domains
Drawbacks:
Doesn't provide search trends or seasonality data
Requires Ahrefs subscription
Pricing: Starts at $99/month for Lite plan
3. Google Trends
Google Trends is a free tool from Google that identifies search trends. It shows you search volume patterns over time for terms you input. This allows you to gauge seasonality and identify rising or declining search popularity. You can also see related keywords and compare search trends across regions.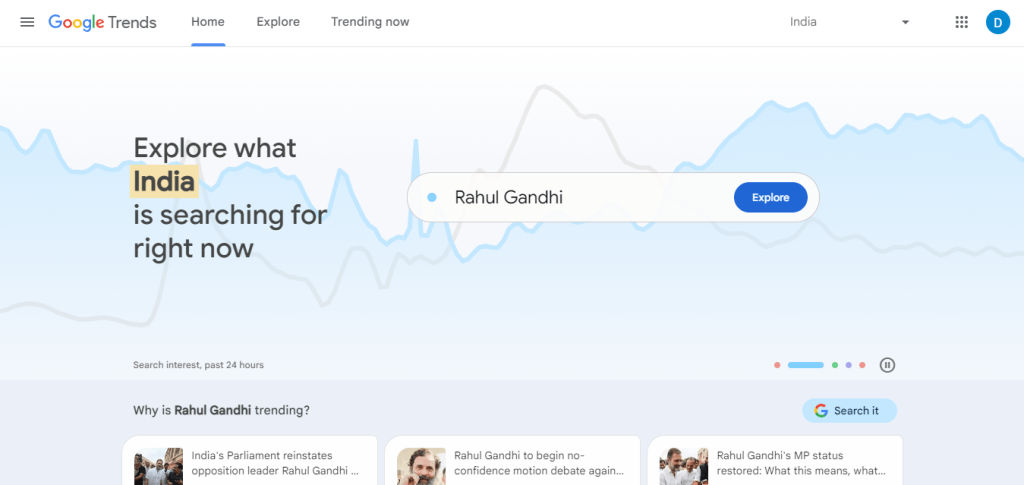 The insight from Google Trends helps ensure you target keywords with sufficient search volume. You can also find timely keywords around events, seasons, or trends by looking for rising popularity. While it doesn't provide competition data, Google Trends is an excellent free source of search volume metrics. It's very useful for initial keyword discovery and validation.
Key Features:
Search volume patterns over time
Related keywords and topics
Compare trends across regions
Free to use
Drawbacks:
No keyword difficulty or competition data
Limited keywords per search
Pricing: Free
4. Soovle
Soovle is a free online tool that makes keyword research simple and fast. You can input a starting phrase or URL, and Soovle will instantly generate hundreds of suggestions. It pulls keywords from both search autocomplete as well as related terms from Google Ads. The keyword ideas can easily be filtered by monthly volume to identify the best targets.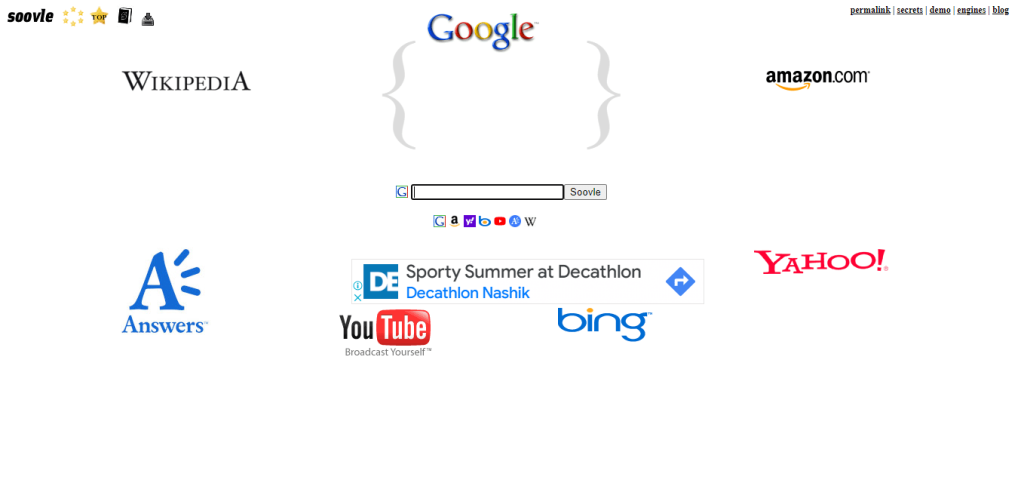 A useful feature of Soovle is that you can search for keyword suggestions by country. This allows you to tweak keywords based on search behavior in specific regions. Soovle won't tell you keyword difficulty, but the tool is great for quickly generating numerous keyword options. It's simple and intuitive for on-the-fly keyword discovery.
Key Features:
Generate hundreds of suggestions instantly
Filter by monthly search volume
Search by country/region
Completely free
Drawbacks:
No keyword difficulty data
Results can be overwhelming
Pricing: Free
5. AnswerThePublic
AnswerThePublic is a free keyword research tool powered by autocomplete data. You enter a broad topic or question, and the tool generates related keyword ideas in different formats (who, what, when, etc). This is extremely helpful for building out full keyword groups around a theme.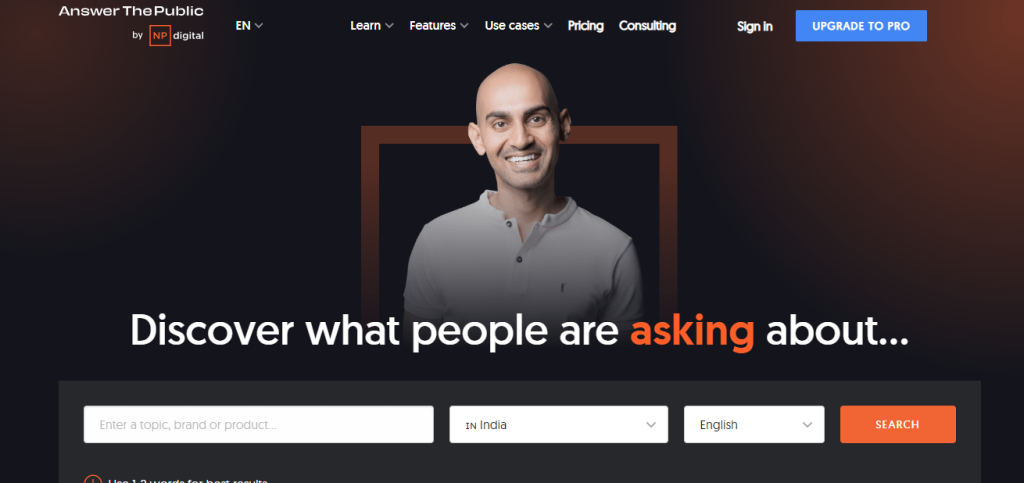 For example, if you entered "protein powder" as the topic, AnswerThePublic would return results like:
What protein powder is best
When to take protein powder
Who should use protein powder
And many more related ideas. You can easily cherry-pick the best keywords and use them to create content around sub-topics. AnswerThePublic is incredibly simple to use while generating excellent keyword suggestions you may not have thought of.
Key Features:
Keyword ideas in different formats
Easy to generate full keyword groups
3 searches free per day
Affordable pricing plans
Drawbacks:
No search volume or competition data
Pricing: Starts at $5/month for the Individual plan
6. ChatGPT
ChatGPT is a new artificial intelligence chatbot created by Anthropic. It's a powerful tool for on-demand content generation, but it can also help with keyword research. Simply describe the content you want to create and ask ChatGPT to suggest related keywords and search queries.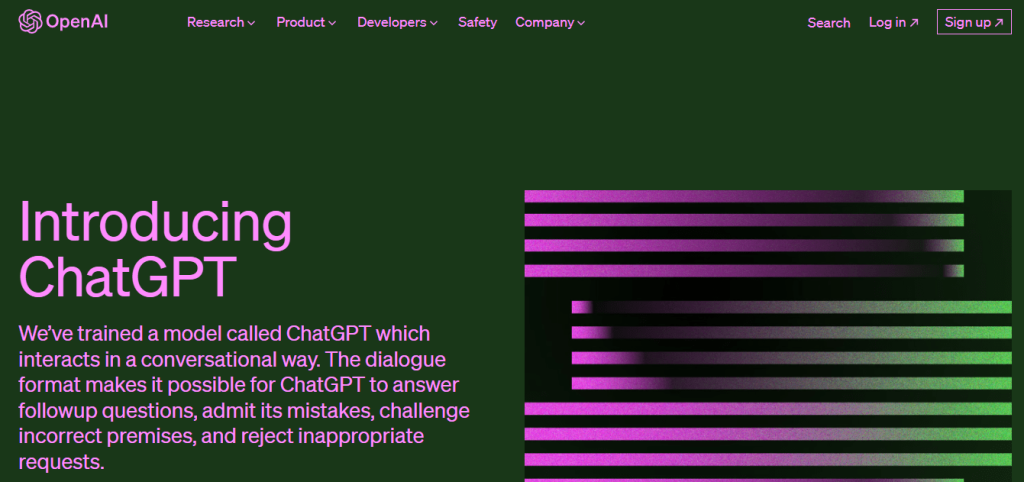 The AI will respond with a list of keyword ideas tailored around your desired content focus. While it doesn't provide search volume or competition data, ChatGPT can give you very natural keyword suggestions that real users would search for. It's a new way to effortlessly generate relevant keywords from a conversational interface. You can have a look at our detailed article where have also mentioned the steps to do keyword research with ChatGPT.
Key Features:
Natural keyword suggestions
Tailored to your desired content focus
Conversational interface
Drawbacks:
No search volume or competition data
Still in beta, can provide inconsistent results
Pricing: Currently free
7. Keyword Surfer
Keyword Surfer is a unique free keyword tool that leverages Google autocomplete for ideas. It is a Chrome extension offered by Surfer SEO that shows you related keywords and phrases that appear in autocomplete when a user enter a seed keyword. You can also generate keyword ideas from specific sites by entering a URL.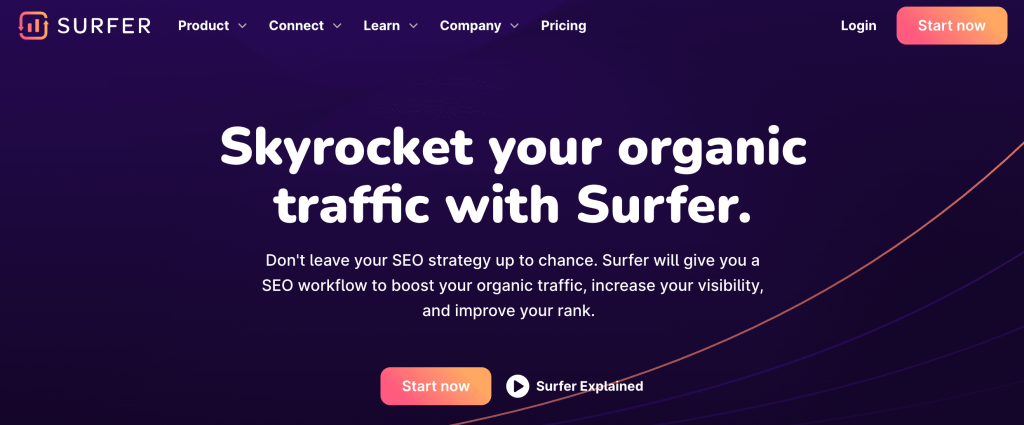 The tool provides estimated search volumes for the suggestions based on Google autocomplete popularity. Keyword Surfer is useful for discovering the keywords real people are searching for related to your topic. The ability to pull keywords from specific sites is also helpful for identifying targets visitors search for on those domains.
Key Features:
Leverages Google autocomplete
Estimated search volumes
Pull keywords from specific sites
Free Chrome extension
Drawbacks:
Limited features compared to paid tools
Autocomplete data is not always accurate
Pricing: Free
We have also reviewed the platform in detail. Click here to know more about Surfer SEO.
8. AlsoAsked
AlsoAsked is another keyword generator that uses autocomplete data, this time from Bing and Yandex as well as Google. It takes a starting keyword, and returns related questions and long-tail keyword ideas. You can filter results by word count to show only short or long-tail phrases.

The tool is free (3 searches per day) and very easy to use. While it doesn't provide volumes or difficulties, AlsoAsked is handy for quickly finding relevant long-tail variations around base keywords. The unique data sources it taps into provide keyword suggestions you may not see elsewhere. The tool is almost similar to AnswerThePublic, so you can use it as an alternative.
Key Features:
Uses multiple autocomplete engines
Related questions and long-tail ideas
Easy to filter by word count
Drawbacks:
No volumes or difficulty metrics
Pricing: Starts at $15/month for the Basic plan
9. TubeBuddy
TubeBuddy is a popular tool for managing YouTube channels, but it also has a Keywords Explorer for research. You can enter a base keyword and generate related long-tail suggestions filtered by the monthly search volume. This allows you to easily find low-competition video keywords that still have decent search volume.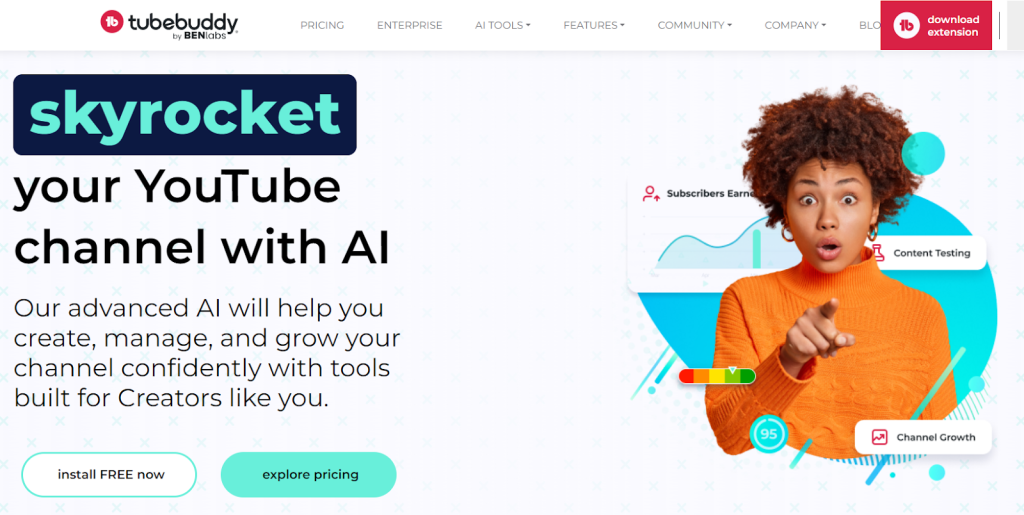 TubeBuddy will also show you the top-ranking YouTube videos for the keywords and the channel that published them. This allows you to analyze the competition on YouTube and research the types of videos ranking well. For researching video-specific keywords, TubeBuddy is a very useful option.
Key Features:
Keyword ideas tailored to YouTube
Monthly search volumes
See top YouTube rankings
Drawbacks:
Limited to just YouTube keywords
Requires TubeBuddy subscription
Pricing: Starts at $4.99/month
Related Reads:
Conclusion: Best Keyword Research Tools
Effective keyword research takes more than just a single tool. By combining the strengths of multiple keyword research platforms, you can thoroughly validate and expand on keyword ideas.
Start with broad-based tools like Google Trends and Semrush to generate an initial list. Then use more focused tools like Soovle and ChatGPT to refine and expand your keywords for the target content. Platforms like Ahrefs can then provide the competitive analysis to finalize your keyword targets.
Take time to research keywords from multiple angles before creating content or optimizing for them. With the right research process using the tools discussed here, you'll be able to discover profitable keywords that you can genuinely rank for. This will lead to more search traffic, leads, and organic growth for your website.
FAQs: Best Keyword Research Tools
What is the best free keyword research tool?
Google Trends is an excellent free option for analyzing search volume trends and seasonality. Tools like Soovle, AnswerThePublic, and Keyword Surfer also provide free keyword suggestions.
How do I choose the right keywords to target?
Look for keywords with sufficient search volume, low difficulty metrics, and relevance to your content focus. Avoid super high competition keywords unless you have the resources to invest in ranking for them.
How many keywords should I target for a piece of content?
Choosing 3-5 primary keywords will be ideal. You can then include several related long-tail variations and synonyms as well. Don't over-optimize with too many keywords.
How often should I do keyword research?
Ideally once before creating any new content. You may also want to check search trends regularly for new opportunities. Keyword research is an ongoing process as Google's algorithm and search behavior shift.
What makes a good seed keyword to start research?
Look for a short but not too generic phrase that broadly represents your overall topic. The seed keyword should have some search volume but not be ultra-competitive.