Have you ever heard of platforms to help you become a Certified SEO professional?
In this modern era, organic search is more important than ever for driving website traffic and conversions. As a result, search engine optimization (SEO) skills are highly sought after in the marketing world. For digital marketing professionals and aspiring SEO practitioners looking to get ahead, obtaining recognized SEO certifications can be a strategic career move.
With numerous platforms offering SEO certifications, it can get overwhelming to decide which ones provide the best value. That's why I have gathered a list of the top 8 certification programs that are worth your time and investment.
Whether you are new to SEO or a seasoned expert, these certifications can help validate your knowledge, enhance your skillset, and give your resume a significant boost.
Let's get started.
8+ Top SEO Certification Platforms
Let's look at the top 8 certification platforms for becoming a certified SEO expert:
1. Google Analytics Individual Qualification (GAIQ)
Offered by Google, the GAIQ certification focuses exclusively on Google Analytics Academy. It has four levels: Google Analytics Fundamentals, Advanced Google Analytics, Google Analytics IQ, and Google Analytics 360.
The Fundamentals certification covers basic navigation and features of Google Analytics. The Advanced course dives deeper into reports, metrics, segmentation, filters, etc. Google Analytics IQ validates your ability to use Google Analytics for analyzing websites and apps. The 360 certification is for Google's premium analytics product.

Earning the Google Analytics IQ is highly recommended for SEO professionals. It validates your expertise in leveraging Google Analytics for tasks like tracking website traffic, sources, goals, and conversions. The exams cost between $50 to $200.
Key Highlights:
Offered by Google
4 certification levels covering Google Analytics skills
Exams cost $50-$200
Validate expertise in using Google Analytics for SEO
2. SEO Certification Course
HubSpot Academy offers a free SEO certification course that covers essential topics like keywords, site architecture, technical SEO, local SEO, etc. The course has short videos explaining each concept, along with quizzes to test your knowledge.
Once you complete the course, you can take the exam for free to get HubSpot certified. The certification doesn't expire and is a great way to demonstrate fundamental SEO knowledge. HubSpot also offers paid, advanced certifications in inbound marketing and content marketing.

Key Highlights:
A free course covering SEO basics
The certificate exam is free
Demonstrates fundamental SEO knowledge
Part of broader HubSpot inbound marketing certification
3. Semrush SEO Toolkit Certification
Semrush, the online visibility management platform, offers an SEO toolkit course and exam that costs $99. It covers both technical and creative aspects of SEO across video lessons and a downloadable handbook.
The certification aims to equip you with skills for tasks like keyword research, SEO content strategy, website auditing, page optimization, technical fixes, etc. Earning the certificate helps exhibit your expertise in leveraging Semrush for enterprise SEO activities.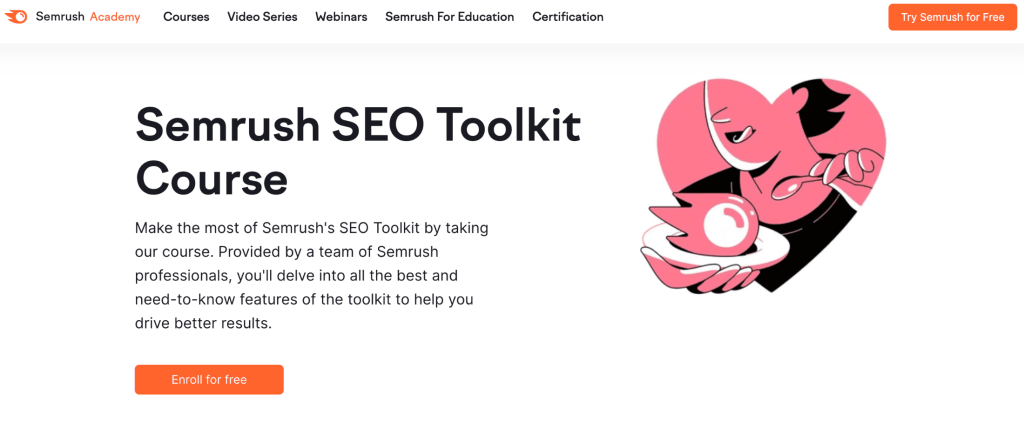 Key Highlights:
Focuses on technical and creative SEO skills
Uses video lessons and a downloadable handbook
The exam costs $99
Proves proficiency in using SEMrush for SEO
4. Moz SEO Essentials Certification
Moz's SEO Essentials certification is ideal for those looking to prove their proficiency in foundational SEO concepts. The certification has two prerequisites – completion of Moz's free Beginner's Guide to SEO and passing the Associate SEO Quiz.
To get certified, you must pass the final exam that covers topics like latent semantic indexing, website auditing, keyword targeting, link building, etc. The Essentials Exam costs $595 and takes around 90 minutes to complete.

Moz also offers two higher-level certifications – SEO Practitioner and SEO Master – for seasoned professionals. Earning the Associate certificate demonstrates your fundamental SEO expertise.
Key Highlights:
Covers SEO fundamentals
The final exam costs $595
90 minutes long test on core SEO topics
6-Part Certification
5. Ahrefs SEO Certification
Ahrefs, known for its SEO and content marketing tools, offers a well-detailed SEO certification program that costs $499. It focuses heavily on technical SEO and hands-on skills like website auditing, rank tracking, site debugging, etc.
The self-paced certification comprises nine video modules explaining concepts, coupled with practical exercises to apply them. Once you complete the course, you can take the exam comprising 80 technical SEO questions across 9 domains.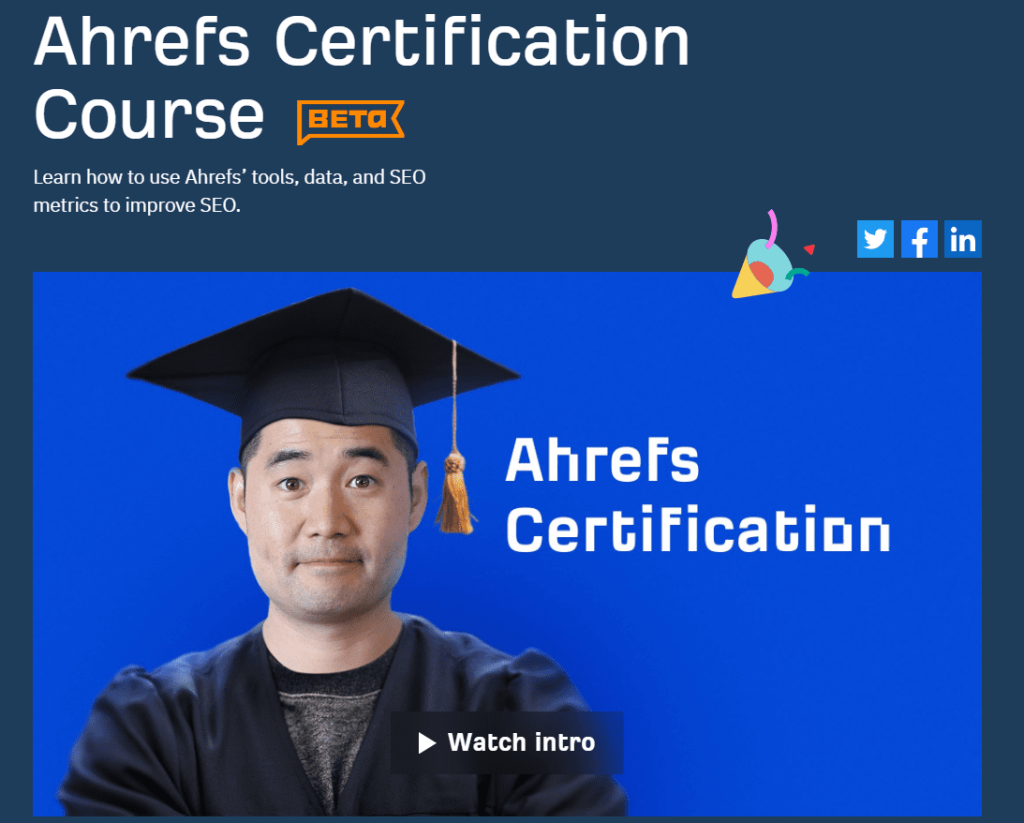 Earning the Ahrefs certificate exhibits your proficiency in leveraging Ahrefs' suite of tools and demonstrates your hands-on technical SEO expertise.
Key Highlights:
Strong focus on technical SEO skills
$499 self-paced video course
80-question hands-on exam
Tests Ahrefs tool proficiency
6. Search Engine Journal SEO 101 Certification
Search Engine Journal's SEO 101 certification aims to cover both technical and creative aspects of search optimization. The course includes 15 video lessons explaining SEO concepts and best practices.
It then concludes with a 40-question final exam testing your conceptual understanding. The certificate is free and passing the exam demonstrates your knowledge of SEO fundamentals.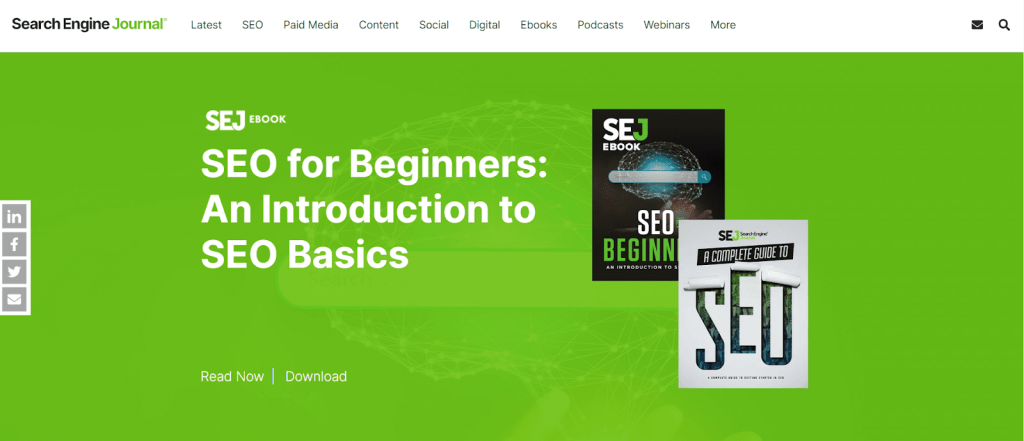 While the course is great for beginners, it still adds value to experienced SEO pros by validating and updating their core SEO skills.
Key Highlights:
Combines technical and creative SEO best practices
Free certificate
40-question exam on fundamentals
Beginner-friendly but useful for all levels
7. SEO That Works
For those seeking an intensive, high-level SEO certification, SEO That Works offers a 12-week advanced training program. The structured curriculum combines self-paced online learning, live coaching sessions, quizzes, and team collaboration. The course is available on Backlinko and is run by famous SEO expert Brian Dean.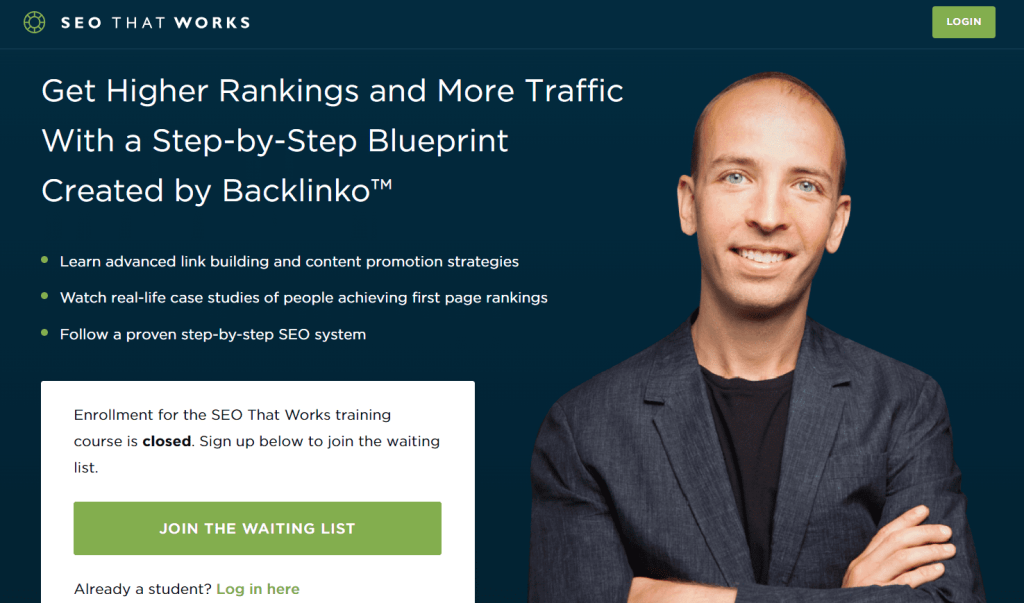 Key topics covered include technical SEO, content optimization, keyword research, site auditing, page speed, link building, local SEO, etc. You must pass timed exams at the end of each module to complete the program. The certification costs $1997 and aims to take your SEO skills to an expert level.
Key Highlights:
Comprehensive 12-week advanced SEO training
Combines self-study, coaching, collaboration
Timed exams test each module
Develops expert-level SEO skills
8. BrightEdge SEO Certification Program
BrightEdge offers a Digital Marketing Analyst certification that tests your expertise across SEO, content marketing, paid search, and performance analytics. The self-study course provides access to online lessons, practice tests, and exam preparation tips.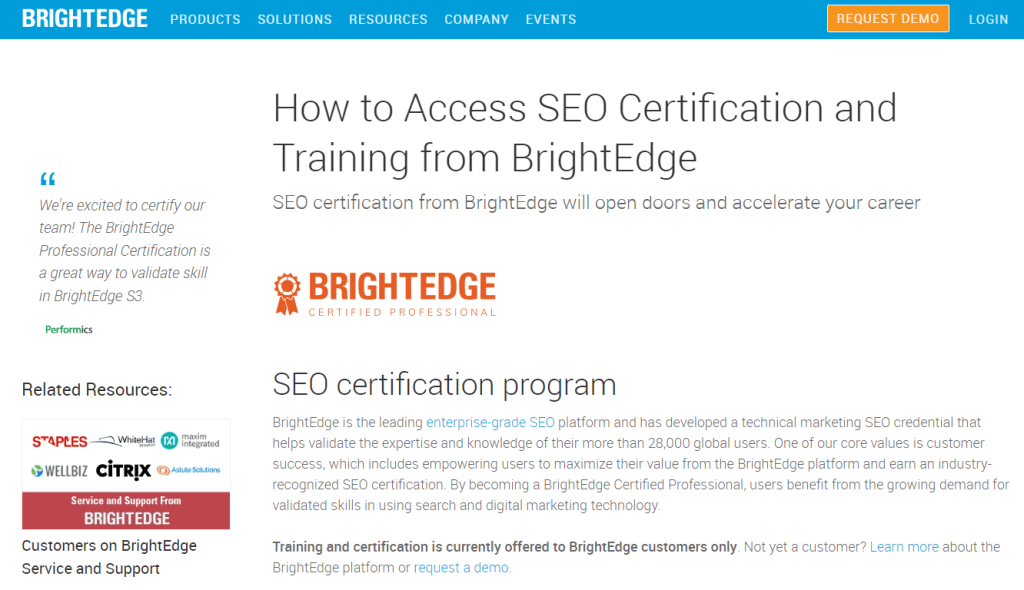 The final proctored exam consists of 100 multiple-choice questions that cover concepts, best practices, metrics, and reporting. Earning the certification helps showcase your proficiency in BrightEdge's suite of digital marketing technologies. The exam costs $295.
Key Highlights:
Covers SEO, content marketing, paid search
Self-study course with online lessons
100-question supervised exam
Validates BrightEdge platform expertise
Related Reads:
Final Verdict
For SEO practitioners looking to advance their careers, getting certified can significantly boost their credentials and marketability. When choosing a certification, opt for programs with training in foundational and technical SEO skills. These certifications should be from reputed platforms like Google, Moz, HubSpot, and Semrush.
Look for certificates that involve passing proctored exams, as they offer third-party validation of your expertise. While certifications require time and money investment, they offer long-term value by exhibiting your SEO proficiency.
Frequently Asked Questions
What is SEO?
SEO stands for search engine optimization, which is the practice of improving website visibility and ranking on search engine results pages (SERPs) to drive more organic traffic to the site.
Why is SEO important?
Organic search traffic can be a significant source of website traffic and conversions. Implementing SEO best practices can help improve website visibility and ranking on SERPs, leading to increased organic traffic and conversions.
What are SEO certifications?
SEO certifications are credentials that demonstrate proficiency in specific SEO skills and knowledge. They can help validate SEO expertise, enhance skill sets, and boost resumes.
Who should get SEO certified?
Digital marketing professionals and aspiring SEO practitioners looking to advance their careers and demonstrate their SEO proficiency should consider getting SEO certified.

What are the benefits of getting SEO certified?
Getting SEO certified can help validate your SEO expertise, enhance your skill sets, and boost your resume. It can also open up new career opportunities and help you stay up-to-date with the latest SEO best practices and trends.