Looking for the best Google Analytics alternatives? If so, you are in the right place.
With data privacy concerns mounting against Google Analytics, many website owners are seeking alternatives that offer robust analytics with greater transparency and control. The good news is that there are now many excellent Google Analytics competitors available. From open-source options to privacy-focused tools and advanced enterprise platforms, website owners have more choices than ever.
In this article, I have gathered a list of the top 10 alternatives to Google Analytics. You will dive into the key capabilities, benefits, and potential drawbacks of each platform. Whether you're a blogger looking for a privacy-first option or an enterprise seeking advanced insights, there is a Google Analytics alternative here for you.
Read on to find the right web analytics solution to meet your specific needs and priorities.
10+ Best Google Analytics Alternatives
Here is the list of the best alternatives of Google Analytics you can find with similar or more advanced features:
| Sr.No. | Google Analytics Alternative | Ratings |
| --- | --- | --- |
| 1. | Matomo | 4.7 |
| 2. | Semrush | 4.9 |
| 3. | Clicky | 4.4 |
| 4. | Hotjar | 4.8 |
| 5. | Fathom Analytics | 4.5 |
| 6. | Woopra | 4.5 |
| 7. | Plausible Analytics | 4.3 |
| 8. | Impact Hero | 4.4 |
| 9. | Adobe Analytics | 4.7 |
| 10. | Maixpanel | 4.5 |
1. Matomo
Matomo, formerly known as Piwik, is an open-source analytics platform that you can self-host or use on their cloud. By owning your web analytics data, the platform provides full transparency and reconfigurability.
Matomo offers a wide range of features on par with Google Analytics, including real-time reports, custom dashboards, campaign and referral tracking, and content analytics. It also has built-in GDPR and CCPA privacy compliance features, such as the right to access, export, and delete data. With robust developer resources, Matomo makes it easy to customize the platform to your needs.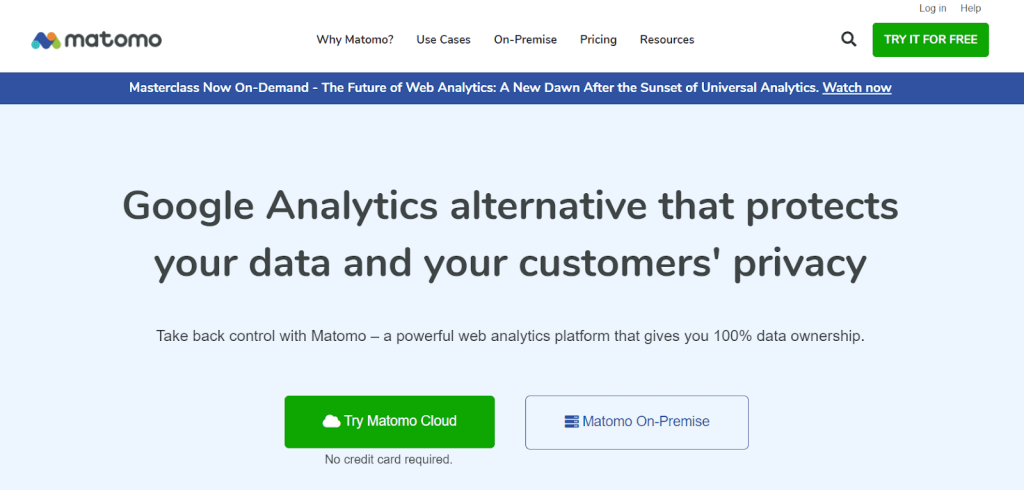 Key Features:
Open-source web analytics platform
Self-hosted or cloud-hosted options
Customizable dashboards and reports
Real-time stats and live visitors map
GDPR and CCPA compliant
Drawbacks:
Requires more technical expertise to manage self-hosted optioFewerss out-of-the-box integrations than some tools
Pricing: Free self-hosted version. Cloud plans start at €19 per month.
2. Semrush
Semrush is an all-in-one digital marketing toolkit that provides comprehensive analytics as part of its offering. It tracks website traffic sources and visitor behavior with UTM builder tools. The detailed analytics dashboards showcase actionable data on visits, referrals, and organic, and paid searches.
Competitive analysis is a key strength of Semrush, letting you benchmark your site against competitors for SEO, PPC, display advertising, and social media. Semrush enhances its analytics with rich datasets for rankings, keywords, and online trends.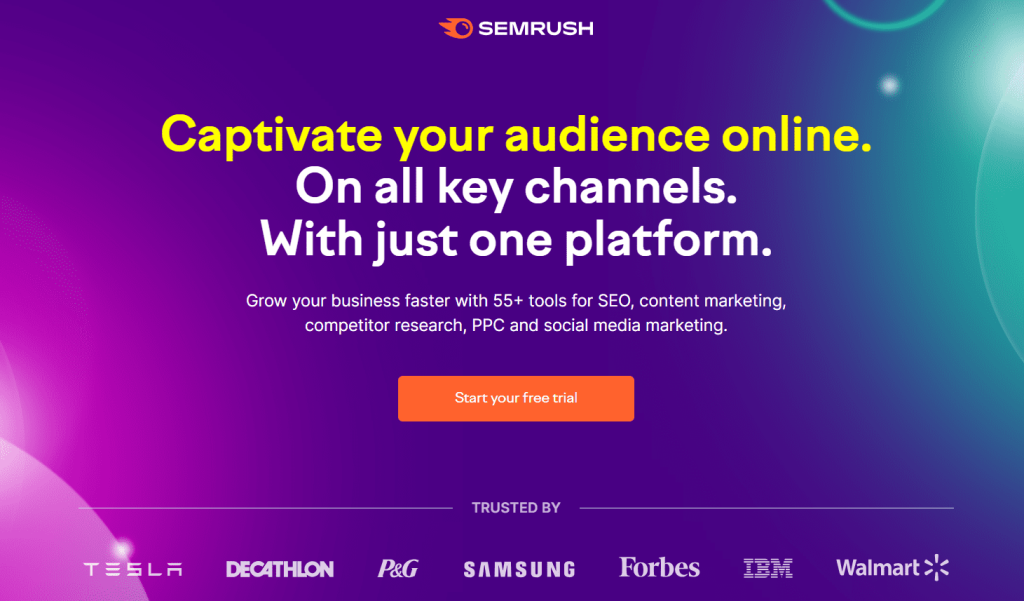 Key Features:
All-in-one digital marketing toolkit
Traffic analytics and source breakdown
Competitive benchmarking for SEO and PPC
Rank tracking and keyword research
UTM campaign tagging and tracking
Drawbacks:
Analytics module less robust than standalone tools.
It can be complex with its advanced feature set.
Pricing: Starts at $129.95 per month for the Pro plan (Free Trial Available)
3. Clicky
Clicky is a dedicated real-time web analytics service designed for marketers. It provides a live detailed view of your website visitors from the moment they arrive. Key real-time capabilities include scrolling heatmaps to see what visitors are clicking and scrolling over, mouse movement recording, and automatic screenshotting of visitor sessions.
Alongside real-time tracking, Clicky also powers web analytics with features like goal and custom conversion tracking, funnel analysis, and segmentation. Browser extensions provide additional visitor insight.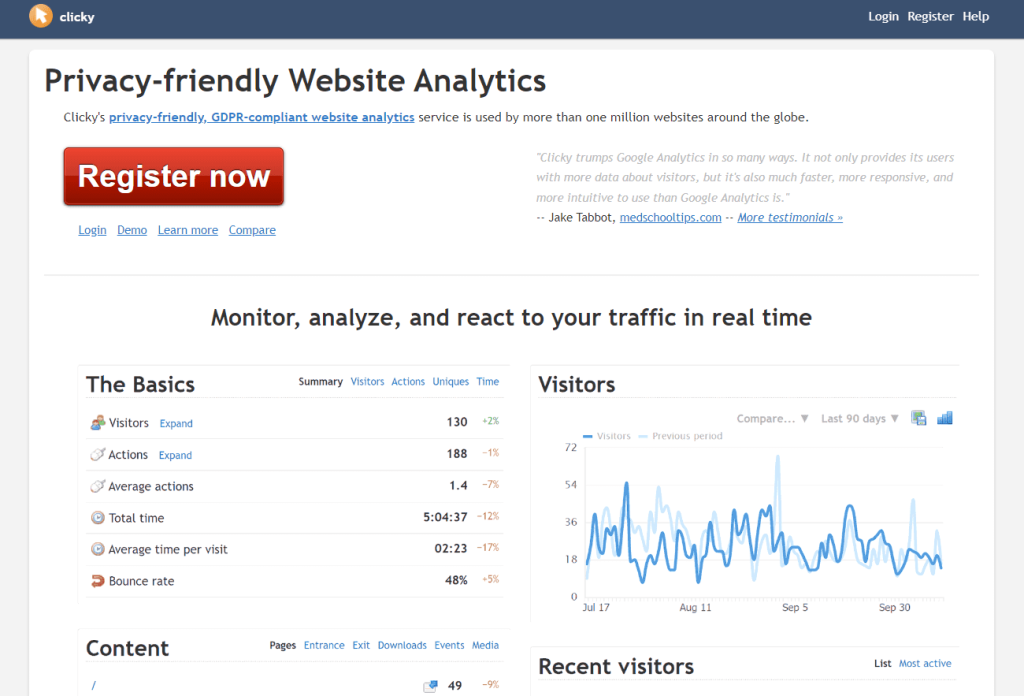 Key Features:
Real-time visitor tracking dashboard
Heatmaps, scroll maps, and session recordings
Custom conversion and goal tracking
Browser extensions for more data
Funnel analysis for conversions
Drawbacks:
Light on advanced campaign measurement capabilities
Less flexible segmentation options
Pricing: Starts at $9.99 per month for the Pro plan (Free plan available with limited features)
4. Hotjar
Hotjar specializes in experience analytics using a range of creator tools to visualize user behavior. Website heatmaps provide instant clarity on what users are clicking, tapping, and scrolling. Session recordings let you watch real visitor sessions on your site.
Funnels highlight where users are dropping off in conversion processes. Form and survey analytics uncover how visitors interact with your forms and feedback polls. Hotjar's suite of tools connects the dots on the user journey.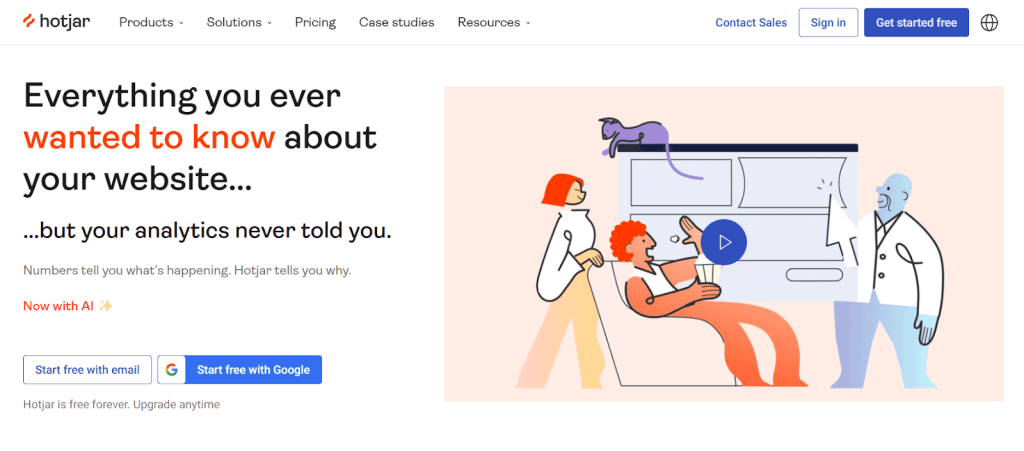 Key Features:
Website heatmaps and recordings
Form and survey analytics
Funnel visualization
Session replay
Polls and surveys
Drawbacks:
Data sampling can miss some visitor interactions
Primarily focused on user experience
Pricing: Starts at $99 per month for the Business plan.
5. Fathom Analytics
Fathom Analytics differentiates itself by being a simple, privacy-centric Google Analytics alternative. It limits data collection to only essential website metrics needed for reporting. Fathom also automatically deletes visitor data after 90 days.
The platform is designed for GDPR and CCPA compliance with informed consent on track. For bloggers, small business owners, and non-technical users, Fathom is an easy-to-use Google Analytics substitute focused on privacy.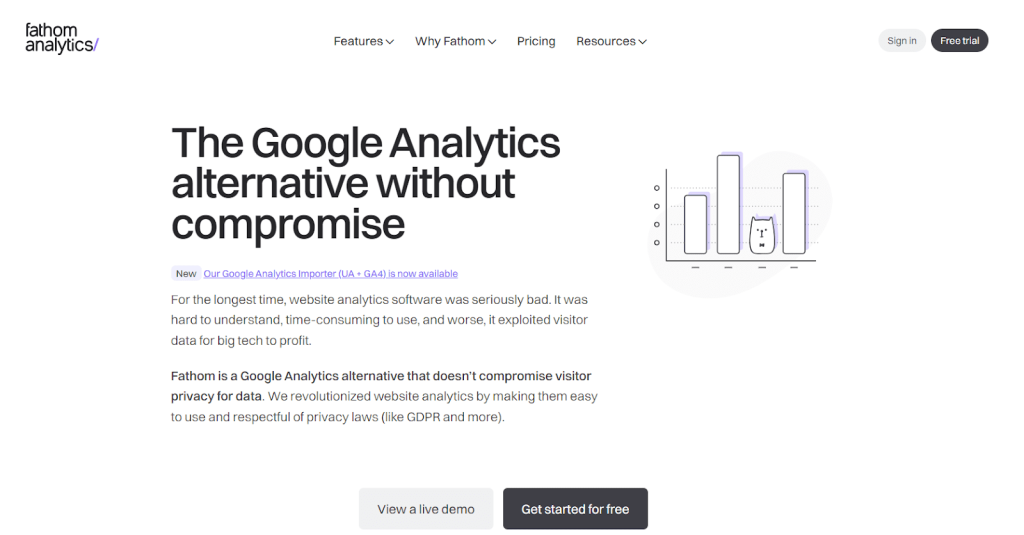 Key Features:
Privacy-focused analytics
Automatic data deletion in 90 days
GDPR, CCPA compliant
Simple and easy reporting
Minimal data collection
Drawbacks:
Light on advanced features
Less robust segmentation capabilities
Pricing: Starts at $14 per month for up to 100k pageviews.
6. Woopra
Woopra is a customer analytics platform built around real-time data and actionable insights. It provides a stream of live visitor information instead of static reports.
Woopra funnels this data into customer profiles automatically united across devices and channels. Segments can then be crafted to deliver targeted messages like emails and on-site messaging. It also enables deep integration with marketing automation, CRM, email, live chat, and other systems to activate tracking data.

Key Features:
Real-time visitor profiling
Customer journey and conversion analytics
Integration with emails, live chat, CRM
Automated visitor segmentation
Mobile analytics and push notifications
Drawbacks:
Limited dashboard customization compared to others
More expensive than many alternatives
Pricing: Starts at $999 per month for the Pro plan. (Free plan available)
7. Plausible Analytics
Plausible Analytics is an open-source web analytics platform focused on privacy and speed. It is purpose-built to collect only essential first-party analytics data needed for basic website reporting.
Plausible doesn't use cookies, and visitor data remains aggregated without the collection of personal identifiers. The lightweight script loads fast without slowing down websites. For developers who value privacy, Plausible provides transparent web analytics with an ethos similar to Matomo.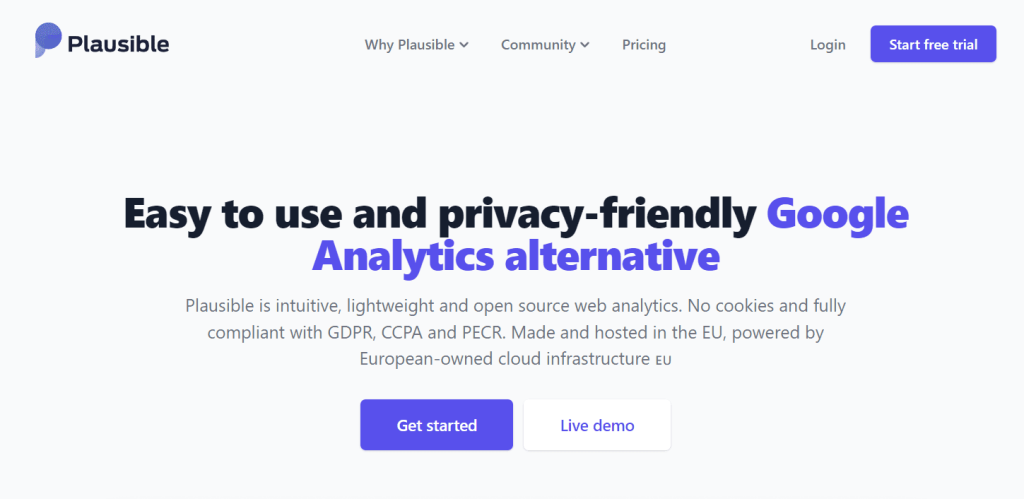 Key Features:
Lightweight open-source analytics
Privacy and speed-focused
GDPR, CCPA compliant
Easy self-hosting or managed hosting
Unlimited websites and pageviews
Drawbacks:
Limited built-in integrations and extensions
Less advanced features than enterprise tools
Pricing: Starts at $9 per month for up to 10k pageviews.
8. Impact Hero
Impact Hero is an emerging Google Analytics alternative built for enterprise companies. It powers website analytics with cross-device identity stitching for unified visitor tracking. granular user-based access controls enable analytics democracy.
Impact Hero also provides rich integration capabilities, with 20+ integrations with marketing, support, and other platforms. With premium features tailored to brands with complex needs, Impact Hero aims to disrupt legacy analytics tools.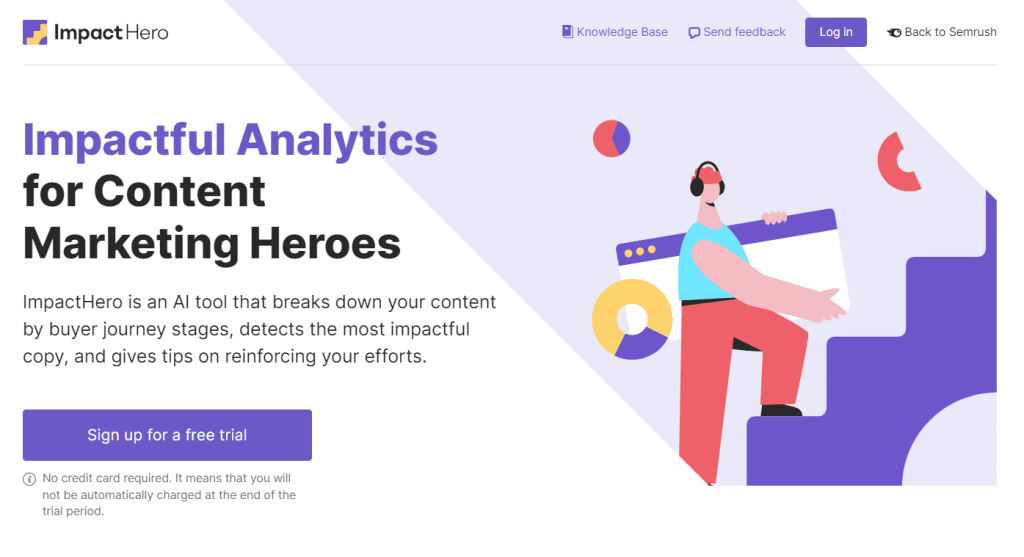 Key Features:
Unified cross-device tracking
Access controls and data governance
Integrations with marketing platforms
Segmentation and custom reporting
Predictive analytics add-on
Drawbacks:
Requires high-volume website traffic for value
Higher learning curve than some tools
Pricing: Custom enterprise quotes only.
9. Adobe Analytics
Part of Adobe Experience Cloud, Adobe Analytics offers advanced web analytics capabilities tailored for enterprises. It provides detailed quantitative insights into customer acquisition, traffic sources, campaigns, and conversions.
Its machine learning uncovers hidden insights while AI-powered anomalies surface data issues. As part of Adobe's integrated suite, it activates web data across platforms for optimization. Adobe Analytics brings together robust analytics with enterprise-scale capabilities.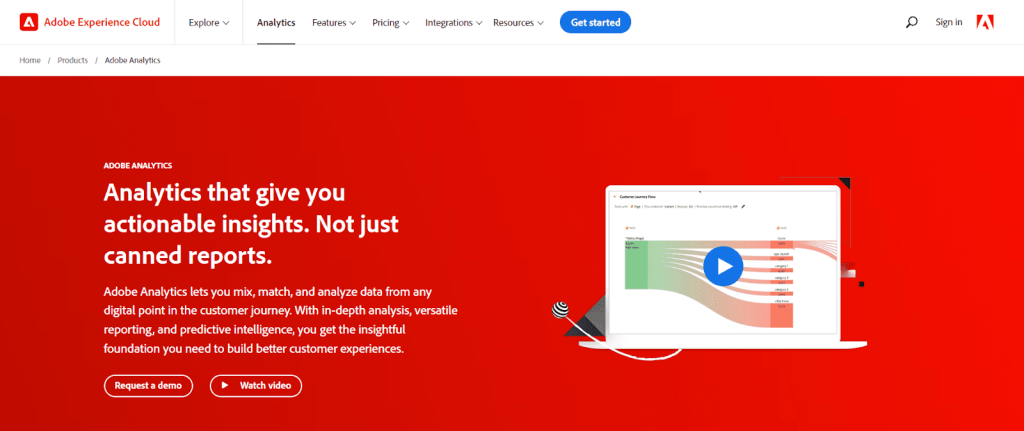 Key Features:
Powerful segmentation and attribution
AI-powered insights and anomaly detection
Integrated with Adobe marketing tools
Robust platform tailored for enterprise
Predictive analytics and forecasting
Drawbacks:
High learning curve and setup complexity
Expensive for small to mid-sized companies
Pricing: Custom enterprise quotes only.
10. Mixpanel
Mixpanel specializes in product analytics with a focus on translating insights into action. Its platform centers around user behaviors, funnels, and retention. With automatic data capture and clean, focused UI, Mixpanel aims to be easy to implement for any product team. It excels at segmentation for targeted push and in-app messaging.
With strong mobile support, Mixpanel is popular for improving mobile apps and web products. Integrations with messaging platforms and CRMs maximize results.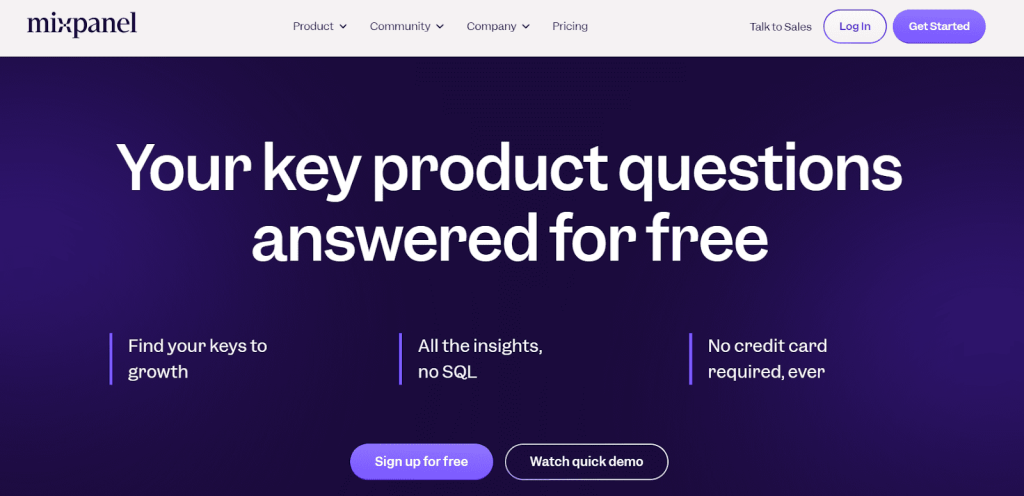 Key Features:
User behavior and funnel analysis
Mobile and web integration
Easy implementation and onboarding
Powerful segmentation capabilities
Integrations with messaging and automation
Drawbacks:
Less robust ad and campaign analysis
It can get complex for basic analytics needs
Pricing: Starts at $28 per month for up to 10k events
Conclusion: Google Analytics Alternatives
Moving beyond Google Analytics opens up new possibilities to take control of your website data. The platforms covered in this article showcase the diverse options now available. From privacy-centric tools like Fathom and Plausible to powerful enterprise suites like Adobe Analytics, there is an ideal alternative for every website and use case.
As web analytics mature, solutions increasingly provide robust features while also giving users more autonomy. By choosing a Google Analytics alternative aligned with your goals, you can unlock deeper insights from website data on your terms. The availability of open-source and privacy-first options also enables greater transparency.
The best platform depends on your specific needs and priorities. With this overview of the top Google Analytics competitors, you have a solid basis to find the ideal web analytics solution for your website or business. The possibilities for actionable and transparent website analytics have never been better.
FAQs: Google Analytics Alternatives
Why should I consider using a Google Analytics alternative?
With data privacy concerns mounting against Google Analytics, many website owners are seeking alternatives that offer robust analytics with greater transparency and control.
What are some data privacy concerns with Google Analytics?
Google Analytics collects user data and tracks user behavior across the web, which may raise privacy concerns for some website owners and their visitors.
Are there any open-source options for web analytics?
Yes, there are open-source web analytics options, such as Matomo and Plausible Analytics, that offer transparency and reconfigurability.
Which Google Analytics alternatives are most suitable for small businesses?
Fathom Analytics and Plausible Analytics are two alternatives that are designed for small businesses and non-technical users.
How do I choose the right web analytics solution for my specific needs?
It depends on your specific needs and priorities. Consider factors such as data privacy, cost, ease of use, and the features you require when choosing a web analytics solution. The article provides an overview of the top Google Analytics competitors to help you make an informed decision.