Are you looking to optimize your website's SEO strategy? Serpstat may be the solution you need. With its comprehensive toolkit of features, including keyword research, competitor analysis, and rank tracking, this tool can help you achieve your SEO goals. And the best part? You can try it for free with their 7-day trial.
In this article, I will guide you through the process of claiming your Serpstat Free trial and explore some of the key features and benefits of the platform.
Whether you're an individual, small business, or enterprise, Serpstat has a pricing plan tailored to your needs. Don't miss out on this opportunity to take your SEO strategy to the next level.
Let's get started
How to Claim the Serpstat Free Trial?
Claiming the Serpstat Free trial is a straightforward process. Follow these steps to get started:
Step1. Visit Serpstat Website
Visit the official Serpstat website and click on the "Try 7 days for Free" option from the top right corner.

Step 2. Create an Account
Or you can also directly sign up with your Google or Facebook account.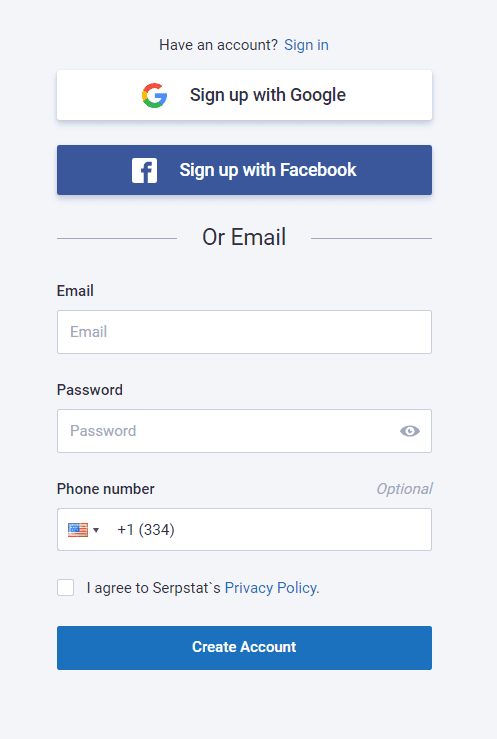 Step 3. Choose a Plan
On the next page, the system will ask you to choose a plan for your free trial. As of now, you can only pick the Team plan for your free trial. This plan has every feature that you want to test within your free trial. Click on the Try for Free option to proceed further.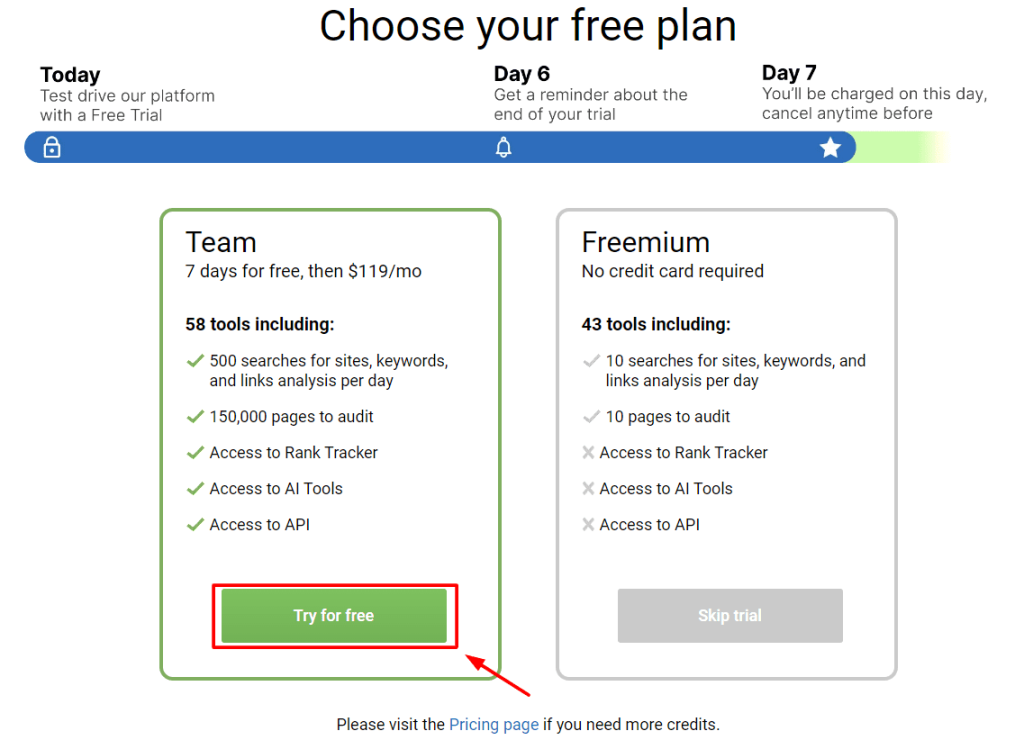 You can also choose the Freemium plan, which is a free-forever plan with very limited features.
Step 4. Enter Your Card Details
After selecting the plan, you will be redirected to the next page, where you will need to enter your card details. They will not charge you for the plan instantly. It is required to activate your free trial.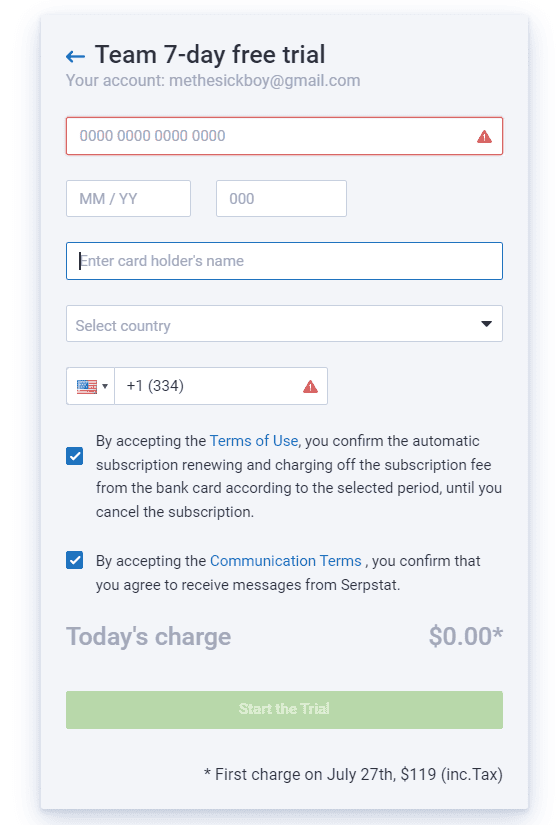 Once you have filled in all the information, click on Start the Trial to claim your free trial.
Step 5. Remember to Cancel Your Trial
Once your card details are verified, and you click on the trial button, you will land on the Serpstat dashboard, where you can use all the premium tools for free. If you just want to claim the free trial, remember to cancel your plan before the free trial ends. Because you will be charged the regular price of the plan at the end of the 7th day.
Or, if you like Serpstat, keep using the premium plan and its features. You can also upgrade your plan if you want to access more advanced features.
Key Features of Serpstat
Serpstat offers a wide array of features to help you optimize your SEO efforts. Here are some notable features you can explore during the trial period:
Keyword Research: Serpstat provides extensive keyword research capabilities, allowing you to discover relevant keywords, analyze search volume, assess keyword difficulty, and identify keyword trends. This feature helps you target the right keywords and optimize your content accordingly.
Competitor Analysis: With Serpstat, you can gain insights into your competitors' strategies and performance. Analyze their top-ranking pages, backlink profiles, and organic keywords to identify opportunities and refine your own SEO approach.
Backlink Analysis: Understanding your backlink profile is crucial for SEO success. Serpstat enables you to analyze your website's backlinks, identify toxic links, and discover new link-building opportunities. This feature helps you strengthen your website's authority and improve organic rankings.
Rank Tracking: Keep track of your website's performance on search engine result pages with Serpstat's rank tracking feature. Monitor keyword rankings, assess fluctuations, and identify areas that need improvement. This data-driven approach helps you gauge the effectiveness of your SEO efforts.
Serpstat Pricing Plans
Serpstat offers flexible pricing plans to cater to the diverse needs of businesses and individuals. Here's an overview of the pricing options available: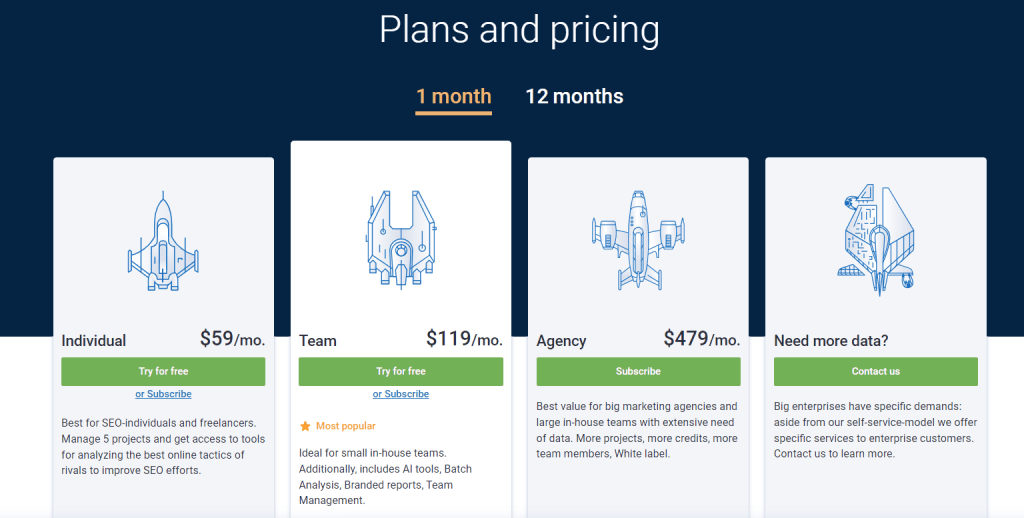 1. Individual
Priced at $59 per month, this plan is suitable for individuals and small businesses. It offers basic features and limitations on the number of queries and reports.
100 queries per day
2,000 results per report
5,000 tools credits
50.000 export rows
Site audit API
Daily updates
2. Team
Priced at $119 per month, the Team plan is designed for growing businesses. It provides additional features, increased limits on queries and reports, and access to API.
All features from the Individual plan
500 queries per day
10,000 results per report
25,000 tools credits
250,000 export rows
Rank tracking API
3. Agency
Priced at $479 per month, this plan is suitable for agencies and larger enterprises. It offers advanced features, higher limits on queries and reports, and white-label reports.
All features from the Team plan
5,000 queries per day
100,000 results per report
250,000 tools credits
2, 500,000 export rows
White label reports
Phone support
4. Enterprise
Tailored for larger organizations with specific needs, the Enterprise plan offers custom pricing based on individual requirements. It provides access to all features, dedicated support, and tailored solutions.
All features from the Agency plan
Customized query and result limits
Unlimited rank tracking
White-label reporting
Dedicated account manager
Priority support
Extended API access
Why Should You Try Serpstat Free Trial?
Serpstat offers a 7-day free trial that allows users to experience the platform's capabilities without any financial commitment. Here are some reasons why you should consider trying the Serpstat Free trial:
Comprehensive SEO Toolkit: During the trial period, you gain access to a wide range of SEO tools, including keyword research, competitor analysis, rank tracking, site auditing, and more. This allows you to assess the platform's effectiveness in meeting your SEO goals.
Hands-on Experience: Trying the Serpstat Free trial gives you the opportunity to explore the platform's features and interface firsthand. You can navigate through various sections, conduct keyword research, analyze your competitors, and gain valuable insights to enhance your SEO strategy.
Data-Driven Decision Making: With Serpstat, you can access valuable data and analytics that can inform your SEO decisions. The trial period allows you to evaluate the quality and accuracy of this data and understand how it can contribute to optimizing your website's performance.
Related Reads:
Conclusion
Optimizing your website's SEO is crucial for attracting organic traffic and gaining a competitive edge. The Serpstat Free trial offers a valuable opportunity to explore the platform's features and gauge its effectiveness in improving your SEO efforts.
By following the step-by-step guide outlined in this article, you can easily claim the trial and make an informed decision about upgrading to a paid plan based on your needs. Take advantage of Serpstat's powerful tools and features to elevate your SEO strategy and drive meaningful results.
FAQs
Can I cancel the Serpstat Free trial anytime? 
Yes, you can cancel the Serpstat Free trial at any time during the 7-day trial period. Simply navigate to your account settings and follow the cancellation instructions.
Can I upgrade or downgrade my Serpstat plan? 
Yes, you can upgrade or downgrade your Serpstat plan based on your evolving needs. Visit your account settings and select the desired plan to make the change.
Are there any limitations during the Serpstat Free trial? 
While the Serpstat Free trial provides access to most features, there might be some limitations on the number of queries, reports, or data exports. Refer to the trial terms and conditions for specific details.
What happens after the Serpstat Free trial ends? 
Once the trial period ends, you will need to choose a suitable pricing plan to continue using Serpstat's services. Failure to select a plan will result in the suspension of your account.
Can I get support during the trial period? 
Yes, Serpstat provides customer support during the trial period. You can reach out to their support team via email or live chat for any assistance or queries you may have.
Is my payment information required for the Serpstat Free trial? 
No, you are not required to provide payment information during the Serpstat Free trial. It is a no-obligation trial period without any financial commitments.