Knowing that millions of people use Semrush for online marketing and SEO tool, being a website owner you might have curious questions like ' Where does Semrush get its data?'.
Semrush indeed has an SEO suite to help you with content marketing, paid search, social media marketing, and competitive analysis.
But where exactly does Semrush get all of its data from and provide you with the right insights? In this article, I will be sharing some of the sources Semrush uses to collect, analyze, and display data on its platform.
Bonus: You can read our in-depth Semrush review to learn about what it offers. 
Let's get started.
Where does Semrush Get its data?
Semrush gathers data from a wide variety of sources to fuel all its tools and reports. The main sources of data for Semrush include:
1. Search Engine Data Collection
One of the primary sources of data for Semrush is search engines like Google and Bing. As a search engine crawls and indexes the web, Semrush uses this information to provide data on organic rankings, keywords, and search results.
Specifically, Semrush has data partnerships and agreements in place with major search engines to legally access search query data and other search analytics. This allows it to display accurate organic traffic estimates, keyword difficulties, and other metrics powered by real search engine data.
2. User Input Data
In addition to search engine data, Semrush also relies heavily on data input directly by its users. For example, within Semrush's keyword tracking tools, users can manually input keywords to monitor and analyze over time. This first-party data on the keywords that every user cares about will help inform Semrush's keyword databases.
User-input data from Semrush's large customer base provides the service with significant amounts of real-world search data to fuel its tools.
3. Website Traffic Analytics
Semrush also collects valuable data by analyzing the traffic of websites. The Semrush bot regularly crawls and analyzes millions of sites to identify traffic sources, volumes, landing pages, and other analytics data.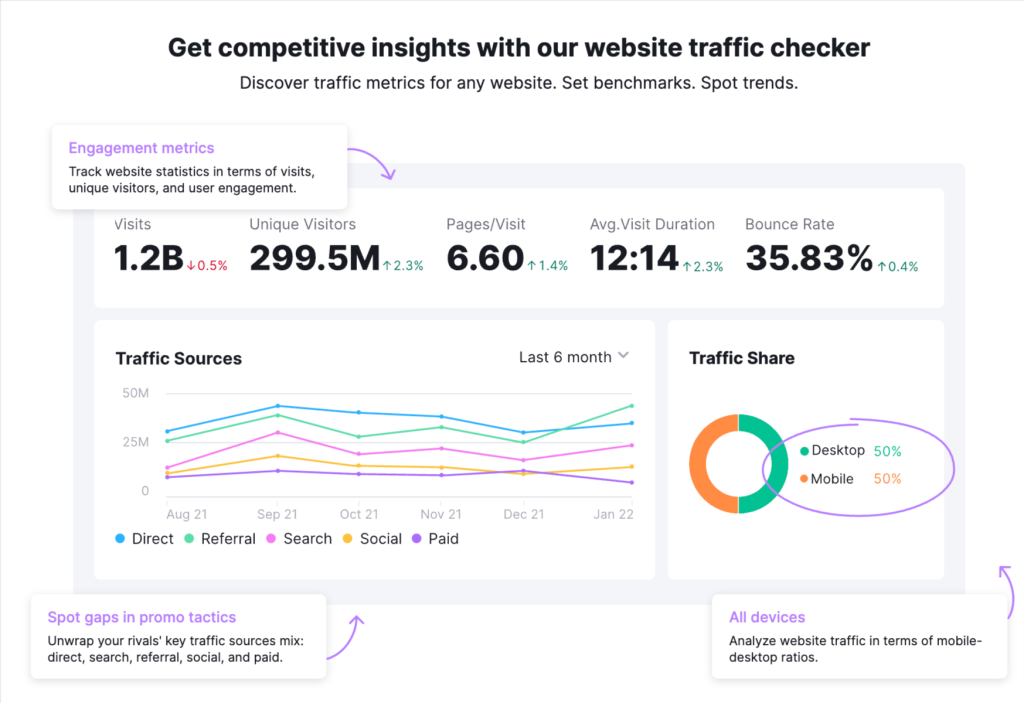 This data helps Semrush estimate the amount of traffic driven from different sources like organic search, paid search, referrals, social media, and more.
4. Online Advertising Data
To provide competitive advertising analysis, Semrush also collects data on paid online ads. This includes information on pay-per-click ads from Google Ads as well as display advertising campaigns.
By gathering intelligence on competitors' ad budgets, targeting tactics, and performance, Semrush can provide users with useful PPC and SEA competitive intelligence. Advertising metrics like impressions, clicks, CTR, and cost per click can be analyzed.
5. Backlink Data
Semrush also has robust backlink tracking capabilities powered by detailed backlink data. By crawling the web and identifying links pointing to websites, Semrush can report on sites' backlink profiles, including the anchor text, quality, and source of backlinks.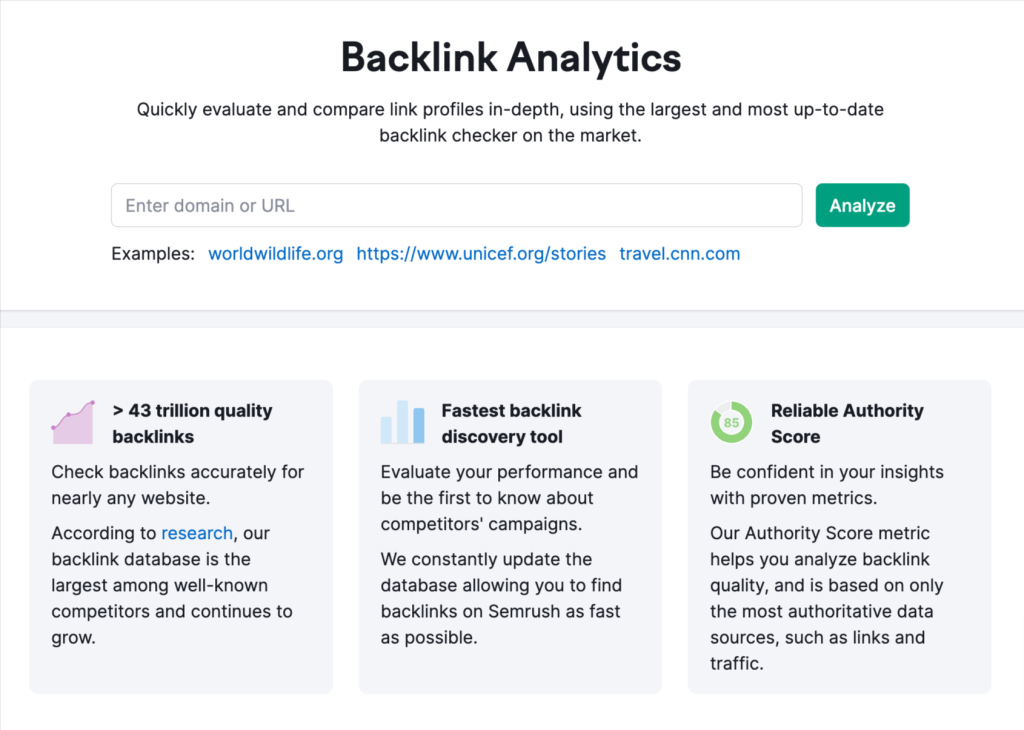 These backlink metrics are invaluable for competitive SEO analysis and gauging SEO progress. Semrush's backlink database provides insights for link building and optimizing link profiles.
6. Social Media
Lastly, Semrush gathers valuable social media data to empower its social media competitive analysis features. This includes metrics on social media follower counts, engagement, posting activity, and more from major platforms like Facebook, Twitter, Instagram, and LinkedIn. By tracking competitors' social media presence and performance, users can identify new opportunities and optimize their social strategy.
How Semrush Calculates Its Data?
So how exactly does Semrush take in all this data from various sources and turn it into useful, actionable website analytics and competitive insights for users?
Semrush relies on a complex proprietary infrastructure for gathering, processing, analyzing, and displaying the data in its interface in an easy-to-understand way.
1. Powerful Infrastructure
First and foremost, Semrush has invested heavily in developing powerful web crawling, analytics, and database systems to collect and process billions of data points from across the web. Semrush's web crawler activity discovers publicly available information on websites which fuels many of its tools.
From there, Semrush has advanced data science capabilities to analyze metrics and benchmark performance. Algorithms help process the data to surface valuable insights and patterns for users to act on.
2. Normalization
An important part of Semrush's data processing is normalizing metrics, which means adjusting data points against expected average baselines. This allows for standardized comparisons across industries and topics.
For example, the keyword difficulty score normalizes the expected search volume for a keyword against the competitiveness of ranking for it. This provides a 1-100 score that lets users quickly gauge potential keyword difficulty regardless of niche.
3. Models
Semrush also uses various statistical models to estimate website traffic driven by major channels like organic search and paid search. This provides estimated traffic volumes based on available data signals.
Advanced modeling helps turn partial data from various sources into comprehensive website analytics estimated as accurately as possible. This powers many of Semrush's site audit and competitor analysis tools.
4. Presentation
The final step is effectively visualizing Semrush's vast amounts of data into insightful reports and dashboards. The goal is to highlight key metrics, trends, and competitive insights in a simple yet powerful interface.
Things like custom graphs, exportable reports, competitive benchmarking, and customizable alerts help users turn Semrush's robust datasets into action. Effective data presentation and UX design is key.
How Accurate Is Semrush Data?
Given the vast amounts of data Semrush provides its users, a natural question is: just how accurate is this data anyway?
Overall, Semrush strives for a very high level of accuracy across its tools, with most metrics reaching above 90% accuracy. However, accuracy can vary based on the specific data point.
Highly Accurate
For metrics based directly on search engine data or Semrush's crawler, accuracy levels are quite high. This includes things like:
Keyword rankings and SERP features
Backlink counts and sources
Social media follower counts
Paid search estimated clicks and costs
Since these statistics come right from the source (i.e. Google), accuracy is on par with actual performance.
Here is a detailed and comprehensive guide on how accurate is Semrush.
Estimated Data
Some statistics provided by Semrush are best estimates based on available signals, modeling, and sampling. This includes:
Estimated organic traffic and keyword volumes
Website traffic from major channels
Related domains and topic analysis
These rely more on Semrush's analytics capabilities and extrapolations. Accuracy is often above 90% but can vary case by case. Generally, the more data Semrush has on a site, the more accurate its estimates.
User-Input Data
Some data in Semrush comes directly from user inputs, which means accuracy depends solely on the user. Examples include:
Manually tracked keywords
Added contacts for alerts
Custom reporting categorizations
The accuracy of this data depends on the diligence of users themselves in providing accurate and up-to-date inputs.
How Often Does Semrush Update Its Data?
With so much data flowing into Semrush from so many sources, how often does Semrush refresh and update all this data? The answer is that refresh rates vary significantly based on the data in question:
Real-time data – Some critical metrics like Google search results are updated in real-time to always show the latest information.
Daily updates – Key metrics like rankings, keyword metrics, and backlink data are updated daily to stay on top of changes.
Weekly updates – Other data like estimated traffic analytics and advertising data are refreshed weekly to balance recency and processing needs.
Monthly updates – Data that moves slower, like related domains and social media insights, are updated monthly.
On-demand updates – User-based data like tracked keywords can be manually refreshed instantly as needed.
In addition, Semrush is constantly working to optimize its infrastructure to enable even faster data refreshing. The goal is to strike the right balance between data recency and maximizing uptime for users.
Conclusion
Semrush provides an immense database of digital marketing intelligence to its users, powered by data collected from a diverse array of sources. Advanced infrastructure and statistical capabilities allow Semrush to process billions of data points into accurate, insightful website analytics and competitive reports.
From search engine data partnerships to the Semrush Bot web crawler to user inputs, many data streams allow Semrush to estimate traffic driven by organic and paid search, social media, backlinks, and other channels. A mix of automated daily refreshes, real-time tracking, and user-initiated updates helps keep the data as up-to-date as possible.
While no tool has perfect data, Semrush goes to great lengths to maximize accuracy and recency across its product offerings. The result is a powerful competitive analysis platform to help marketers and businesses understand their websites and competitors to gain an edge.
FAQs
Is all of Semrush's data accurate?
Semrush strives for very high accuracy but some statistics are best estimates. Overall, most data points reach above 90% accuracy based on validation studies. Metrics tied directly to concrete data sources like Google tend to be the most precise.
Can I request Semrush to update or re-collect data for my site?
Yes, within Semrush's project dashboard, you can request a manual data update if you feel the data is outdated. Some user inputs, like added keywords, can also be instantly refreshed.
How does Semrush get access to data from Google and other sites?
Semrush uses legal means like data partnerships and aggregation APIs to access search engine data. They do not scrape or illegally access private data. Crawling follows robots.txt and is similar to any search engine.
Why won't my analytics match the traffic data in Semrush?
Discrepancies are normal since Semrush provides estimated data. However, you can help Semrush improve the accuracy of your site by installing its tracking pixel. The more signal sources, the better!
Can I tell Semrush to collect data on a new website I want to analyze?
Yes, within the project dashboard you can request Semrush to re-crawl and prioritize data collection for new sites you wish to add. The more data Semrush gathers, the more complete picture it can provide.