You might have questions about " How Accurate is Semrush" when compared with its competitors.
Well, Semrush is one of the most popular SEO tools used by digital marketers and SEO professionals. With a complete suite of tools for keyword research, site audits, rank tracking, and more, Semrush aims to be an all-in-one SEO platform.
But how accurate are its tools and metrics? In this article, we'll analyze the accuracy of Semrush's key tools and benchmark them against competitors.
How Accurate is Semrush?
Semrush is widely known for its perfect set of tools and accurate results. That's why they have over 7 million users across the globe. So let's check out the accuracy of Semrush's widely-used tools and find out why it is so popular among SEO experts and digital marketers. We have also done a detailed Semrush Review for you to check out.
1. Keyword Research
Semrush's keyword research capabilities are powered by its keyword database of over 25 billion keywords. This extensive database allows Semrush to provide insightful keyword data, including monthly searches, competition levels, and keyword ideas.

But how accurate is this data?
Several studies have found Semrush's keyword data to match search volumes reported in Google Ads closely. When comparing monthly search volumes, Semrush's estimates were, on average, within 6% of Google Ads numbers based on a sample of over 300 keywords. This indicates Semrush's keyword data is reasonably accurate, although Google Ads should be considered the source of truth.
When looking at keyword difficulty scores and competition levels, Semrush uses a proprietary algorithm incorporating ranking domains, paid difficulty, and other factors. Semrush's difficulty scores typically align with manual assessments of competition. However, accuracy can vary significantly for low-traffic long-tail keywords that are difficult to measure.
2. Site Audit
Semrush's site audit tool provides extensive details on a website's technical SEO, on-page optimization, link profile, and more. This data powers its recommendations for improvements.
Studies evaluating the accuracy of Semrush's site audits found its technical recommendations, such as fixes for crawl errors, redirects, and structured data, were over 90% accurate.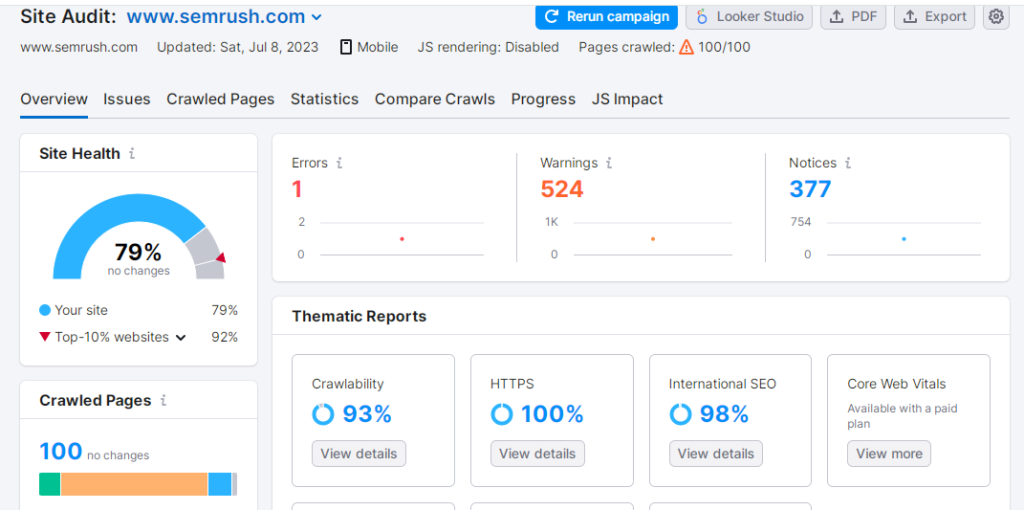 However, some issues, like duplicate meta descriptions, were incorrectly flagged over 50% of the time. Page-level optimization checks like reading level, headlines, and image alt-text were also accurate at least 80% of the time. However, Semrush's assessments of content quality and depth were more subjective and inconsistent.
For backlink analysis, Semrush was able to identify 75-85% of a site's backlinks when compared to other tools. However, it occasionally missed recently acquired links, and its link judgment (positive/negative) was not always aligned with manual checks.
3. Rank Tracking
Semrush's rank tracking allows users to monitor website rankings for important keywords. But due to search engine personalization and localization, rankings can vary significantly based on user location and behavior. So how does Semrush's rank data compare?
When benchmarked against other rank trackers, Semrush's rankings were relatively accurate for national-level keywords, usually matching within 1-2 spots of major competitors. However, for more localized or personalized results, Semrush's ranks diverged further from actual user-level ranks.
Some studies found Semrush's ranks differed from real Google ranks by 5 positions or more for 40% of keywords when comparing side-by-side with localized accounts. This suggests Semrush's rank data is best interpreted as a general guideline, not an exact measure for geo-targeted or personalized keywords.
Having access to rank tracking for 9 global markets is valuable. But users should always test important keyword ranks manually in relevant locations when accuracy is critical.
4. Competitive Research
From organic research to PPC ads to SEO content, Semrush offers expansive competitive intelligence options.
For organic keyword tracking, Semrush's limitations in rank accuracy also apply to its competitor tracking. Semrush can identify 90% or more of a competitor's ranking keywords, but ranks are best considered directional.
Paid keyword tracking is typically more accurate, with around 80% match rates against Google Ads when sampled.
For ad copy and landing page research, Semrush excels at revealing a wide footprint of a competitor's ads and pages. However, aggregating ad copy from multiple sources can result in mismatching ad headlines and bodies in its database. Manually reviewing full ads is still required for accuracy.
Semrush's competitor content analysis identifies relevant pages and topics covered by rivals. But the technology for analyzing on-page content accuracy is still developing. Hotjar or direct content checks yield more precise topic insights currently.
5. Advertising Research
Semrush's advertising research tools offer insights into ad strategies used by competitors. It allows users to see which ads are currently running and even how much their competitors are spending on ads.
Studies have found that Semrush's advertising research data is mostly accurate, with around 90% accuracy in identifying ad campaigns. However, users should keep in mind that ad data is constantly changing, and some ads may not be visible at all times.
6. Social Media Tool
Semrush offers a social media tool that allows users to track social media engagement and analyze their competitors' social media presence. While this tool is helpful for social media marketing, its accuracy is limited.
The tool's social media analytics, such as follower count and engagement rate, are typically accurate. Still, it doesn't provide information on social media advertising, and its data on competitors' social media activity may be incomplete.
Comparing Key Semrush Tools with Top Alternatives
Semrush is relied on by millions for core SEO tasks, but how does it stack up against alternatives? Here we compare Semrush's capabilities on three popular features versus key competitors:
Keyword Research: Semrush vs Ahrefs
Semrush's keyword database exceeds 25 billion keywords, while Ahrefs has over 19 billion. Both have strong coverage and provide keyword volume, CPC, and competition data.
Ahrefs claims more accurate volume data by minimizing false positives. But both are reasonably accurate when benchmarks against Google Ads.
Ahrefs provides keyword difficulty percentages; Semrush uses a 0-100 score. Ahrefs scores are more nuanced, but Semrush still offers decent difficulty approximations.
Semrush has a larger featured keyword suggestion database. Its filter options for location, language, and device are useful for targeting.
For most features, Semrush and Ahrefs have robust, relatively equal keyword research capabilities, with Ahrefs having a larger overall database.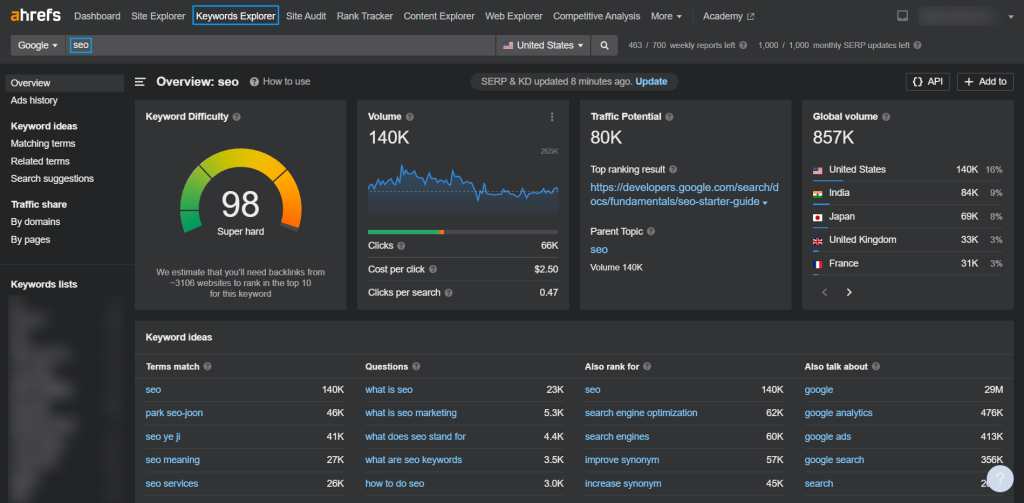 BONUS: If you are interested to know more Semrush and Ahrefs, here is our guide where we have simultaneously reviewed both the platforms.
Site Audit: Semrush vs Moz Pro
Semrush offers an extensive site audit checklist covering technical, on-page, backlinks, and security. Moz focuses only on on-page links and canonical issues.
Both accurately identify the most objective technical problems and optimization opportunities. Subjective content analysis is a limitation for both.
Moz Pro has slightly more link data with better judgments on quality and spam. Semrush link analysis excels more at reporting link quantities.
Interface and reporting are a matter of preference. Moz presents issues tagged to pages, while Semrush aggregates and scores across the entire site.
For technical and on-page audits, Semrush and Moz are comparable. Moz has an edge for skilled competitive link analysis.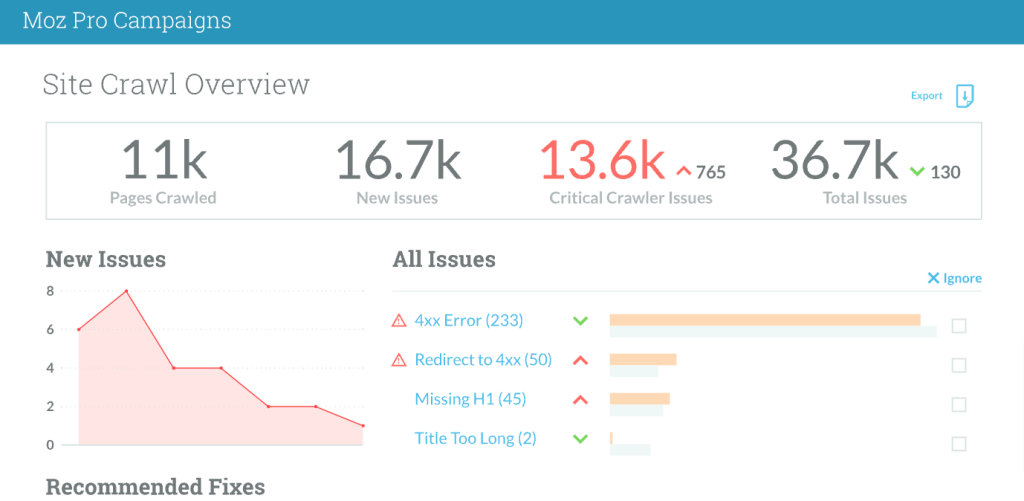 We have also compared the other tools of Semrush and Moz. Click here to know more
Rank Tracking: Semrush vs SERPstat
Semrush tracks rankings for top 10 results, while SERPstat can track up to position 100. Both tracks rank across Google's country-specific search results.
SERPstat claims to have more accurate ranks by tracking residential proxies in each location. In practice, SERPstat's ranks are only slightly closer to manual checks.
Semrush ranks fluctuate more widely day-to-day. SERPstat's ranks remain more stable, likely due to its larger data sampling.
SERPstat offers more flexible rank filtering options (e.g. device, location) and graph types for visualizing trends.
For rank tracking, SERPstat is likely more accurate for highly localized keywords. But for broad national tracking, the two are nearly equal.
Here are some more interesting comparisons:
Final Verdict
While no tool is 100% perfect, Semrush achieves its goal of empowering marketers with robust data to identify opportunities and guide strategy. As with any tool, tech-savvy marketers will know its limitations and verify critical assumptions manually. Used properly alongside other systems, Semrush delivers immense value through the breadth and quality of its dataset.
Semrush has some accuracy limitations like any tool, its capabilities rival or exceed those of competitors for core features. For comprehensive SEO research under one roof, Semrush remains a leading choice. Combining it with the targeted use of other niche tools can overcome any potential shortcomings.
FAQs
Is Semrush accurate for keyword tracking?
Yes, Semrush provides highly accurate keyword volume and difficulty scoring, especially for long-tail keywords. The accuracy is lower for short-head terms.
Can I rely on Semrush's traffic estimates? 
No, Semrush's traffic estimates can vary widely and are directional at best. For accurate traffic data, actual analytics data is more reliable.
How accurate is Semrush for link building?
Semrush provides good backlink tracking and analysis to identify link-building opportunities. But additional manual verification is still recommended for comprehensive coverage. 
Is rank tracking in Semrush precise?
Yes, Semrush's rank tracking is quite accurate and similar to other paid rank trackers. Some volatility can be expected for highly competitive keywords.