SEO veterans might remember DMOZ. The good old Open Directory Project used to be the go-to destination for website owners seeking to boost their SEO game.
Although the SEO industry has undergone a complete change, the DMOZ days cannot be forgotten. In this blog post, we'll delve into the past of DMOZ and why it faded into obscurity.
That's not all; we'll also explore the latest trends in SEO in 2023 that are shaping the industry's future.
So, let's get started with it.
What Was Dmoz?
DMOZ, also known as the Open Directory Project, was a massive human-edited directory of websites. Thousands of volunteers worked tirelessly to categorize and organize websites into a massive directory accessible to everyone. At its peak, DMOZ had over 5 million websites listed, making it an invaluable resource for internet users and SEO professionals.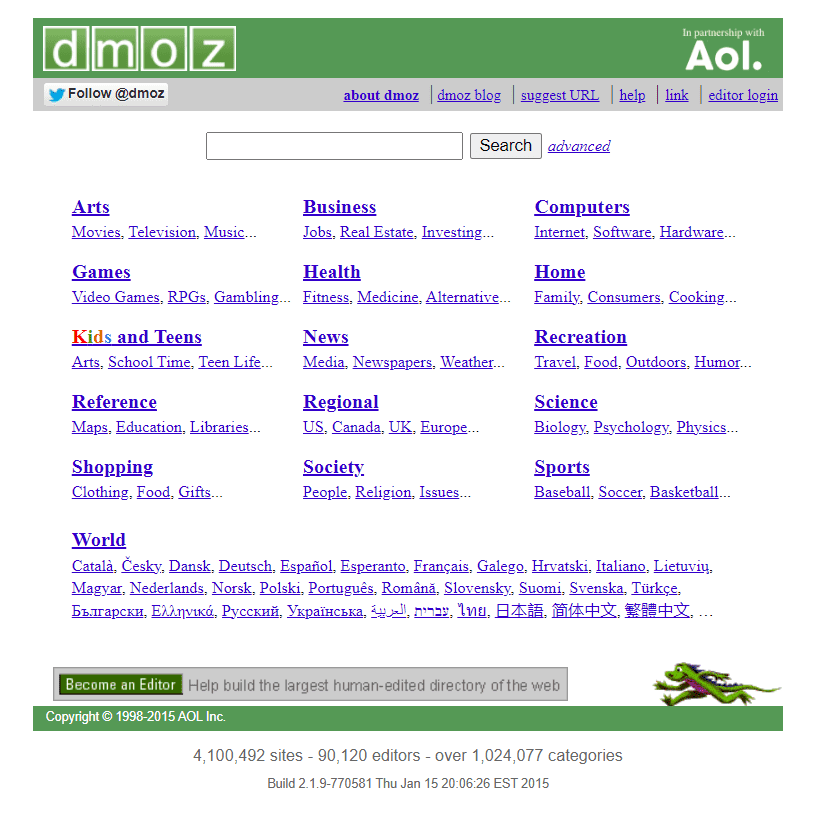 However, DMOZ was closed down in 2017 after 19 years of operation, as it became less relevant with the rise of search engines like Google and Bing. Nevertheless, its impact on the early days of the internet is still felt today. DMOZ helped shape the web and its legacy will always be remembered.
Why Did It Shut Down?
The fall in the significance and use of online directories was one of the primary factors. According to a 2015 Moz analysis, barely 0.01% of all search results featured a DMOZ entry.
The development of search engines like Google and Bing was another aspect that led to DMOZ's downfall. People began to use search engines instead of directories like DMOZ to access information online. As a result, DMOZ traffic began to fall, making it less appealing to marketers.
Furthermore, a drop in volunteer editors led to the project's demise. DMOZ relied mainly on volunteer editors to maintain its directory, and as the internet evolved, the volunteer community's job became too great for them to handle. The number of active editors was believed to be over 80,000 in 2007. By 2017, however, this figure had plummeted to a few thousand.
Finally, the decision to shut down DMOZ was most likely taken by its parent firm, AOL. They may have come to the conclusion that the expenses of operating DMOZ exceeded the advantages, and it was no longer a sustainable financial enterprise. DMOZ's legacy continues, and its effect on the early days of the internet can still be felt today.
What Came After Dmoz
SEO had to change for marketers. Keyword research, link building, and content production became increasingly important as MOZ declined. No human-edited web directory replaced DMOZ after its termination. Google, Bing, and Yahoo remained the web's main information sources. Website promotion and consumer outreach via social media also increased.
Marketers found it harder to control search results as search engines used complicated algorithms to rank websites. To score well in search results, marketers had to prioritise high-quality content and a good user experience on their websites.
Mobile devices also affected SEO strategies. Marketers had to make their websites mobile-friendly and user-friendly on smaller displays as more consumers used smartphones and tablets to browse the web.
How Dmoz Influenced Today's SEO
DMOZ's emphasis on links and backlinks shaped SEO specialists' link-building strategies in current times. DMOZ's human-edited web directories introduced backlinks from directories.
Search engines organised websites using DMOZ's classification scheme. This made metadata and search engine crawler-friendly website material possible.
DMOZ's tight editorial criteria also affected search engines' site content analysis. Search engines prioritise high-quality, relevant material.
DMOZ's early internet affect shaped SEO practises today. Link development, categorisation, and high-quality content remain crucial to SEO.
Related Reads
Final Words On Dmoz SEO!
In conclusion, DMOZ was crucial to the early internet and still affects SEO today. It pioneered SEO techniques including link building, categorization, and high-quality. The SEO industry will forever be thankful to all the people who contributed to Dmoz during its glory days!